Carhaul members endorse new tentative agreement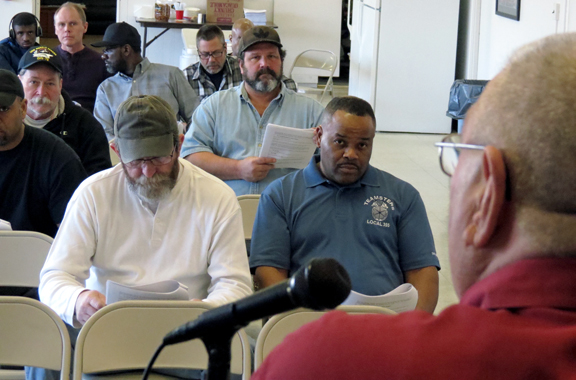 Feb. 20, 2017
Members who transport newly manufactured cars and trucks for carhaul companies Cassens Transport, Annapolis Junction Rail and Jack Cooper Transport on Sunday reviewed and approved the latest tentative agreement (TA) recently endorsed by the carhaul union leaders from around the country. Members have twice rejected the tentative agreement.
"This is the best contract I've seen in a long time," said shop steward Mark Atkins (above right, facing camera) following the meeting. "All the provisions we didn't like are gone."
Members will vote on the latest National Master Automobile Transporters Agreement in a mail ballot referendum. Ballots are scheduled to be mailed out to members on or about March 10 and are tentatively scheduled to be counted March 30. The tentative agreement is from September 1, 2015, until May 31, 2021.
In addition to protecting benefits and job security, wages, grievance procedures, and safety and health were top issues.
Vice President and carhaul Business Agent Bill Alexander said the tentative agreement is "the richest contract ever negotiated in such competitive times."
News Items - February 2017
Teamsters strongly oppose national right-to-work legislation
Feb. 2, 2017 | The Teamsters Union strongly opposes national 'right-to-work' legislation introduced yesterday in Congress that will hurt workers and their unions. The destructive anti-worker bill, H.R. 785, is sponsored by Reps. Joe Wilson (R-S.C.) and Steve King (R-Iowa) and would amend the National Labor Relations Act and Railway Labor Act to institute damaging right to work in all states... teamster.org
Unions Promise to Probe Acosta, New Trump Labor Secty Nominee
By Mark Gruenberg
PAI Staff Writer
WASHINGTON (PAI) — Leaders of the AFL-CIO and the Service Employees promised to rigorously probe the record of Alexander Acosta, dean of a Florida law school and chairman of a South Florida bank, who is GOP President Donald Trump's new nominee for Secretary of Labor.
Acosta is also a former Republican named National Labor Relations Board member. Trump announced his nod for Acosta, 46, who is also a former U.S. attorney for Miami and law clerk for conservative U.S. Supreme Court Justice Samuel Alito, before Alito joined that court, on Feb. 16.
Trump named Acosta barely 24 hours after the president's first choice, fast food executive Andrew Puzder, withdrew in the face of certain Senate defeat. Workers, unions and their allies exposed his bad record on workers' rights, the minimum wage, overtime pay, safety and health violations and wage theft at his restaurants and sexism in the firms' ads.
Unions celebrated Puzder's withdrawal with an early-morning rally near the Capitol. Later, they had cautious reactions to Acosta. But ThinkProgress, a progressive blog, raised questions about Acosta's record in George W. Bush's Justice Department's civil rights division.
For his part, Trump, meeting earlier with the self-named Trump Caucus of lawmakers, called Acosta, "a star, a great person, a great person."
"Working people changed the game on this nomination. Unlike Andy Puzder, Alexander Acosta's nomination deserves serious consideration.

In one day

, we've gone from a fast-food CEO who routinely violates labor law to a public servant with experience enforcing it," AFL-CIO President Richard Trumka said.
"We will of course review Mr. Acosta's record as thoroughly as we did the previous nominee's. Mr. Acosta will have to answer tough questions and explain how he will enforce and uphold labor laws to benefit working people and not further tilt the balance of power toward corporate CEOs.
"The Labor Secretary is not just another Cabinet member. His or her actions directly impact our wages, safety, and rights on the job every single day. We will judge this nominee by the commitment he shows to making life better for working people," Trumka added.
"Working people are still in this fight for an economy and political system that works for all of our families and where hard work means our families can get ahead," added Service Employees President Mary Kay Henry. "This is the lens through which we will examine" Acosta's record.
"Workers will stay in the streets to demand a Labor Secretary who is a champion for working people and fights to represent their interests in our economy," Henry promised. The Puzder nomination drew mass protests, including from his own fast food chains' workers.
ThinkProgress said the real problem with Acosta, who if confirmed would be the sole Hispanic-American in Trump's Cabinet, is not with Acosta's 125 written opinions in a 14-month stint as an NLRB member, but with his Civil Rights Division record.
ThinkProgress reported Acosta led the division from 2003-2005, at a time when another senior division official, Bradley Schlozman, used his hiring authority to slant the division staff by picking attorneys from lists submitted or analyzed, by right-wing groups.
Acosta denied he knew what Schlozman was doing, as Schlozman "hired conservative lawyers hostile to the CRD's mission, purging the agency of people who believed in the work it exists to do," ThinkProgress said. "Schlozman's ploy did long-lasting damage to federal work on voting rights violations, police abuse, and other assaults on Americans' rights."
But other DOJ staffers from that era complained directly to Acosta about Schlozman's activities, according to the Justice Department's Inspector General. And Acosta told the IG "he became more concerned about Schlozman's judgment…as a result of
discussions
Acosta had with retiring Voting Section Chief Joseph Rich about Schlozman's management. Yet, Acosta took no action to alert those in his chain of command," the report found.
Acosta left the division but didn't report his suspicions until 2007, after several Republican senators raised the roof over the slanted hiring in the division and among U.S. attorneys. ThinkProgress also reported Acosta was involved tangentially in GOP efforts to suppress the minority vote in the 2004 presidential election in Ohio.
News Items - January 2017
Cool labor book: 'A People's History of the United States'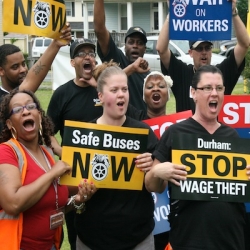 Jan. 3, 2017 | If your last serious read of American history was in high school – or even in a standard college course – you'll want to read this amazing account of America as seen through the eyes of its working people, women and minorities. Howard Zinn (1922-2010) was a widely respected historian, author, playwright, and social activist. In A People's History of the United States: 1492-Present, he turns history on its head with his carefully researched and dramatic recounting of America and its people – not just its bankers, industrialists, generals and politicians. This book will give you a whole new way of looking at and understanding the world around you. Order it at Union Communication Services.
Hoffa: Workers need real pension reform
Jan. 4, 2017 | The Teamsters won a battle over pensions last month in Congress as part of a short-term spending bill. But there is still a long way to go in this fight to protect the retirement security of hundreds of thousands of workers in Michigan and across the United States. At stake is the security of many retirees… detroitnews.com
Trucker deaths top all others in the workforce
Jan. 6, 2017 | The Teamsters for years have been front-and-center in the fight for ensuring proper rest breaks for truckers. A new government report shows why that effort is so very important. A National Census of Fatal Occupational Injuries for 2015 found that heavy and tractor-trailer truck drivers recorded 745 fatal injuries, the most of any occupation... teamster.org
University of California Teamsters go on strike for fair wages, pensions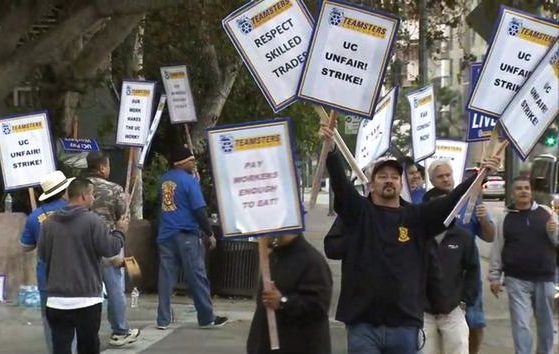 Jan. 10, 2017 | Today, thousands of University of California (UC) administrative, clerical and support workers are on strike across the Golden State, taking a stand against a UC system that has turned its back on them by not paying them a wage that allows them to support themselves and their families. More than 12,000 workers, members of 2010, walked off the job Tuesday to protest the numerous unfair practices and violations of state law committed by UC… huffingtonpost.com
Local 355 students awarded James R. Hoffa Memorial Scholarships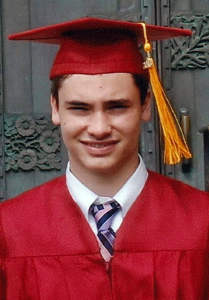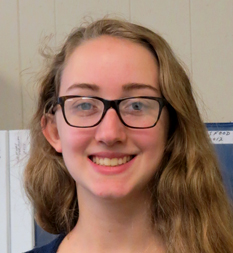 Jan. 10, 2017 | Ryan Power, left, the oldest son of George Power (UPS/Hunt Valley), and Marella Schammel, right, daughter of William Schammel (UPS/Hunt Valley) each received $1,000 scholarships for the 2016-2017 academic year from the Teamsters Union's annual national scholarship program. The James R. Hoffa Memorial Scholarship Fund was established in 1999 to honor the memory of former Teamster General President James R. Hoffa. The Fund provides scholarships to the child or dependent of a member of the Teamsters. Last year, the Fund awarded $1,200,000 in scholarships. A graduate of Calvert Hall College High School, Towson, Md., Ryan is attending Loyola University Maryland in Baltimore City. His course of study is... Continued here
Teamsters, carhaul employer group negotiations begin
Jan. 11, 2017 | Following the membership vote to not ratify a new National Agreement and Central/Southern Supplement in September 2016, the carhaul employers group asked the Teamsters National Automobile Transporters Industry Negotiating Committee (TNATINC) to return to the bargaining table. Contract negotiations began in Detroit yesterday… teamster.org
355 Update: New contract with Rezenberger/Hallcon; successor contract ok'd at Penn Fibre
Jan. 11, 2017 | Locals 355 and 453 reached a first tentative agreement with Rezenberger/Hallcon, covering 67 drivers who approved the TA in November. The company is a ground transportation service for CSX in Cumberland and Baltimore MD, and Washington, DC. Penn Fibre members overwhelmingly ratified in December a three-year contract that provides… Continued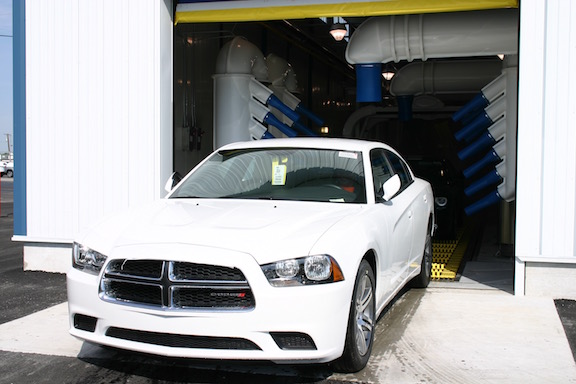 Notice to members: Amports East is hiring
Jan. 18, 2017 | Amports will hire up to fifteen new employees in the following classifications: shuttle drivers, railroad vehicle unloaders, and inspectors. Located in the Fairfield area of Baltimore, Amports East is one of the largest vehicle processing company (automobile import and export) in the United States. Applications are being accepted now. Download details here.
In appreciation, retirees club presents Local 355 with very large gift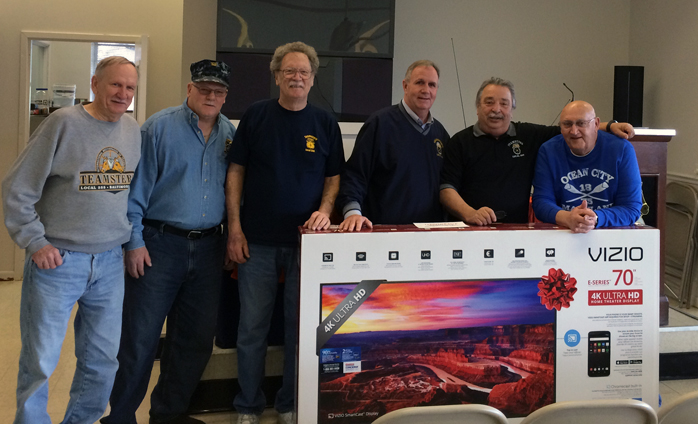 Jan. 20, 2017 | The Local 355 Association of Retired Members (A.R.M.) made a surprise presentation of a state-of-the-art television to the union during its monthly meeting Thursday at the Baltimore hall. The Vizio SmartCast E-Series 70" Class Ultra HD Home Theater Display will replace the rarely-used, dated TV currently in the members meeting hall. "Our Retiree Bowling League wanted to do something special to show our sincere appreciation for everything Local 355 does for us," said Bob Eney, president of the club. "It really is amazing," Secretary-Treasurer Dave White said about the generous gift. "These guys take nothing for granted here; they are always giving back. We've worked with them for years and they were like part of the family. That connection continues today." White said he looks forward to putting the high-tech TV to good use. "The IBT produces excellent training and organizing videos that we'll now be able to share with our members and stewards." Pictured, left to right: A.R.M. Trustee Ray Bularz (UPS); Mike Krainer, retired Local 355 trustee, (Sysco); A.R.M. Secretary Mike Brett (UPS); Dave White; A.R.M. President Bob Eney (UPS); A.R.M. Vice President Joe Reichert (Sysco).
Teamsters, carhaul employer group reach tentative agreement
Jan. 24, 2017 | A tentative agreement (TA) reached with the National Automobile Transporters Labor Division (NATLD) has been unanimously endorsed by the Teamsters National Automobile Transporters Industry Negotiating Committee (TNATINC). The committee believes the TA meets the goals of the carhaul members and provides for their long-term job security while protecting members' benefits and standard of living. Details of the tentative agreement will be announced when leaders from local unions meet to review the proposal in about two weeks, at a date to be determined. Stay tuned.
Teamsters add gender identity to non-discrimination policy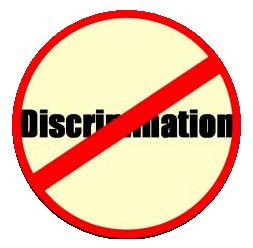 Jan. 27, 2017 | The IBT instructed its locals across the United Stated to update their bylaws this year, declaring that members can no longer discriminate against a fellow worker based on mental disability or gender identity. Members of the union took an oath under the old laws that had them swear to not "discriminate against a fellow worker on account of race, color, religion, sex, age, physical ability, national origin or sexual orientation." The addendum to the bylaws, which went into effect on January 1, now says that workers can't discriminate against "any other legally protected group" either. .. newnownext.com
President Hoffa interview with Fox News host Neil Cavuto *
Jan. 27, 2017 | On Wednesday, Hoffa discussed jobs, trade, infrastructure investment and minimum wage increases on Fox News. Watch the interview here. * On Friday, Jan. 28th, Hoffa appeared on CNBC's Closing Bell
Local Union leaders to review tentative agreement February 16
Jan. 31, 2017 | Leaders of local unions that represent Teamster carhaul members will meet on Thursday, Feb. 16 in Detroit to review the TA and supplements. If they agree to endorse the TA and supplements, it will go to carhaul members for a ratification vote. Stay tuned for here for updates.
Two Local 355 Students Awarded James R. Hoffa Memorial Scholarships
January 10, 2017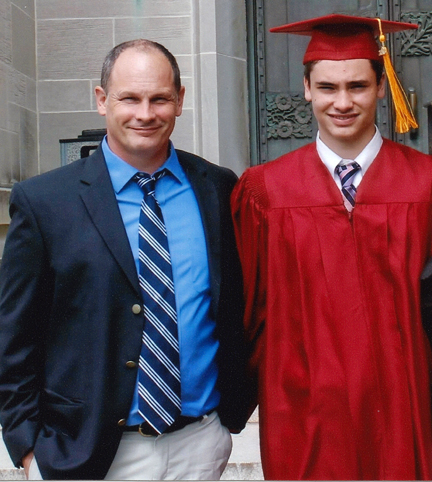 Continued from Main Page | ... Biology, but at the time of our interview, he had not yet decided on a particular area of focus. Ryan always been interested in biology, he said, but greater interest sparked when, during his senior year, he researched and authored a 20-page paper on the psychobiology of post-traumatic stress disorder (PTSD) – the biology of trauma and the psychology of the resulting injury. Physiology is also of interest, and he may combine majors, he said.
Marella Schammel graduated from Dulaney High School, Timonium, Baltimore County, Md., last May and is enrolled in Towson University in search of a Bachelor of Science degree in Chemistry, and is particularly interested in forensic chemistry. (Ever watch CSI? That's it, she said with a huge smile.) It wasn't until her sophomore year that she started even thinking about what interested her, she said. She took AP Physics and AP Chemistry in her junior and senior years and loved it. Atoms are fascinating, for they determine whether a table is a table and not a phone, she explained. Marella, whose mother is a Methodist pastor, is active in volunteering for her church. She also was secretary of the National English Honor Society and danced for 12 years. She is a member of the Optimism Club of Jacksonville, Md. Marella also received a UPS-sponsored Casey Scholarship, among others.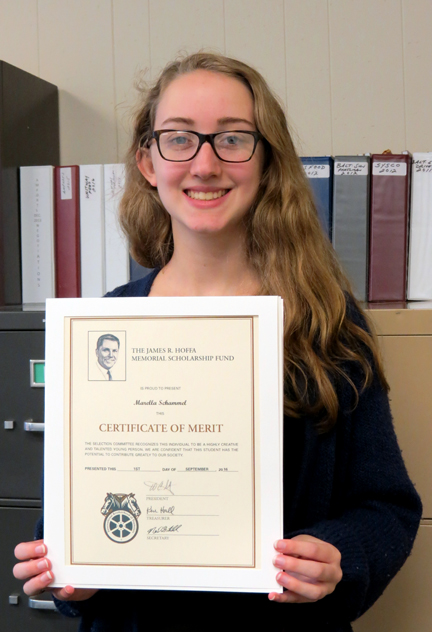 "I've been a UPS Teamster for 15 years," said her dad, Bill. "I'd never been in a union before, and Teamster membership definitely has provided good security for my family and me."
"On behalf of the members and staff of Local 355, we congratulate Marella and Ryan and wish them great success in their chosen fields," President Denis Taylor said. "Local 355 has been a participant in the Fund since its beginning. The Scholarship Fund has provided great educational opportunities for Teamster kids, providing millions in scholarships over the years. These students benefit from your generosity – every little bit makes a difference. Remember, they are our future."
Academic Scholarship applications for the 2017-2018 year are currently being accepted. New this year, the Fund also offers Training and Vocational Programs Scholarships. Eligibility requirements and applications for both are available at the Local Union offices. They are also available for download here.
Deadline for application submission is March 31, 2017, at 5 p.m.
News Items - December 2016
Teamsters Union disappointed in latest pipeline decision
Dec. 5, 2016 | The Teamsters Union is disappointed in a decision by the U.S. Army Corps of Engineers to not grant an easement for the Dakota Access Pipeline. The decision blocks two years of review, approvals by four states and approval from the U.S. Army Corps of Engineers and two federal courts upholding the project. The decision will have a direct and negative impact on the hardworking men and women – including Teamsters and other union members – who have invested their lives in building the infrastructure that makes this country run… teamster.org.
Applications now being accepted for the James R. Hoffa Memorial Scholarship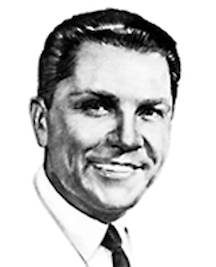 Dec. 7, 2016 | The James R. Hoffa Memorial Scholarship Fund is now accepting applications for scholarship awards. The Fund is committed to distributing $1.4 million in 2017. Along with the Academic Scholarship, the Fund has initiated a Training and Vocational Programs scholarship. The training and vocational programs must be related to work in a Teamster-represented industry, class or craft. The deadline for receipt of completed materials is March 31, 2017. Materials will be sent to the Local Union office, but if you would like additional information and application materials for downloading, click the scholarship link in the right column. Hoffa scholarships were awarded to two students of Local 355 members in 2016; read their stories in our up-coming Winter newsletter.
Alliance for Retired Americans launch campaign to protect Medicare from privatization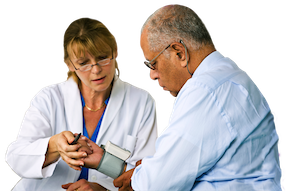 Dec. 7, 2016 | Alarmed by the House Congressional Leadership's plans to dismantle Medicare, the Alliance for Retired Americans today kicked off a grass roots campaign to block any attempts to cut or convert guaranteed, earned health benefits into a voucher or privatized scheme. Continue reading…
Pursuing different results to solve income equality
Dec. 9, 2016 | Income equality continues to be a significant issue, even with the economic improvement that has occurred over the last few years. But many in the private sector still don't seem to get it. Take XPO Logistics [Con-way], for example. The Teamsters joined with labor leaders this week representing 15 European unions who represent XPO to challenge a plan that could give XPO CEO Bradley Jacobs a windfall stock worth $110 million. "We condemn this plan that could lavish Jacobs and other executives at XPO with massive stock awards that would be on the backs of workers in the United States and Europe," Teamsters General President Jim Hoffa said… teamster.org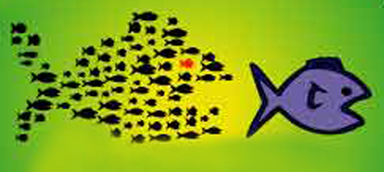 'Tis the season for labor organizing
Dec. 15, 2016 | Efforts to unionize port truck drivers around the country have been met with resistance from private trucking companies, sometimes with the support of public servants. Last June, local police ran a group of organizers out of Port Wentworth for handing out leaflets outside of XPO Cartage, a subsidiary of XPO Logistics, the port's largest trucking company with over 150 contract drivers. Three members of Teamsters Local 728 were charged with impeding traffic in a public roadway, though the incident took place on a dead end street… connectsavannah.com
Teamster retirees' annual Christmas party a festive event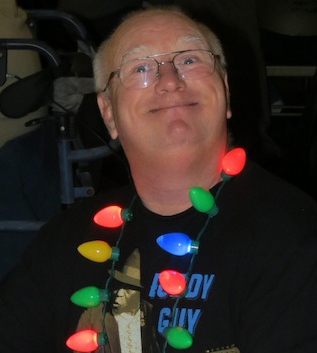 Dec. 16, 2016 | More than 240 Local 355 retirees and guests, decked out in their best and brightest holiday attire, attended yesterday's annual retirees' Christmas party at the UAW Hall in East Baltimore, a perfect venue for Teamster events. Great food, cake wheels, a 50/50 raffles (congratulations, George Booker!) and music provided by DJ Rod Clark contributed to the festivities. A.R.M. President Bob Eney said the Local 355 Association of Retired Members (A.R.M.) has about 585 members and continues to grow. "We are one of the largest retiree organization in the Teamsters Union," Eney explained. Continued… Right: Tom Madkins/UPS retired
Merry Christmas!
Dec. 23, 2016 | Teamster 355 will resume posting on Wednesday, January 3, 2017. Have a safe and happy holiday season.
News Items - November 2016
Gannett ends its attempt to buy (Tribune Publisher) Tronc
Nov. 1, 2016 | Gannett Co. has dropped its attempt to buy Tronc, Inc., ending a dramatic months-long pursuit by Gannett to extend its reach as the nation's largest newspaper publisher amid a rocky revenue environment. The companies in private discussions had recently agreed on a purchase price of $18.75 a share in cash, according to people familiar with the matter…Tronc said the deal fell apart when Gannett couldn't line up financing… wsj.com
Your vote is your voice in the election of Teamster top officials
Nov. 10, 2016 | The secret ballot must be returned to a post office box controlled by the OES by 9am Monday, Nov. 14th. The count is scheduled to start Monday, Nov. 14th.
IBT vote count is underway
Nov. 17, 2016 | The ballots are in and the count began on Monday. To get the latest on the vote results, click here.
Hoffa, Hall re-elected to five-year term to lead union; Local 355 President Denis Taylor elected International Trustee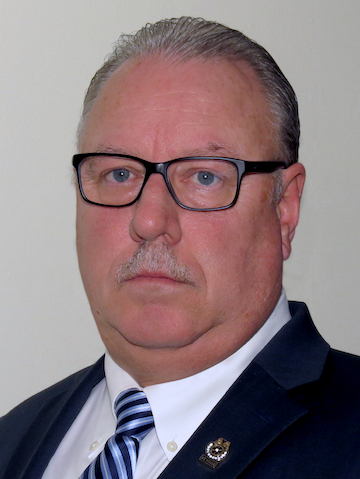 Nov. 21, 2016 | Teamsters General President Jim Hoffa, General Secretary-Treasurer Ken Hall, International Vice Presidents At-Large, International Trustees and International Vice Presidents in the Eastern, Southern and Central Regions were elected Friday night in the 2016 Election of International Union Officers, according to unofficial results provided by the Office of the Election Supervisor. "This was a hard-fought campaign and a historically close election," Hoffa said. "Though we have many challenges before us, now is the time to join together as brothers and sisters and stand strong against those who would destroy the labor movement and deny worker's the gains that have struggled to achieve. We will continue to lead the fight to organize the unorganized, ensure strong health care, good wages, a secure retirement and holding employers and politicians accountable." Continue reading... (Pictured: Denis Taylor, one of three IBT International Trustees)
Judge: Sysco (Indianapolis) must face Teamster suit over retirement benefits
Nov. 28, 2016 | …A local division of foodservice-supply Giant Sysco Systems must face a lawsuit from its Teamsters workers who say the company reneged on retirement benefits negotiated through collective bargaining. U.S. District Judge William T. Lawrence on Tuesday denied Sysco Indianapolis LLC's motion to dismiss a lawsuit brough by Teamsters Union Local 135. Union members sued Sysco over an early-retirement incentive negotiated in a contract that took effect in March 2013… theindianalawyer.com
Trucking, auto industries praise Elaine Chao transportation secretary nomination
Nov. 30, 2016 | … The Teamsters told Trucks.com they are not commenting on Trump's proposed policies and cabinet nominations. But the union was critical of Chao when she was labor secretary. James P. Hoffa, the Teamsters' president, said she was pushing many anti-union proposals and was against a higher minimum wage…
News Items - October 2016
Drivers, warehouse workers at XPO Logistics are choosing Teamster representation Oct. 13, 2016 | Workers across the country are standing shoulder-to-shoulder to fight for fairness and respect at one of the world's largest transportation and logistics companies.

Steward Seminar 2016
Shop stewards attend Local 355's biennial training seminar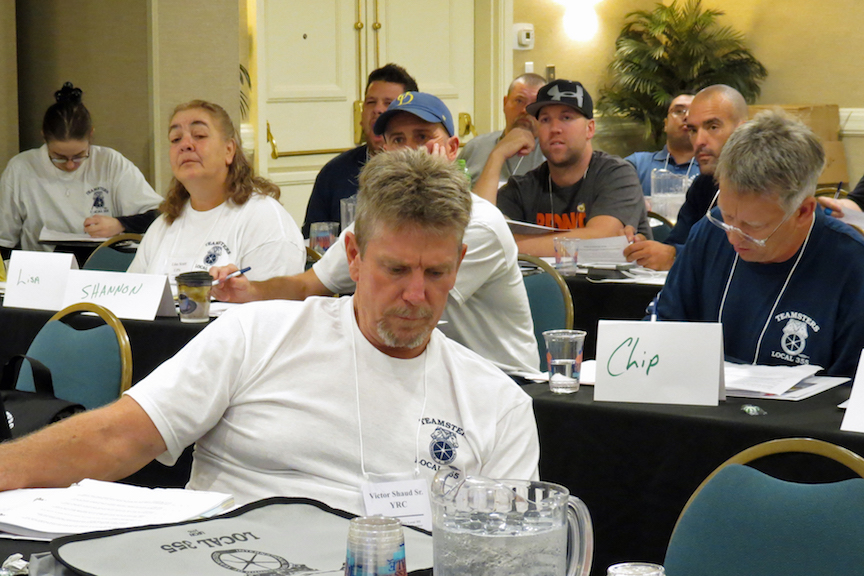 Oct. 29, 2016
... Members who assumed the steward role within the past two years underwent training on the grievance process, specifically how to efficiently handle grievances. Under the direction of Professor David Nack of the School for Workers, University of Wisconsin, new stewards received instruction in areas such as the various types of grievances, the principles of Just Cause, the important role of unions in our society, and strategies for union action, among other grievance-related subjects.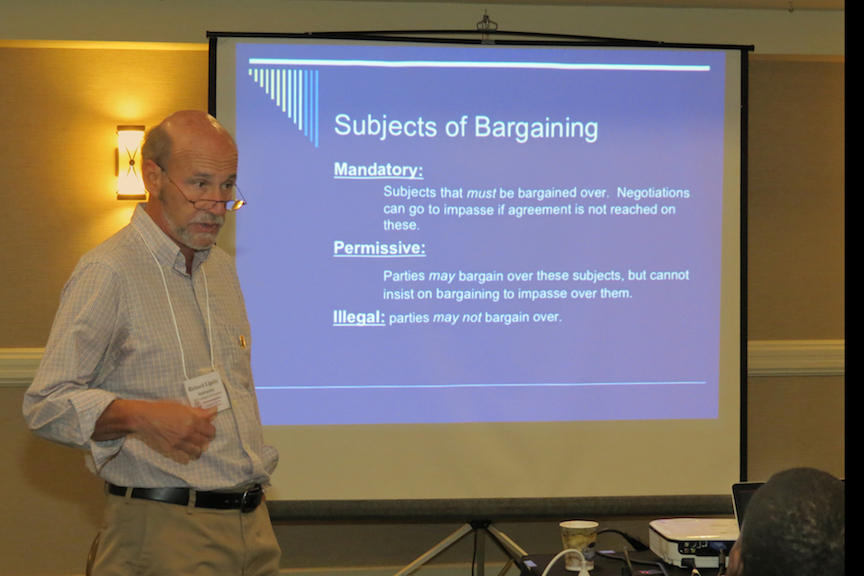 Stewards who completed grievance training in previous years received instruction on negotiating contracts. Richard Lipsitz of the IBT Training & Development Department and Cornell University Buffalo Labor Studies provided stewards with best practices, guidance, and information, along with helpful tools sure to assist them in becoming an effective member of their bargaining committee.
Veteran stewards attended classes designed to enhance understanding of complicated issues about 401(k) pensions; antidiscrimination and anti-harassment law, including disparate treatment and hostile work environments, failure to make accommodation under the Americans With Disabilities Act (ADA), and sex discrimination under the Equal Pay Act. Members also received useful tips on handling discrimination and harassment in their workplace. Teamster historian, Karin Jones from the IBT Training and Development Dept., provided stewards with the fascinating history of our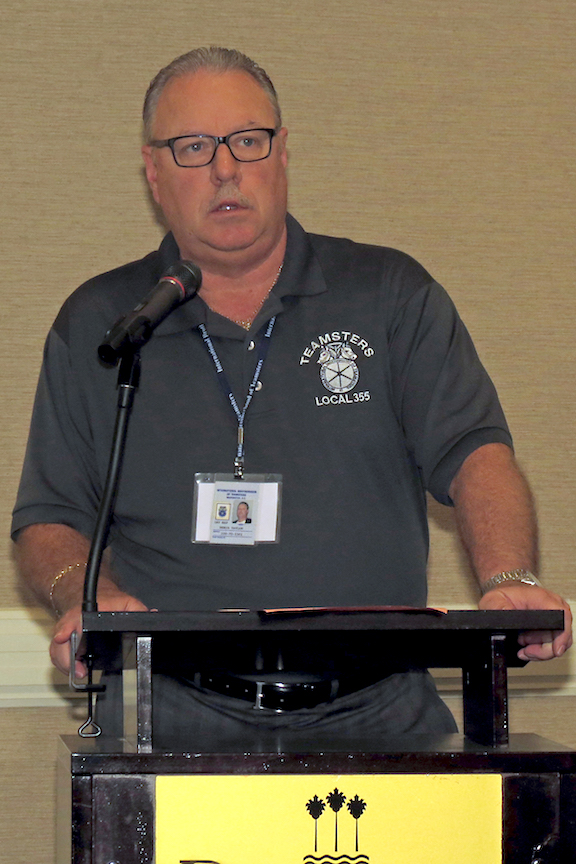 union. Backed up with a slide show containing hundreds of old Teamster photos dating back to the early 1900s, Jones entertained and informed stewards about the impressive and often ground-breaking history of the Teamsters Union. (Did you know our union negotiated the first color-blind contract in the country?)
Even the most senior steward occasionally needs a refresher on the union's basic principles and rules governing the grievance process. In "Back to Basics," led by Local 355 President Denis Taylor and Secretary-Treasurer Dave White, stewards got plain-speaking reminders about the importance of the initial first steps of the grievance: learn enough about the grievance to understand the problem and seek a resolution of the dispute before filing. Filling out the three-part grievance form completely and good note-taking can ensure a successful outcome in a complicated dispute. Formal grievances are always based on a violation of the collective bargaining agreement. "Back to Basics" gave veteran stewards a unique opportunity to share with each other their experiences and challenges with the grievance process.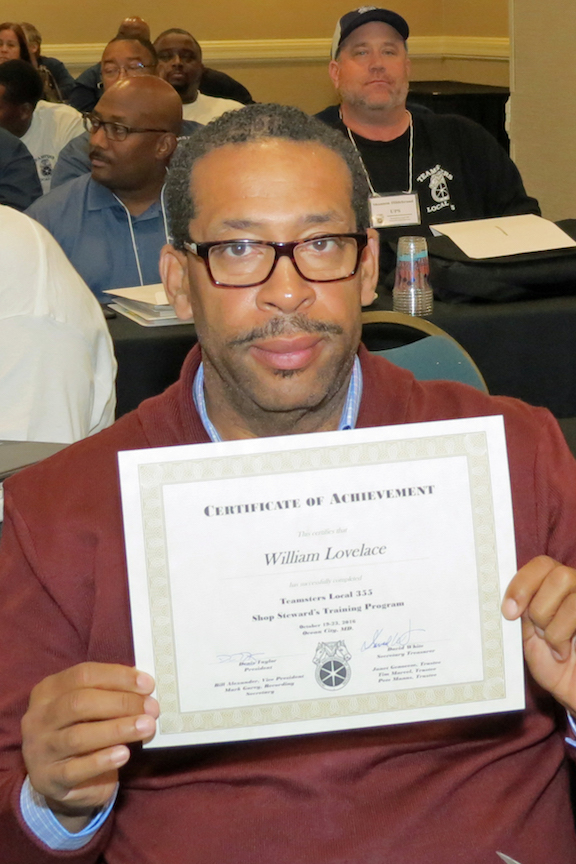 The steward seminar has instructed Local 355 shop stewards since its first training session in 1996. Since then, hundreds of hard-working men and women committed to enforcement of a Teamster contract have gone on to effectively represent and protect their members, thus improving conditions in their workplace. Stewards are the Union's eyes and ears on the shop floor. Without their dedicated commitment, our members could not benefit from the union's strong, active presence in the workplace.
Photo Gallery:
Stewards by company (Note: Sysco stewards photo – Raymond Dix, Rodney Weigman, Chris Greene, Troy Franklin, and Rick Kilgore – to come )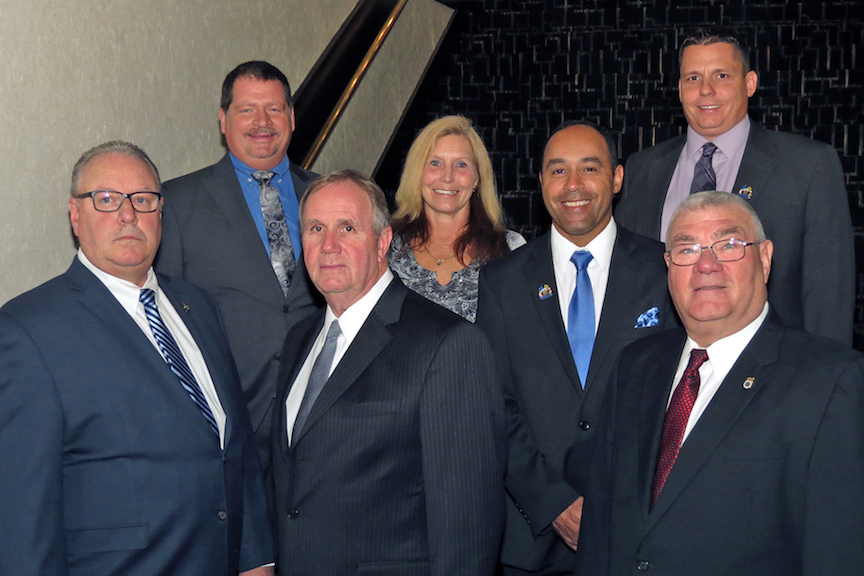 Local 355 Executive Board: (L-R) President Denis Taylor, Trustee Tim Marvel, Secretary-Treasurer Dave White, Trustee Janet Genovesse, Trustee Pete Manus, Vice President Bill Alexander, Recording Secretary Mark Garey.
News Items - September 2016
Union continues its fight for justice and a fair agreement with US Foods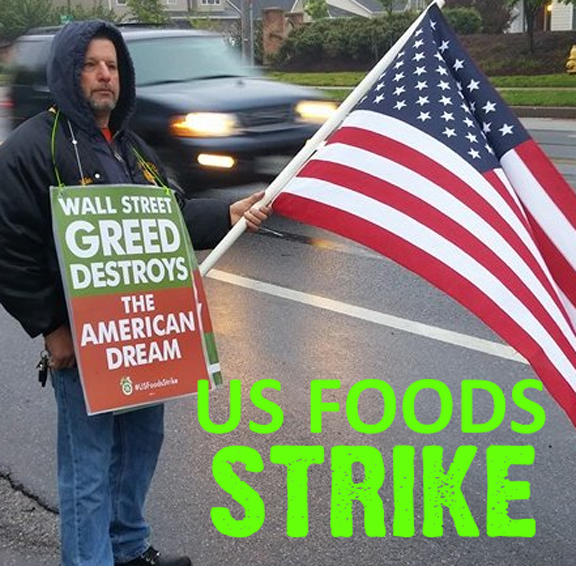 Sept. 4, 2016 | The picket lines are thinner these days only because many of our former US Foods drivers and mechanics have been forced to find employment elsewhere since the company closed down the facility and moved the work to non-union workers at non-union a non-union plant in Virginia. But the unfair labor practices strike against the giant food distributor US Foods continues while Local and National Union leaders push for an acceptable agreement with the company. "I worked for this company for 32 years and was planning to retire October 1," Brother Dave Trasko told us as he walked the line Thursday, August 18, with Brothers Jim Ramper and Larry Blackman. "My good union wages at this company provided a good life for me and my family: A nice home, two cars, and a good lifestyle. I was a happy camper. Doesn't everyone who works hard every single day want that?" Teamsters worked hard for their wages and benefits at US Foods because, as Trasko described it, "ours was an extremely physical job. But we didn't realize how good we had it until our negotiations battle began with the 'new' [Wall Street] owner. So then this happened." (Watch this space for more about Brothers Rampert and Blackman.) Update: In March the Local filed three unfair labor practice (ULP) charges against the company. One was upheld by the regional NLRB, the other two are on appeal to the General Counsel of the National Labor Relations Board in Washington, D.C. Don't miss our General Membership Meeting Sunday, Sept. 11, where you can learn more about the latest developments in the US Foods strike, and other important Local Union issues. Bring a coworker!
Teamsters call for government intervention in LA ports crisis
Sept. 6, 2016 | The bankruptcy of Hanjin, a major Korean shipper, is causing chaos at the Port of Los Angeles with dozens of ships and a half million cargo containers stranded at sea in the Port of Los Angeles. The livelihoods of many workers, from ship crews to workers who handle the cargo at the dock, are threatened. Members of Congress, the Chair of the Federal Maritime Commission and labor leaders are calling on government action in the cargo delivery crisis… uslabornews.com
Hoffa: Don't let GOP curb new pro-worker rules
Sept. 7, 2016 | …The Teamsters have been out front on these issue, even passing a resolution of support during its 29th International Convention in June. Why? Because the union believes in the fundamental principle that employers who receive federal taxpayers' money should comply with federal labor law. That means rejecting wage theft, safety violations and discrimination on the job… teamster.org
Picket line suspended for Sunday's membership meeting
Sept. 9, 2016 | Please note that our US Foods strike line will be suspended for the day on Sunday so members can attend our monthly General Membership Meetings in Baltimore and Salisbury. The line will resume Monday morning. Check in with your business agent for additional information.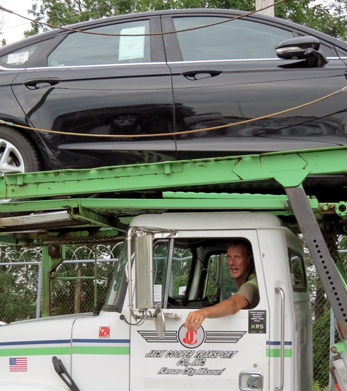 This week is National Truck Driver Appreciation Week
Sept. 13, 2016 | This is the time to remind everyone of the sacrifices and skills of professional truck drivers who keep America moving. Teamsters are celebrating the hard work of the men and women behind the wheel who labor on our nation's roads and highways. The IBT is asking Teamster truck drivers to send in photos of you and your truck! Post them at www.facebook.com/Teamsters. Don't forget to say what company and Teamster local you're with. Later this week all our photos will be presented in a video on teamster.org and on the Teamster Facebook timeline. Ready? GO!
Today is #StopTPP call-in day: Make the call against this job-killing trade deal
Sept. 14, 2016 | We urge all Teamsters to join in this action and flood Congress's phone lines today with calls to every lawmaker asking them to pledge their opposition to the TPP. The TransPacific Partnership is a 12-nation corporate power grab that will ship thousands of jobs overseas, lower wages in the U.S. and undermine laws that protect workers and the environment. Please call your senators and representatives now at 844-394-8431 – tell them to commit to standing firm against the TPP.
Teamster carhaul members reject national contract; Eastern supplement is approved
Sept. 15, 2016 | Teamster carhaul members have rejected a national contract and the Central-Southern supplement, but have approved the Eastern and Western supplements. "In light of the members voting no on the national contract and Central-Southern Supplement, we will reconvene our national negotiating committee next week and determine the next steps," said Kevin Moore, Director of the Teamsters Carhaul Division. "At the present time, the union is not calling for any job action against any employer but will evaluate all its options over the next several days." Vote tallies here.
Self-driving trucks threaten one of America's top blue-collar jobs
Sept. 26, 2016 | …Carmaking giants and ride-sharing upstarts racing to put autonomous vehicles on the road are dead set on replacing drivers, and that includes truckers. Trucks without human hands at the wheel could be on American roads within a decade, say analysts and industry executives…latimes.com General President Jim Hoffa: "You really want a giant 14-wheeler remotely? C'mon. It's not going to happen…"
Motorcycle Run has been cancelled
Sept. 26, 2016 | Seems our Local's motorcycle enthusiasts have busy schedules given the low number of signups for this year's bike run, scheduled for October 1st. So we've pulled the plug on it but we'll look forward to a good run with high participation next year. Save the date: June 17, 2017.
Heavy rains force cancellation of our fall golf event
Sept. 29, 2016 | Our fall golf outing scheduled for this coming Saturday, Oct. 1st, is cancelled due to the weather-related closure of the golf course scheduled to host the event. The Eisenhower Golf Course in Crownsville, Md., called this morning to advise us that three days of heavy rains will force closure of the course. Watch this space for an announcement of our 2017 Spring Golf Event. We will process registration fee refunds to participants who have submitted payment.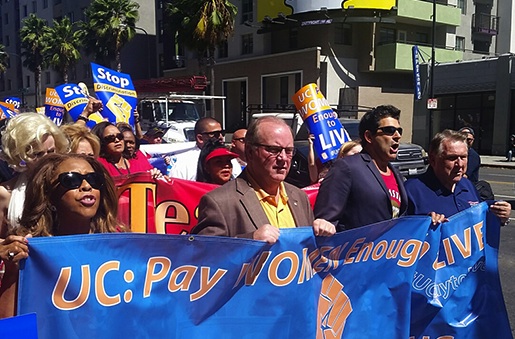 Teamster women take over Hollywood...
Sept. 28, 2016 | Hundreds of Teamster women marched through the streets of Hollywood, California on Friday, Sept. 23, in support of University of California (UC) Teamsters [Local 2010], and their fight for better wages. Teamsters attending the union's annual women's conference joined the rally where they called on the UC system to deliver a fair contract… peoplesworld.org
News Items - August 2016
National conference call for carhaul Teamsters
Aug. 2, 2016 | Carhaul members are urged to take part in a national conference call to learn more about the tentative national contract and regional supplements. To join the call, click here for details.
2016 Steward Training Seminar registration deadline is Sept. 14th
Aug. 2, 2016 | Shop stewards: By now you should have received information regarding Local 355's Shop Steward Training Seminar scheduled for October 19th through October 23rd, including an outline of events, registration information and the registration form that must be returned by September 14th. The seminar is a great way to take advantage of the expertise and knowledge of veteran stewards and union instructors. Please complete the registration as soon as possible, enclose it in the postage-paid envelope and drop it in the mail. Questions? Call us at the Local Union office: 410-566-5700
Members are still standing strong as strike nears its fourth month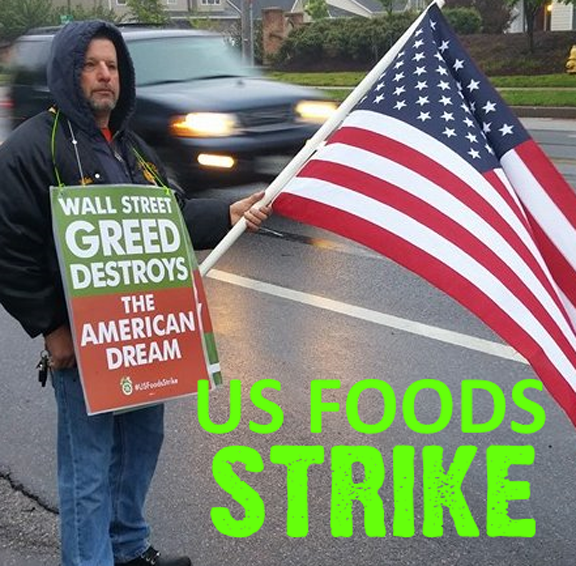 Aug. 4, 2016 | Today marks the 100th day that our brothers and sisters have been out on an unfair labor practices strike that began at 2 pm on April 27, 2016. Local 355 charged the company with bad-faith bargaining over its decision to close its only Maryland distribution center and move operations to non-union centers in Virginia. (Recap here.) Members employed as drivers, loaders and mechanics have manned the picket lines at the facility in Severn day and night since. They've distributed informational fliers to US Foods customers, moved the strike line to other US Foods facilities across the country, and supported each other in any way they could. Some have had to move on to other jobs, but they faithfully return to the picket line as often as they can in support of the cause. "Come back next month too. We'll still be here if we have to be here," Dave Moore said. Charlie Grams suggested with a chuckle that we get winter clothes ready. "We thought we might be ready to close this up two weeks ago, but nothing came of it," said Jay Treuth. "If we have to be here 'til Christmas, we'll be here 'til Christmas." President Denis Taylor said he hopes to reach an agreement that will provide appropriate compensation to our US Foods members for the loss of their jobs when the food distributor moved their work to an out-of-state, non-union facility. The company closed the center June 10, 2016.
Leaders of carhaul local unions overwhelmingly endorse tentative agreement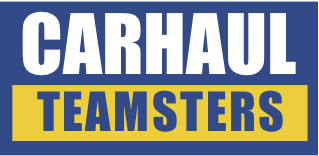 Aug. 5, 2016 | The tentative agreement has been unanimously endorsed by the Teamsters National Automobile Transporters Industry Negotiating Committee (TNATINC). It is retroactive to September 1, 2015 and runs 60 months, until August 31, 2020. Ballots are scheduled to be mailed out to members on or about August 22 and tentatively scheduled to be counted on September 15. This schedule will allow local unions enough time to conduct informational meetings. Details here.
National Dems back $15 min. wage. Baltimore Dems, not so much
Aug. 12, 2016 | The bill is in real danger of failing, Councilman Robert Curran told In These Times, as advocates for the legislation have been unable so far to line up the required eight votes for final passage.
Combating 'drowsy driving' requires keeping trucker standards
Aug. 12, 2016 | The Teamsters have been leaders in standing up for proper rest breaks for truck drivers. After all, union drivers know all-to-well what can happen when forced to work too many hours on the road. But now a new report shows the true dangers that come from "drowsy driving." teamster.org
Baltimore's Democratic City Council kills $15 minimum wage bill, for now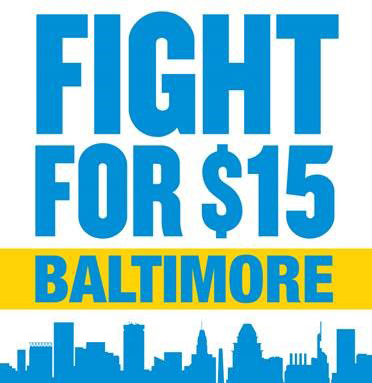 Aug. 17, 2016 | The Baltimore City Council derailed a proposed increase in the minimum wage to $15 an hour Monday, highlighting the ambivalence among many Democratic Party leaders over whether to support the national Fight for $15 movement. Pro-business members on the all-Democrat 15-member council were able to hold together an alliance against the higher minimum wage and voted 8-6 to return the proposed legislation to committee for revision. The maneuver appears to have effectively killed the bill, at least for this year. inthesetimes.com
Trucker driver job-related injuries in overdrive
Aug. 18, 2016 | When you think of dangerous jobs, what comes to your mind? Police officers, firefighters and construction workers might top the list for most people. Tractor-trailer truck drivers probably don't come to mind, but Bureau of Labor Statistics data show that driving a truck is risky in ways you might not expect… blog.dol.gov
Watch last week's Teamster Leadership Debate
Aug. 30, 2016 | Fred Zuckerman and Ken Hall, candidates for Teamster top offices, participated in a debate last Thursday at the National Press Club. c-span.org
Teamsters Union endorses Hillary Clinton for President
Aug. 30, 2016 | The Teamsters General Executive Board last week unanimously voted to endorse the former senator and secretary of state. "We are proud to endorse Hillary Clinton for President of the United States," said Teamsters General President Jim Hoffa. "She is the right candidate for the middle class and working men and women across the country. She will stand strong for the workers of America by fighting to reject job-killing trade deals, enforcing labor laws and working to provide retirement security for millions of people who have sacrificed so much for the chance to retire with dignity…" teamster.org
Unions Could Make A Comeback – If We Help Them
Michael Wasser Washington Post, August 3, 2016
You won't hear opponents admit it, but unions are popular and have been for a while. Last year Gallup found that 58 percent of Americans approved of unions. Since Gallup first asked people about their support for unions in 1936, approval dipped below 50 percent just once — when it dropped to 48 percent at the height of the Great Recession in 2009.
Anti-union advocates prefer to focus on the long-term decline of union membership in the United States, which can suggest that unions are unnecessary or in an inevitable decline. It is true that union density has shrunk from its peak of 35.4 percent of the workforce in 1945 to 11.1 percent in 2015. But the erosion in union membership is not a natural, pre-ordained outcome — the reality is that intentional policy choices significantly contributed to fewer people becoming union members.
Benign market forces alone do not explain the continual loss of union membership in the midst of broad support. Take the difference in union density in Canada and the United States: Union membership trends in these similar economies closely tracked each other until the late 1960s and early 1970s. If globalization alone were the main driver of declining union membership, we could expect the countries to have comparable unionization rates. Instead, Canada — which affords real protections for people coming together as a union — has more than twice the percentage of people in unions as the United States.
Our country has allowed a broken and outdated labor law to remain in place for too long. Unlike other workplace laws, the National Labor Relations Act lacks meaningful financial penalties for employer wrongdoing, creating an economic incentive for employers to violate the law. Employers routinely influence union elections in their favor through intimidating and coercive tactics. In doing so, employers both regularly break the letter and spirit of the law, often aided by anti-union consultants and lawyers who are paid handsomely to provide advice on how to get away with manipulating the system. The fact is that current law does not offer working people a level playing field, advantaging chief executives set on denying their employees' right to organize and negotiate together.
Despite the challenges, people continue to want to come together to have a say in their working lives. The last year saw a "wave" of digital newsroom staff joining in union. Nine thousand American Airlines passenger service agents won their union election in late 2014, doing so in the historically anti-union South. From 2000-2010, the National Labor Relations Board received nearly 3,000 requests for union elections from nursing home and non-acute care employees alone.
Americans are choosing to speak up together at work because they recognize that unions serve as a needed check and balance on corporate power. When working people can negotiate a fair return on their work, they earn higher wages and better benefits. The activism of individuals in unions has a ripple effect across communities. Non-union employees in similar industries and nearby locations generally see their working standards improve. It's no surprise, then, that the decrease in unions has contributed to the increase in income inequality.
People also know that joining together is the only effective rampart against the flood of money in a post-Citizens United world that promotes the agenda of the wealthy few. Unions have proven to be the singular political force that can speak up for the betterment of everyday people, regularly advocating for expanded access to affordable health care, improved class sizes in our schools, investments in infrastructure, the protection of Social Security and Medicare, safer patient care and a fairer tax code.
Emerging ideas and arguments behind the news.
Unions of working people led the national conversation about raising the minimum wage, making wage stagnation and inequality a national priority. Unions even played a key role in defending the Obama administration's update to our overtime rules from political attacks. The new rule will significantly increase the number of people who qualify for overtime protections by raising the annual salary threshold from $23,660 to $47,476, improving the lives of supervisors as much, if not more so, than people who are or could potentially be union members.
The reason for the difference between the high numbers of support for unions and the number of actual union members is not so paradoxical. We can narrow the gap between these two statistics by modernizing our labor law, establishing real financial penalties to end employer retaliation and ensuring every person's workplace rights are protected. Doing so will give Americans a fair shot at coming together to negotiate for a better life for themselves and their families.
News Items - July 2016
Teamster convention approves slate of resolutions on final day
July 6, 2016 | Attendees at our union's 29th annual convention approved resolutions that clarify the union's policy stances on everything from airline organizing to worker misclassification. A full slate of resolutions can be read here. (Note: The convention is the highest governing body of the union, subject to the right of referendum by the membership. The General Executive Board has the authority to carry out the policies and directives approved by convention action.)
Taylor appointed International Trustee to the Teamsters General Executive Board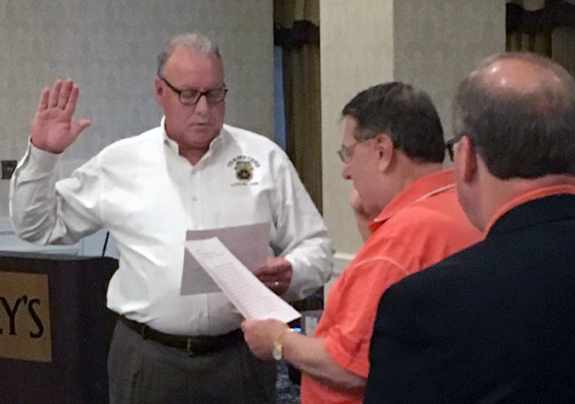 July 6, 2016 | On Friday, June 24, 2016, General President Jim Hoffa appointed President Denis Taylor to serve as a International Trustee on the Union's General Executive Board. One of three trustees, Taylor will serve the remainder of Trustee Greg Floyd's (Local 237, NYC) term. He was subsequently nominated for the position during the convention's nominations process held June 28. The Teamsters Union will hold International officer elections in October. (Pictured: President Taylor took the oath of office, administered by General President Hoffa and witnessed by General Secretary Ken Hall.)
'David's Hates Brides:' Teamsters put pressure on U.S. Foods' sister company
July 7, 2016 | With the assistance of one very angry bride, it seems a recent Teamster action that targeted a suburban Buffalo David's Bridal – one of many such actions taken by the Union across the country, hit a nerve late last week and raised the ire of an off-duty store manager who drove to the scene "dressed for the beach" with two children in tow to personally confront the Unionists who were holding an informational hand-billing event outside the retailer… Continued
Teamsters increase strike benefits
July 13, 2016 | Strike benefit increases approved by delegates at the 29th International Convention become effective on July 1, 2016. Under the new constitutional provisions, which were unanimously approved by delegates on June 30, 2016, the changes raise strike benefits, increase minimum benefits and allow for benefits to begin earlier than in the past… teamster.org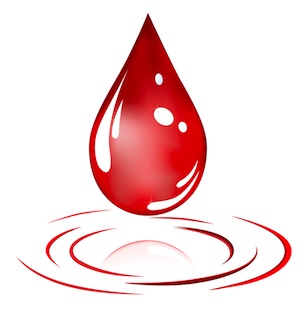 Give blood, save a life at Local 570's blood drive, July 17
July 13, 2016 | Our brothers and sisters over at Local 570 are sponsoring an American Red Cross blood drive Sunday, July 17th, 10 am to 3:30 pm at their union hall – 6910 Eastern Ave., Baltimore, MD 21224. Let's help out and do our part to prevent a summer shortage. To schedule your life-saving donation, visit redcross.org and enter sponsor code: teamsterblood. (Additional details here.) See you there!
Hundreds of members honor striking Maryland workers' picket line
July 18, 2016 | …Teamsters from the US Foods Severn location extended picket lines to Buffalo, N.Y. last Friday in the early morning hours, after extending lines to Streator, Ill. late last week. Drivers and warehouse workers represented by Local 264 in Buffalo, and drivers and warehouse workers represented by Local 722 in Streator honored the pickets in solidarity with their Severn brothers and sisters. In all, more than 200 workers refused to cross… teamster.org

Code red heat warning in Baltimore
July 25, 2016 | The Baltimore health commissioner is urging residents to prepare for 100-degree heat on Monday that could pose dangers for the young and elderly. The temperature is forecast to reach as high as 100 degrees, but it could feel as hot as 109 with humidity and wind factored in, according to the National Weather Service… baltimoresun.com Read the Teamster fact sheet on heat stress.
Mechanics at Piedmont Airlines Ratify Contract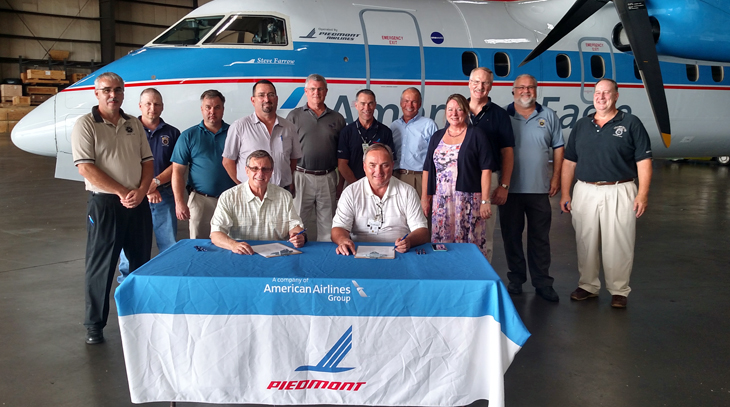 July 25, 2016 | (Click image to enlarge.) Approximately 300 Piedmont Airlines mechanics from Teamsters Locals 210, 355 and 776 have voted overwhelmingly to ratify a five-year contract with the carrier. More than 83 percent of voting mechanics cast their ballots in favor of the agreement. The agreement was reached May 26 and contains a 7 percent signing bonus and a 13 percent wage increase over the life of the agreement. Job security and furlough language are also vastly improved… teamster.org Photo: Second from left, shop steward Corey Lopatofsky, and far right, Local 355 Business Agent John Caparatta and Stephen Kennedy, shop steward and Piedmont Airlines dispatcher.
Tentative agreement reached with carhaul employer group
July 27, 2016 | After long and difficult negotiations, the Teamsters National Automobile Transporters Industry Negotiating Committee (TNATINC) has reached a tentative national Carhaul agreement with the National Automobile Transporters Labor Division (NATLD), the multi-employer collective bargaining association representing the unionized sector of the vehicle transport and logistics industry. The National Union Bargaining Committee has fully endorsed this new tentative settlement and believes it meets the goals of the carhaul membership and provides for their long-term job security. Details of the tentative agreement will be announced when leaders from local unions meet to review the proposal on August 4. Stay tuned here.
News Items - June 2016
Teamsters take their fight for justice to David's Bridal customers June 7, 2016 | Several Teamsters local unions last weekend alerted David's Bridal about the company's unsustainable debt and terrible customer service record. US Foods is co-owned by Wall Street firm CD&R, a private equity company that also owns David's Bridal, the wedding dress/wedding services retail chain.

Spring 2016 Golf Tournament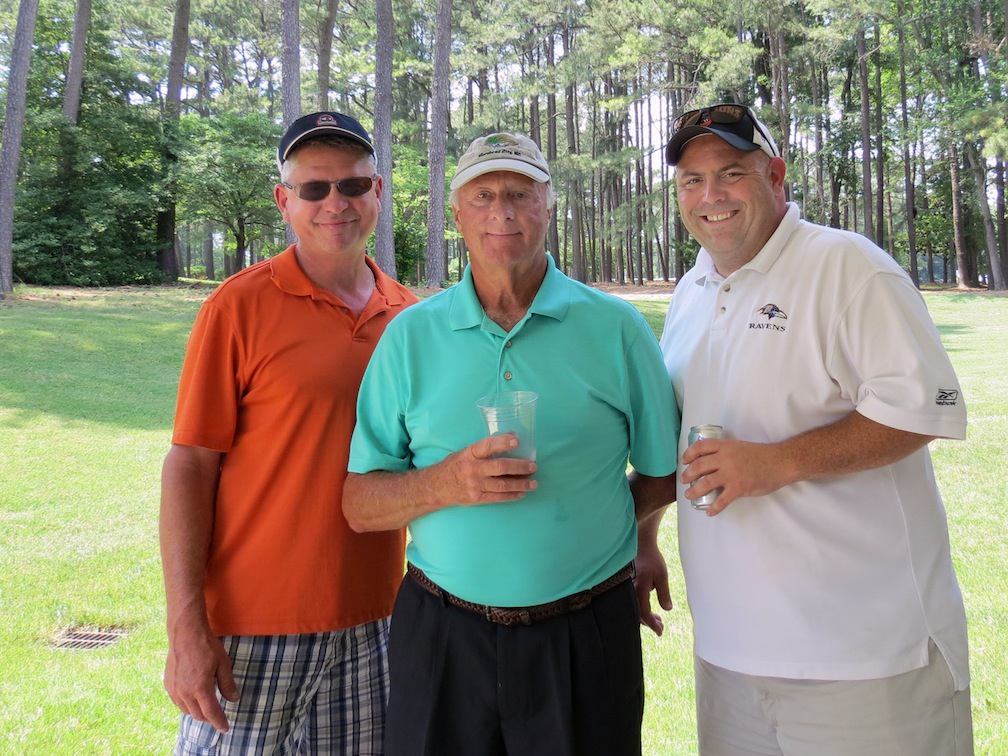 Congratulations to Ed Sellers, Mike Brian, and Al Debelius (New Penn) for their first place win in the Local's bi-annual golf event held Saturday, June 11th, at the Hog Neck Golf Course in Easton, Md.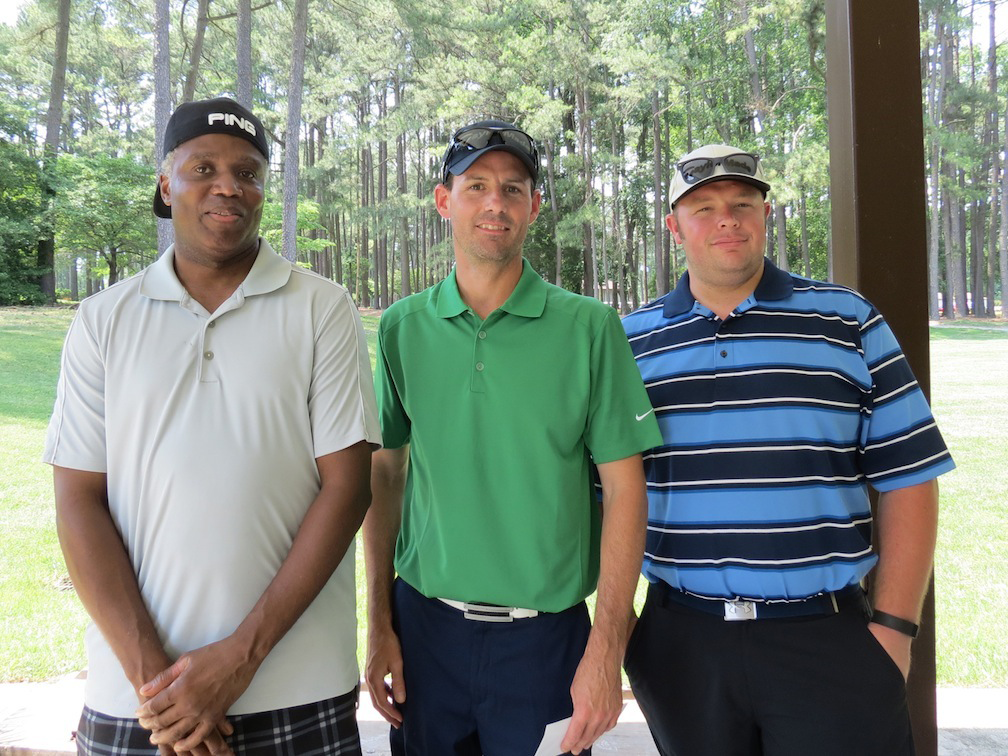 Teams teed off at 8:30 a.m. in a modified shotgun start format, finishing the 18-hole course at the same time in just under five hours. The weather, though a little windy, cooperated with the golfers; warm sun and cool beverages made for a perfect day on the course. Libations and lunch under the club's shaded outdoor pavilion topped off the day.
Second Place: (right)
UPS Package/Baltimore
Brian Pitt

Tony Petraglia

Chris Maurer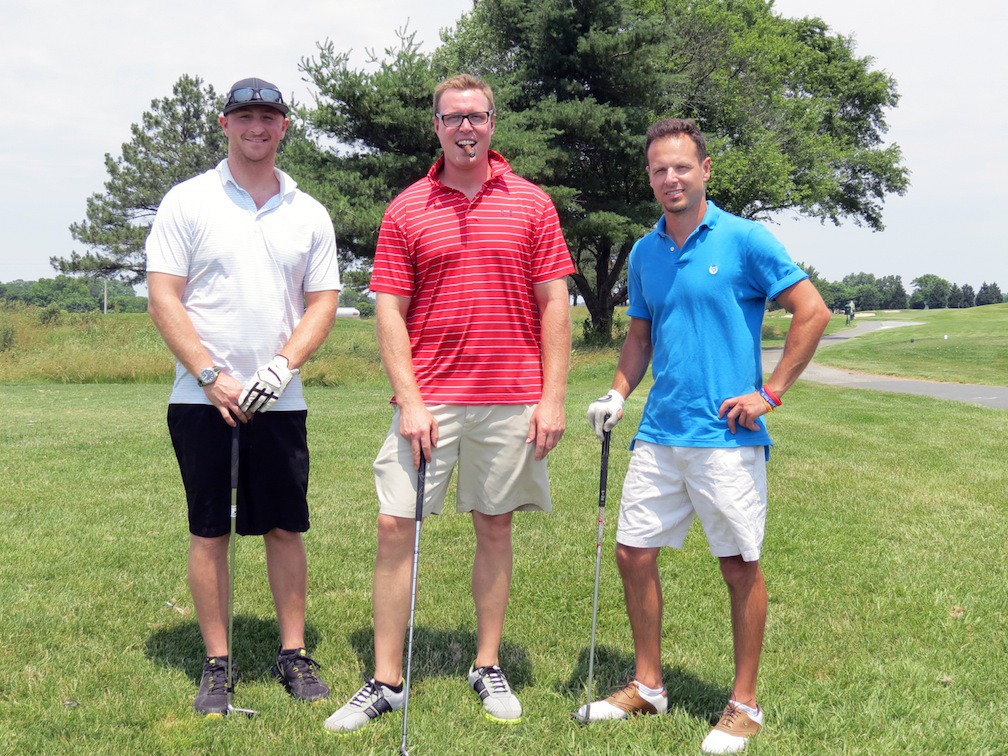 Third Place: (bottom right)
UPS/Hunt Valley
PJ Campbell

Matt Parks

Travis Charette
Long Drive -
Chris Maurer (UPS/Baltimore)
Close to Pin-
Lou Lubowski (Retired)
Photos/Teamsters Joint Council 62
News Items - May 2016
Corona, California US Foods Teamsters launch unfair labor strike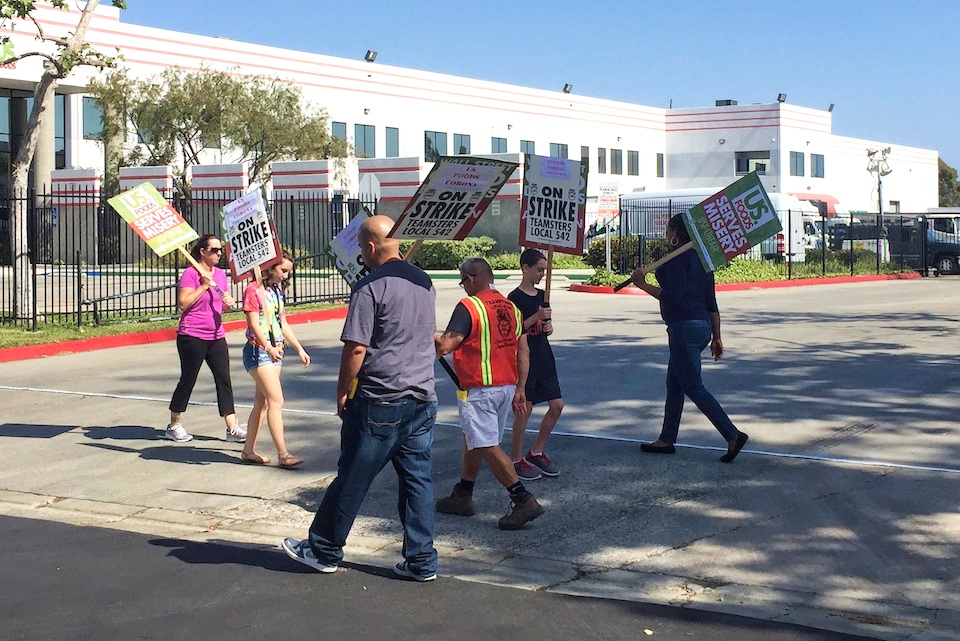 May 2, 2016 | Yesterday, Teamsters who drive for US Foods in Corona began a ULP strike to protest allegations that the foodservice giant violated federal law that protects workers rights. Almost immediately, Corona workers extended their picket line to 10 other US Foods distribution centers and resident yards in Southern California and Phoenix, Arizona, where 750 Teamsters have ceased work to honor the picket lines… In all, more than 800 Teamsters employed by US Foods are currently not working because of the strike and extensions... teamster.org
Stand with CWA/IBEW strikers at Verizon
May 5, 2016 | On April 13, 2016, General President Jim Hoffa declared that the Teamsters stand united with the CWA and the IBEW's strike against Verizon. Today he urges Teamster Local Unions and members to support our union brothers and sisters at Verizon. "It's more important now than ever to show Teamster solidarity in standing up to corporate greed. We have our own battles with corporate giants like US Foods where multiple Teamster Local Unions are on Unfair Labor Practice strikes, and at a Supervalu-owned distributor that services Kroger stores in Colorado. By having a strong Teamster presence supporting CWA and IBEW and helping those unions win their battles, we will help our union win current and future battles against these corporate giants." Sign the petition to "Stand with Striking Workers."
US Foods Teamsters in Ohio honoring Baltimore picket line
May 5, 2016 | Locals 355 and 570 striking USF members have extended their picket line to US Foods in Twinsburg, Ohio (Cleveland). Our US Foods brothers from Local 507 are all honoring the picket line. (Warehouse workers at US Foods in Corona, CA are now honoring the drivers' picket line. See post below.)
Local news station ABC Channel 2 report on US Foods ULP strike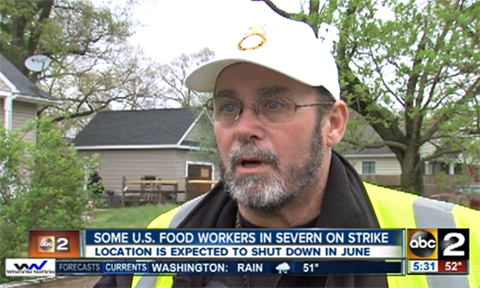 May 9, 2016 | "... they're trying to take these Maryland jobs, move them to Virginia, a non-union facility and then shuffle the trucks back up here to Baltimore," said Jim Deene, a local 355 teamster representative for the truck drivers. "Their package is worth about $32 an hour total with health and welfare and pension and they want to take it down to about $11 an hour..." See the news video at abc2new.com
US Foods Teamsters in New York honoring Baltimore picket line
May 9, 2016 | Locals 355 and 570 extend their picket line to Buffalo, NY. US Foods workers, members of Local 264, began honoring our picket line Friday, May 6 at midnight. Thank you, Buffalo!
Locals 355 and 570 extend picket lines to Michigan and Illinois
May 12, 2016 | On Tuesday, picket lines were extended to a US Foods location in Wixcom, Mich., where unloaders and drivers, members of Local 337, are honoring our strike. And last night, some 40 Teamsters represented by Local 722 who work at the US Foods' distribution warehouse in Streator, Illinois, refused to cross the picket line in solidarity with our brothers and sisters in Severn, Md. Thank you, Wixcom and Streator! #USFoodsStrike #Solidarity
Hoffa on the picket lines in support of USF members
May 16, 2016 | General President Hoffa this afternoon met and walked the picket line with more than 50 Local 355 and 570 members who have been on the picket line for almost three weeks (photos above). He pledged the full support of the International for the strikers. "US Foods is attempting to pull these workers out of the middle class," he said in a press release. "Slashing pay as well as health and retirement benefits is no way to ensure that this formerly Maryland-based company remains a good corporate partner in the Free State." Baltimore Sun story here.
Teamsters to host strike update conference call with US Foods investors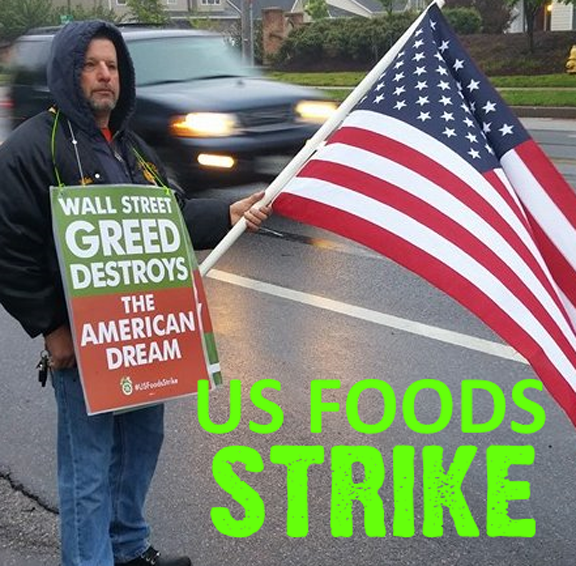 May 24, 2016 | The IBT will host a conference call tomorrow to discuss the immediate and long-term impact of recent strike at US Foods' distribution warehouses across the country and the ongoing strike in Severn. "We are stunned US Foods management is asking investors for money in the midst of repeated and sustained work actions against the company," stated Steve Vairma, director of the Teamsters' Warehouse Division. "We are now entering or fourth week of work actions and they will continue until management meets us at the table with real, substantive proposals to renew or resolve contract disputes at 18 Teamster represented US Foods warehouses."
Teamsters at largest USF facility in US honor our picket lines
May 25, 2016 | We extended our picket lines to Metro New York (Perth Amboy, NJ; photos above), the largest US Foods facility in the country. Three hundred and twenty warehouse workers and drivers from Locals 202 and 282 have the right to honor our picket lines by refusing to work. facebook.com/SyscoUSFworkers Teamster press release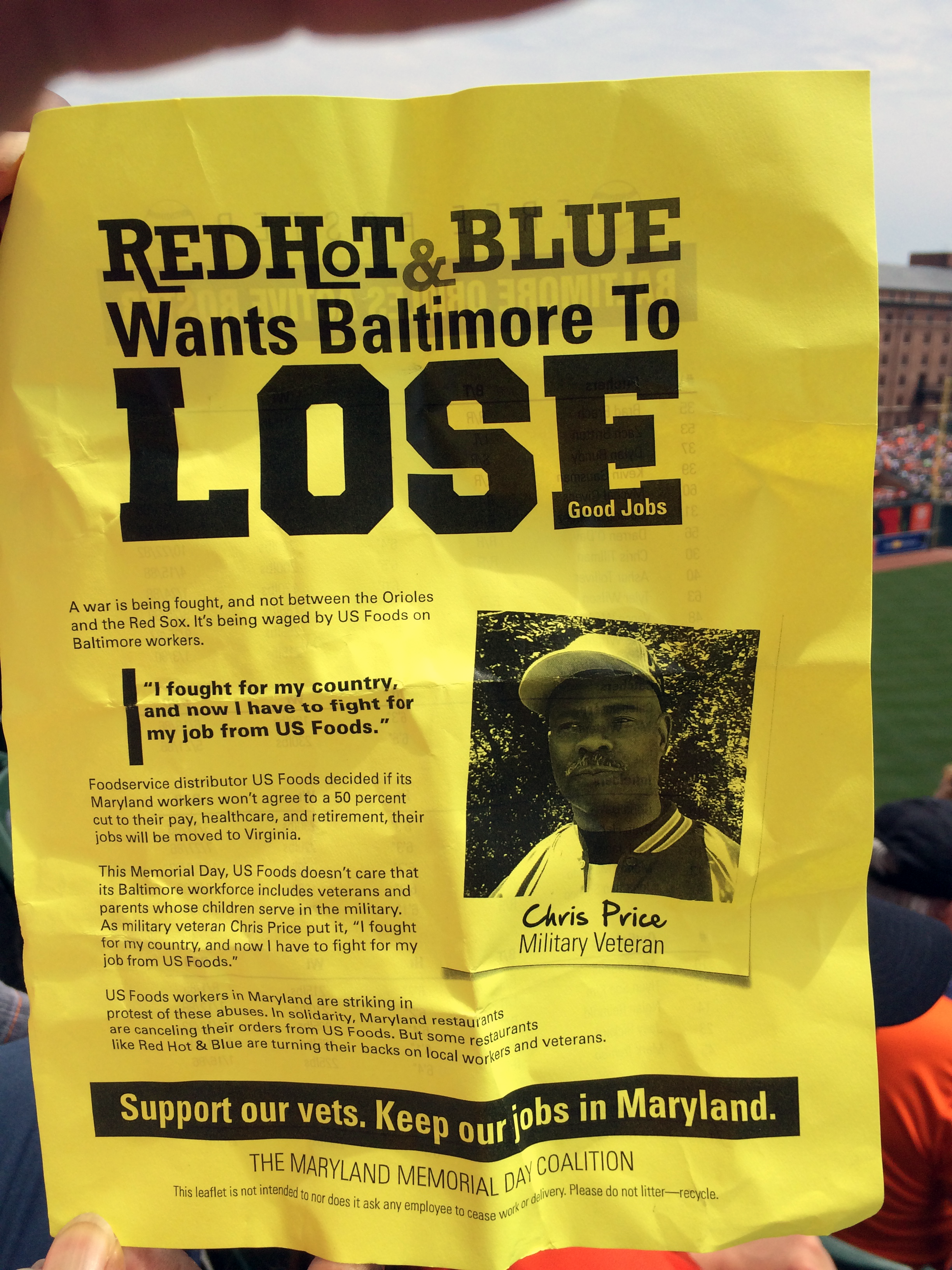 US Foods members take their message to Camden Yards
May 31, 2016 | (click image to enlarge) Locals 355 and 570 distributed informational leaflets – Support our vets. Keep our jobs in Maryland – yesterday during the Memorial Day Baltimore Orioles game. "A war is being fought, and not between the Orioles and the Red Sox. It's being waged by US Foods on Baltimore workers." Local 570 warehouse worker, Chris Price, is a military veteran. "I fought for my country, and now I have to fight for my job from US Foods."
US Foods Provokes Unfair Labor Practices Strike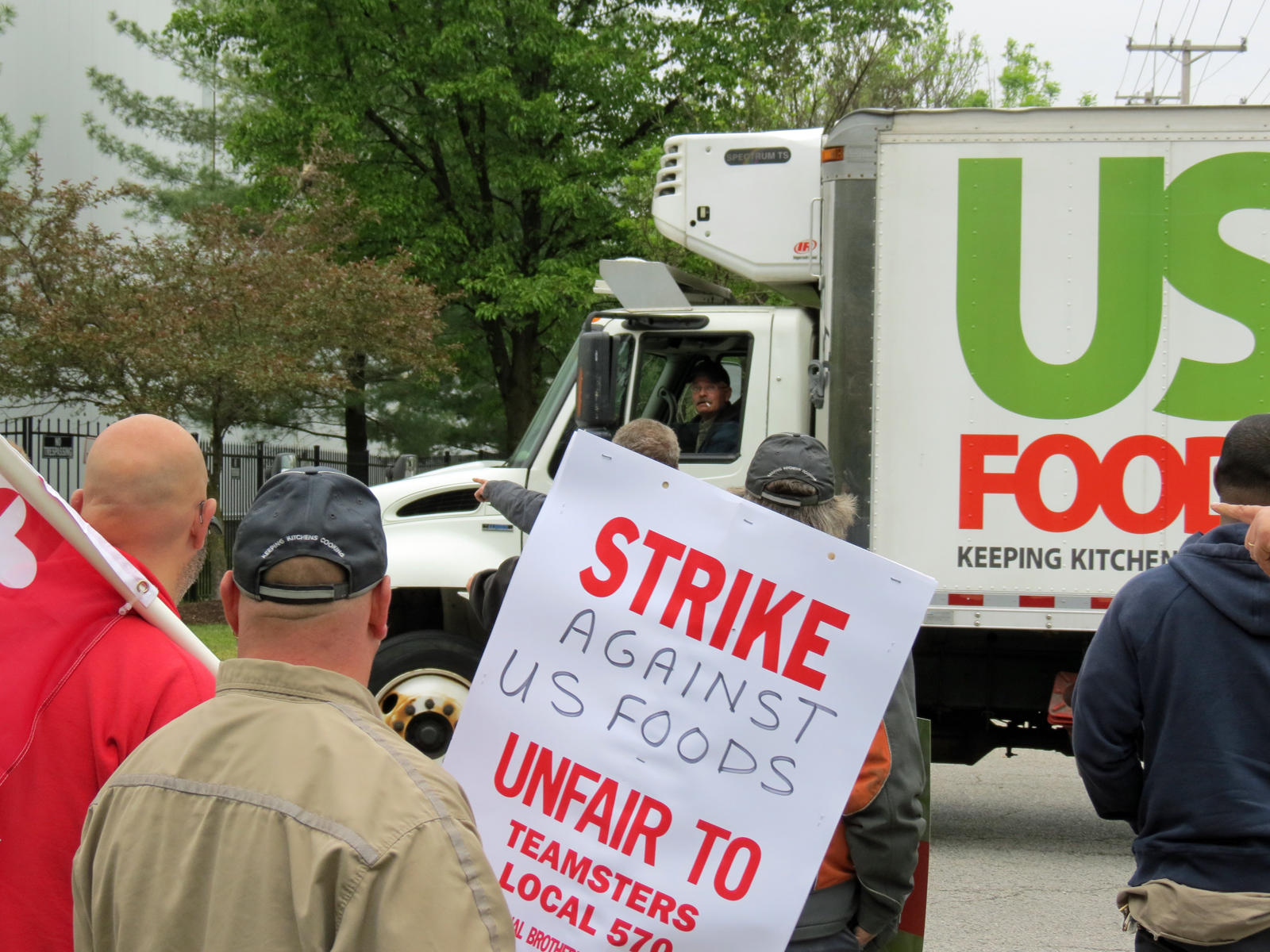 Nearly 200 Maryland Teamsters working for US Foods began an unfair labor practice strike today at the company's Severn, Md. distribution center. Warehouse workers and drivers filed charges with the National Labor Relations Board, alleging that US Foods has been bargaining in bad faith about its decision to close the Severn facility in June.
US Foods is the nation's second-largest foodservice provider and is owned by Wall Street private equity behemoths KKR and CD&R. The 200 drivers and warehouse workers at the Severn facility are represented by Teamsters Locals 355 and 570.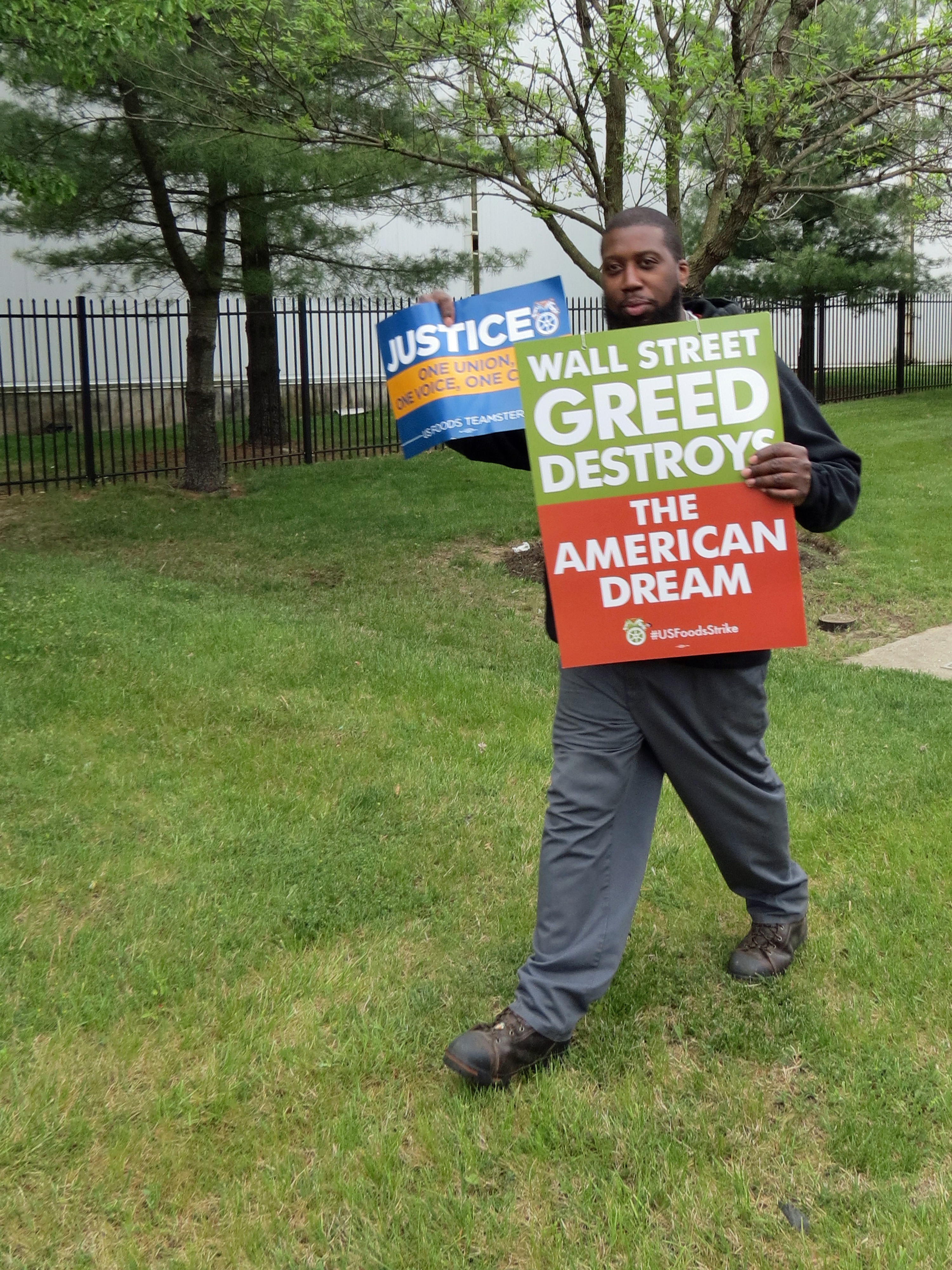 "US Foods is legally required to bargain with its workers' representatives about a possible decision to close the distribution center. Instead, the company announced that it would not bargain with us until workers agreed to concessions that would slash their compensation by more than 50 percent," said Teamsters Local 355 President Denis Taylor.
"US Foods also started bringing in independent contractors this past weekend to move inventory out of state. Workers took action and went on a ULP strike today because US Foods left them with no other choice," Taylor said.
Taylor continued, "It is outrageous that a formerly Maryland-based company is threatening to outsource hundreds of good, family-supporting jobs in Maryland to a low-road non-union facility in Virginia. In addition to the loss of jobs, this would cause the state and localities to lose hundreds of thousands of dollars in tax revenue annually. We are calling on US Foods to postpone the decision and sit down with workers, customers and public officials to find a way to keep good Maryland jobs in Maryland."
Since its purchase by Wall Street private equity firms nine years ago, US Foods has engaged in a systematic campaign of harassment and intimidation against its workers, both union and non-union.
"US Foods is threatening to close our facility because we refuse to let the company slash our wages, abolish our retirement plan and destroy our quality, affordable family health care. They won't even bargain with us about it in good faith," said Joe Schwabline and Chris Price, driver and warehouse stewards at the Severn facility. "If we all stand together, we can stand up to US Foods and its Wall Street owners and stop their bullying."
Steve Vairma, Teamsters International Vice President and Director of the Teamsters' Warehouse Division, said, "US Foods has a pattern of being willing to destroy good jobs and local economies when it doesn't get its way with workers. The company should be working with its employees and the community to come up with solutions to save these 200 jobs, instead of destroying the local consumer base that patronizes the local restaurants the company supplies."
Vairma continued, "We are going to make sure local restaurants know exactly what US Foods is doing to the communities that patronize their businesses."
US Foods earned $23 billion in annual revenue in 2014. The company provides 350,000 products and services to 200,000 customers including restaurants, hospitals, schools, military bases and hotels. US Foods has 25,000 employees and 75 distribution facilities. The Teamsters represent 4,100 US Foods employees, with 44 contracts at 29 facilities.
* Our striking brothers and sisters need your support on the picket line
We invite all Teamsters Local 355 members to support our brothers and sisters fighting for their rights by walking the picket line along with them at the US Foods facility at 8024 Telegraph Rd., in Severn, Md. Bring your family and friends, your neighbors and coworkers. And if you can commit to some time on the line to give a US Foods Teamster a rest break, check in with a strike team leader to sign up for scheduled time slots. (Please note: Do not park at or near the facility. Parking is available at the Severn Run Bar & Grille at 7940 Telegraph Road. We have vans running regular pick-up and drop-off trips; wait times average between 5 and 10 minutes.)
Even if you can't donate time, contributions of food stuffs and goodies will be most appreciated. Members rotate shifts around the clock, seven days a week. We need them to keep up their energy! Thank you!
News Items - April 2016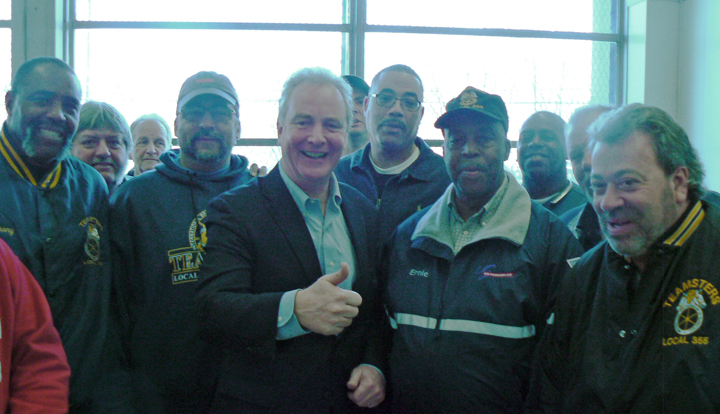 The Best Choice for Local Membership – Van Hollen for U.S. Senator: Local 355 endorsed Maryland Representative Chris Van Hollen at Sunday's general membership meeting in Baltimore. Van Hollen pledged his support for Local 355 and US Foods members. (L-R) are Anthony Thomas, Joe Bell, George Elion, Rep. Van Hollen, Doug Robertson, Dave Moore, Ernie Warfield, Anthony Perry, LU 355 organizer Ed Mulford, and Joe Schwabline. Recently, Van Hollen assisted in keeping Safeway jobs, held by Teamster Locals 639 and 730 members, in Maryland. The Maryland primary is April 26th. Vote early!
Most YRCW employees receive wage increases – first since 2013
Apr. 4, 2016| Teamster-represented workers at the YRC Worldwide, Inc. (YRCW) are receiving wage increases as part of the first negotiated increases to kick in under the Extension of the Restructuring Agreement. The increases apply to the majority of Teamster-represented employees. Non-CDL employees hired after February 2014 will not receive the increases. Most workers will receive increases of 34 cents an hour or .850 cents per mile, effective April 1, 2016. It is the first increase in wages for YRCW employees since 2013.
Contract vote Sunday, April 10th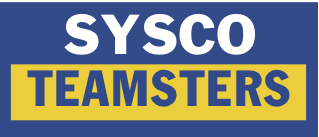 Apr. 6, 2016| A contract vote will be conducted Sunday, April 10, 2016 at 10 a.m. at the Dewey Lowman American Legion Post 109, 1610 Old Sulphur Spring Road, Halethorpe, Md. Please be present and on time.
Baltimore Sun: US Foods to close Severn distribution center
Apr. 6, 2016 | Updated 4/7 | US Foods said Wednesday that it would close a distribution center in Anne Arundel County in June, eliminating the last local footprint of a once-mighty Maryland company, after failing to reach an agreement on concessions with unionized workers at the facility ... US Foods wanted $8 million in annual concessions from the unions, including switching from pensions to a 401(k) and an average pay cut of $5.75 an hour for warehouse workers — demands that were too large, said Denis Taylor, president of Teamsters Local 355, one of two Teamsters locals that together represent about 180 workers in Severn. "There's no possibility that we could meet the company's demands," he said. "It's just not possible." ... US Foods, like many large employers, is required by law to provide advance warning of major layoffs. The state has not received a formal notice, said a spokeswoman for the Department of Labor, Licensing and Regulation. Continued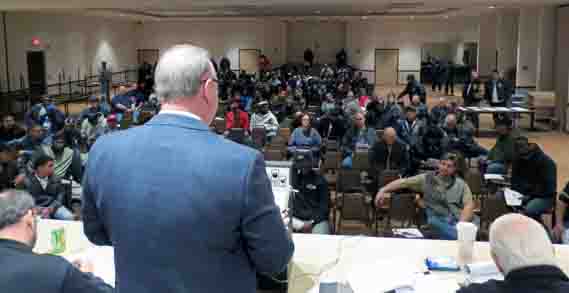 Sysco members approve new contract
Apr. 10, 2016 | After more than a year of negotiations and one rejection vote, Local 355 members who work for foodservice distributor Sysco Corporation in Jessup, Md., ratified today a three-year collective bargaining agreement that increases wages, provides a signing bonus, and preserves and increases pension benefits. The contract also provides job protections for drivers who are medically disqualified from driving the employer's equipment by guaranteeing a one-time opportunity to transfer to a warehouse position. Members overwhelmingly rejected in January the company's final offer that was put to a vote without the bargaining committee's recommendation. Of the improvements to the new tentative agreement, President Denis Taylor said, "This agreement reflects every issue you asked us to address with the company." After the vote, Taylor said the contract will be effective tonight once the company is informed of the vote. "I appreciate the support of the membership," he said, adding "Of course, we'll start the bargaining process all over again in about 13 months."
Anne Arundel County members ratify new contracts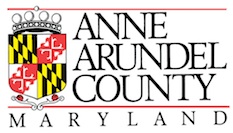 Apr. 13, 2016 | Successor agreements for a one-year term are in place for county deputy sheriffs, fire battalion chiefs, park rangers, and correction programs specialists. The contracts do not provide COLA increases but do provide for merit increases or lump sum payments for all groups. The agreements maintain current health insurance cost sharing until June 30, 2017. The correction program specialists contract provides merit pay advancements. The deputy sheriffs contract eliminates clothing and weapons allowances but increases the minimum and maximum pay rates.; increases the number of unused annual leave days an employee can carry over into a calendar year; provides full regular pay during a period of temporary total disability; and provides interest in the sixth year of the DROP (retirement) program. Fire battalion chiefs are also entitled to receive fill regular pay during a period of temporary total disability, and are guaranteed adjustment to extra shift bonus pay which is based on maximum salary rate of Fire Captain. Park rangers will be allowed to take holiday leave on a different day provided it falls within the same week as the actual holiday.
Teamsters, carhaul employer group to meet April 25 to resume negotiations
Apr. 18, 2016 | The Teamsters National Automobile Transporters Industry Negotiating Committee (TNATINC) and the carhaul employer representatives have largely resolved most operational issues but are still negotiating over the hard-fought benefits our members have earned and deserve. Both sides wrapped up the most recent negotiations on April 12-13. The TNATINC will meet again with the employer group on Monday, April 25 to try to resolve the few but serious economic issues that remain in an effort to complete these long and difficult negotiations. In the meantime, the union asks that all carhaul members continue to work as usual and look for updates here.
Parties remain apart on critical economic issues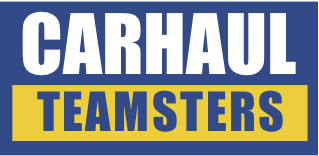 Apr. 26, 2016 | Despite lengthy and thorough negotiations, Teamsters negotiators and the carhaul group remain apart on the most critical economic issues to the members, including pay retroactivity and the appropriate level of wage increases necessary to retain drivers in a long-term agreement. More at teamster.org
US Foods Teamsters strike in Maryland
Apr. 27, 2016 | Update here On April 27, 2016 at 2pm, Teamster members of U.S. Foods in Severn, Md., walked off the job and commenced an unfair labor strike against the Company, according to a Teamsters Joint Council 62 press release issued today. The dispute centers around the Company's failure to bargain in good faith, its use of out-of-state and non-bargaining-unit employees to perform work normally performed by the Teamsters, and the Company's attempt to deal directly with its employees concerning effects bargaining. US Foods employs approximately 190 Teamsters in both the warehouse and delivery operations." Watch this space for updates on Local 355 drivers' and mechanics' fight for justice.
News Items - March 2016
UPS workers protest against supervisor
Mar. 3, 2016| UPS employees claim that they have been victims of racial slurs and discrimination at the company's warehouse in Riviera Beach, Fla. Warehouse workers and Teamsters protested Tuesday morning outside the facility. Employees said they've filed several grievances against their supervisor, but he was only moved to a different position. wpbf.com
Teamsters apply heat to US Foods after failed Sysco merger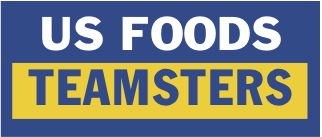 Mar. 4, 2016| US Foods is coming under fire from its biggest union as it tries to go public following last year's failed merger with Sysco. The Teamsters is pushing back against the company's plan to close a distribution center near Baltimore, while union members at other centers are working without a contract. nypost.com
The fight against the corporate agenda begins now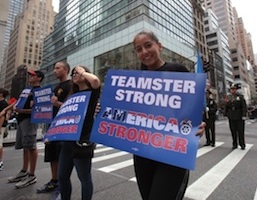 Mar. 7, 2016| Corporate cronies for years have sought to do everything they can to push their platform to the public in hopes of getting more anti-worker policies passed at all levels of government. But a new report shows that effort might be succeeding… The agenda of the right wing includes takeovers of federal, state and local governments through extensive and permanent political organization down to the local precinct level and destruction of foes – notably unions – who oppose the corporate program. Its agenda includes everything from enacting so-called "right to work" laws to fighting school district taxes. It's because of such efforts that the Teamsters are debuting a new program for activists… teamster.org
The 2016 Local 355 Scholarship Award applications are now available
Mar. 8, 2016| For the past 41 years, our Local has offered scholarships to the sons and daughters of Local 355 members who seek to fulfill their dreams through higher education. Applications are now available for our 42nd Annual Scholarships to be awarded during the May 2016 regular monthly membership meeting. Eligibility requirements: You must be in continuous good standing in our Local for 12 consecutive months before May 2016, and your student must be a graduating senior this year. No tests, no long application process! Easy, right? Download the application here. (Stepchildren, if living in the same household as you, are also eligible to apply.) Contact your steward for additional details.
Despite election losses, FedEx must negotiate with Teamsters
Mar. 17, 2016| Despite losses in six elections at FedEx Freight locations in Pennsylvania and North Carolina, the Local 107 in Philadelphia and the Local 71 in Charlotte will be recognized ­— and the company must bargain with the unions at both terminals. According to industry publication Transport Topics, the Eighth Circuit Court of Appeals upheld a ruling by the National Labor Relations Board (NLRB) that said FedEx Freight must recognize the unions. bizjournals.com
Contract negotiations resume April 12th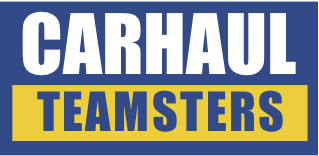 Mar. 23, 2016| The Teamsters National Automobile Transporters Industry Negotiating Committee and the carhaul employer representatives will resume negotiations on Tuesday, April 12 and Wednesday, April 13 in Detroit. Stay tuned...
Supreme Court upholds Tyson Foods workers class-action suit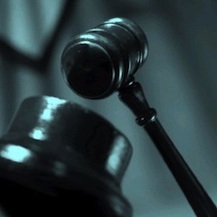 Mar. 23, 2016| This Supreme Court case and the justices' ruling perfectly illustrates why the nomination of worker-friendly Supreme Court justices are so important to the future of working men and women in America. It is also a strong affirmation of workers' right to band together to sue their employer for its failure to follow federal law. (More than 3,000 employees sued Tyson Foods for not properly compensating them for hours worked.) The New York Times reports "The Supreme Court on Tuesday sided with thousands of workers at an Iowa pork processing plant who has sought to band together in a single lawsuit to recover overtime pay from Tyson Foods… The Tyson workers performed tasks that were 'grueling and dangerous' at a plant in Storm Lake, Iowa, Justice Kennedy wrote, slaughtering hogs, trimming the meat and preparing for shipment. They sought to be paid for the time they had spent putting on and taking off protective gear to prevent knife cuts…" nytimes.com
Why won't these French company talk to U.S. workers?
Mar. 28, 2016| ...The International Brotherhood of Teamsters is calling on one of the largest providers of industrial and medical gases in the world to quit taking toxic anti-labor cues from stateside advisors — and immediately start talking with worker representatives. In a controversial bid that's sparking anti-competitiveness concerns, Air Liquide is poised to purchase the biggest distributor of industrial, medical and specialty gases here in the United States for a whopping $13.4 billion... Labor Press
Reminder: Hoffa scholarship application deadline is tomorrow, March 31
Mar. 30, 2016| Deadline for the application is Thursday, March 31, 2016. Applications must be received by this date or will not be considered. Email the application as one PDF to scholarship@teamster.org OR it can be faxed to (202) 624-7457, or mailed to the following address: James R. Hoffa Memorial Scholarship Fund 25 Louisiana Ave NW Washington, DC 20001. Finalist notification will be given by June 2016 via email. Awards will be disbursed to the student's school by August 2016.
Paid sick leave bill gains key approval in Maryland House
Mar. 31, 2016| A bill that would require companies to offer sick leave to workers is advancing in the House of Delegates. The bill would require companies with at least 15 employees to allow workers to earn up to seven days of paid leave per year – a change from 10 employees in the original bill. Smaller companies would only be required to offer unpaid sick leave... Baltimore Sun
News Items - February 2016
Members reject tentative agreement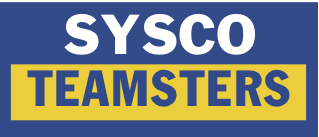 Feb. 1, 2016 | The union negotiating committee will continue to negotiate on members' behalf Thursday, February 4th, and Friday, February 5th, after members overwhelmingly rejected Sysco's last, best and final offer at a meeting held Sunday in Baltimore. The tentative agreement was presented to members without the bargaining committee's recommendation. After the vote results had been announced, President Taylor described possible next steps and called on members' to tell the committee what it will take to get to an acceptable agreement. "In the meantime, continue to go to work and do your job," Taylor told the packed hall. "If you have a problem, let us know – don't do anything on your own." Sysco members with questions about the proposed contract and next steps should talk to their shop steward. Local 355 represents 263 Sysco drivers, jockeys and warehouse workers.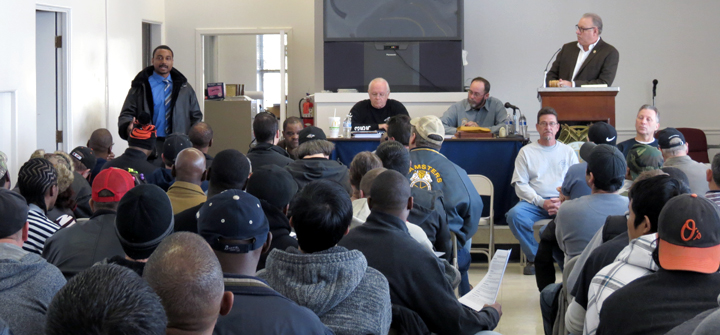 Bargaining committee member Eric McKee addressed the membership prior to the vote. (Other committee members include President Denis Taylor, Business Agents Dan Taylor and Jim Deene, shop stewards Chris Greene, Harry Goodall, Ricky Kilgore, Bob McCullough, Orlando Monroe, and Chris Whitcomb.)
Acme Paper co-founder, Edward Attman, passes
Feb. 3, 2016 | Edward Attman, a founder of the Acme Paper & Supply Co., which began in a rented garage and grew to be one of the nation's largest suppliers of paper products, died Tuesday of natural causes at Sinai Hospital, family members said. The longtime Pikesville resident was 95. Local 355 represents 115 drivers and warehouse workers employed with the company. The Baltimore Sun
Teamsters and others fight pension battle over multi-employer fund
Feb. 4, 2016 | A half mile from their union hall, over 220 retired members of Teamsters Local 346 gathered at Holy Family Catholic Church in Duluth's West End in late January to fight for their pensions. But this isn't just a Teamsters fight. They're one of the unions under the knife now, but 200 multi-employer pension funds covering 1.5 million American workers could be in jeopardy for a number of reasons. peoplesworld.org
US Foods forces Phoenix Teamsters to launch unfair labor practice strike
Feb. 5, 2016 | Teamsters Local 104 members with US Foods took up unfair labor practice pickets yesterday, charging the nation's second-largest foodservice provider with bargaining in bad faith and discriminating against its union workforce as they attempt to negotiate a new collective bargaining agreement. teamster.org
FAA reauthorization legislation would roll back truckers' mandatory rest time
Feb. 5, 2016 | Click here to read President Hoffa's response to a provision included in new FAA reauthorization that would curb states' ability to require mandatory meal and rest breaks for truck drivers.
Call now and urge Congress to say NO to job-killing TPP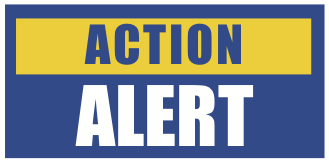 Feb. 10, 2016 | Last week, trade ministers gathered in New Zealand to sign the Trans-Pacific Partnership (TPP). But signing the TPP is not the same as it being ratified by Congress. This week, Teamsters from all of the country are flooding Congress with calls demanding they reject the massive trade deal. If we put enough pressure on our Congress members, the entire thing can still be derailed. That's where you come in: Please call the toll-free number 1-844-394-8431 now to join thousands of others urging Congress to oppose the TPP.
Convention delegates, alternates elected on white ballot
Feb. 11, 2016 | Nominations for seven delegates and seven alternates to the 2016 International Brotherhood of Teamsters Convention were held on February 7th at our monthly membership meetings in Baltimore and Salisbury. Because only seven candidates for each were nominated (thus the use of the term white ballot), all were declared duly elected by IBT Elections Officer Frank Sheridan, who oversaw the meeting. Kevin McDermott, past president of Teamsters Local 570 (Baltimore), conducted the nominations.
Delegates: Denis Taylor, Dave White, Bill Alexander, Mark Garey, Janet Genovese, Tim Marvel, and Pete Manus.
Alternates: John Moylan, Pat O'Toole, Joe Seda, Gil Howdershelt, Lance Miller, Chris Greene, Dwayne Miles.
The convention will convene June 27 - July 1, 2016, in Las Vegas, Nevada. The size of the membership determines the number of delegates and alternates to which the Local Union is entitled. Official announcement here.
Hall: WV legislature sides with corporate interests over workers
Feb. 16, 2016| In statement released last Friday following the West Virginia Legislature's override of the governor's veto of so-called right-to-work legislation, Secretary-Treasurer and Local 175 President Ken Hall said, "This is a dark day for our state. Lawmakers have chosen to side with out-of-state billionaires over hard-working West Virginians. The Teamsters, together with other union members and working West Virginians, turned out to strongly oppose these bills because we understood passing them would do nothing to help workers earn a fair living…" teamster.org West Virginia becomes the 26th right-to-work (for less) state on July 1, 2016.
Negotiations resume this week
Feb. 22, 2016| The Teamsters National Automobile Transporters Industry Negotiating Committee (TNATINC) and carhaul employer representatives will reconvene on Thursday, Feb. 25 and Friday, Feb. 26 in Detroit to discuss and exchange proposals for a new national contract. "We hope the next round of talks is productive and the parties are anxious to conclude the talks with a tentative agreement that will meet the membership's needs and expectations," said Kevin Moore, Director of the Teamsters Carhaul Division. In the meantime, the union asks that all carhaul members continue to work as usual and look for updates at www.teamster.org/carhaul-2015
Teamster mechanics picket, notify United Airlines passengers of possible strikes
Feb. 29, 2016| Hundreds of United Airlines mechanics picketed Friday at the San Francisco, Los Angeles (LAX), Newark, LaGuardia, Washington Dulles, Cleveland, Boston Logan and Orlando airports, to educate passengers about upcoming strikes. …The mechanics held picket signs that read, "ON STRIKE – Not Yet" and distributed leaflets to United's customers that read, "Passengers Brace for Summer Strike at UNITED"… teamster.org
Rollback of mandatory driver rest time has no place in bill
Feb. 29, 2016| President James P. Hoffa on Friday applauded Sen. Barbara Boxer's call to remove a measure from FAA legislation that would curb states' ability to provide higher wages and basic meal and rest breaks for truck drivers. "Yesterday, Sen. Barbara Boxer [D-Calif] took a stand for trucker safety by denouncing a rider that was attached to the House FAA bill that would override meal and rest break rules in 22 states. This threat to highway safety is nothing but an attempt by the American Trucking Association to keep drivers on the clock and behind the wheel as much as possible, yet again prioritizing profits ahead of people…" teamster.org Related: Bitter battle erupts on Capitol Hill over bathroom breaks for truck drivers
Teamsters: 'Significant progress' at negotiations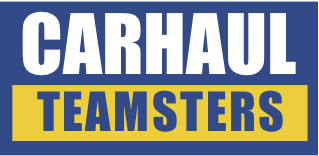 Feb. 29, 2016| The Teamsters National Automobile Transporters Industry Negotiating Committee (TNATINC) made significant progress with the carhaul employer representatives after two days of contract negotiations that wrapped up today."We made significant progress and we plan to meet again in the very near future," said Kevin Moore, Director of the Teamsters Carhaul Division. "We hope to reach a recommended agreement very soon that addresses the needs of our members." In the meantime, the union asks that all carhaul members continue to work as usual and look for updates, here.
News Items - January 2016
L.A. port drivers win $7 million in back pay; end misclassification
Jan. 5, 2016 | The underpaid, exploited port truck drivers at the nation's largest cargo terminal, Los Angeles-Long Beach, have won another round in their long fight for fair pay and job protections. he Teamsters and their Southern California Joint Council 42 have waged a years-long campaign to both win employee status for the thousands of port truckers and to organize them. People's World
Local 355 Vice President 'Erv' Williams retires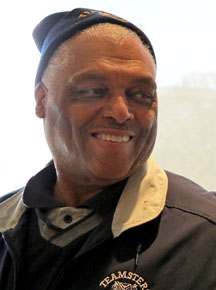 Jan. 11, 2016 | After more than 20 years in service to our local union and its members, Brother Ervin Williams, vice president and business agent, retired effective Dec. 31, 2015. Williams joined the staff of Local 355 in October 1995, working first in Baltimore then moving to the Eastern Shore to run the Salisbury union office. A member of the Teamsters Union for 41 years, Williams was committed to activities and policies promoting the advancement and improvement of every member. In his report to members at our general membership meeting Jan. 10th, President Denis Taylor said, "Erv Williams is one of the finest individuals I've ever met in this business. He helped me out immensely. He determined that it was time to move back to Virginia Beach, time to see the brighter side of life. On behalf of the staff and members, I wish him well and thank him for his years of service to this Local." The Executive Board unanimously approved Taylor's recommendation to appoint current Local 355 Recording Secretary Bill Alexander to vice president, and Local 355 Business Agent Mark Garey to recording secretary. Watch for more about Erv Williams in our next newsletter.
Teamsters, carhaul employers resume negotiations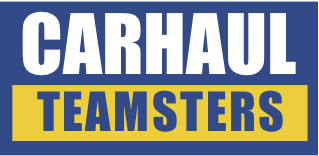 Jan. 12, 2016 | The union's negotiating committee and carhaul employer representatives are reconvening today and tomorrow in Detroit to discuss and exchange proposals for a new national contract. In December, both sides made progress toward a new tentative agreement. While several outstanding contract issues have been largely resolved, both sides are still evaluating serious and difficult economic issues. The union asks that all carhaul members continue to work as usual and watch this space for updates.
Amports members approve new 4-year contract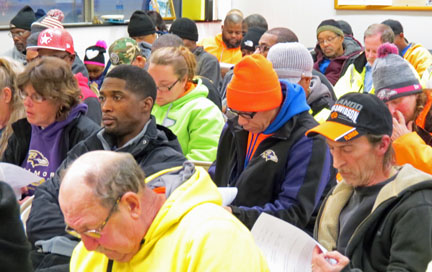 Jan. 13, 2016 | More than 100 members employed at vehicle processor Amports East attended a meeting in Baltimore, Monday, Jan. 2016, to review a tentative agreement that had the full recommendation of their bargaining committee. Following a Q&A session, a secret ballot vote was held. The new contract provides a 4%-5% wage increase over the term, an increase in the company's contribution to the 401(k) in the first and third year of the agreement; one dollar per year increase in employee's contribution to healthcare costs; and new language governing drug tests. A significant achievement in this round of negotiations was the successful elimination of contract language that cut an employee's pay by as much as $4 per hour if the employee had to move to a lower paying job. (Amports is a processing operation for vehicle exports at the Port of Baltimore.) In other contract news, members at Mid-Atlantic Baking on January 2, 2016, ratified a new 3-year contract that provides a significant wage increase over the term, an increase in the employer contribution to the 401 (k), and improved vacation language. Additional details in the next issue of our newsletter.
Posted! Retirees Christmas party photos
Jan. 19, 2016 | Our Local's retiree club (Local 355 Association of Retired Members) held December 17, 2015 at UAW Local 239's hall in Baltimore had its biggest turn out ever. Delicious food provided by attentive, helpful service, a cake wheel, money wheel, 50-50 raffle, and music and dancing all made for an afternoon of camaraderie and festive fun. These photos say it all. Enjoy!
Hoffa: We stand with Flint
Jan. 20, 2016 | "Over the past month the water crisis in Flint, Mich. has been brought to the nation's attention. However, this is a tragedy that Michiganders have been aware of and the families of Flint have been dealing with since April 2014. Decisions made by state officials over the last year-and-a-half have led to a community being forced to use water from the Flint River – a source that has been found to contain unacceptable levels of lead." teamster.org
Teamsters delivering bottled water to Flint, Michigan
Jan. 21, 2016 | Members of Teamsters Local 135 made a special delivery this morning to Flint, Michigan. The city's residents are in desperate need of clean water after theirs became contaminated with lead when the city switched from the Detroit water system to the Flint River in a cost-cutting move. More...
Contract vote scheduled for Sunday
Jan. 26, 2016 | Local 355 members employed at Sysco have been working under extension agreements since the contract expired in March of 2015. They will vote on a tentative agreement Sunday, January 31, 2016 at 10 a.m. at the Baltimore union hall.
News Items - December 2015
Piedmont Airline dispatchers approve contract Dec. 2, 2015  | Concluding nearly 18 months of negotiations that included a rejection vote in January 2015, dispatchers at Piedmont Airlines ratified November 18, 2015, new provisions in the existing collective bargaining agreement (CBA).

News Items - November 2015
"Unions aren't needed anymore."
Nov. 3, 2015 | How many times have you heard that recently? Well, here's an excellent video reminder from our Canadian brothers and sisters that there's nothing new, and nothing true, about that all-too familiar line. Click here to watch.
House rejects highway bill amendment to allow heavier trucks
Nov. 4, 2015 | The House on Tuesday defeated an amendment to a $325 billion highway funding bill that would have let states decide whether they want to allow heavier trucks on their roads. The amendment would allow states to decide whether they want to increase a current limit of 80,000 pounds for cargo trucks to 91,000 pounds. Proponents wanted to attach it to the highway bill in an attempt to end a bitter fight over truck weights that has raged for years in Washington. The proposal was rejected 187-236 in a House floor vote.
Tell Congress to vote NO on the job-killing TPP
Nov. 5, 2015 | If the TPP is approved by Congress, this awful deal would offshore good-paying American jobs and lower wages in the jobs that are left, increasing inequality by forcing Americans into competition with workers paid less than 65 cents an hour. Put simply: it stinks. The just-released TPP text is actually worse than we imagined. Here are just a few examples of how the TPP will undercut jobs and wages. Also, Hoffa says release of TPP text does little to allay workers' concerns about the deal.
Members employed at Avis Rent-A-Car ratify new three-year contract
Nov. 6, 2015 | Service agents, rental sales agents, customer service representatives (CSRs), and technicians overwhelmingly approved on Wednesday, Nov. 4, 2015, a successor contract that provides significant wage increases, an additional sick day, and an increase to the boot and tool allowances, a 20-cent per hour increase in lead pay, and a 45-cent per hour increase in overnight shift differentials. In addition, the contract will provide pension contribution increases each year of the agreement which will result in increased benefits to the members. "This is one of the better contracts we've negotiated with this employer," said Mark Garey, the business agent for the Avis workers. Watch for additional information on this contract and other contract negotiations in our next issue of Local 355 Union News.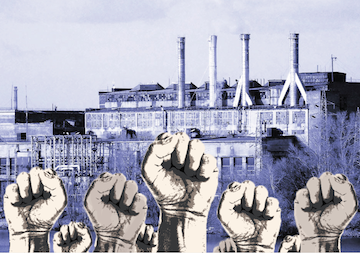 The march to inequality: How did we get here?
Nov. 10, 2015 | This week Talking Points Memo launches an in-depth four-part series on the ever-pressing issue of today, wealth and income inequality. "The four pieces come from different authors, each coming from a different angle, with a different sort of expertise. The aim of the series is to pose a simple question: How did we get here?…" The first installment looks at the politics of the left and the decline of organized labor over half a century. The decline played a key role in the declining economic clout of working class and middle class Americans, but it is only part of the story…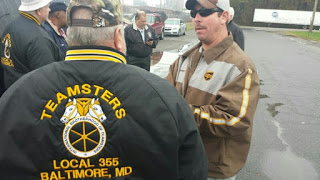 Teamsters take a stand for fair pay, organizing workers
Nov. 11, 2015 | The Teamsters joined with thousands of truck drivers, valet attendants and low-wage workers across the country yesterday in a day of action to raise awareness about the sorry state of wages and benefits for millions of everyday Americans on the job... From Baltimore to Seattle, Teamsters stood outside more than 300 FedEx Freight terminus educating workers about the company's spending of $5.2 million over the past three years to cover the personal taxes of top executives as well [as] hundreds of dollars to wage anti-worker campaigns. Meanwhile, workers there continue to have access to poor and expensive health benefits. Continued... Pictured: UPS Freight driver Al Richardson and Joe Smith (back to camera), members of Local 355.
Teamsters applaud Senate motion to keep double 33' trucks off the road
Nov. 12, 2015 | The Senate scored a victory for highway safety Tuesday for passing a motion by a 56-31 margin which instructs Senate negotiators of a long-term highway bill to oppose any federal mandate that would force states to allow an increase in length of tractor trailers at this time. Continued…
Teamsters, carhaul employer group to reconvene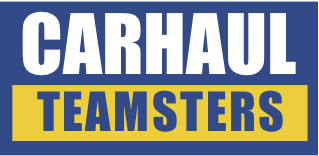 Nov. 17, 2015 | The Teamsters National Automobile Transporters Negotiating Committee (TNATINC) will reconvene with the carhaul employer group this week to negotiate on the members' behalf after carhaulers overwhelmingly voted to reject the national agreement and two supplemental agreements. The negotiations come after local unions held meetings over the past few weeks with the carhaul members to discuss the recently rejected tentative agreement. All carhaulers should continue to work as usual and the TNATINC will keep local unions and members updated.
21 organizations fighting for labor rights in the food system
Nov. 19, 2015 | … In Tracy, California, Teamsters members are fighting poverty wages and severe violations of basic rights at Taylor Farms. And more than 11,000 Teamsters workers have united to defeat a mega-merger of U.S. Foods and Sysco, which would have jeopardized thousands of broadline food service and transportation jobs… Read more here.
High court rulings could affect workers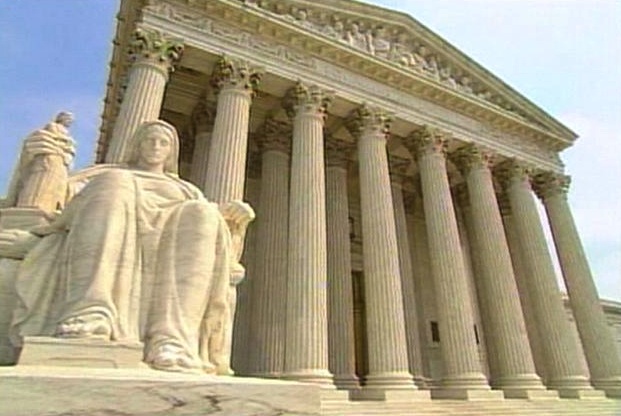 Nov. 20, 2015 | The future of workers on the job could be shaped significantly by a spate of causes set to be considered by the U.S. Supreme Court during its current term. And it is something more everyday Americans need to be aware of and consider. … The Teamsters represent about 273,000 public sector workers, and other union represent millions more. These government employees are everyday Americans just trying to earn a living and support their families. But that will be increasingly difficult if union rights are curtailed nationwide. Full story here.
Ford workers narrowly ratify UAW contract
Nov. 23, 2015 | Workers at Ford narrowly ratified the company's four-year labor deal with the United Auto Workers, the labor union announced late Friday. A defeat for the contract could have left ford facing a strike for the first time in 39 years. The UAW had been looking to claw back some concessions that were made eight years ago to help the U.S. carmakers survive the recession. Industry Week
Why we need to tell Congress to vote NO on the job-killing TPP
The just-released TPP text is actually worse than we imagined. Here are just a few examples of how the TPP will undercut jobs and wages.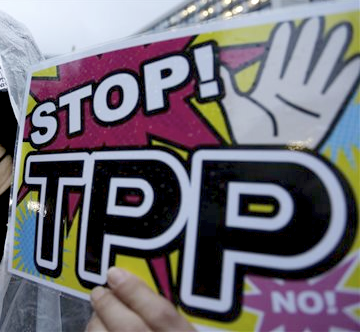 • The TPP forces U.S. employers into competition with companies exploiting workers in places like Vietnam, where the minimum wage is just a third of what it is in China's manufacturing centers, and Malaysia, where an estimated one-third of all electronics workers are victims of human trafficking.
• The TPP enables products assembled from parts made in "third party" countries that are not subject to any TPP obligations, such as China, to entire the U.S. duty-free, undercutting U.S. manufacturing.
• The TPP includes procurement provisions effectively barring Buy American and Buy Local government purchasing preferences.
• The TPP includes controversial investor-state dispute resolution (ISDS) provisions that make it safer — and, in fact, create incentives — for U.S. firms to offshore jobs to foreign countries where they can exploit low-wage labor under privileged foreign investor status rather than be forced to deal with the countries' regulator processes and courts.
• We also know that the TPP fails to include the currency safeguards demanded by a bipartisan majority in Congress that would prevent known currency manipulators like Vietnam, Japan and Malaysia from devaluing their currencies to gain an unfair trade advantage over U.S. employers.
Please contact your Congress members now and urge them to vote against this awful agreement!

News Items - October 2015
Fiat Chrysler workers appear to reject contract proposal
Oct. 1, 2015 | Hourly workers at Fiat Chrysler Automobiles appear to have soundly rejected a proposed new union contract that set no limit on the number of lower-paid workers and that contained no mechanism to move them up to top-wage status. It would be the first time in more than 20 years that Chrysler workers have turned down a tentative contract negotiated by their union, the United Automobile Workers. Full story...
Hoffa says tenuous TPP agreement does not listen to workers' concerns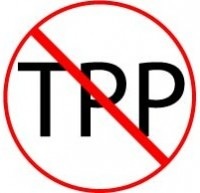 Oct. 5, 2015 | Bum trade deals like NAFTA have killed upwards of 1 million U.S. jobs, many of which moved abroad. And that's the concern with the looming TPP. These big business handouts continue to hollow out the manufacturing base of communities and destroy middle-class jobs in their wake. The Teamsters and many, many others just don't see any value in what TPP brings to this country. First and foremost is the deal won't create any new jobs here. Full statement...
Reminder for members and stewards
Oct. 5, 2015 | Every Monday we post new information under the Members and Stewards tab in the left column. Today's educational tips offer information about the union's right to strike, and the differences between the two types of strikes.
Webcast Oct. 7: Domestic violence as a critical workplace issue
Oct. 5, 2015 | When domestic violence enters the workplace, it can have significant repercussions for the targeted individual and the work environment. Union stewards and fellow coworkers can all be affected by, and have a role to play in, dealing with intimate partner violence as a critical workplace issue. A free one-hour webcast on Wednesday, Oct. 7th beginning at 12 noon will explore labor's role in addressing domestic violence in the workplace. The webcast is a joint initiative between the ILR School's Scheinman Institute of Conflict Resolution and The Worker Institute at Cornell University. Click here to learn more and register.
Central States Pension Fund files plan to cut retiree benefits under new law
Oct. 7, 2015 | …The huge pension fund, which administers retirement benefits for some former and current Teamster truckers, said the reductions are the only way to save the plan from insolvency. Under the proposal, pensions for Central States' 407,000 participants would be cut by an average of nearly 23 percent. "Pension fund participants and beneficiaries did not cause the problem of underfunding," James P. Hoffa, general president of the International Brotherhood of Teamsters, wrote in a letter to Central States. "They worked day in and day out to earn their pension credits. It is monstrously unfair that they will end up holding the short end of the stick." Full story… Related: NYT: Teamster pension fund has filed for reorganization [Note: The pension proposal has no relation to the national carhaul tentative agreement currently out for ratification.]
We need to tell Congress to protect our pensions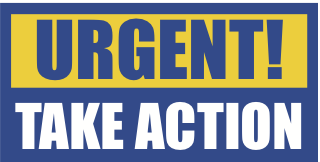 Oct. 12, 2015 | Some of the nation's retirees are facing enormous cuts to their pensions, but we can help them by convincing Congress to pass Keep Our Pension Promises Act, S. 1631/H.R. 2844, that will protect hard earned pension benefits. Additionally, the Senate's Pension Accountability Act, S.2147, will give plan recipients a meaningful voice when plans are considering making cuts. The Teamsters Union has been working with several members of Congress to develop the legislation that would prevent massive cuts to some pension beneficiaries. We urge you to email your Senators and Representative now to ask them to sign on to S. 1631/H.R. 2844, Keep Our Pension Promises Act, and S.2147, the Pension Accountability Act. Click here to send your emails to Congress. Read this, too: Hoffa, union leaders call on Central States to recall pension cut proposal, improve transparency for retirees.
Credit Union members: It's open enrollment period for Voluntary Life Ins.
Oct. 14, 2015 | To be eligible for term life insurance coverage (up to $100,000), you must be a Maryland Federal Credit Union member. Among the plan's features: No medical questions to answer, it's portable (take it with you when you retire or leave your job), and it provides dependent coverage. Don't wait; the policy will be enrolled at the Nov. 1st membership meeting. Download information and enrollment form here.
Teamsters urge Safeway to keep good jobs at Md. distribution centers
Oct. 15, 2015 | Teamsters are calling for Safeway to keep good jobs in Maryland, after the company unexpectedly issued a notice that it plans to start closing its Upper Marlboro and Landover, Md., grocery distribution facilities 19 days before Christmas, resulting in the layoff of more than 700 workers. The warehouse workers, members of D.C.-based Locals 730 and 639, received a 60-day layoff notice from C&S Wholesale Grocers. Safeway intends to send the bulk of the family-supporting jobs to Pennsylvania. "I believe there are options that have not yet been explored," Hoffa said in a letter to the CEO of Alberstons Companies, Inc., which recently acquired Safeway. "I am asking you to enact a 180-day moratorium on the closure while your staff, Maryland and Prince George's County public officials and Teamster-appointed experts meet to discuss alternatives, with the goal of saving good Maryland jobs." A rally is scheduled for 1 pm Friday in Upper Marlboro. Info here.
Highway safety should come before higher trucking industry profits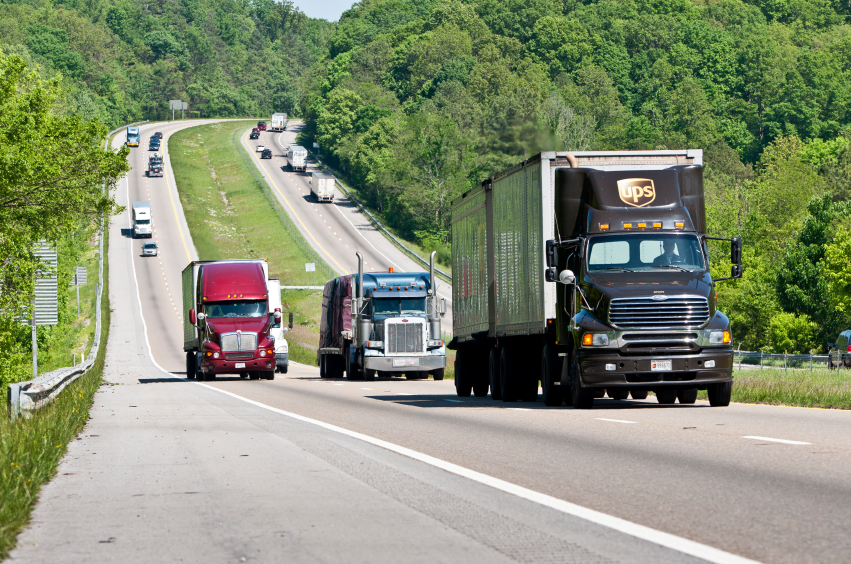 Oct. 21, 2015 | General President Jim Hoffa today joined a bipartisan collection of lawmakers and truck safety advocates at a Capitol Hill press conference to denounce efforts to extend the length of tractor trailers nationwide, saying the move jeopardizes highway safety. Allowing trucks to pull 33-foot trailers would add an additional 10 feet to the length of existing double trailers, making it harder to pass these trucks and harder for truck drivers to see who's beside them. Continued…
Teamster carhaulers reject national agreement, two supplements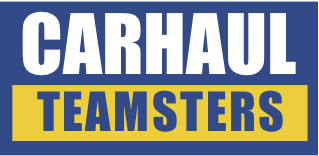 Oct. 16, 2015 | The Teamsters National Automobile Transporters Industry Negotiating Committee (TNATINC) will reconvene and continue to negotiate on the members' behalf after carhaulers overwhelmingly voted to reject the national agreement and two supplemental agreements. In the interim, all carhaulers should continue to work as usual and the TNATINC will keep local unions and members updated. The members ratified the Western supplement but rejected the Central-Southern and Eastern Supplements. Read the TNATINC statement.
Making public sector jobs RTW will gut wages
Oct. 19, 2015 | Public-sector employees have become a punching bag for anti-union forces who are trying to cripple the movement. But with the U.S. Supreme Court getting ready to consider a lawsuit that could allow workers to opt-out of paying union dues while still receiving representation, a new report shows just how much value union membership brings to workers' paychecks. Continued...
Hoffa: Teamsters won't cross picket lines if UPS pilots strike
Oct. 22, 2015 | General President Jim Hoffa and Secretary-Treasurer Ken Hall sent a letter this week to the Independent Pilots Association pledging support for its 2,600 members. "If a strike is necessary, we will not cross your lines, but will stand with you on them." The IPA will announce the result of its strike authorization vote tomorrow morning. More…
Baltimore Sun drivers, mailers and pressmen ratify contracts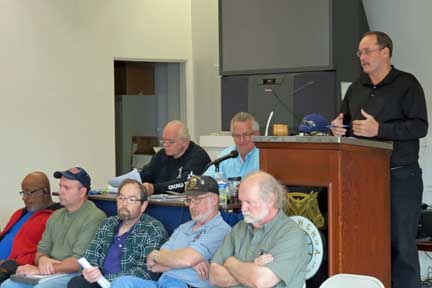 Oct. 25, 2015 | After two years of difficult negotiations, tentative agreements for three departments at the Baltimore Sun represented by Local 355 and Local 888 were ratified at a jointly-held membership meeting Saturday, Oct. 24, 2015. The company had sought to shift the full burden of healthcare premium costs to workers, among other regressive demands, but bargaining committee members representing drivers and printers (Local 355) and mailers (Local 888) endorsed agreements that preserve current healthcare contributions and enhances job security provisions, an important piece of the new collective bargaining agreements. In the middle of negotiations, the publishing company sold Sun Park, the land parcel the production plant sits on in Baltimore. If the paper is forced to move production from Sun Park, under the new contract Teamster jobs can follow the move. "These contracts look to the future. As long as we sort, print and deliver, it doesn't matter what the product is, we'll be on the job," said Local 355 Business Agent Jim Deene. Local 888 President Lawrence Geho stressed the importance of joint bargaining. "We waged a long, hard and successful fight against regressive company proposals to ensure the security we need. And we got here because Baltimore Sun Teamsters stood together." Photo: Local 355 Business Agent Jim Deene describes the highlights of the tentative agreements.
Stand with Safeway Teamsters in their drive to keep jobs in Maryland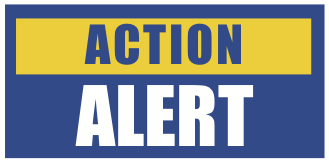 Oct. 28, 2015 | Safeway plans to move up to 900 good union jobs from Prince George's County to a low-wage, non-union grocery warehouse in Pennsylvania. Maryland has been devastated by companies shipping out good jobs. It is painful to see that Safeway plans to join their ranks and put hundreds of Teamsters – members of Local 730 and 629 – out in the cold just days before Christmas. Stand with Safeway Teamsters – sign the petition asking the company to delay its decision and work with elected officials and its employees to try to find a way to keep these jobs in Maryland. Click here to sign.
Seattle Teamsters at Sysco ratify 3-year contract
Oct. 30, 2015 | In the end, solidarity won the day. On Saturday, October 24, Teamster drivers and warehouse workers, employed at Sysco, voted overwhelmingly to ratify a new three-year contract. It was a sweet victory, but it didn't come easy. In contract negotiations, Sysco was proposing a two-tier system which would have divided the group and rolled back industry standards with respect to wages, health and welfare and seniority. But Teamsters at Sysco would not be pushed around. Continued...
Summary of The Workplace Democracy Act
The policy of the United States is "to protect the exercise by workers of full freedom of association, self-organization, and designation of representatives of their own choosing, for the purpose of negotiating the terms and conditions of their employment or other mutual aid or protection." But current law effectively denies these fundamental rights to tens of millions of Americans.
As a result, we are falling behind our industrial competitors in many significant ways. Our real wages, once the highest in the world, have fallen below the levels of the early 1970s. Our manufacturing sector is in sharp decline, as large corporations move production facilities to underdeveloped countries to take advantage of exploitative wages and minimal environmental and safety standards.
The Workplace Democracy Act strengthens the federal laws designed to protect workers and close the legal loopholes which now deprive working people of their right to organize on behalf of their wages, their benefits and their working conditions. By amending the National Labor Relations Act (NLRA) and the Employee Retirement Income Security Act (ERISA), and by establishing a National Public Employment Relations Commission, The Workplace Democracy Act provides a vehicle to achieve a comprehensive reform of American labor law.
Main Provisions
Establishes card checkoff recognition. Once a majority of workers has declared its wish to be organized by conducting an election or by signing membership cards, legal recognition shall be given to their designated representative.
Guarantees the right to first contract. If by 45 days after certification, no collective bargaining agreement has been reached, the union then has the right to binding arbitration.
Strengthens and expands the enforcement authority of the National Labor Relations Board. Violations of labor law are violations of law, and must be both speedily prosecuted and remedied. Current penalties for violating the National Labor Relations Act are insufficient to serve as effective deterrents. The Workplace Democracy Act strengthens NLRB enforcement in the following ways:
Instructs the National Labor Relations Board to use its injunctive power whenever it finds an unfair labor practice.

Gives employees wronged due to such violations the right to be "made whole" for any economic losses they incur as a result.

Requires immediate reinstatement of discharged employees when unlawfully discharged.

Provides for treble (3x) back pay for employees who suffer economic hardship due to unfair labor practices.

Requires debarment of companies from Federal Government contracts for willful unfair labor practices.

Requires the National Labor Relations Board to assess civil penalties of not less than $10,000 against employers for each willful violation of the Act.

Repeals the prohibitions against strikes, boycotts and hot cargo agreements. Taft-Hartley provisions that prohibit one group of workers from engaging in actions in sympathy or concert with other groups of workers are eliminated, as well as the Landrum-Griffin Amendment that prohibits "hot cargo" agreements (when an employer and a union agree to refrain from handling any products of any other employer). The right to common situs picketing is thereby restored as well.
Prohibits state preemption of federal labor laws. Repeals Section 14(b) of the Taft-Hartley Act, concerning "right to work" laws. All workers shall enjoy the rights guaranteed them under federal law, regardless of where they live.
Secures equal treatment for all employees. Repeals the exclusion of plant guards from bargaining units with other employees where they work.
Ensures equal protection under the law for state and local public sector employees. Establishes the National Public Employment Relations Commission to ensure that public sector employees of states, territories, possessions or political subdivisions thereof, are guaranteed the right to collective bargaining, to binding arbitration, and to strike. Establishes a mandatory impasse procedure for public safety officers and fire fighters.
Provides workers the right to act as guarantors of their financial future. Provides for workers to serve as trustees on pension plans which cover their retirement.
Extends NLRA coverage to workers for U.S. owned companies that operate in Free Trade Agreement countries. Gives workers in countries that are party to a Free Trade Agreement with the United States the right to file unfair labor practice complaints against the United States owned parent company of their employer either under the NLRA or under the laws and procedures of that country.
2015 Fall Golf Outing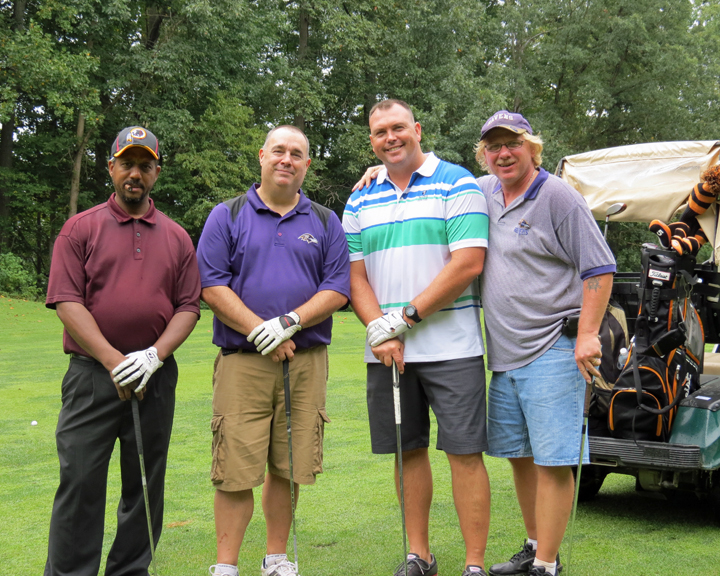 First place team (L-R) Mel Stevens, Scott Vickers, Walker Chapman, and Rob Weckesser
Thirty-five members and retirees participated in Local 355's Fall Golf Outing September 12, 2015 at the Eisenhower Golf Course in Crownsville, Md.
Teams hit the 8:00 a.m. shotgun start, completing the 18-hole course despite cool temperatures and periodic rain showers. Just after noon, participants headed back to the golf club's covered outdoor pavilion to relax with lunch and liquid refreshments.
All participants received a $15 gift certificate to use for Local 355 products.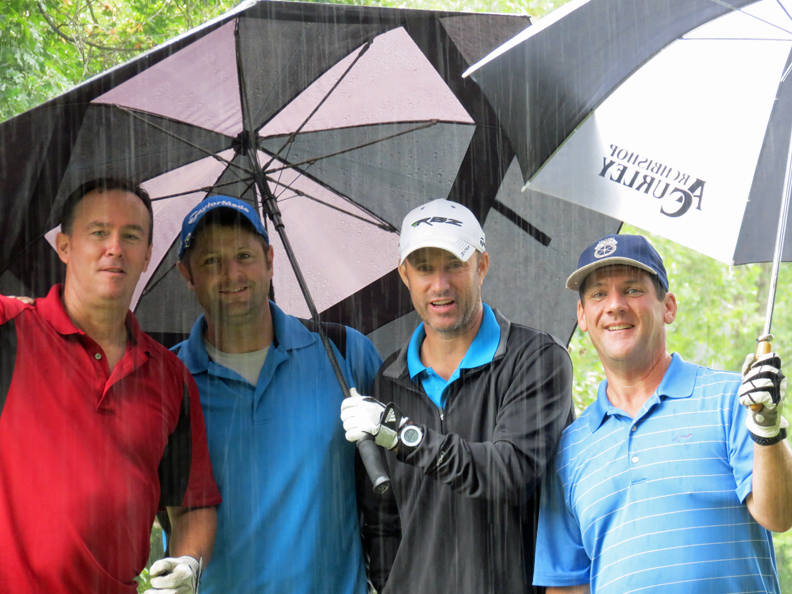 Second Place, right: (UPS)
• Mike Ridgely
• Scott Mandel
• Charlie Huber
• Timothy Duffy
Third Place, below: (UPS)
• Danny Ward
• John Zabka
• Jeff Zulka
• Richard Lowman
Closest to the Pin Winner:
• Tom Zabka, (UPS Feeders/Baltimore)
Longest Drive Winner:
• Walker Chapman, (UPS Freight/Elkridge)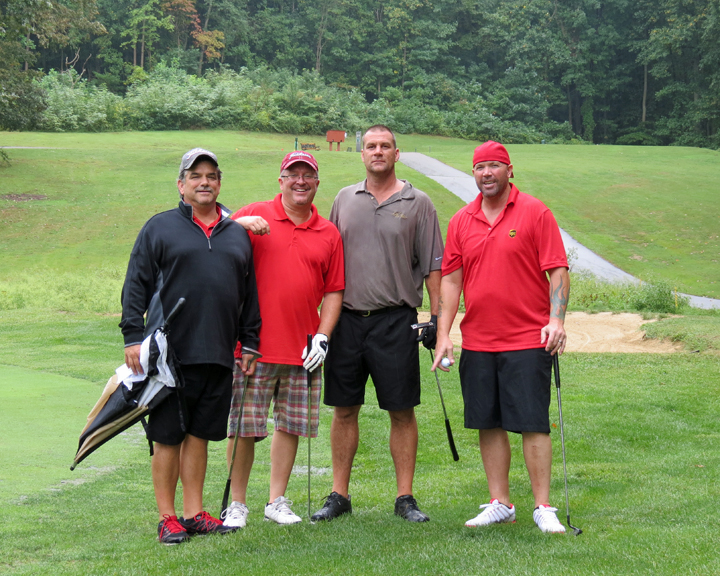 View more photos in the Photo Gallery.
News Items - September 2015
Teamsters Negotiating Committee reaches tentative carhaul agreement Sept. 1, 2015  | The Teamsters National Automobile Transporters Industry Negotiating Committee reached a tentative agreement yesterday for a new national carhaul contract. The Teamsters Committee unanimously endorsed the tentative agreement (TA).

News Items - August 2015
We need you to tell UPS to sever ties with ALEC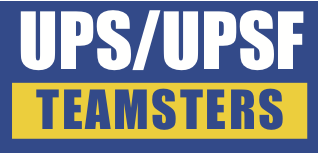 Aug. 4, 2015 | Call (855) 974-4180 to have your voice heard by UPS's top executives, and let them know you want UPS to sever its relationship with ALEC. ALEC is bad for UPS and it hurts hardworking Teamsters like you who make UPS successful. How? ALEC's promotion of misclassification legislation at the state-level could put your UPS job in jeopardy by putting UPS's business model at a disadvantage against FedEx and the regional delivery Why would UPS be involved with an organization that hurts its own workforce. Call now!
ABF Freight, Teamsters graduate new class of military drivers
Aug. 4, 2015 | A truck driver training program class jointly operated by ABF Freight, the IBT and the U.S. Army will graduate this week. Known as the Teamsters Military Assistance Program, the program was created to help soldiers transition to civilian careers. It prepares soldiers to earn a Class A Commercial Driver's License and HazMat certification. Continued… Download the Teamsters Military Assistance Program brochure here. Note: Local 355 represents 83 ABF drivers.
Toyota is turning its back on Teamsters *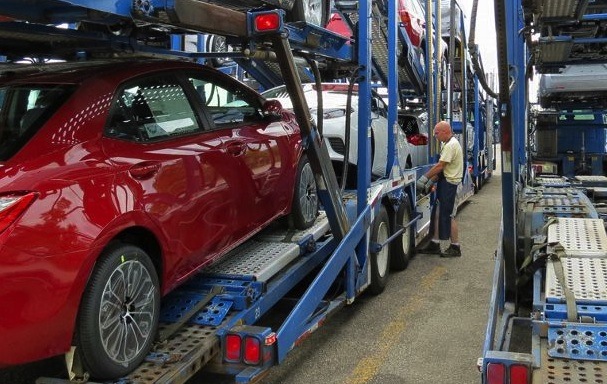 Aug. 5, 2015 | * Link fixed. Teamster carhaulers are involved in a battle for their livelihoods with Toyota, which is trying to destroy good-paying union jobs. Toyota, which has been making record profits recently, is trying to make greater profits off the backs of hardworking Teamsters by contracting with lower-cost, less experienced carhaulers. The Teamsters went through a similar fight five years ago, and thanks to the efforts of carhaulers across the country, the union beat back Toyota last time around… The Teamsters are fighting again. Click here to learn what you can do to help your brothers and sisters.
Congress needs to prioritize infrastructure
Aug. 13, 2015 | The Teamsters have been (and will continue to be) leading advocates in the need for the U.S. to improve its transportation infrastructure. It starts with coming up with a long-term funding plan. But right now, Congress is failing in its duties... Teamsters General President Jim Hoffa said it is time for a united front on the issue that gets people working and improves road and rails for workers and travelers alike. Full story...
Teamsters take on Silicon Valley
Aug. 17, 2015 | Under the leadership of Joint Council 7 President Rome Aloise, the Teamsters are on the front lines in the fight against income inequality in Silicon Valley [California]. Full story...
Carhaul negotiations continue
Aug. 18, 2015 | Negotiations resumed the week of August 17 and are also scheduled August 23 - August 31, 2015. "The negotiating committees are working hard to reach an agreement that will protect all Teamster carhaul members' jobs," said Kevin Moore, Director of the Teamsters Carhaul Division. "These are some of the toughest jobs in the trucking industry." More here.
Teamsters applaud NLRB on joint employer ruling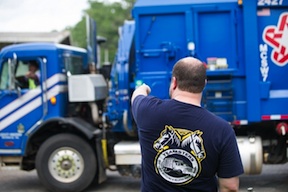 Aug. 27, 2015 | The Teamsters today applauded the National Labor Relations Board on its "joint employer" ruling in the case of Browning-Ferris Industries, Inc., as an additional step to protect and provide a voice to millions of American workers by holding employers that rely on temporary or contracted workers accountable. The ruling resulted from a 2013 case brought by Teamsters Local 350 in Daly City, Calif., against Browning-Ferris, a waste management company that is owned by Republic Services—the second-largest waste services company in the U.S. The union maintained that Republic had control over wage and working conditions for its workers employed through Leadpoint Services, a staffing agency, and counted as a joint employer with that agency. Full story…
Teamsters and employers continue carhaul talks
Aug. 31, 2015 | From the IBT: "The Teamsters National Carhaul Negotiating Committee net with the employer group over the weekend in Chicago, and negotiations are still going on with the goal of reaching a tentative agreement." Continued...
Bring the Teamsters to FedEx Freight
Aug. 31, 2015 | "We need to restore unity in this country. One way to begin is restoring it in labor. If we get the labor movement back and get the jobs back into this country we will all grow the economy and prosper. If we stay divided in the work place then we are divided throughout. Corporations have been winning at division for a while now. You see it every day at FedEx. I also see the unity at the 4 places that voted [union]. So it proved that as we stand united together we can conquer. Stand tall, people, with your brothers and sisters and unite – not divide – and organize." It's Teamster Time! Like our Facebook page here.
News Items - July 2015
Hoffa: A blueprint for getting America back on track
July 6, 2015 | The American economy is not working. As the Teamsters have stated repeatedly, there needs to be a commitment to boost and expand America's middle class, which is the lifeblood of our country. But that alone will not fuel a national renaissance that will raise up a majority of people. There needs to be a buy-in from the business community that puts long-term economic health before short-term profits. The Roosevelt Institute, of which I am a board member, recently released a detailed blueprint called "Rewriting the Rules of the American Economy" authored by its renowned chief economist Joseph Stiglitz in an effort to tame income inequality. To put this nation back on track, the document makes clear that the U.S. must rethink the economic assumptions it's made during the past 35 years. Continue reading...
What's next for US Foods?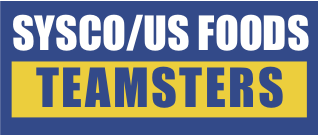 July 7, 2015 | Now comes the hard part for US Foods. Sysco's $3.5 billion proposal collapsed on June 30 after a federal judge ruled against the deal on anti-competitive concerns, leaving both companies back where they were in late 2013 – as fierce head-to-head competitors, each seeking to char a new path for future growth. Full story...
Truckers at Los Angeles, Long Beach ports vote Teamsters
July 10, 2015 | Eight-eight drivers at the ports of Los Angeles and Long Beach voted late Wednesday to join the Teamsters, becoming the fourth company at the port to unionize at a time when many say port trucking is ripe for a shakeup. For decades, most drayage drivers – who number more than 10,000 at the LA and LB ports – have been independent contractors who own their own trucks. But as ports have grown more congested amid a general trucker shortage, an opening emerged for companies that purchase trucks and hire full-time drivers. Full story...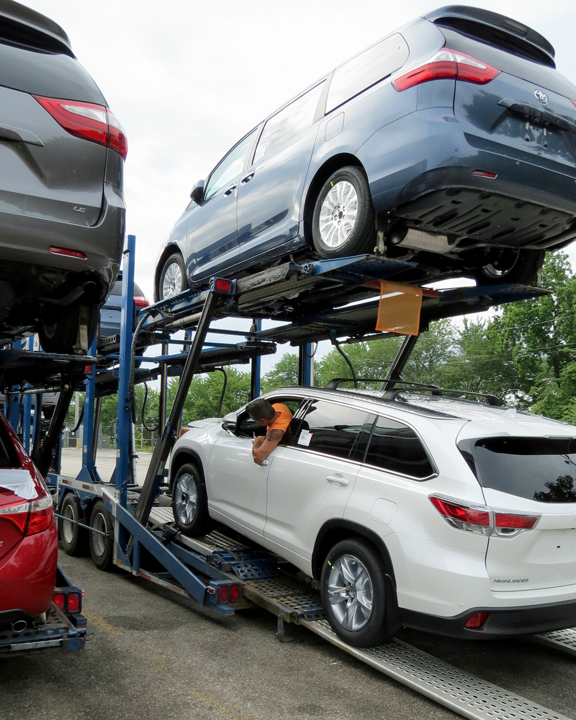 Teamster carhaulers launch campaign to save their jobs
July 17, 2015 | The Teamsters have a petition to Toyota for you to sign demanding the company not turn its back on American workers. It is critical that every Teamster carhauler sign a petition and return it to their shop steward or Business Agent Bill Alexander. Please don't wait. Do it now. Here's how to get the petition.
Teamsters call on UPS to leave ALEC at massive protest in San Diego
July 23, 2015 | Hundreds of Teamsters from across California traveled to San Diego Wednesday to participate in a massive protest outside a national meeting for the American Legislative Exchange Council (ALEC). The Teamsters had one clear message they wanted to send – it was time for UPS to end its affiliation with ALEC. Full story…
Teamsters post first billboard in Baltimore to educate the public about Toyota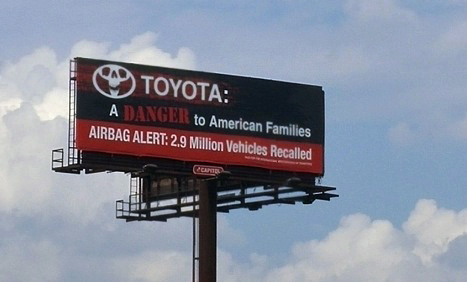 July 23, 2015 | Yesterday the Teamsters Union posted the first of several roadside billboards about the Toyota Corporation in order to educate the American public about the economic and safety dangers posed by the company. The billboard is located along I-95 in Baltimore. "Toyota spent years trying to regain consumer confidence after mass recalls in 2009-2011 due to sticking gas pedals and faulty floor mats. Millions more Toyotas are being recalled due to dangerous faulty airbags. Now, on top of these very public issues, Toyota is bidding out much of its automobile transport work to small, unproven operators who undercut the health care protections and retirement security of their drivers," said Kevin Moore, Teamsters International Trustee and Director of the Teamsters Carhaul Division. Full story ... Note: Local 355 represents more than 200 carhaul drivers.
Here's 7 reasons not-yet-union folks should join one

July 29, 2015 | We know that our union jobs generally pay significantly more than non-union jobs and our negotiated contracts provide benefits like paid vacation, holidays and sick days that many non-union workers don't get. So how about that non-union worker friend of yours who doesn't get that being a member of a union can greatly improve his/her work life? This short and to-the-point article can help you talk with family members and friends who may be on the fence about joining a union.
Human rights before huge profits from TPP
July 28, 2015 | Putting people before the powerful. It's a statement the Teamsters firmly believe in, and one that U.S. democracy supports by having a one-person, one-vote system in place. But a report released yesterday by the State Department raises some concerns about whether American policy is following the same path. Continued...
Teamsters remember James R. Hoffa on 40th anniversary of disappearance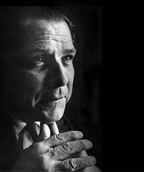 July 30, 2015 | Today marks the 40th anniversary of the disappearance of one of the greatest labor leaders in American history – James R. Hoffa. As Teamsters General President, Hoffa honed his well-earned reputation as a tough and effective bargainer and gained the respect of labor and business leaders alike across the country. He worked hard to expand the number of working men and women who were protected by union contracts and under his leadership, the union's membership rose to include more than 2 million workers. Continued…
Tell UPS to get out of ALEC!
At least 103 other corporations have cut ties with ALEC. Why does UPS support an organization that actively seeks to hurt all workers and puts UPS's own business at a disadvantage against FedEx and the regional delivery carriers? Take action now.

2015 Spring Golf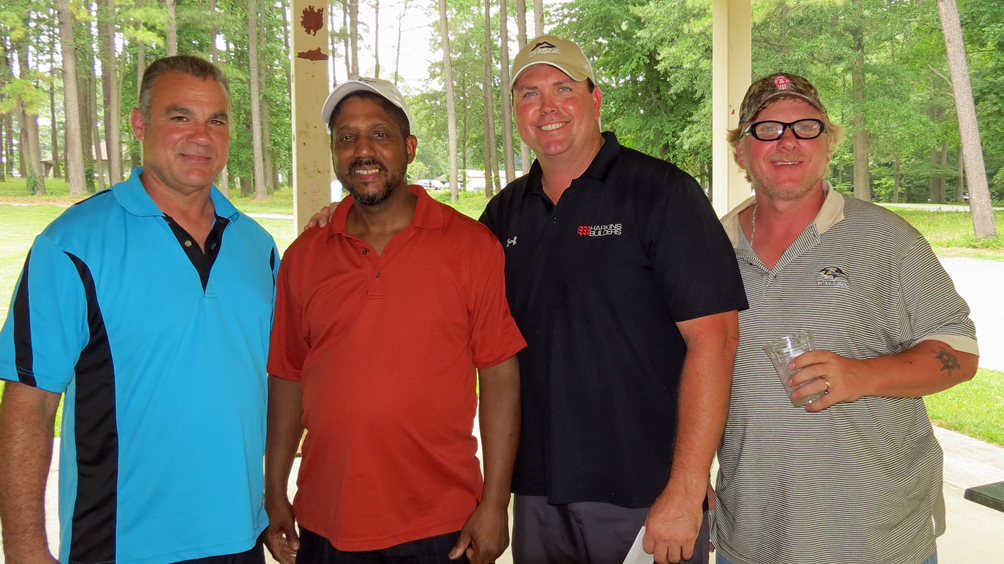 A hearty Local 355 congrats to Kraft/Dover members Mel Stevens, Dave Manning, Bob Wekesser and Walker Chapman for their first place win in the Local's bi-annual golf event held Saturday, June 13th, at the Hog Neck Golf Course in Easton, Md.
Teams teed off at 8:45 a.m. in a modified shotgun start format, finishing the 18-hole course at the same time in just under five hours. Heat and humidity slowed the pace a bit, but participants were rewarded with libations and lunch under the club's shaded outdoor pavilion.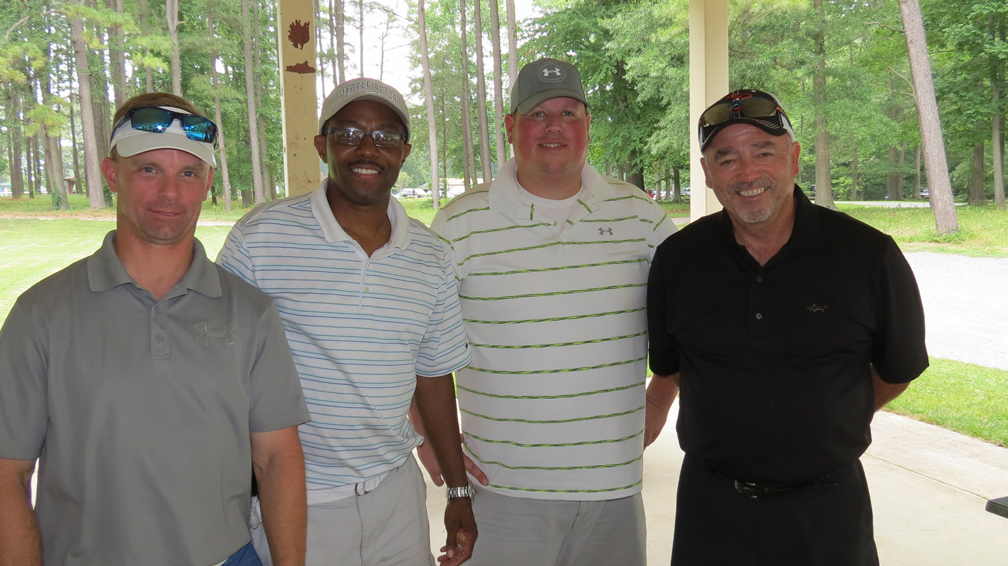 Second Place:
UPS Package/Hunt Valley
Tim Wojtek

Craig Wilkerson

Peter Williams

Bob Williams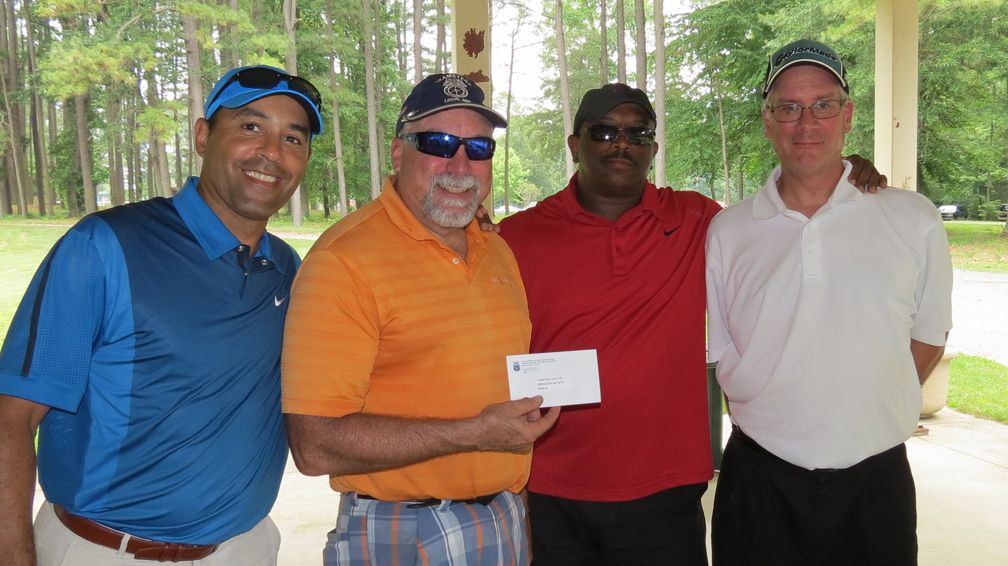 Third Place:
Kraft/Dover
Pete Manus

Paul Harris

Tony Batter

Craig Boehmer
Long Drive #9 -
Peter Williams (UPS/Hunt Valley)
Close to Pin #7 -
Walker Chapman (UPS Freight)
Long Drive #18 -
Walker Chapman (UPS Freight)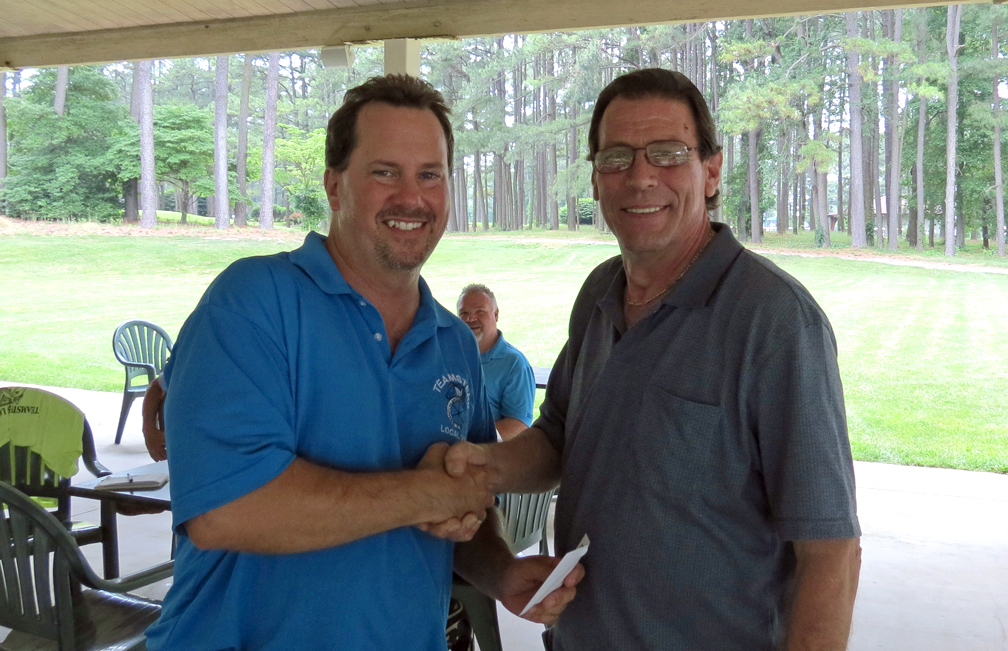 Close to Pin #17 -
Ralph Boarman (retired)
Photos/Teamsters Joint Council 62
Teamster Carhaulers Fight Toyota's Job-Killing Practices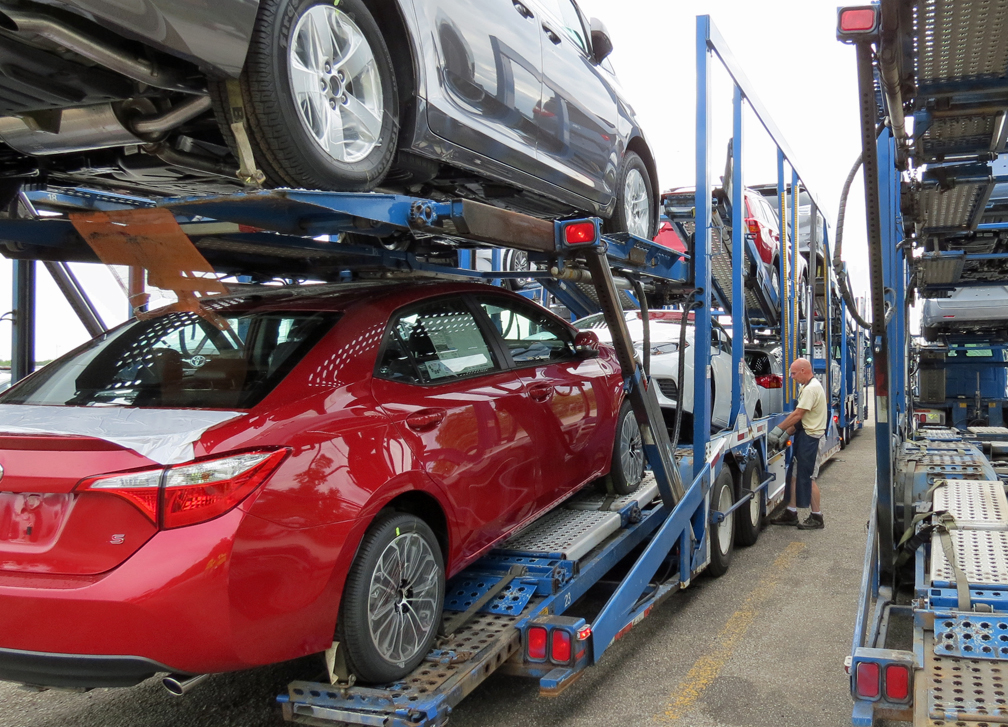 Local 355 carhaulers in Annapolis Rail Junction in Jessup, Md., load Toyota vehicles for delivery. In mid-June the IBT sent a team from its Campaign Strategies department to interview and photograph Local 355 members. Negotiations began earlier in the month for a new Teamsters national master agreement for nearly 6,000 Teamster carhaulers. The current contract and its local union supplements are set to expire Aug. 31.
Continued from main page | For the period ending March 31, 2015, Toyota had record net income, operating profit and global revenue. Net income jumped 19 percent to $18.14 billion in the 12 months ending March 31, while operating profit rose 20 percent to $22.99 billion.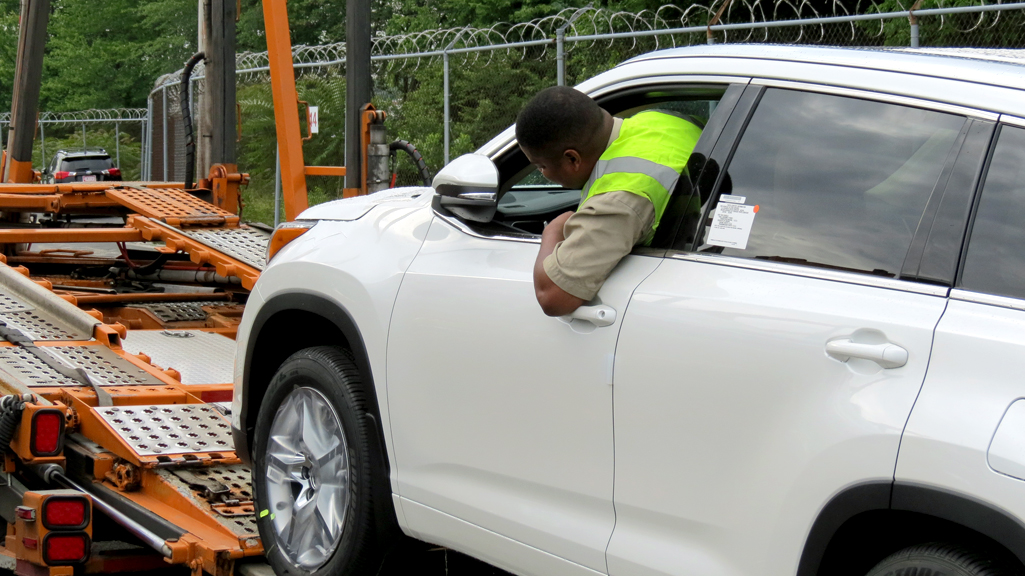 "Despite these record profits, Toyota wants to make even more money by contracting with lower-bidding nonunion carhaul companies that push their workers to labor 60-plus hour workweeks with substandard working conditions and benefits," said Kevin Moore, Director of the Teamsters Carhaul Division. "Once again, we are seeing corporations putting the zest for ever higher profits way ahead of the way it treats the people who make company successful, in this case the experienced, hardworking men and women who deliver their vehicles to dealerships. We will fight this greed head on to protect our members' livelihoods."
The union is assembling a team of experts to fight Toyota's actions, and more information will be released soon on actions that will be taking place.
For now, Toyota's job-crushing actions are taking place at several carhaul facilities east of the Mississippi River, with some facilities losing 30-percent to 50-percent of the Toyota work so far. It is occurring while the Teamsters National Automobile Transporters Industry Negotiating Committee has begun national contract negotiations with the employer group.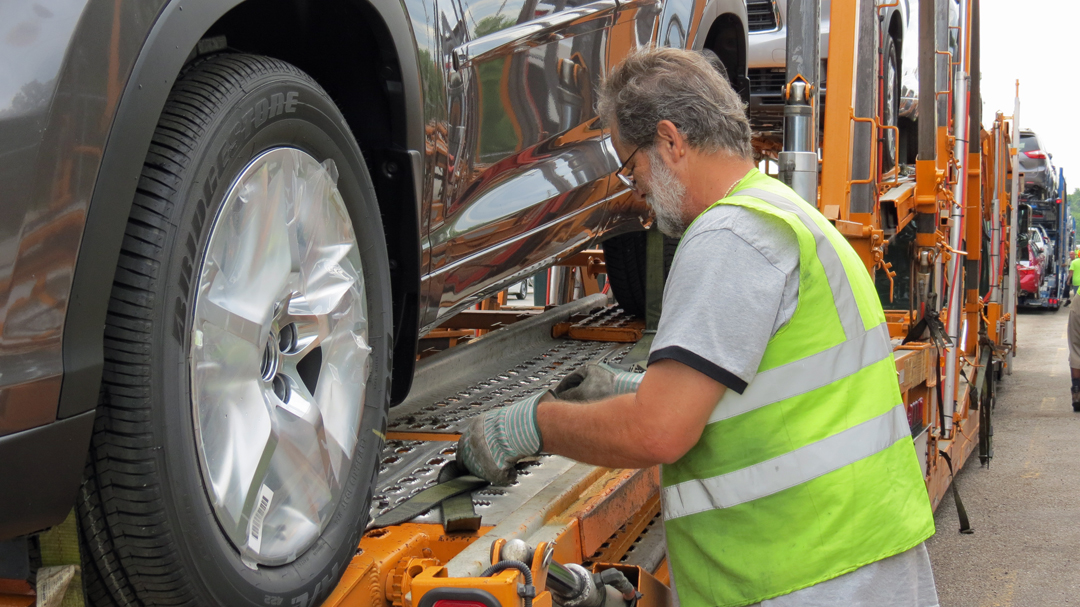 "We've seen this strategy before during national contract negotiations and we will once again do what it takes to protect our members across the country," Moore said. "Sadly, the war on workers continues in this country even as the economy picks up. I will be working with our carhaul workers to ramp up our response."
Click here to view more photos. Photos/Teamsters Joint Council 62
Orginally posted at teamster.org.
News Items - June 2015
Sysco considers life with (or without) US Food June 2, 2015  |  Closing arguments for the FTC hearing were held May 28th, and now the parties must await a decision. While they are expecting a prompt response, Chris Kreidler, chief financial officer and executive vice-president of Sysco Corp., said the companies are planning to hear a ruling some time during the latter part of June.

News Items - May 2015
In Michigan, US Foods drivers vote Teamsters; others rally for union at Sysco
May 4, 2015 | Drivers at US Foods in Kalamazoo voted April 30th to join Teamsters Local 337 in Detroit. The drivers voted more than 70 percent in favor of Teamster representation, joining more than 200 US Foods drivers and warehouse workers in Novi, Mich., who are already members of Local 337. Sysco and US Foods workers have been ramping up organizing campaigns with the Teamsters in the face of a possible merger between the two food distribution giants which could lead to significant job losses. Read more here. In Grand Rapids, Local 355 members Ed Mulford (US Foods) and Joe Schwabline (Sysco) spent 8 days assisting an organizing campaign at Sysco, highlighted by an April 29th Teamsters Local 406 rally attended by around 50 Sysco workers whose biggest issue is their shrinking paychecks. Read more here.
Food distributors are trying to convince judge to let them form a monopoly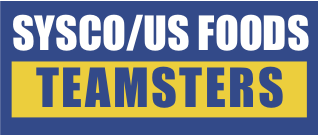 May 5, 2015 | After years of acquiring smaller competitors, US Foods and Sysco, Inc. are the last two large companies in the food distribution industry. The government, AAI, Food and Water Watch, and the Teamsters union all argue that the companies already control the market, and would represent a monopoly if merged. The court hearing begins today. Full story...
At Unity, Teamsters look ahead to a bright future
May 11, 2015 | Some 1,600 Teamsters brothers and sisters from across North America gathered together Sunday as part of the 12th annual Unity Conference to share their success stories and speak truth to power about the increasingly perilous state of workers across the continent. Follow the day reports and photos here.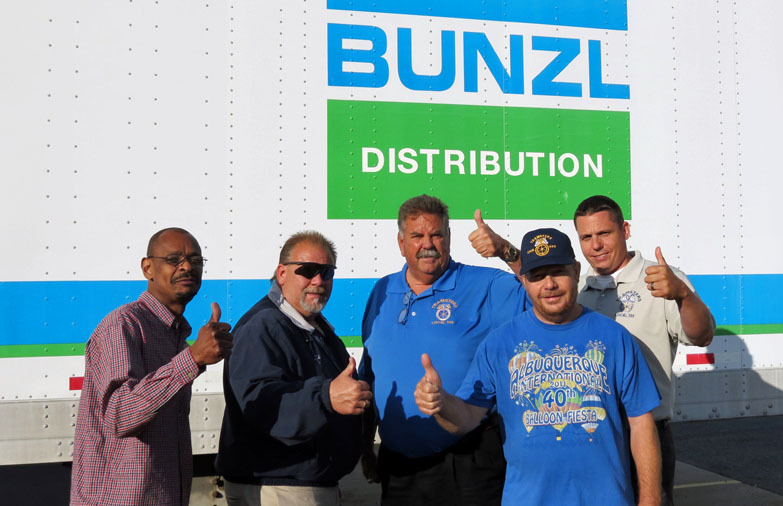 Bunzl workers choose Teamsters
May 13, 2015 | Local 355 welcomes drivers and warehouse workers employed at Bunzl Distribution in Hanover, Md., who voted Wednesday, May 13, 2015, to join the Teamsters. The unit of 25 workers seek fair treatment, and dignity and respect on the job. "We need to feel safe in our workplace," said Charles Moser, Jr., a driver with eight years at the company. "We want to put an end to the bullying tactics that effect our working conditions." Derrick Moon, a warehouseman for more than six years said that as a union they can address a continuing short-staffing problem. "People are overworked because of the shortage of staff." Bunzel is a supplier of paper and packaging products. Pictured left to right: Derrick Moon; Local 355 Organizer Ed Mulford; Business Agent Chip Elgert; Charles Moser, Jr.; and Business Agent Mark Garey.
Sysco overstating benefits of merger, gov't witness says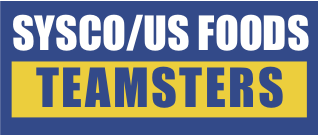 May 15, 2015 | "… Sysco originally told investors that it would save $600 million through merging the two companies, which it would then pass on to consumers. Mr. Gokhale argued that a large part of Sysco's claimed "merger efficiencies" were not merger-specific, meaning that they were either happening or going to happen without the merger. As an example, he spoke at length about how Sysco expected to save money through "category management" following the merger, but both Sysco and US Foods had been doing this prior to the merger." Full story… Additional info on the FTC trial at Protecting Sysco & US Foods Workers on Facebook.
New shops ratify 1st contracts; Signature Flight, Piedmont Airlines still at table
May 18, 2015 | Matheson Gas workers in Baltimore ratified their first Teamster contract April 25th. Bargaining on behalf of Burris Foods workers began May 6th. Joint bargaining with four other unions is expected to begin soon for a first contract at Baltimore's Horseshoe Casino where Local 355 represents more than 50 workers, including valet attendants, warehouse workers and casino cashiers. More shop news...
Teamsters, allies voice outrage at attempts to gut truck safety laws

May 20, 2015 | Teamsters joined forces last week with safety advocates, crash victims, and law enforcement allies for a press event on Capitol Hill to speak out against proposed rollbacks of major truck safety regulations. The event was held as the Appropriations Committee considers this bill, which includes "riders" that will force truck drivers to work longer hours and drive larger, heavier trucks. Full story…
Fast Track vote in Senate may happen today
May 22, 2015 | Yesterday the Senate voted to end debate, meaning that a final vote could take place today. We cannot let up in the fight against Fast Track. Please send another email to your Senators right now to ask that they oppose Fast Track when it comes up for a final vote.
Memorial Day magazine preview: Teamsters Military Assistance Program
May 25, 2015 | This Memorial Day, as we honor the men and women who gave the ultimate sacrifice for their country, we are paying tribute to our Teamster military heroes and the Teamsters Military Assistance Program (TMAP). Learn more...
Fire battalion chiefs unanimously approve their first Teamster contract

After the contract vote: (L-R) Mike Greenhawk, Jim Craze, John McNally, Jim Wilkison, Michael Messick, Greg Novak, Tom Young, Tom Parks, Steve Thomspon, Paul Eichler, Wayne Leroux, Michael Smith, Mike King, and Bill Schneck.
Increase to extra shift bonus pay a very big deal
When the Anne Arundel County Fire Battalion Chiefs sought representation with the Teamsters, their number one issue was the gross inequity of extra shift bonus pay when compared to the overtime pay - depending on seniority - received by fire department personal two and three grades below them.
The chiefs work 24-hour shifts so working overtime means working another full 24-hour shift right behind a regularly scheduled shift. "For our group, that meant working overtime for pay that basically equates to less per hour than our straight-time pay," explained Smith.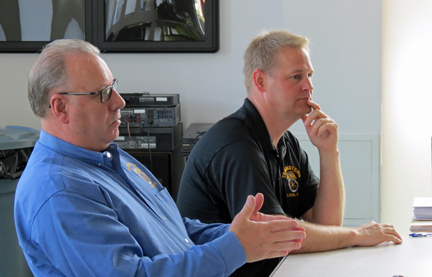 The pay inequity has cost the chiefs thousands of dollars a year.
The County had refused to address the issue with the group during previous contracts and did not change its position during the recent round of negotiations. This time, however, the chiefs went to the bargaining table as Teamsters, armed with Local 355 President Denis Taylor's promise that the Union would pursue the inequity issue as far as necessary to get the desired result. Given Teamster 355's winning track record, the County knew the Union would not back away from the fight. The County called the Local Union Monday, April 13th, two days before the scheduled arbitration hearing with an offer and promptly accepted the Union's counter offer.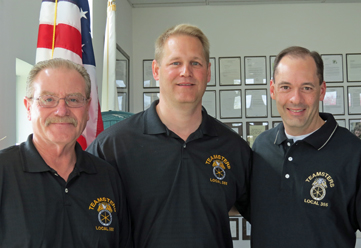 The agreement provides the increase to the extra shift bonus payments that the chiefs were looking to gain with this contract. The enhanced payments will be effective July 1, 2015.
"We're very happy to have ratified a contract that finally includes the increase amount," said Smith. "For many years, as non-associated group [not affiliated with the Teamsters], this issue was a tough fight for us. Being Teamsters gave us the strength to go as far as we did this time. Unaffiliated, we didn't have the resources to fight the County. Without the Teamsters, we would not have been successful."
In addition, the new collective bargaining agreement includes a cost-of-living increase effective Jan. 1, 2016; continues the current cost share of health insurance; and establishes a bonus award program.­­­
Pictured above left, President Denis Taylor and Michael Smith. Above right, shop stewards John McNally and Michael Smith, and alternate steward Mike Messick.
News Items - April 2015
Teamsters applaud veto of destructive Senate resolution
Apr. 1, 2015 | The Teamsters applauded President Obama's decision to veto a resolution backed by Congressional Republicans that would have blocked the National Labor Relations Board's rules designed to speed up the time it takes to unionize workers. The NLRB rule is scheduled to go into effect April 15, 2015. A description of the new rule and its reforms can be found here.
Contracts ratified at Anne Arundel County, Bond, Dow Jones, and others...
Apr. 6, 2015 | Local Union members approved contracts in recent months while bargaining continues on behalf of Baltimore Sun drivers, Signature Flight line service technicians, Stroehmann's, Sysco drivers and warehouse workers... Shop news update
Baltimore could become the next Detroit. Seriously?
Apr. 6, 2015 | This isn't exactly local union news but it IS news we want to alert you to because it's bad news for hard-working people who rent in Baltimore. Think Progress reported Saturday that starting this week, 25,000 households in Baltimore will suddenly lose their access to water for owing bills of $250 or more, with very little notice given and no public hearings. City officials claim that residents using water without paying are to blame for the $40 million in overdue water bills. But the Baltimore Sun found that more than a third of those unpaid bills stem from just 369 businesses. ("Last year in Detroit, residents fought back against a similar plan to shut off water to customers with overdue bills.") About half of Baltimore's residents rent their homes, and most count on the property owners to pay the water bill. So why is this important? Central to this looming crisis is an issue of Human Rights.
NLRB to issue complaint against Sysco, bring justice to fired Teamsters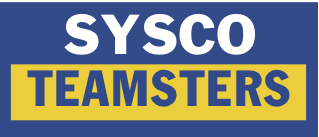 Apr. 8, 2015 | The Federal Government is weighing in on the side of workers at Sysco in Atlanta who were wrongly terminated after their successful campaign to join Teamsters Local 528. The NLRB told the union last week that it will be issuing a complaint against the company and seeking reinstatement and back pay for the fired workers. The 11 fired Teamsters were part of a huge effort to organize more than 400 coworkers who are drivers and warehouse workers for Sysco. Full story…
Horseshoe Baltimore Casino workers bet on union
Apr.8, 2015 | The Horseshoe Baltimore Casino is now officially union. The cards were counted last week and a strong majority of Horseshoe workers voted in favor of representation by the National Gaming Workers Coalition, comprised of Unite Here Local 7, Teamsters Local 355, Operating Engineers Local 37 and the UAW. The Horseshoe has recognized the union and dates will soon be set for negotiations on wages, benefits and working conditions.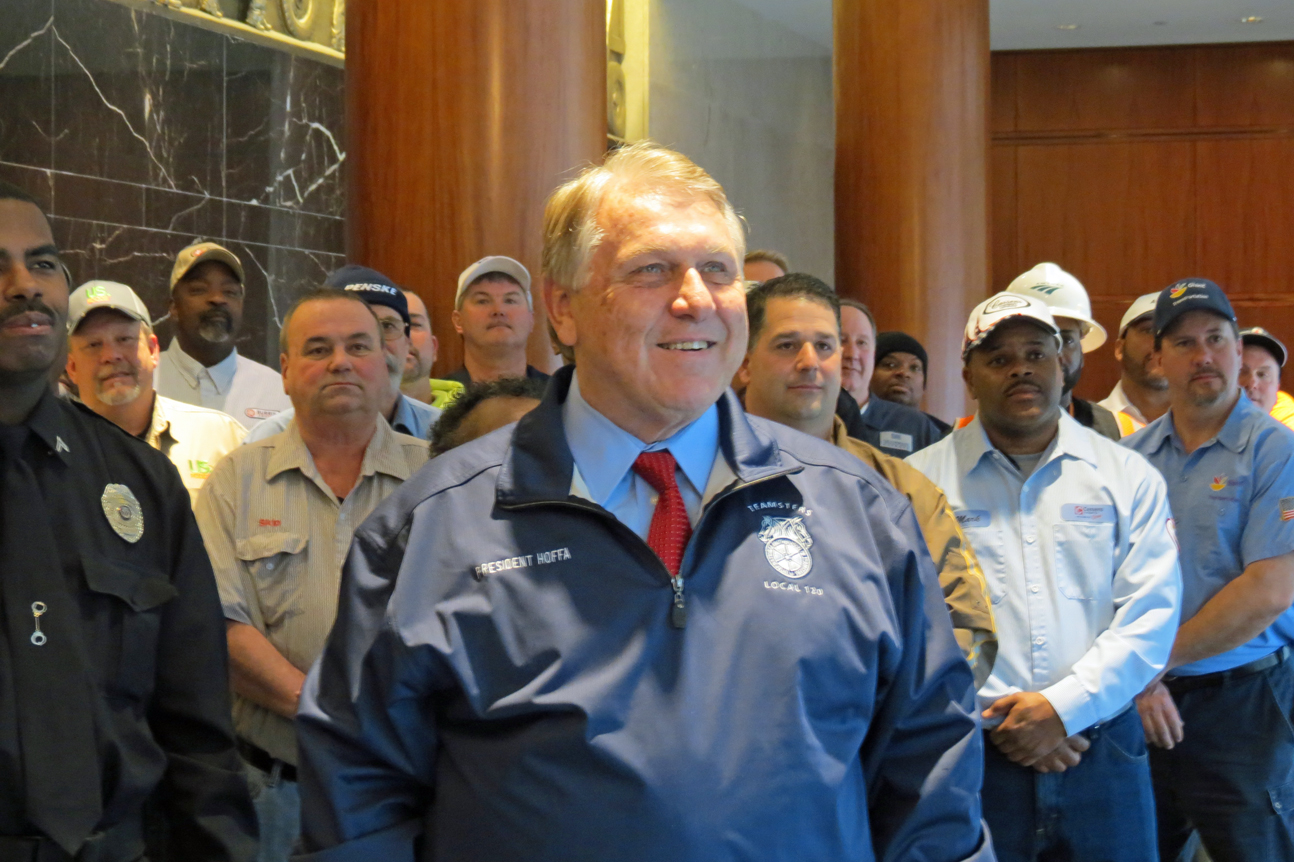 Pictures available from photo session with President Hoffa
Apr. 10, 2015 | Images taken by Teamster Joint Council 62 at the March 4th photo shoot are available for viewing in the photo gallery. To request copies, email us here. Copies of the official photographs taken by the IBT and signed by President Hoffa were received this week and will be available at Sunday's general membership meetings.
Failed fast track is nearly upon us – again
Apr. 13, 2015 | Despite the Teamsters and our allies making clear that U.S. residents will be hurt if fast track can be used to quickly push secret trade deals like the 12-nation Trans-Pacific Partnership (TPP) through Congress, some lawmakers had decided to side with big business instead. But unfortunately, the fight doesn't end there. [The TPP Fast Track bill will be introduced in the Senate Tuesday.] This union and others who care about hard-working Americans are gearing up for a fight, and will need everyone who can to join in. Read on… [The TPP will outsource jobs, undercut workers' rights, dismantle labor, environmental, health, food safety, and financial laws, and allow corporations to challenge our laws in international tribunals rather than our own court system.]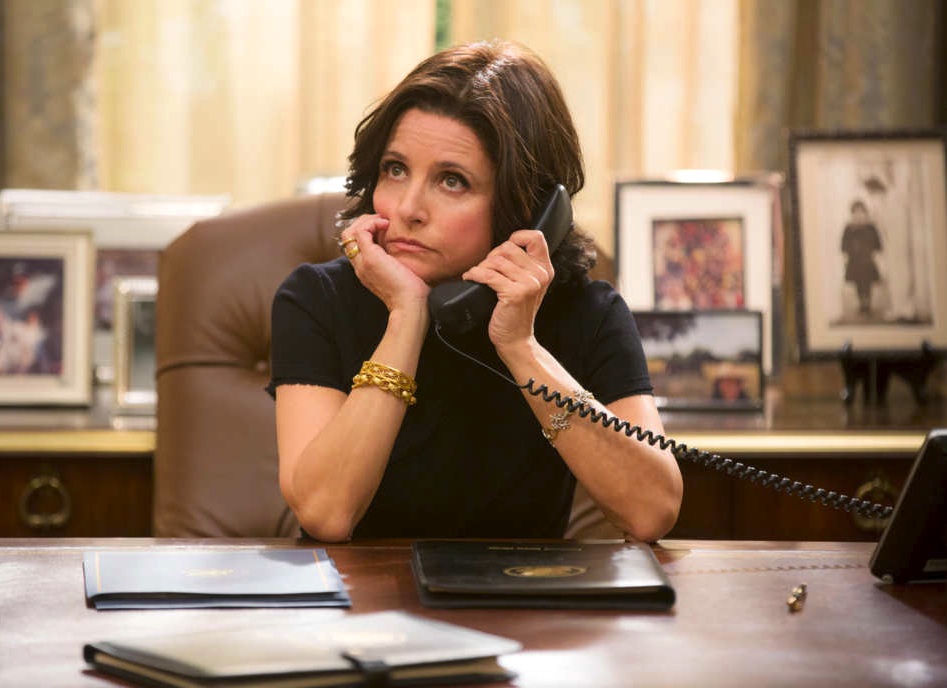 HBO renews 'Veep' for Season 5, but return to Maryland uncertain
Apr. 14, 2015 | …That's because creator Armando Iannucci is leaving the series and a new showrunner, David Mandel, will be taking over. Since showrunners are responsible for getting series made and delivered to an outlet like HBO for distribution, they sometimes have the power to say where the series will be produced. With an infrastructure in place in Maryland, a return makes sense. But it is not guaranteed with Iannucci leaving. Full story… [Local 355 represents workers employed in the film industry.]
Teamsters take stand against fast track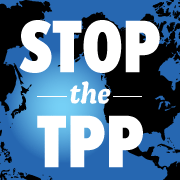 Apr. 16, 2015 | The Teamsters joined some 1,200 fellow union members and far trade advocates at a Capitol Hill rally yesterday to call on Congress to stop pushing for fast track trade promotion authority that would allow a quick up-or-down vote on bad trade deals like the TPP… Leo Gerard, president of the United Steelworkers, called on workers to head to the halls of Congress and let their members know their thoughts on fast track: "You make sure you tell them you put them there and you can take them out of there!" Full story...
Breaking news: Fast Track legislation introduced in Congress today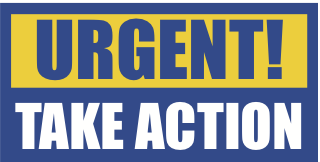 Apr. 16, 2015 | The fast track bill hit Congress today and we need your help to stop it. This bill will put good Teamster jobs in jeopardy. The TPP, the "NAFTA of the Pacific," will mean even more jobs sent overseas, lower wages for the jobs that remain, unsafe food and possibly a ban on our "Buy American" procurement laws and regulations. If Fast Track becomes law, however, Congress won't be able to change a single provision of the agreement. Please email your Representative and Senators right now and ask that they oppose Fast Track if it's brought up for a vote. The Teamsters Union has stopped Fast Track before. With your help, we will stop it again.
Every Monday: New information for members and stewards
Apr. 20, 2015 | Members, do you know what a contract campaign is? Or why it's important to file a grievance in a timely manner? Stewards, need a refresher on your rights as a shop steward? When past practice is relevant? Worried about confidentiality issues? Every Monday we provide answers to those questions and more with tips to help you learn more about your role in the Local Union. Available under Members Resources - This Week's Member Tip and Weekly Steward Tip. (Note: Forgot your password? Email teamstersjc62@gmail.com for assistance.)
Fire battalion chiefs unanimously approve their first Teamster contract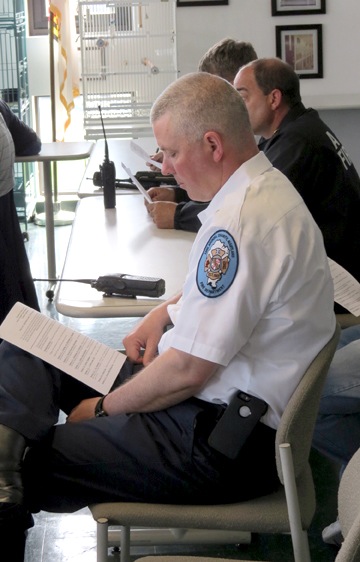 Apr. 21, 2015 | Local 355's newest unit ratified on Friday, April 17, 2015, a one year contract with Anne Arundel County that includes the resolution of their primary objective: a substantial increase in their extra shift bonus pay. The County rejected the Union's bargaining proposal that would pay the group time-and-a-half for extra shifts. The rejection forced an impasse and the Union's subsequent call for arbitration. Battalion chiefs regularly work extra shifts for which they receive a lump sum payment that is significantly less than the time-and-a-half pay received by those in lower pay grades. Last week's scheduled arbitration was avoided when the County made an offer to settle the dispute. "We believe the County views us differently now that we have the support of the Teamsters Union," said shop steward Michael Smith. Read more here.
Teamsters protest Sysco at DC lobbying meeting *
Apr. 21, 2015 | (*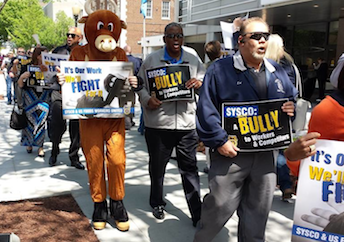 Updated 4/22) More than 70 Teamsters took part in a raucous rally Tuesday, April 21 to blast Sysco's bullying of workers, its labor law violations and other misdeeds. The group of Teamsters chanted slogans and handed out fliers outside a food service industry meeting in Washington, D.C. "It's great to see such a big turnout to send Sysco the message that 'enough is enough,'" said Ed Mulford, an employee and steward at US Foods in Baltimore, who is a member of Local 355 in Baltimore. "It's about time somebody stood up to Sysco's arrogance. The company feels like it can do what it wants to do to their employees, to their customers and other players in the industry." Full story here.
Sysco argues in favor of merger with US Foods
Apr. 24, 2015 | Sysco Corp. is arguing in federal court that there is no national market for broadline foodservice distribution, and that local markets remain highly competitive, the company said Wednesday. The Houston-based distributor is trying to get past a Federal Trade Commission move to block its proposed merger with US Foods, the nation's second largest distributor, and the only other broadline distributor, at least before the merger, with a national reach...The FTC has requested a preliminary injunction to stop the merger, and a hearing on the injunction is scheduled for May 5. The hearing is expected to be key, because the loser of the injunction is expected to drop out. Full story…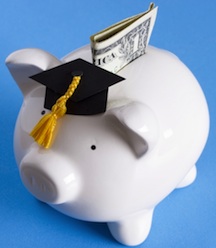 Don't miss the deadline for Local 355's annual scholarship
Apr. 27, 2015 | The Local Union's scholarships for sons or daughters of Local 355 members is good standing will be awarded at our upcoming meeting on Sunday, May 3. There's no test to take. Just check out the eligibility requirements here, download and fill out the application, and drop off the completed form addressed to Secretary-Treasurer David White's attention at the Baltimore office no later than this Friday 5pm. Good luck!
Today is Worker's Memorial Day: "Speak Out for Safe Jobs"

Apr. 28, 2015 | Every year, about 4,400 people are killed at work and 50,000 workers die from occupational diseases while millions more are injured. The Teamsters Union, and trade journalists around the world, recognize April 28 as Workers' Memorial Day – and international day of remembrance and action for workers killed, disabled, injured or made ill by their work... To help mark this important day, our union has background information on this day of rememberance, and provided these resources to help you start a conversation with coworkers or plan activities in your workplaces.
Atlanta Sysco workers reinstated, receive full back pay
Apr. 29, 2015 | …Fourteen union activists terminated by Sysco during a Teamster organizing campaign in Atlanta, Ga. will be returned to their jobs with full back pay after the company issued unconditional offers to return to work Monday, April 27. Full story…
News Items - March 2015
Senate to vote today to undo labor union rule *
Mar. 4, 2015 | The Senate will vote Wednesday on a GOP-backed motion that would undo a controversial National Labor Relations Board rule that makes it easier for workers to hold union elections. Republicans are using the Congressional Review Act that allows lawmakers to undo regulation through a motion of disapproval, which needs a majority vote in both chambers. The motion can't be filibustered or amended, which will help it bypass Democratic opposition. If the bill gets to his desk, however, the White House says President Obama will veto it. Full story... * Update: The bill passed the Senate Wednesday in a 53 to 46 vote. The legislation now goes to the House where it is expected to pass. However, it doesn't appear the Senate has the two-thirds majority required to overrule a presidential veto.
Tribune Publishing is busy playing catch-up
Mar. 5, 2015 | …TPUB's purchase of Maryland and suburban Chicago properties have already netted $5 million in increased earnings; expect $10-12 million in added earnings this year, due to those buys. TPUB's got a bit of cash for more acquisitions, and as I reported Monday ("Tribune in final bidding for U-T San Diego"), it's hot on the trail of a ninth metro property, U-T San Diego, at a likely purchase price of $85 to 90 million. Full story…
Local members answer the call for IBT photo op

Mar. 5, 2015 | Local 355 members employed in a wide variety of industries traveled Wednesday to Teamsters headquarters in Washington, DC, to photographically represent our union's diverse membership for future use in Teamster publications. After greeting all with enthusiastic hand-shakes and words of gratitude, General President Jim Hoffa joined 27 Local 355 members from the airlines, food processing, carhaul, car rental, express, package, freight, food service, industrial trades, motion picture, newspaper, parking, public service, and warehouse industries. While the IBT staff photographers worked to get the best and the most shots of our members, we took our own photos to share with you in the next issue of our Local 355 newsletter.
Hearing dates set for Sysco/US Foods antitrust suit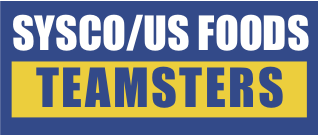 Mar. 6, 2015 | A federal judge set a May 5 start date for court hearings on the FTC's antitrust lawsuit against the merger of the nation's two largest food distributors. During a Wednesday hearing, U.S. District Judge Amit Mehta said he would consider the case from May 5-8 and would add as many as three days the following week, if needed. Judge Mehta isn't conducting a full-blown trial on the FTC's allegations, rather... Full story
One thousand Teamsters rally against WV legislature's anti-worker agenda
Mar. 9, 2015 | More than 6,000 workers rallied Saturday in front of the West Virginia Capitol, including a thousand Teamsters who came out to show their support and stand shoulder-to-shoulder in solidarity with their brothers and sisters in the labor movement. "The working people of West Virginia deserve better from our politicians, and we won't sit back as out-of-state interests try to strip us of our bargaining rights, drive down our wages and weaken job protections," Teamsters General Secretary-Treasurer Ken Hall told the packed crowd. Full story…
RTW in Wisconsin is another step down the wrong road for working families
Mar. 10, 2015 | "Wisconsin is now the 25th state to adopt right-to-work laws as politicians like Walker push forward the agenda of their right-wing task masters," Hoffa said Monday in an official statement. "The Koch brothers, through Americans for Prosperity and the American Legislative Exchange Council (ALEC) have poured millions of dollars into states across the country to push right-to-work legislation. These corporate interests will not stop in Wisconsin – they continue to attack working families, moving from state to state. We must remain strong and fight them wherever right-to-work legislation is introduced." Read the full statement...
We demand justice for fired Sysco Teamsters!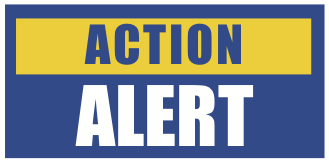 Mar. 19, 2015 | Sysco Teamsters need our help today! Sysco managers fired 15 union supporters in Atlanta and fired three in Kansas City during recent successful Teamster organizing drives in their facilities. Join us as we demand justice by telling Sysco President and CEO William Delaney to reinstate these brave men and women and bargain fair first contracts now! Sign this letter today!
Teamsters organize another FedEx Freight terminal
Mar. 20, 2015 | A group of 50 drivers at the FedEx Freight terminal in Stockton, Calif., on Tuesday, March 10th voted to join Teamsters Local 439… This is the fourth union victory since the Teamsters began their campaign to improve conditioned for workers at FedEx Freight and Con-Way. Beyond the organizing victories, the campaign has helped raise wages for all drivers at the two companies. Full story...
Sysco, US Foods seek disclosure of FTC witness identities
Mar. 23, 2015 | The Federal Trade Commission (FTC) went head-to-head last week with Sysco Corp. and US Foods Inc. over whether to make public the names of the declarants relied on by the FTC in its preliminary injunction to block Sysco and US Foods' merger. Sysco and US Foods filed a motion in a Washington, D.C. federal district court on March 6 asking the judge to publicize the names, which the FTC quickly opposed. Full story...
Tell your senators to protect pension benefits!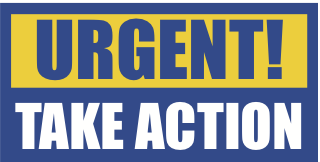 Mar. 26, 2015 | Vermont's Senator Bernie Sanders will be offering an amendment to the budget resolution bill that would protect the pensions of thousands of retirees in multiemployer pension plans. The Amendment allows the flexibility to honor a long-standing promise, particularly for fixed-income seniors that can least afford to have their financial security at risk, and to find other sources of revenue to shore up the Pension Benefit Guaranty Corporation. Please email your Senators today and ask them to support the Sanders Amendment should it come up for a vote.
REMINDER: Scholarship application deadline
Mar. 27, 2015 | The deadline for submission of your student's application for the James R. Hoffa Memorial Scholarship Fund scholarship is Tuesday, March 31st. Don't miss it!
Teamsters call for defeat of Fast Track and TPP
Mar. 31, 2015 | Statement by General President Jim Hoffa: "The 12-nation Trans-Pacific Partnership (TPP) has for years been shrouded in mystery. But last [week], WikiLeaks gave U.S. workers a real gift when it pulled back the curtain on a portion of the proposed trade deal that shows what a boondoggle the agreement would be for big business. … the average worker is going to get screwed. The provisions will give corporations the ability to do an end-around on U.S. laws they don't like. How is that fair? What about the rights of the American people? What about democracy?…" Full story…
News Items - February 2015
Sysco offers to sell 11 facilities to win merger approval *
Feb. 2, 2015 | Sysco said on Monday that it had agreed to divest 11 distribution centers in a bid to obtain the blessing of regulators including the Federal Trade Commission. Sysco will sell the centers for an undisclosed sum to Performance Food Group, which will be its nearest rival after the deal for US Foods closes. Full story here. *Update: Sysco reaches agreement to sell 11 US Foods distribution centers (none are in Maryland), contingent on consummation of merger.
Black history is the story of every Teamster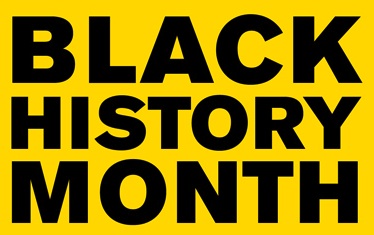 Feb. 3, 2015 | [Editor's note: February is Black History Month.] …From the inception of the union, many Teamsters understaff that racial divisions play into the bosses' ploy to divide and weaken the working class. Black unionists were at the center of the Teamsters since our founding in 1903. At a time when Jim Crow held sway in the south and discrimination against African Americans was commonplace nationwide, the Teamsters called for "no color line" in the union as early as 1906. Learn more here.
Boston GCC Teamsters halts deportation of Salvadoran refugee
Feb. 3, 2015 | Demonstrating the importance of community outreach, Graphics Communications Conference/IBT Local 3-N in Boston has worked successfully with the local Jobs With Justice branch, elected officials and faith-based organizations to halt the threatened deportation of a Salvadoran GCC/IBT press operator. Full story here.
Teamsters remember leader who changed the future for working men, women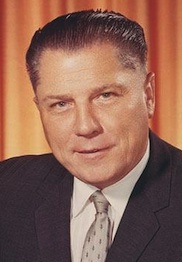 Feb. 16, 2015 | Each year in February, Teamsters take a moment to reflect upon and remember James R. Hoffa, born February 14, 1913. Hoffa served as General President of the Teamsters Union from 1957 to 1971. In that time, he inspired thousands to stand up and let their voices be heard. His words, spoken more than 50 years ago, resonate jet as profoundly today as they did then: "While working men and women have long known the value of a dollar – it is a lesson well taught to one who labors for a living – it has taken a long, long time to teach employers the value of a human being, and in many cases has not yet been successfully taught. Few give though to what happens to displaced workers, but they can analyze to the penny what the profits will be." Learn more...
Local 355, US Foods mutually agree to 90-day contract extension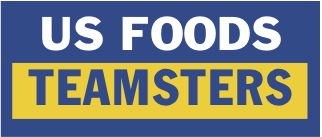 Feb. 18, 2015 | The parties have agreed to extend the current contract due to expire March 15, 2015, in order to negotiate a new collective bargaining agreement. The extension is due to expire June 15, 2015. The extension shall include retroactive pay back to March 15, 2015, the original expiration date.
Sysco not in talks to settle U.S. lawsuit to stop merger
Feb. 24, 2015 | Sysco said it would fight the Federal Trade Commission in court and that no settlement talks were underway… The federal court hearing will likely be set in 60 to 90 days. Full story...
News Items - January 2015
No. There are no immediate cuts to any pensions.
Jan. 5, 2015 | The IBT has compiled a list of frequently asked questions about how the omnibus spending bill could affect you and your family. The big question: "Will my pension check be reduced?" Answer: No. The legislation does not mandate pension cuts. And for those funds that might seek to implement pension cuts, there are a number of procedural steps that have to be followed before they can do so. Learn more here.
Port strikes mirror Organized Labor's roots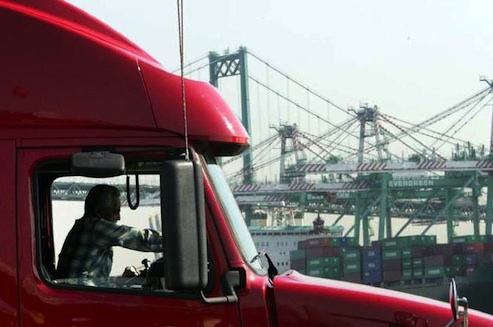 Jan. 8, 2015 | Port truckers in California walked off the job in November to protest their dismal working conditions. Required to lease trucks while paying insurance and maintenance costs, drivers often earn less than minimum wage… While their plight hasn't commanded the widespread attention that 19th century strikes did, port workers might be the key to restoring basic labor rights for all Americans. Learn more here. Related: Agreement between Los Angeles, Long Beach port truck drivers, Carson firm allows Teamsters to enter negotiations.
ObamaCare and Bargaining: Local Union leaders seek answers to tough questions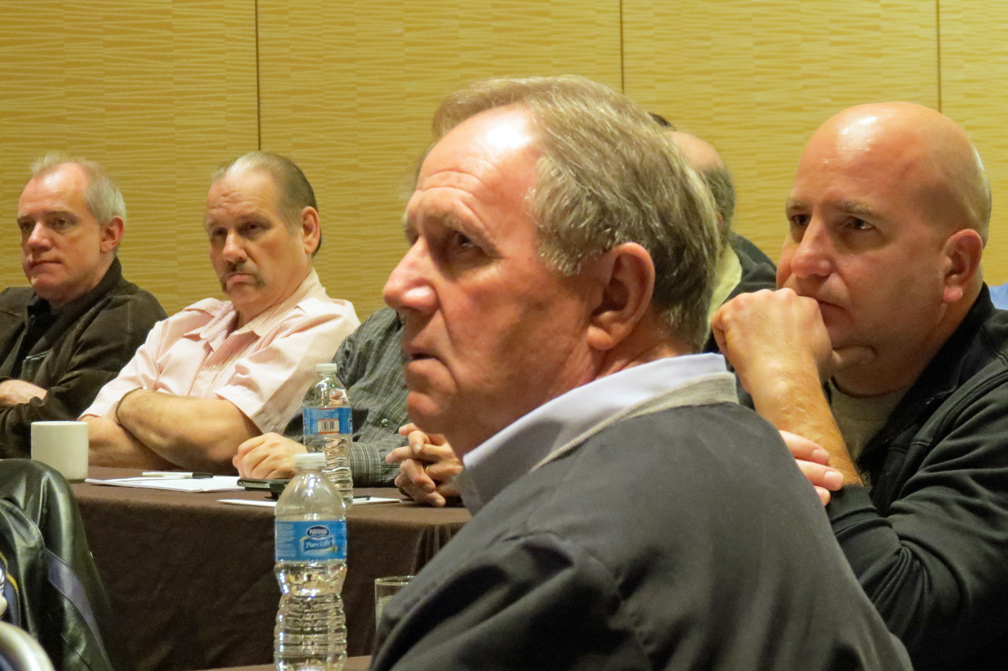 Jan. 10, 2015 | The Affordable Care Act (ACA) – commonly referred to as ObamaCare – and our union members' healthcare plans have recently become a major issue for union negotiators bargaining successor contracts. Officers and trustees of the six local unions comprising Teamsters Joint Council 62 recently spent the better part of a weekend reviewing and discussing specific sections and requirements of the extremely complex healthcare law, as it pertains to employer plans and Taft-Hartley Benefit Plans. Some of the troublesome ACA provisions become effective this year. Information about how the provisions apply is complicated and, in some cases, may conflict with provisions of current plans. Continue reading here.
A new contract is in place at Amports
Jan. 13, 2015 | At a ratification meeting held last night, members employed at auto processor, Amports, located in Baltimore, approved a successor contract that provides significant wage increases, improved funeral leave language, and adds a new retirement savings plan, the GCC-IBT Inter Local Pension Plan, a 501c plan funded solely through tax-deductible participant payroll deductions. In a addition, the agreement calls for a streamlined process by which employees classified as "casual" can move to permanent employee status after working 125 shifts within a six-month period. Continue reading here.
Hoffa to members: A new day for our great union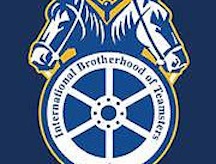 Jan. 14, 2015 | "Today, the Teamsters Union and the U.S. Attorney for the Southern District of New York filled an application with Chief Judge Loretta Preska requesting that she approve an agreement to end decades of government oversight over the Teamsters Union. We anticipate that she will approve the agreememt. This is an historic day for our Teamsters. After decades of hard work and millions of dollars spent, we can finally say that corrupt elements have been driven from the Teamsters and that the government oversight can come to an end." Read General President Jim Hoffa's entire statement on the agreement to end the consent decree, or watch his video statement.
Matheson Gas workers in Jessup, Md. vote to join Local 355
Jan. 15, 2015 | Following a two-month organizing campaign, drivers and fillers employed at Matheson Gas in Jessup, Md., voted yesterday to be represented by Local 355. Their Yes votes were for dignity and respect in the workplace. "The primary issue for the twelve employees is the way they are treated," said Business Agent Chip Elgert. "They had to fight for vacation and paid days off that they were already entitled to. Patterns of unjust discipline was also an issue that sent these workers to us." Local 355 also represents Matheson employees on the Eastern Shore. Drivers deliver compressed gases and propane to various industries including construction and hospitals.
Sign our petition in support of amendment to overturn Citizens United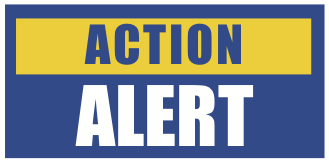 Jan. 19, 2015 | Wednesday, January 21st marks the 5-year anniversary of Citizens United. In the five years since the decision was handed down, spending by outside groups has increased by over 500%. Most of the new outside money, over 70% of it, goes to support anti-worker candidates backed by big corporations and billionaire plutocrats like the Koch Brothers. The only way the law can now be changed is through a constitutional amendment. Please sign our petition today in support of an amendment to overturn this anti-democratic ruling that has shifted control of our elections from the will of the people to the wallets of the super rich.
No time to waste in letting public, lawmakers know about Fast Track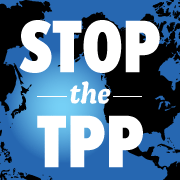 Jan. 27, 2015 | The Teamsters and our fair-trade friends have seen the damage fast track and bad trade deals like the TPP can do… With Congress set to consider fast track soon, there is no time to waste in letting both the public and elected officials know about the dangers of unfair trade. Less jobs, lower pay, less worker protection and unsafe food and products isn't good for anyone – except big business. Read General President Jim Hoffa's guest column here.
Leaked memo: YRC seeks to outsource unprofitable runs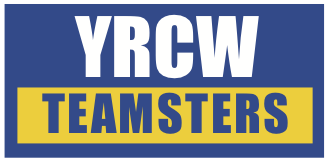 Jan. 29, 2015 | YRC Freight is looking to increase its use of purchased transportation to increase its profitability, according to a leaked internal memo. A Dec. 18, 2014, memo obtained by the Kansas City Business Journal, details a change-of-operations request to the Teamsters that would allow the company to increase its use of interline carriers – third-party transportation providers – in areas currently served by YRW employees. …No YRC employees will be laid off as a direct result of the change of operations. Full story here.
The Pension Fight is Not Over
Tens of thousands of Teamsters and retirees voiced their strong opposition over the last weeks and months to pension legislation that was included in the Omnibus spending bill. Unfortunately, the legislation was sneaked into the bill literally in the dark of night and through procedural chicanery that didn't even allow for a separate vote or give us the opportunity to strip the provisions from the bill and passed the Senate late Saturday evening.
We encourage you to make one more call to the White House at 202-456-1414 to encourage President Obama to rethink his present course of action and veto it when it reaches his desk.
This fight is not over. The union will be looking for any avenue to protect hard-earned Teamster pensions and will work to ensure transparency by any Teamster fund that might look to this legislation to provide relief.
Over the next days and weeks, we will be providing more information on the timing of this legislation and what you can do to continue this fight. It is important to note that no pension cuts are going into effect immediately.
We understand that this is a very difficult time for all Teamsters, especially retired Teamsters who are dependent on their pension. We encourage everyone to remain calm while we continue our efforts to protect every member and their pension.
Please check out www.Teamster.org for the most up-to-date information that we know on the issue.
Call Your Senator Now!
Dec. 12, 2014 | The Teamster Union is opposed to the Omnibus Spending Bill. It keeps the governement open on the backs of hardworking Americans and retirees.
The legislation would:
Threaten the retirement security of thousands of retirees.

Increases the number of hours that truck drivers can spend on the road every week.

Dismantle key Wall Street Reform by allowing big banks to make risky derivatives trading bets using taxpayer-insured funds.

Let every wealthy person put over one and a half million more dollars into politics so we will continue to see more legislation that threatens pensions and increases the hours Teamsters have to work.
Protect your job, your family and your pension.
Call Congress NOW at 888.979.9806 to be connected to your senator.
News Items - December 2014
Local 355 officers and members honor fallen brother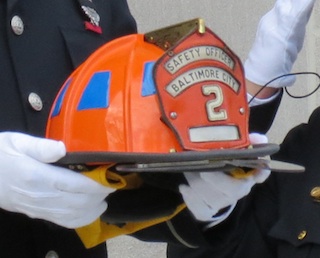 Dec. 1, 2014 | Retired Baltimore Sun driver and Baltimore City Fire Dept. safety officer, James Bethea, was laid to rest November 20th. Local 355 officers, business agents and members joined hundreds of firefighters, law enforcement officers, public servants, family and friends at the funeral and internment service. Recently-retired Baltimore Sun dispatcher and Local 355 steward Jim Sawyer was invited by the Bethea family to deliver a eulogy. He graciously agreed to share his words of remembrance here. Photos included.
Maryland lawmakers consider yelling 'cut' on film tax-credit program
Dec. 3, 2014 | The panel of analysts spent more than hour yesterday afternoon explaining why Maryland should stop giving millions of dollars to movie and televisions productions that choose to film in the state. Continue reading here. More at The Baltimore Sun. [Editor's note: Local 355 represents movie industry drivers.]
Anti-union grocer slashes benefits, pensions for 1,100 Pennsylvania Teamsters
Dec. 4, 2014 | In a new version of the old ploy of manipulating federal bankruptcy courts to bludgeon unions into economic concessions or givebacks, the nation's largest grocery wholesaler used sped-up court procedures to make a quick buy of one of its regional competitors last month – and, in the process, slash the pensions and benefits of 1,100 truck drivers and warehouse workers. Full story here.
Teamsters at Castle Oil about to lose their jobs - help save them!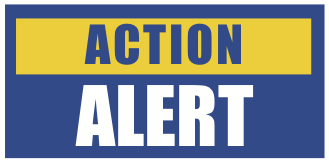 Dec. 4, 2014 | Teamster drivers and mechanics for many years kept New York warm delivering fuel from the Bronx for Castle Oil. Now, just before Christmas, they're about to be thrown out into the cold. Corporate giant Sprague Energy is buying Castle Oil, and 50 members of Teamsters Local 553 are losing their jobs in the process. They'll be replaced by non-union, low-wage contract jobs. You can help: Please take a minute to sign this petition, urging Sprague Energy's CEO David Glendon to keep these good, middle-class jobs in New York. Your support will be greatly appreciated by the 50 Teamsters at Castle Oil who fear a bleak Christmas.
Teamsters take a stand against unfair TPP, Fast Track

Dec. 9, 2014 | The Teamsters joined hundreds of labor and fair-trade activists yesterday in calling on the U.S. government not to move forward with the 12-nation Trans-Pacific Partnership (TPP) or fast-track trade promotion authority that would speed its consideration… "The voices of millions of working, middle-class Americans cannot be ignored," said General President Jim Hoffa. "They are tired of being the casualties of bad trade deals that send good-paying jobs overseas. The Teamsters Union will continue the fight against Fast Track authorization and the Trans-Pacific Partnership – American workers cannot pay the price of another bad trade deal." Full story and photos here.
Friday deadline looms in behind-the-scenes battle over truck safety
Dec. 10, 2014 | More people will die if Congress weakens truck safety to make the trucking industry happy. And Congress may just do that as it races to meet the Dec. 12 deadline to pass a budget bill. Read here what the Teamsters are doing to stop the proposal.
Report: Sysco poised to complete $8.2B merger with US Foods
Dec. 11, 2014 | The New York Post reported today "…Sysco is selling assets worth $5 billion to Performance Food Group to win regulatory approval, two sources said. That is equal to roughly one-quarter of US Food's revenue…" Full story here.
Local 355 welcomes Anne Arundel County Fire Dept. battalion chiefs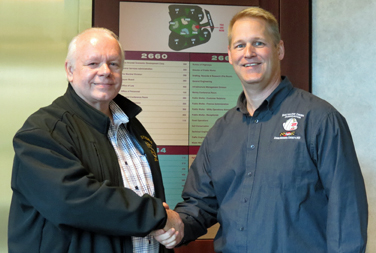 Dec. 11, 2014 | In a representation election held December 10, 2014, Anne Arundel County Fire Department battalion chiefs voted unanimously to join Teamsters Local 355. "We are thrilled to be with the Teamsters. The big union is like our big brother," said Michael Smith, a 25-year veteran with the Department. The group, an independent association, decided in September to seek the organized umbrella of a larger union that could provide the experience and assistance they need to continue to negotiate and enforce their contract. The battalion chiefs serve directly under the fire chief of Anne Arundel County, support 31 town and city fire stations, and coordinate management and delivery of emergency fire and medical services to the citizens of the county. Watch for their story in the upcoming issue of our newsletter. Pictured: Local 355 Business Agent Dan Taylor congratulates Anne Arundel County Battalion Chiefs Association president Michael Smith following the group's unanimous vote to become Teamsters.
Call your senator NOW!
Dec. 12, 2014 | Tell them to vote NO on the Cloture and NO! on the Omnibus to protect Teamster pensions and jobs. Call 888-979-9806 to be connected to your senator. The Teamsters Union is opposed to the Omnibus Spending Bill. It keeps government open on the backs of hardworking Americans and retirees. Click here to learn what the legislation would do, then call your senator at 888-979-9806. Do it right now.
Teamsters denounce Senate passage of Omnibus Spending Bill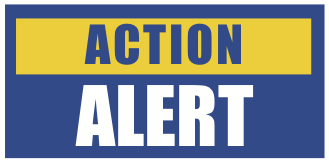 Dec. 15, 2014 | "With the passage of the omnibus spending bill by the Senate, we have witnessed the latest attack by corporate interests on working families, " said General President Jim Hoffa in response to the Senate's passage of the Omnibus Appropriations Bill. "Big business and Wall Street have bought and paid for influence and access that has allowed them to continue to enrich corporations at the expense of the middle class... We can only hope that President Obama rethinks his present course of action, recognizes the destructive nature of the provisions in this bill and vetoes it when it reaches his desk." Full statement here. We encourage you to make one more call to the White House at 202-456-1414 to encourage President Obama to rethink his present course of action and veto it when it reaches his desk. This fight is not over. The union will be looking for any avenue to protect hard-earned Teamster pensions and will work to ensure transparency by any Teamster fund that might look to this legislation to provide relief. Click here for more information.
What the Cromnibus Law means for multiemployer pension plans
Dec. 16, 2014 | … The law states that plans in"critical and declining status" can temporarily or permanently suspend current and future benefits. This suspension can include benefits already accrued for vested participants and benefits already being paid to retirees and beneficiaries…The law sets limits. For example, the monthly benefit of any participant or beneficiary may not fall below 100% of the PBGC's guaranteed monthly benefit. Participants and beneficiaries aged 75 and older are afforded special protections, as are those with benefits based on disability. Full story here. Related: Those pension cuts and what you need to know.
More than 400 Sysco workers in Atlanta vote Teamsters
Dec. 17, 2014 | In a major victory, Sysco workers have voted to join Teamsters Local 528 in Atlanta. With 423 workers in the bargaining unit, the vote for Teamster representation is the biggest at Sysco in years. The vote comes as the FTC continues its review of the proposed merger between Sysco and US Foods, a transaction that could place Sysco and US Foods workers' jobs in jeopardy. Full story here.
Take two and call me in the morning
Dec. 24, 2014 | The Occupational Safety and Health Administration (OSHA) is reminding all employers and workers of the importance of maintaining a healthy, influenza-free workplace this season and throughout the New Year. Check out the Department of Labor's 7 simple ways you can help prevent seasonal flu in your workplace.
News Items - November 2014
FedEx Freight workers In New Jersey vote to join Teamsters Nov. 1, 2014 | A group of 113 drivers at FedEx Freight's South Brunswick, N.J., terminal voted yesterdy to join Teamsters Local 701. The vote was 66 to 42. "This victory is for all of us," said Mike Thiemer, a driver. "We are tired of the unfair and inconsistent work rules and policies handed down by management.

James Bethea, 1952-2014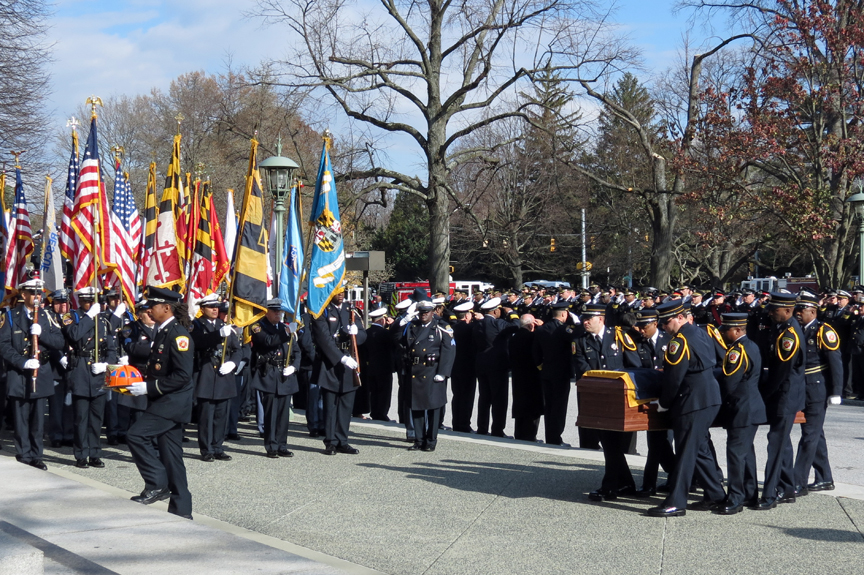 Additional photos can be viewed here.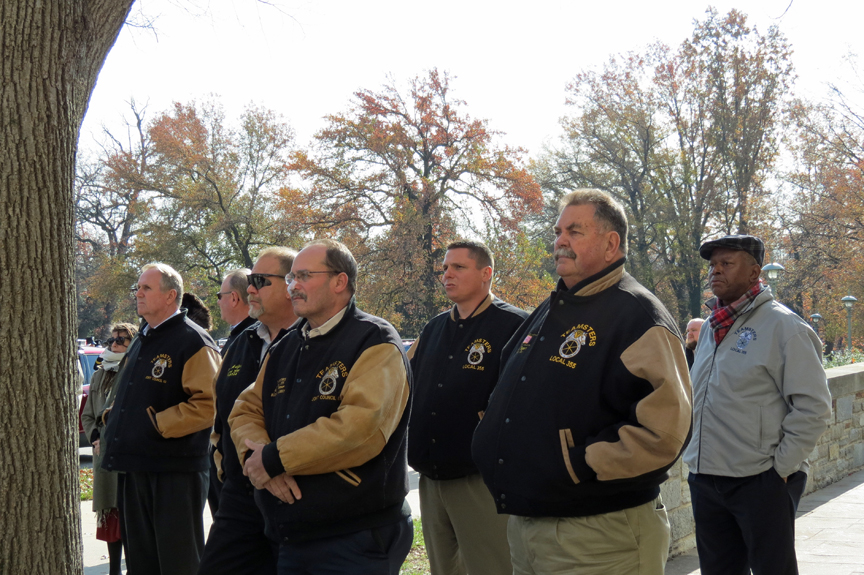 Funeral services were held Thursday, November 20, 2014, for former Baltimore Sun driver James Bethea, also a Baltimore City Fire safety officer who died in the line of duty.
Local 355 Union officers, business agents and members joined hundreds of firefighters and law enforcement officers from as far away as Canada, politicians and family members who attended to pay their respects to the well-respected 40-year veteran of the department. Bethea, worked for The Baltimore Sun as a part-time driver from 1989 until his retirement in December 2013.
Baltimore Sun dispatcher and long-serving shop steward Jim Sawyer was among those asked by the family to deliver a eulogy of words of remembrance and comfort. Jim graciously agreed to share his comments here:
"I am honored to speak to you today on behalf of Teamsters 355 and the employees of the Baltimore Sun about a man that we came to respect and admire: Jim Bethea.
Jim came to work with us at The Sun in June of 1989 as a Teamster driver. At the time, just another fire fighter looking for a part-time job. Little did we know how he would tounch out lives.
Jim was generally a quiet man that went about the business of performing his job with a subtle dignity that you could almost feel. Jim was an intelligent man who was smart enough to know that he didn't know it all; a caring man whose concern for others was obvious; a person who commanded respect without demanding it.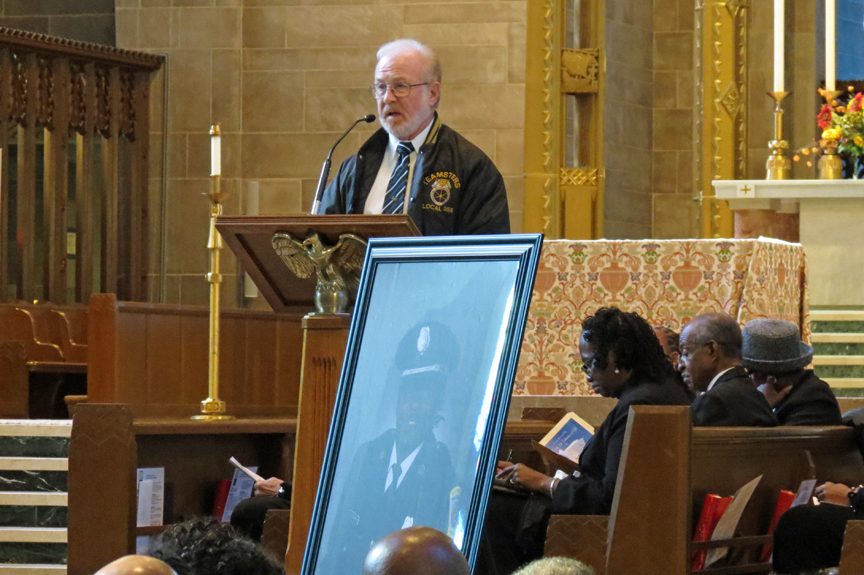 Jim had a good sense of humor, too. Having the same first name kind of opened the door to some amusement for me. When he came in, I'd say "Hey Jim" and he'd say "Hey Jim" and I'd say I hear an echo and he'd say "yeah, but I'm the better looking one."
I found that, at times, Jim was an observor. He'd watch and listen and sometimes comment. Jim seemed to always be looking things to be better, whether personally or work-related or in the Teamster contract. He seemed to enjoy trying to make things better.
You know, we in the general population regard you fire fighters as heroes for your dedication to the protection and preservation of people and property while putting yourselves in jeopardy. One night, a few years ago, Jim gave us a first-hand look at what that means. One of our former drivers had pulled up to the dispatch office after returning from a delivery with a 53' tractor trailer. The driver got out of his trucj and went inside just as Jim was coming out. This driver was so preoccupied with whatever, he neglected to set the parking brake and the entire rig started drifting backwards down the driveway. If not stopped, it could have caused significant damage. Jim saw it drifting and starting to pick up speed and, with no rehard for his personal safety, managed o jump into the truck and pulled the brake. Just one wrong step o one little slip could have meant serious injury to Jim, yet he acted like it was no big deal.
Needless to say, the company, his fellow workers, and the Teamsters disagreed.
But there was other ways that Jim was a hero in my eyes: The way he carried himself with quiet dignity, the way he was alway concerned about the safety and well-being of others, and even in theway he went about doing his job.
We've missed him on the job since he retired at the end of last year, although some of the guys would still get together with him for a round or two of golf (even if he did usually kick their butts), and we'll miss him even more now. However, I do rest easy in the fact that when the Father kcalled hime home, he was doing what he loved for the past 40 years. He's in a better place now.
Jim Bethea was a good friend to many a good coworker, a good union brother and, in my opinion, a very good man. Goodbye, my brother. I am proud to have known you."
Photos:
Top: A firefighter carried Lt. Bethea's helmet ahead of his coffin. A fire engine from Baltimore City Fire Department Squad 40, Bethea's firehouse during the years he worked as a firefighter, carried his coffin to the church and the cemetery. Hundreds of firefighters lined the driveway in front of the church while lines of mourners stretched for blocks around.
Top right: (L-R) Local 355 Secretary-Treasurer Dave White, President Denis Taylor, Trustee Ed Mulford, Business Agents Jim Deene, Mark Garey, Chip Elgert and Marcus Smith.
Center: Jim Sawyer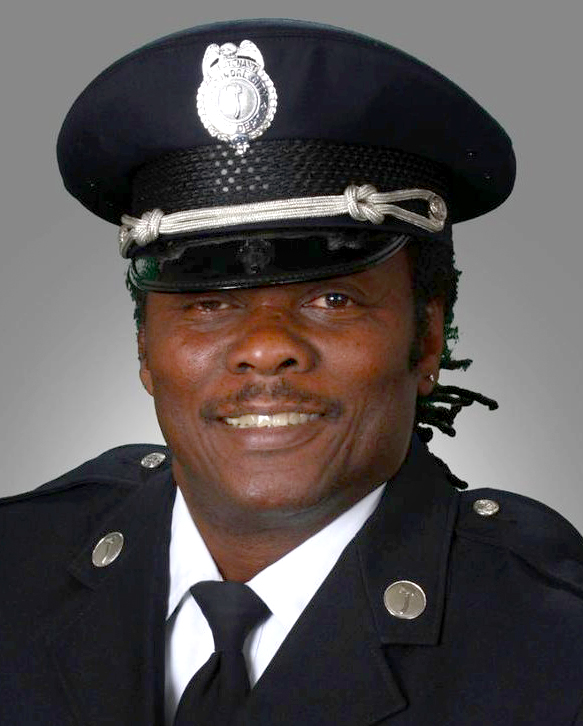 On November 12, 2014, LT. JAMES E. BETHEA Survived by wife; Dr. Brenda Pridgen, son; Darryl A. Bethea (Tia M.), parents; James and Margarine Bethea, sister; Darlene Bethea, grandson; Ethan J. Bethea, and a host of other family and friends.
Viewings: Tuesday, November 18, 2014 from 3 p.m. to 5 p.m., and 7 p.m. to 9 p.m., and Wednesday, November 19, 2014 from 3 p.m. to 5 p.m., and 7 p.m. to 9 p.m. at the Wylie Funeral Home, 701 N. Mount St., Baltimore, MD 21217.
Funeral services: Thursday, November 20, 2014, 11 a.m, at Cathedral of Mary Our Queen, 5200 N. Charles St., Baltimore, Md. 21210
Corrected 12/11/14: An earlier version of this story mis-identified Brother Jim Sawyer as "recently retired." Sawyer has not retired.
BOOM = Because Our Opinions Matter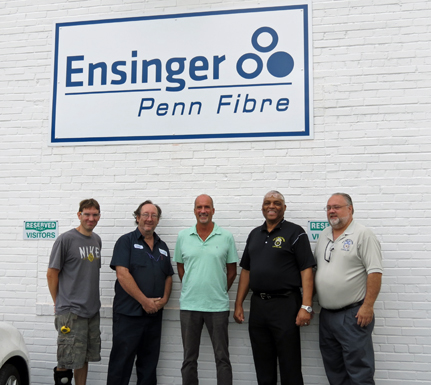 (L-R) Shop stewards Dave Beach and Bill Stramm, Operations Manager Mark Fischer, Local 355 Vice President Ervin Williams, and Business Agent John Caparatta.
Penn Fibre Teamsters participate in repair, revitalization of their workspace
Note: Local 355 has represented workers at thermoplastics manufacturer Ensinger/Penn Fibre for more than 40 years. Our members – many of whom are long-term employees – work in every department throughout the plant. The following is an update to an earlier story, "A Win-Win at Penn Fibre," reported in 2012.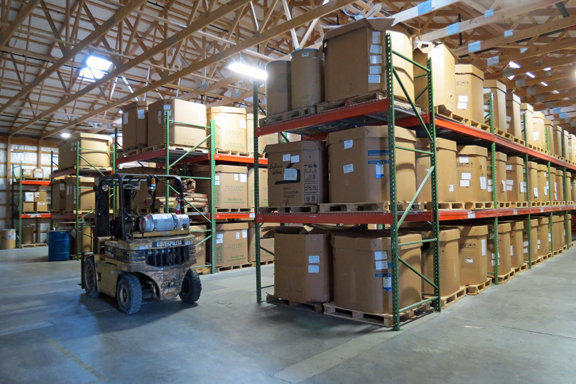 Greenwood, Del. — In September 2012, Penn Fibre began construction of a warehouse extension (right) to store the overflow of materials used in the production of high-performance engineering plastics, the company's signature product. The tight space and aging floors of the old warehouse raised concerns about worker safety. At the time, General Manager John Cowperthwait told his workers the company was committed to undertaking the necessary measures to avoid unnecessary accidents.
Penn Fiber's German parent company, Ensinger, launched BOOM — "Because Our Opinion Matters" — a bottoms-up initiative designed to teach its plant locations how to continuously improve and maintain their workspace. The BOOM program promotes a process by which employees – union and non-union alike – are encouraged to tell management what improvements are necessary to make the plant more efficient, productive and safe. It is the employees, working hands-on, day-to-day within their spaces, who know what is broken and in need of fixing, said Cowperthwait.
Workers began by surveying and analyzing their own departments, making lists of recommendations. The various departments then met to discuss and determine priorities. Almost all recommendations were approved.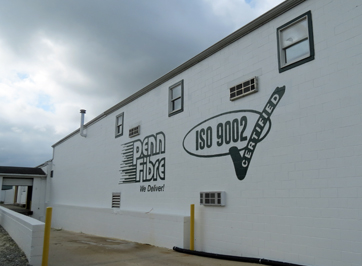 The first phase of BOOM completed, the company moved to the second phase in July with a one-week "maintenance shutdown," limited production schedule and, with "all hands on deck," assigned employees to cleaning, painting, organizing, repairing and sprucing up their workplaces, all according to the final recommendations and suggestions for change. Everyone was paid their regular weekly rate.
"Though we do a maintenance shutdown annually, this year we accomplished much, much more," said Mark Fischer, operations manager. "Historically, we change motors and pumps and do other busy work. This year was different, well beyond the norm. Teamwork was essential."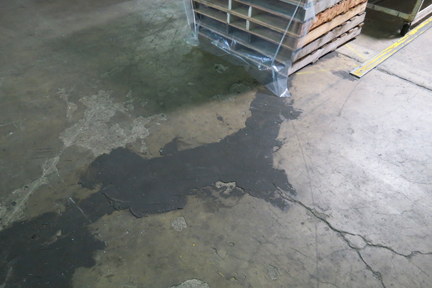 Work projects included sealing large floor cracks (right) thus eliminating tripping hazards and easing fork-lift vibration, often the cause of back injuries; re-configuring the old warehouse's aisles that were too close together with materials stacked too high making them hard to access; machines were cleaned — one was re-located to improve productivity and safety — and a new drive controller was installed to maintain consistent flow of the thin plastic sheets used to make product. Interior walls were reinforced and re-painted, building exteriors received a fresh coat of paint, the company's outdoors logo was hand-painted, and new gravel was distributed on walk and pathways.
"The program really upped the morale," said David Beach, a die shop employee and Teamster shop steward since 2014. "It makes us feel good to work in a clean environment."
Penn Fiber's newly hired maintenance manager is moving to address other areas where improvements were recommended by the employees, including the installation of better lighting.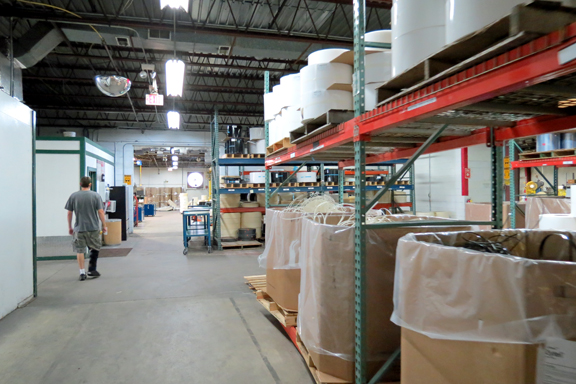 Shipping department employee and Teamster steward Bill Stamm said it made a big difference to know management trusted the workers to make sound decisions about the clean up. "For example, if one department no longer needed a piece of equipment or storage rack (left), we checked around with other departments to see it if could be repurposed. The company was fine with that."
Today, not only does the plant look good, it's much safer. Penn Fiber Teamsters are proud of their contribution and hard work that helped to make it all happen.
"Our members were enthusiastic about the BOOM program because the changes were happening with them, not around them," said Local 355 Vice President Ervin Williams adding, "Their opinions mattered."
News Items - October 2014
Beginning Oct. 1: Tow trucks included in Maryland's 'move over' law
Oct. 1, 2014 | Motorists will be required by law to move over for tow trucks starting Oct. 1, according to Maryland State Police. The law is intended to provide an extra barrier of safety for police, fire and emergency rescue personnel, and now tow truck drivers, police said… Violation of the "move over" law is a primary offense with a fine of $110 and one point added to a driver's license. Read more here.
Election should be about letting all eligible voters vote
Oct. 3, 2014 | In the first of five in-depth blog posts leading up to the Nov. 4 election that will examine the issues of importance not only to Teamsters, but all workers, Teamster Power writes: "How do you know that Election Day is right around the corner? Because anti-worker forces in key swing states are trying to tamp down on who can and cannot vote." Worth your time to read it here.
Facebook's bus drivers seek union
Oct. 6, 2014 | They shuttle highly paid Facebook employees to and from the company's headquarters in Silicon Valley, yet many say their pay is so low that they can't afford to live in the area. Moreover, many complain that they start work around 6 a.m. and do not finish until 9 p.m., 15 hours later. Now, some of these shuttle bus drivers, who get Facebook employees to work are seeking representation by the Teamsters union. Learn more here.
There's nothing fair about being a woman in the workplace

Oct. 7, 2014 | In the second of five in-depth blog posts leading up to the Nov. 4 election, Teamster Power writes: It may be the 21st century, but for too many working women it might as well be the Dark Ages. Their wages continue to lag significantly behind their male counterparts. And congressional efforts to change it have been hampered repeatedly by Senate Republicans. The latest rebuffing of wage equity came last month, when the GOP halted an effort to move forward with the Paycheck Fairness Act…" Worth your time to read it here.
The Teamster History Project wants your photo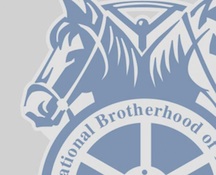 Oct. 8, 2014 | The Teamsters History Project is currently working on a new book for the Teamsters History book series about Teamsters in Military Service and is looking for photos of Teamsters who served in the military at any time during the last 110 years of our history. If you'd like to submit photos of you and/or Teamster relatives who have served in any of the conflicts during that time, you will find additional information and instructions for photo submission here.
After nearly 22 years, Burris Foods driver Melvyn Miller turns in his keys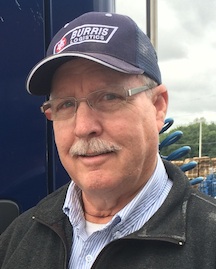 Oct. 10, 2014 | Miller, still fit and healthy at 71, is tired of driving. "I drove 460 miles today," he said last week when we spoke with him. "Yesterday, 506 miles, 8 deliveries. The strain adds up. Driving is a physical and mental job and after almost 22 years, it has taken it's toll. Oh sure, I still have the desire every day to go out and do a good job for the company, and I make that happen. But I'm tired so I'm retiring. I'll do something else for a while." Miller retired yesterday. Full story here.
Fight against the War on Workers by voting
Oct. 13, 2014 | Show how you're fighting the War on Workers by printing out the "I'm a Teamster and I Vote" sign, hold it up and take a selfie for the Teamster Facebook page. Click here to get your sign.
Teamsters' teach-in spotlights environmental injustice at hazardous landfill
Oct. 14, 2014 | …Speakers at the session, hosted by Teamsters Joint Council 13, emphasized that 1,600 Teamsters and tens of thousands of other workers live within a short radius of the Republic Service toxic landfill in Bridgeton, Missouri. The landfill contains 8,700 tons of un-containerized radioactive waste… The teach-in made clear that unionists, community residents, faith leaders, environmentalists and pro-worker attorneys were going to be anything but invisible. Read the full story here.
Teamsters make history with first-ever organizing victory at FedEx Freight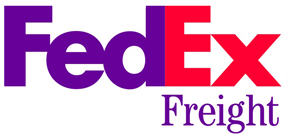 Oct. 15, 2014 | A group of 47 drivers at FedEx Freight's East Philadelphia terminal in Croyden, Pennsylvania, made history yesterday when they overwhelmingly voted to join Teamsters Local 107 in Philadelphia. "We are tired of getting treated with disrespect and dealing with constantly changing unfair and unwritten work rules," driver Gary Loftus said. "We also want job security and to be valued for the work we do making FedEx Freight successful." Full story here.
Private sector privileges cost regular workers
Oct. 16, 2014 | …In the third of five in-depth blog posts leading up to the Nov. 4 elections, Teamster Power writes: "The U.S. has a population of more than 317 million people It has more than 146 million registered voters. But increasingly, elected officials seem to believe their only constituency is the Fortune 500… Between big business outsourcing jobs overseas and the billion doled out by the federal government in tax breaks directly to corporations every year, you'll excuse those who believe President Lincoln's famous clarion for American government has morphed into 'Of, By, and For the Company.' Full story here.
Send your boss a message every Thursday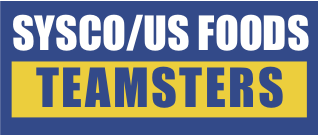 Oct. 17, 2014 | Wear your Teamster colors every Thursday to show Sysco and US Foods our solidarity in demanding answers about what will happen to us if this merger goes through. Teamsters have been outside Sysco, US Foods, Sygma, Stock Yards, and FreshPoint facilities across the country on behalf of all workers— union and non-union. Let's show Sysco and US Foods that we are standing strong together.
Local union shop stewards complete three days of extensive training
Oct. 18, 2014 | Local stewards were awarded recognition certificates today at the conclusion of a grueling three-day seminar held in Williamsburg, Virginia. "Without the work you do this union would not function, and on behalf of the membership, I sincerely thank you," said President Denis Taylor during his remarks expressing appreciation and support to the 112 stewards who participated in the training. The Local sponsors shop steward training every other year. Photos are available in the photo gallery (photo IDs to come). Story to follow. Stay tuned...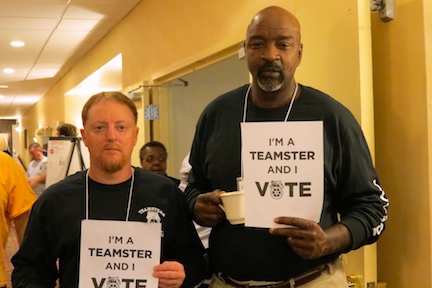 They're Teamsters and they vote! *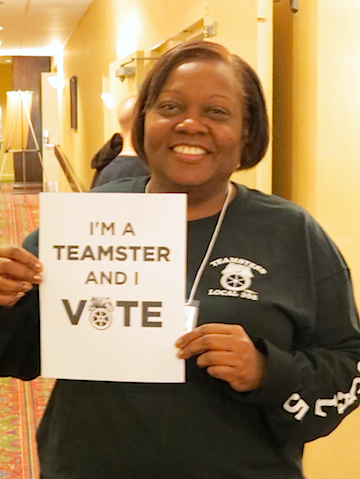 Oct. 20, 2014 | Local 355 shop stewards showed their power last week during a break at the Local-sponsored steward seminar. Proud to be part of a politically powerful union, these members contribute, are registered and ready to vote on November 4th. Are you? * Pictured left, Sabrina Beverly (Avis Rent-a-Car) and right, (left to right) Gilbert Howdershelt (Burris Foods) and Lynnwood Bowe (Burris Foods).
Penn Fibre Teamsters proud of their work to improve the workplace
Oct. 22, 2014 | The company's BOOM (Because Our Opinions Matter) program culminated in a week-long, interior and exterior repair and revitalization project of Penn Fibre's thermoplastics manufacturing facility. Workers were invited to tell management what improvements were necessary to make the plant more efficient, productive and safe. They did, and the results are proof their opinions do indeed matter. Story and pictures here.
Workers hold the future of inequality in their hands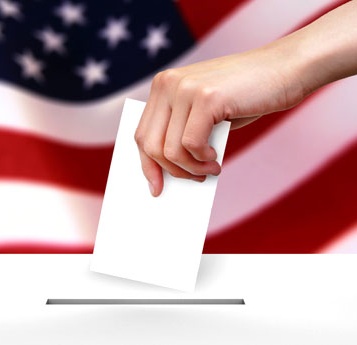 Oct. 31, 2014 | In the final of five in-depth blog posts leading up to the Nov. 4 elections, Teamster Power writes: "Our nation's economic recovery may seem real to those who compile government statistics or for the elites on Wall Street and Capitol Hill. But ask the average rank-and-file worker in cities and towns across America, and you'll likely get a much different answer. Despite a reduction in the U.S. unemployment rate, workers are still struggling. The reason is simple — jobs that paid a fair salary and supported families before the Great Recession have been replaced by those that pay the minimum wage or not much higher. Continue reading here.
Melvyn Miller retires
Burris Foods driver Melvyn Miller said goodbye to his friends and coworkers yesterday and retired from the company he had served so well for 21 years and 8 months. "The company was good to me, too," said Miller. "Overall, it has been the best company to work for, right from the beginning when Mr. Jack Burris was the president.

2014 Fall Golf Outing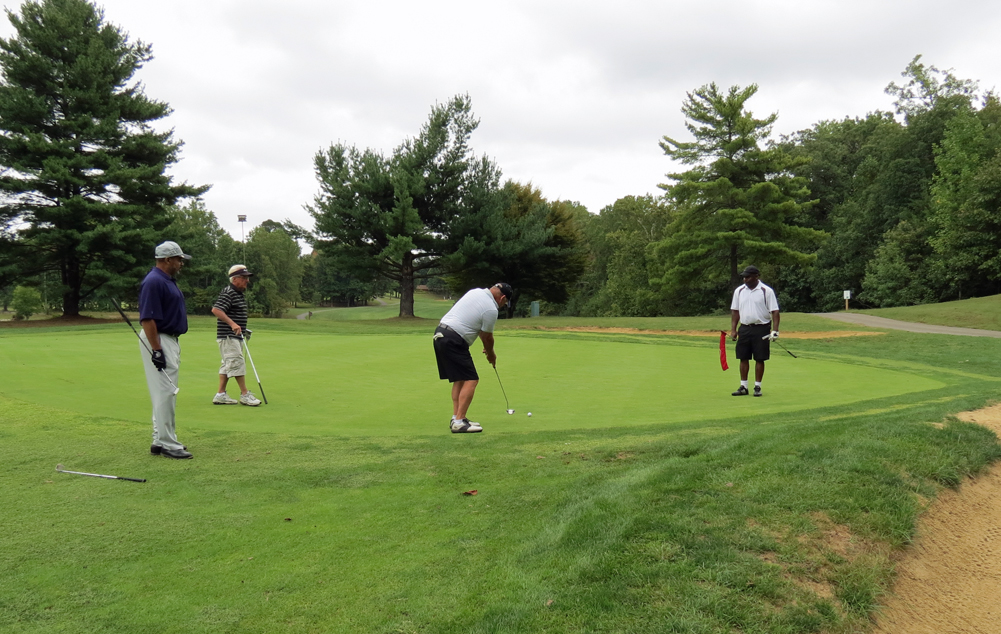 Local 355 golfers included Greg Anderson (Dow Jones), Danny Williams (APA), Rex Petterson (US Foods, retired), and Tony Savage (US Foods). View more photos in our Photo Gallery.
Forty members and retirees participated in Local 355's Fall Golf Outing September 12, 2014 at the Eisenhower Golf Course in Crownsville, Md.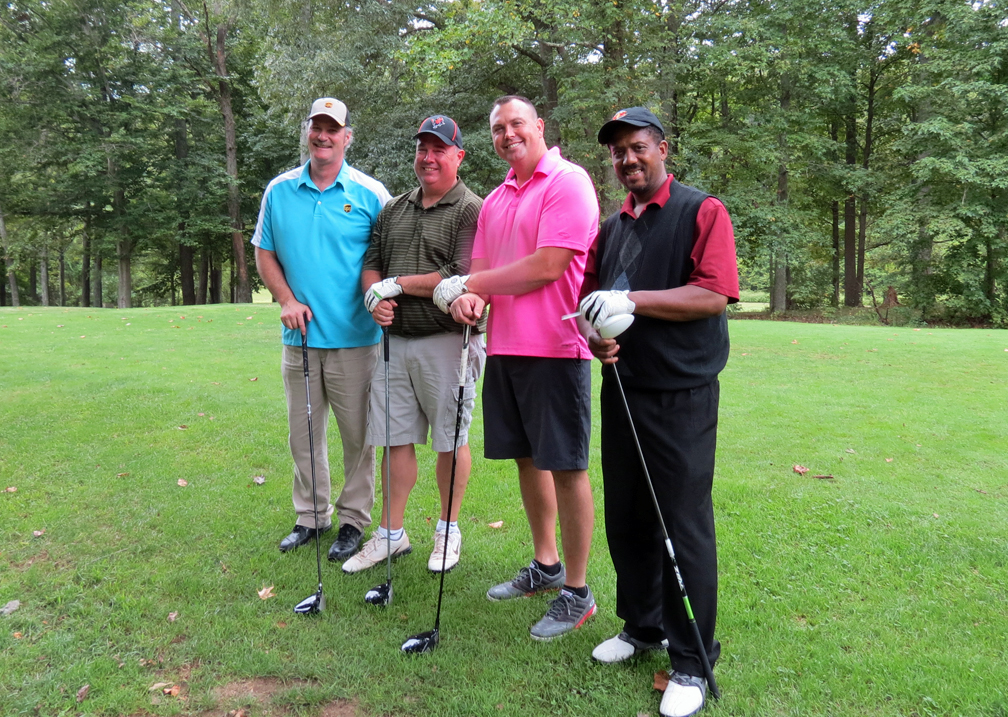 Teams hit the 8:00 a.m. shotgun start, completing the 18-hole course despite rain which was heavy at times. Just after noon, the wet and weary participants headed back to the golf club's covered outdoor pavillion where they enjoyed lunch and liquid refreshments.
First Place: (UPS Freight/Elkridge)
Scott Vickers

Joe Pack

Walker Chapman

Mel Stevens
(Second, third and fourth place info to come)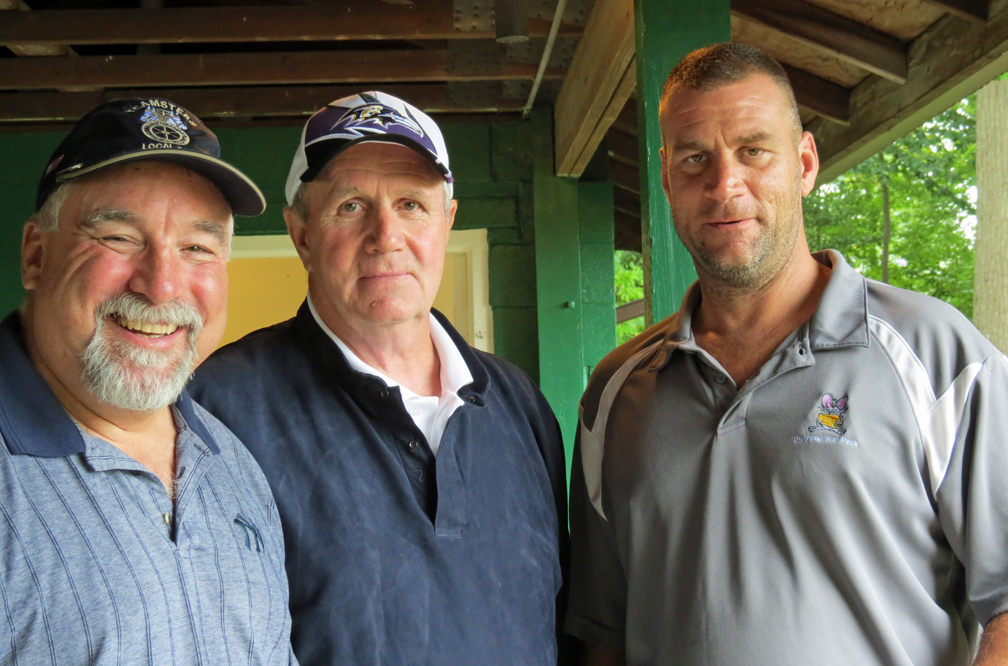 Closest to the Pin Winner:
Rick Boehner, (Kraft/Dover)

,

near right, with Secretary-Treasurer Dave White, center
Longest Drive Winner:
Tom Zabka, (UPS Feeders/Baltimore), far right
News Items - September 2014
Learn about the influential people in our Labor history Sept. 1, 2014 | The workplace rights and protections we enjoy today were won for us by generations of America's working heroes.

News Items - August 2014
Teamsters praise Obama crackdown on companies that abuse workers Aug. 4, 2014 | The Teamsters strongly supports President Obama's executive order to crack down on corporations that break laws but still win government contracts.

News Items - July 2014
Spy vs. sp…trucker? July 1, 2014 | A case to be heard by the NLRB on August 25th revolves around California trucking company Green Fleet Systems who the Teamsters union claims has used threats, coercion, and the termination of two employees to squash unionization efforts among misclassified independent contractors.

2014 Scholarship Winners
Dillon Stanley and Javier (Jay) Cook are the 2014 winners of the Teamsters Local Union 355 40th Annual Scholarships Awards.
Dillon, son of UPS package driver Chris Stanley, graduated from Bennett High School in Salisbury, Md., and plans to attend Salisbury University in the fall while Jay, son of Donovan Clark, also a UPS package driver, graduated Easton High School, Easton, Md., and plans to attend Chesapeake College.
The students' names were selected in a drawing of scholarship applications during the May 18, 2014, general membership meeting at the Baltimore union hall. Dillon and Jay will each receive $4,000, paid out at the rate of $1,000 per academic year.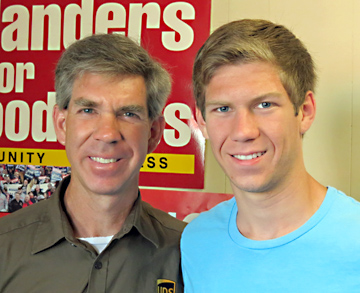 Dillon (right, with his dad) a track athlete and long-distance runner, plans to earn a degree in communications, with a focus on sports journalism. "I've always been a huge sports fan and a career as a sports reporter or broadcast announcer would allow me to stay close to the games I love," he said. Dillon is a devoted follower of the Baltimore Orioles and Maryland Terps, and runs 5k races almost every weekend. When he wasn't playing basketball growing up, he joined in his dad's quest to run a marathon in every U.S. state. (Chris has run 13 marathons to date.) If dad fueled his early interest in sports, it was Dillon's educator mom who helped develop his interest in the written word. "My mom is a kindergarten teacher. She encouraged me to read at an early age. I really like learning about history, reading about the past." When Dillion isn't watching or playing sports, or reading about the Civil War, he can be found at the movies. A self-described movie buff, Dillon prefers comedies, but likes action and horror films too. "Thank you so much to the Teamsters for choosing me for this scholarship. It is a great honor."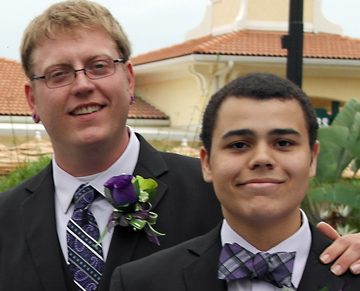 Like Dillon, Jay, (left, with his dad), is an avid reader, preferring history and English literature. But right now his passion is his car, a 1997 VW Golf with more than 200,000 miles on the engine, and a wheel bearing that needs replacing. "My mom and dad bought it for me when the car I bought myself died. I like working on it, mainly because I need to get it running so I can find a job for the summer, hopefully one outdoors." Though Dillon will enter Chesapeake College's Liberal Arts program in September, he intends to transfer to the University of Florida in Gainesville, where he has relatives that live nearby. At UF he hopes to pursue a degree in psychology. An interest in how people think and what they feel makes him "a magnet for the troubled" ones, he said. "I read people and I'm a good listener which I think helps people get what's bothering them off their chest." In turn, he said, he feels fortunate that he has people to whom he can talk. Ultimately, Dillon hopes that one day he will be his own boss, perhaps with his own practice that can allow him "freedom of movement and independence." Of his Teamster scholarship, Dillon said, "I really, really appreciate it. I'll make sure it helps me fulfill my dream. Thank you!"
The annual scholarships are awarded to two qualifying high school students of Local 355 member families.
Teamsters Local 355 represents 5,800 working men and women and their families in the Delmarva region.
News Items - June 2014
It's possible some retro check contain errors June 2, 2014  | The International reports it was notified by UPS that some employees in progression or had a job change during the retroactive pay period may have received incorrect retroactive pay. The error has resulted in some employees being underpaid and some overpaid.

News Items - May 2014
In honor of May Day, Teamster ally gives away labor music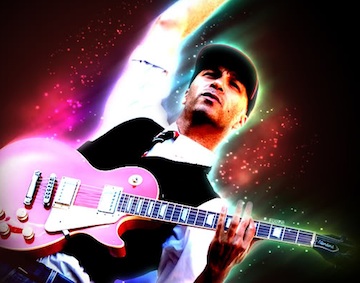 May 1, 2014 | In celebration of May Day, activist and musician Tom Morello is offering his "Union Town" EP for free download today only. "…this record is dedicated to working people of every nationality, age, color, and religion who have the courage to stand up for justice and dignity in the workplace, and beyond. Enjoy the tunes and fight the power!" said Morello. Morello has worked with Teamsters in the past. More at teamster.org.
Teamsters mobilize at 2014 Unity Conference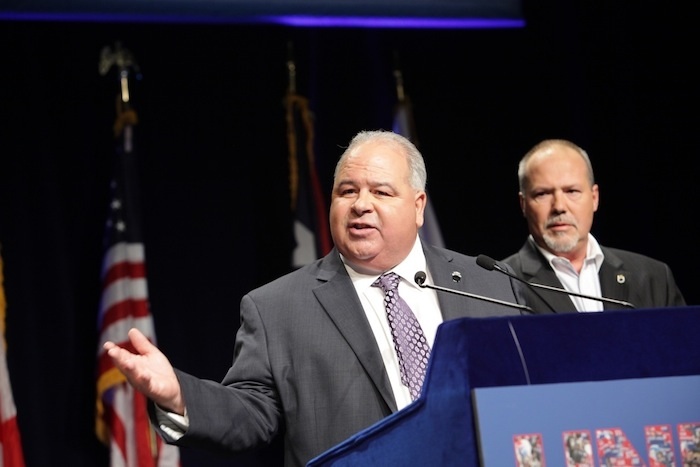 May 6, 2014 | The 2014 Teamsters Unity Conference convened Sunday, May 4, in Las Vegas and will run through Wednesday, May 7. The Teamsters' annual conference conducts dozens of educational workshops and division meetings for more than 1,400 Teamsters. In the news: The Union has major organizing campaigns underway in a number of key industries such as school bus drivers, port truck drivers, parking workers, and taxi cab drivers, has had success in fighting against misclassification of workers in New York and Los Angeles, recently won a victory that saved carhaul jobs and is now fighting to protect existing jobs and organize new workers after the Sysco/US Foods merger projected to be complete later this year. Check in at teamster.org for conference updates and photos. Pictured: Kevin Moore, Director of the Teamsters Carhaul Division and Roy Gross, Co-Director.Chip Elgert and Jim Deene.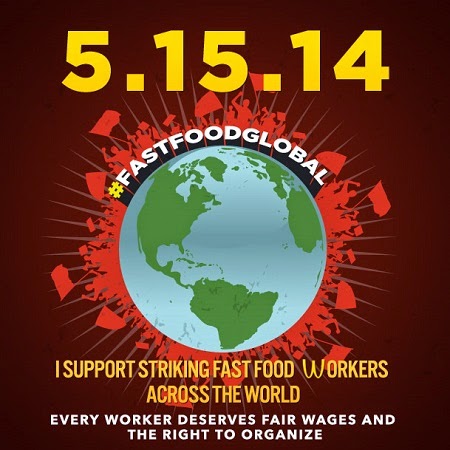 Super-sized, global fast food worker strike!
May 14, 2014 | Fast food workers will strike tomorrow, May 15, in 150 cities and 30 cities overseas, escalating the movement for fair wages and the right to organize that now encompasses port truck drivers, warehouse workers, processing workers, Walmart associates and government contractors…Decades of union-busting in this country lowered wages to the point where half the workers in America earn wages at or near the poverty level. Now tens of thousands of workers at a time are taking to the street to demand a fair day's wage for a day's work. Full story at teamsternation.com.
UPS will add thousands of new union package jobs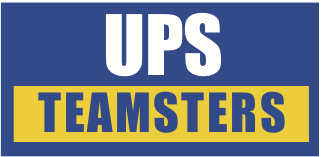 May 15, 2014 | General Secretary-Treasurer Ken Hall announced today that UPS will add thousands of new package jobs across the country this year in the face of strong Teamster enforcement of the new National Master UPS Agreement… Hiring has already started, and the news jobs will be in addition to the regular filling of jobs through attrition….The contract also tackles excessive overtime by making it easier for workers to get on the "9.5 list" limiting hours, providing access to penalty pay in the first week of a violation, prohibiting the company from piling on work at the end of a week and allowing the union to address inadequate staffing. Read the full announcement at teamster.org.
Membership meetings suspended for summer, will resume in September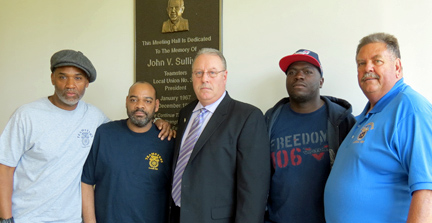 May 19, 2014 | Members attending general membership meetings at the Salisbury union hall May 4 and Baltimore union hall May 18 unanimously voted to suspend the meetings until September. The next meeting in Baltimore will be September 7th; in Salisbury, September 14th. Winners of Local 355's 40th Annual Scholarship were drawn at the Baltimore meeting from submitted member applications. We'll post their names once the students are notified. Interviews with the college-bound winners will be in the next Local Union newsletter. Stay tuned for more information and photos from the May meetings. Photo: President Denis Taylor welcomed USALCO employees (L-R) Maurice Daniel, Troy Spence and Harry Collic who, along with 12 other drivers voted in April to become Teamsters. Business Agent Chip Elgert (right) assisted with their organizing campaign.
Tell the SEC: We demand corporate transparency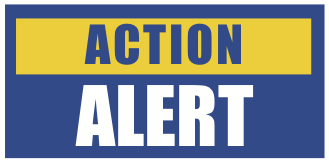 May 21, 2014 | With the Supreme Court's decision in Citizens United in 2010, corporations were given the green light to spend unlimited amounts of money in elections. As if it weren't bad enough that there are no limits to what companies can now spend to support anti-worker candidates or promote job-killing free trade agreements, what's even worse is that a lot of this political spending is done in secret. The Securities and Exchange Commission (SEC) is being petitioned to require publicly-traded companies to disclose their political spending. Please help us tell the SEC that we demand corporate transparency by submitting this comment in support of the petition today.
Driver's physical must now be performed by Certified Medical Examiner*
May 22, 2014 | The Federal Motor Carrier and Safety Administration is reminding the trucking industry [May 21] marks the start of new regulations requiring all U.S. DOT physicals must be performed by a qualified health professional listed on the National Registry of Certified Medical Examiners…Current medical certificates held by commercial driver's license holders will continue to be valid until the expiration date that is shown on the card. Only then will the driver need to seek a certified medical examiner to perform their new examination. Full story here. * Update: Important Teamster information here. Questions? Contact your business agent.
Teamsters: Time to start the war for workers at the ballot box*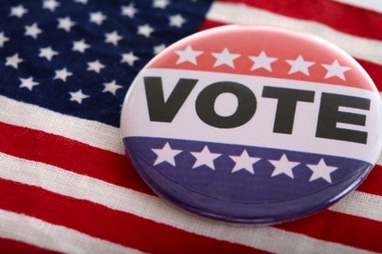 May 26, 2014 | A new election season is quickly approaching and the Teamsters, like Americans as a whole, have much to ponder. While there has been some economic improvement since 2012, workers trying to cover their families' day-to-day expenses are still facing an uphill climb…It's OK to be angry at Washington. A sizable contingent of anti-worker lawmakers has done much to deserve our ire. But what working people can't afford is to make bad choices at the ballot box. Americans can't just throw up their hands and give up. Corporate America isn't, and they will continue to donate mountains of money to lawmakers and candidates alike trying to influence them. Read more at teamster.org.
July 26th Bull Roast in Glen Burnie to benefit grieving families
May 27, 2014 | Tickets are now on sale for a Bull Roast whose proceeds will benefit Cuz We Care, Inc., a non-profit organization dedicated to providing financial assistance to families who have experienced the sudden lost of a child from Sudden Infant Death Syndrome (SIDS). The event is slated for Saturday, July 26, 2014, at the LaFontaine Bleue in Glen Burnie, Md. Local 355 retiree Mike Brett provided us with the details we've posted here.
Fact Check: Medicare under observation
May 30, 2014 | Attention 355 retirees: Factcheck.org sets the record straight on allegations in a letter from an alleged Medicare beneficiary that has gone viral. The question: Is it true that, under the Affordable Care Act, "Medicare will not pay anything" for patients receiving only "observation" care in hospitals? The answer with full explanation at here.
SYSCO/USFoods National Day of Action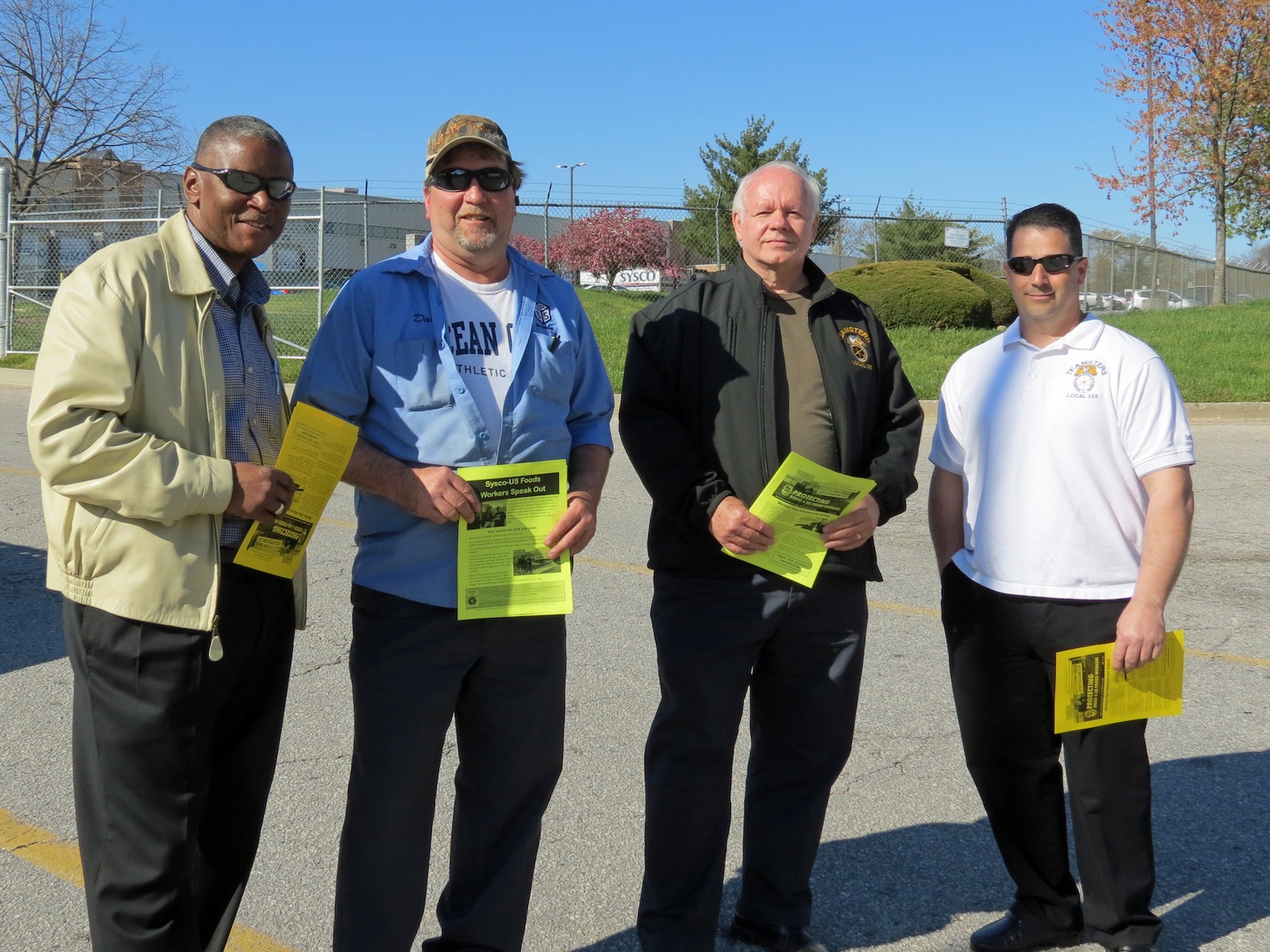 (L-R) Buisness Agent Marcus Smith, Sysco driver Dan Heitzer, Business Agent Dan Taylor, UPS steward Mike Petro, at Sysco's facility in Jessup, Md.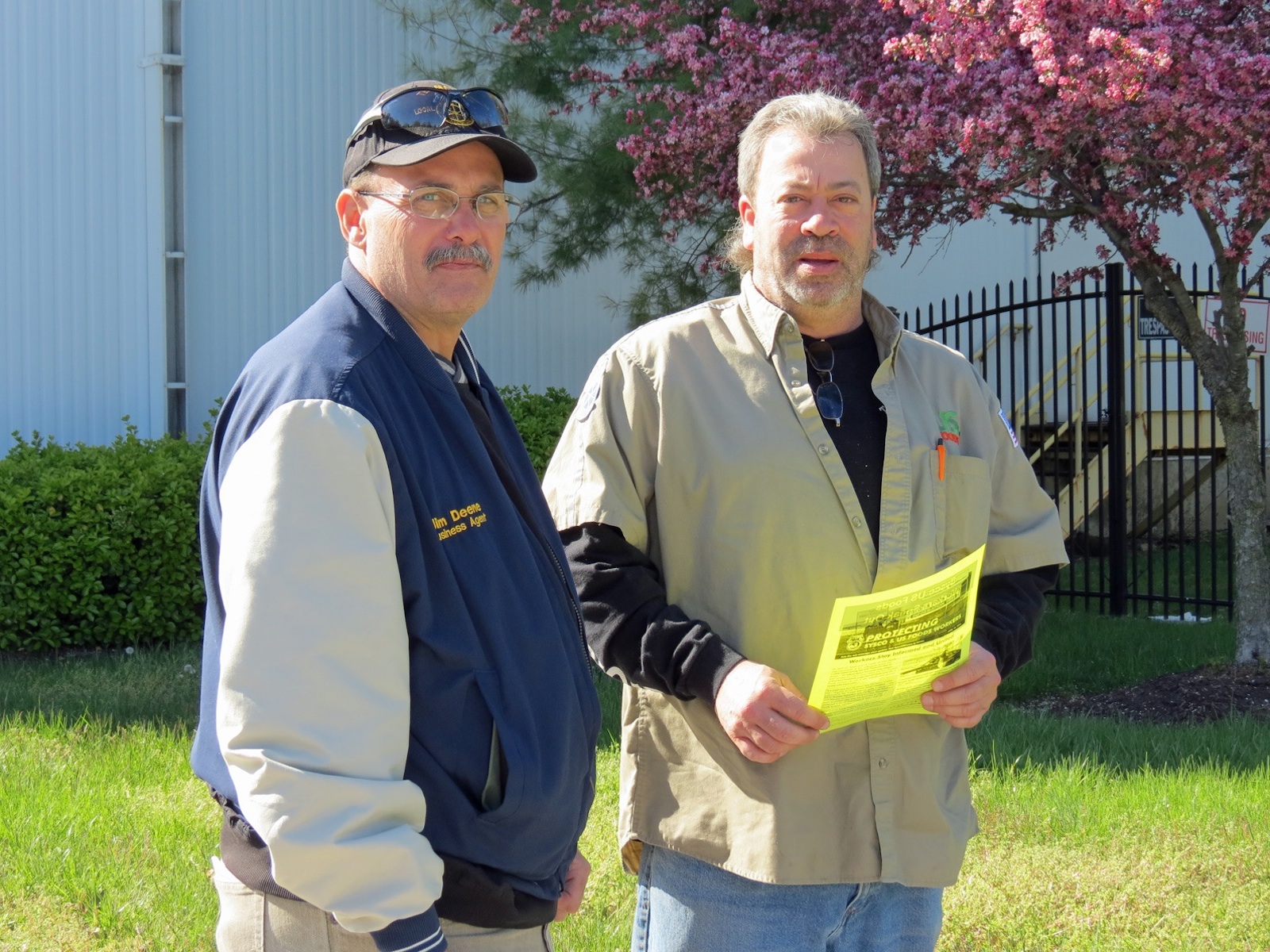 On April 24, Sysco and US Foods workers distributed information to our colleagues across the U.S. during our second "National Day of Action."
Bright-colored fliers provide information about the "SyscoUSFworkers" Facebook page and how to take the worker survey.
"It's important that all Sysco and US Foods employees – whether or not they are union members – stay informed as the merger process goes forward," said Steve Vairma, Teamsters International Vice President and Warehouse Division Director. "The Teamsters want to protect jobs, and the best way to stay protected is for all employees at Sysco and US Foods to work together."
"I have 20 more years before I can retire from the job but if we close down and I have to go looking for a job, that'll add seven more years," said Doug Robinson, a US Foods mechanic and Local 355 Teamster. "If we end up over at Sysco, the mechanics there are non-union. We're in the Local's benefits plan, which is great. The US Foods non-union plans are not as good as ours. There's a lot of uncertainty right now with this merger and not knowing what's going to happen to our jobs. It helps that we can be informed about what's going on."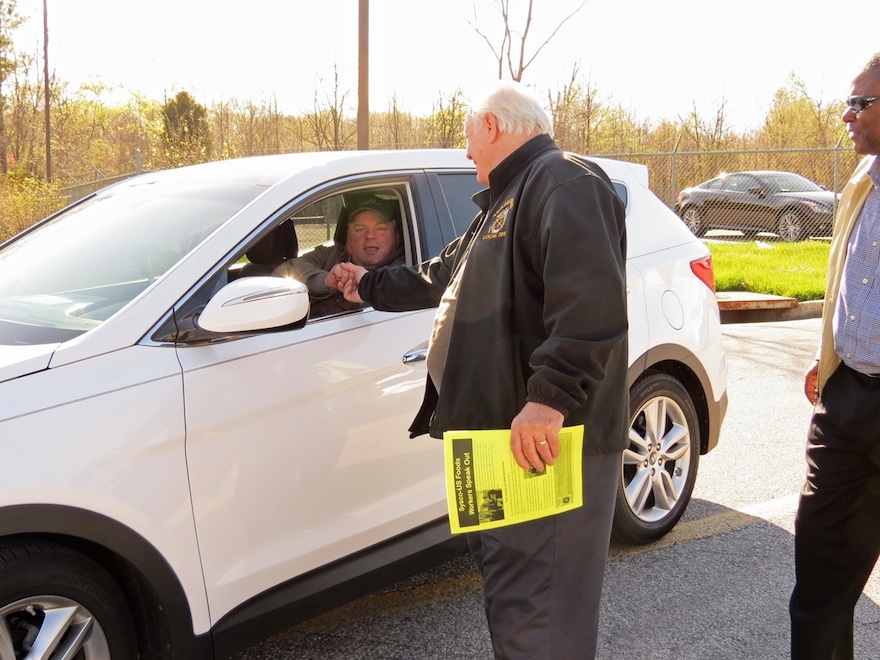 Sysco and US Foods workers have been posting pictures and comments on the "SyscoUSFworkers" Facebook page. (A direct link is also on our home page.)
And, if you haven't taken the survey yet, do it now!
Above right, Buisness Agent Jim Deene with US Foods driver Joe Schwabline at the US Foods facility in Severn, Md.
Left, Sysco warehouseman Gary Clark and Business Agent Dan Taylor at Sysco, Jessup. Md.
News Items - April 2014
Government needs to save workers from these Wall St. wolves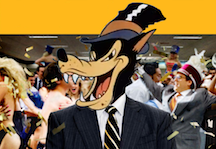 Apr. 1, 2014 | Wall Street just can't help themselves. Elite traders, not satisfied with the deluge of dollars they already were taking in on behalf of hedge funds, are screwing rank-and-file workers by using high-speed networks to find out what stocks others are buying and then buying them first. This rigging of the system – perfectly legal under current rules – allows them within milliseconds to buy and then sell shares and take in tiny profits, over and over again…Government cannot expect hard-working Americans to buy into a system that is crooked. Full story at teamsters.org.
Union is a symbol of our rights
Apr. 7, 2014 | A union is you. It is me. It is the ideology that we have a voice; that we all have the right to due process. A union is the ability to say, "I am a human being and I have certain inevitable rights as an American." It is a feeling of self-respect and the knowledge that I am my brother's keeper. A union is the logic that we have responsibilities to help the less fortunate among us. It is a passion that drives us to do the right thing so our world will be a better place… Read the entire guest column at thegazette.com (Iowa).
Teamsters: Stand up, fight back against ALEC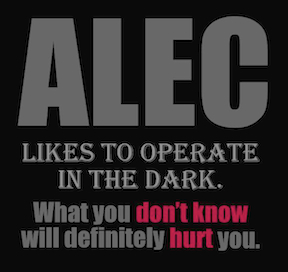 Apr. 8, 2014 | (click image to view) Our union provides information and talking points about ALEC, the secretive organization that wants to make us poorer. "In every state, the corporate-sponsored American Legislative Exchange Council, ALEC, works behind the screens to pass laws that empower billionaires and corporations. ALEC pushes laws to strip workers of their rights, eradicate public education, outsource everything that can't be nailed down, weaken environmental and consumer protections, suppress voting and increase taxes on the poor and working class while slashing them for the wealthy and for large corporations." How does ALEC work? Learn more at teamsters/war on workers.org.
Teamsters reach settlement with UPS over fired LU 804 members
Apr. 10, 2014 | Teamsters General President Jim Hoffa and General Secretary-Treasurer Ken Hall announced yesterday that Hall and International Vice President Sean O'Brien met with Teamsters at the UPS Maspeth (New York) facility. Hall and O'Brien met yesterday with Local 804 officials and UPS management to resolve the situation. The parties have come to a settlement regarding the termination of 250 Local 804 members that occurred after a job action took place in February.
Survey for Sysco and US Foods workers can be downloaded here
Apr. 11, 2014 | Members currently employed at Sysco and US Foods will find the IBT survey here. Please download, complete and submit to your shop steward or Business Agent Jim Deene. Or, complete the online survey here.
New contracts ratified at ALSCO, Anne Arundel County, others
Apr. 15, 2014 | A new first contract with a 3-year term has been ratified by ALSCO Teamsters, a 5-year contract was approved at Mountaire Farms, and Anne Arundel County park rangers, deputy sheriffs and corrections program specialists (CPS) ratified new one-year contracts during the past week. Shop news update here.
Teamster horse-carriage drivers win more support in New York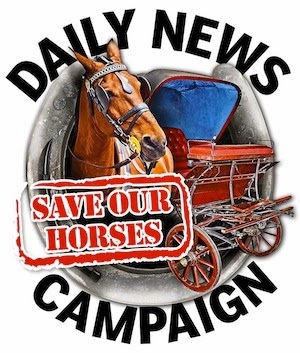 Apr. 17, 2014 | Our endangered Teamster brothers and sisters who drive horse-carriages in New York City are winning support from some powerful friends, including The New York Times editorial board, actor Liam Neeson and the New York Daily News. They are defending some 300 horse-carriage drivers from animal rights extremists and Mayor Bill de Blasio, who want to ban horse-carriages and throw the drivers out of work. Full story at teamsternation.org.
NPR story: To increase productivity, UPS monitors drivers' every move
Apr. 17, 2014 | UPS is using technology in ways that may soon be common throughout the economy...When you hear people talk about technology increasing workers' productivity, this is what they're talking about: same guy, same truck – lots more deliveries. In the long run, as workers have gotten more productive, their pay has gone up. UPS drivers make about twice what they made in the mid '90s when you add up their wages, health care and pensions, according to the head of their union… Story and readers comments at npr.org
Memo: Teamsters urge 'no' vote on YRC compensation package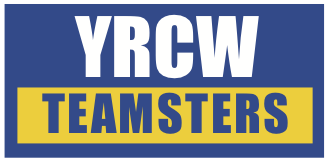 Apr. 22, 2014 | Leaders of the International Brotherhood of Teamsters are asking YRC shareholders to vote against a number of proposals concerning executive compensation at YRC Worldwide Inc. The Kansas City Business Journal obtained a letter dated April 4 addressed to YRC shareholders and signed by Ken Hall, general secretary-treasurer of the Teamsters. On behalf of the union, the letter asks shareholders to withhold support for [three members of] the board's Compensation Committee, to vote against a proposal approving executive compensation and to vote against a proposal that would endorse YRC's amended and restated 2011 incentive and equity award plan. Continue reading at bizjournals.com.
Study: 57 percent of poultry workers suffer ergonomic ills
Apr. 22, 2014 | Almost six of every 10 in the nation's poultry plant workers suffer ergonomic ills from the constant repetitive motions they undertake cutting up chickens and turkeys on the job…The study's results prompted the United Food and Commercial Workers to renew their call for the federal Agriculture Department to drop its scheme to let plant owners speed up poultry processing lines. Full story at peoplesworld.org.
Teamsters: Temp work won't get America back on track
Apr. 23, 2014 | Post-Great Recession America may not be a place of double-digit unemployment. But the number of jobs where workers can earn an honest living that supports a family with the basics has shrunk substantially. And much of that is due to big business hiring tricks that have created an underclass of temporary employees. Increasingly, corporate America is filling its coffers by contracting with staffing agencies that bring in workers that do the same jobs as their permanent colleagues, but for a fraction of the cost. Continue reading at teamster.org.
Teamster/UPS master contract, supplements and riders in effect Friday, April 25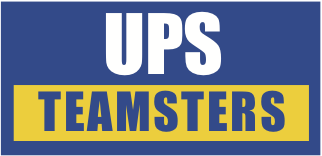 Apr. 24, 2014 | The Teamsters UPS National Negotiating Committee, pursuant to Article XII of the IBT Constitution, announced that the 2013 National Master United Parcel Service Agreement, All Supplements, Riders and Addenda is in effect starting April 25, 2014. The wages contained in the agreement are retroactive to August 1, 2013 and UPS has committed to expediting the checks for Teamster members' retroactive wage increases. The retro check will be a separate check to avoid being taxed at a higher rate. In addition, UPS will begin making retroactive contributions to the health and welfare and pension funds immediately. More info at teamster.org.
USALCO drivers choose Teamsters


Apr. 24, 2014 | Local 355 welcomes fifteen drivers employed by USALCO, LLC. who voted yesterday to join our union. Employees contacted the Local a little over a month ago to express their interest in becoming Teamsters. Their major issue is extremely high deductibles for health insurance coverage and recent reductions in wages. Baltimore-based USALCO is a chemical distribution company and operates 24 hours a day, 7 days a week.
Local members participate in SYSCO/USFoods National Day of Action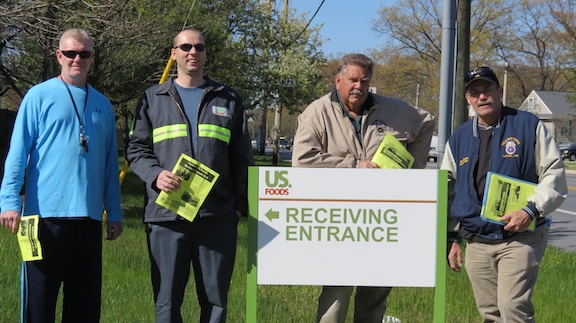 Apr. 25, 2014 | Local 355 representatives distributed information to union and non-union workers at the US Foods facility in Severn and the SYSCO facility in Jessup, Md., yesterday as part of the national union's effort to raise awareness of the coming merger of SYSCO and US Foods. Read more at 355 News. Pictured L-R: Jimmy White (Bradco), US Foods shop mechanic Doug Robinson, Business Agents
'House of Cards' to stay in Maryland
Apr. 28, 2014 | Local 355 movie industry drivers are relieved to know they're keeping their jobs: The Netflix television series has committed to another season filming in Baltimore, despite receiving less in state incentives than it has sought. The Baltimore Sun reports Gov. O'Malley and Media Rights Capital announced Friday that they has reached an agreement that would allow the third season of the political drama to be filmed in the state. The producers said they expect to begin filming over the next several months. Read more at baltimoresun.com.
A valuable basic reference for shop stewards
Apr. 28, 2014 | For the steward who wants to brush up on his understanding of the laws that protect us inside and outside of the workplace, The Labor Law Source Book is a handy collection of US labor laws all wrapped up in one volume. Available here.
News Items - March 2014
Teamster Nation introduces a weekly podcast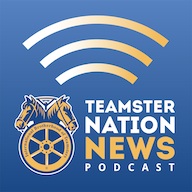 Mar. 3, 2014 | The IBT launched a weekly podcast last week that summarizes the latest in headline news from Teamster locals and the national union. Listen to the first 12-minute episode here. Subscribe here to add it to your weekly stop for key Teamster news.
PA Teamsters stand against Paycheck Deception bill
Mar. 7, 2014 | Teamster members and leaders joined with York County legislators to dennouce what has been termed the 'Paycheck Deception Bill' (House Bill 1507) at a press conference today…"HB 1507 has one purpose and only one purpose – to weaken unions and lower our wages," said Danny Grace, Secretary-Treasurer of Local 830 in Philadelphia. Full story at teamster.org. Related: 'We're Teamsters, we're Republican and we vote – but not for anti-worker politicians.'
Teamsters back school bus drivers in fight against 'rampant' wage theft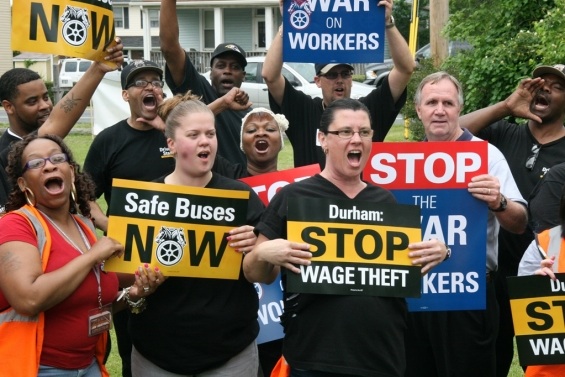 Mar. 11, 2014 | More than 350 Baltimore-area bus drivers are preparing to celebrate victory in a $1.24 million wage theft case against Durham School Services, an Illinois-based business contracting company with operations across much of the country…The settlement of the U.S. District Court case should be finalized April 4, with distribution of the stolen wage money following immediately afterward, says Moe Jackson, a union organizer for Teamsters Local 570. The Teamsters initiated the wage theft case on behalf of the workers. Full story at inthesetimes.org.
Teamsters host UPS workers union network meeting
Mar. 14, 2014 | The Union is hosting an international delegation of representatives from trade unions that represent UPS workers worldwide to share information and coordinate strategies. Learn more at teamsters.org.
IBT: Time for Congress to move on income inequality
Mar. 17, 2014 | A Senate committee took up discussion of income inequality during a hearing last week focused on how to improve the lives of working families. But unfortunately, not everyone agreed that Capitol Hill needed to lend a hand to lift wages. Full story at teamster.org.
Application deadline for scholarship is March 31.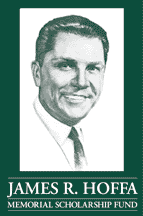 Mar. 24, 2014 | The James R. Hoffa Memorial Scholarship Fund awards annual scholarships to qualifying high school seniors who are children or dependents of Teamster members. One category of awards totals $10,000 each. These four-year scholarships are disbursed at the rate of $2,500 per year and are renewable annually. Other awards are one-time $1,000 grants. These scholarships are disbursed to the college or university at the beginning of the recipient's freshman year. Scholarship application GUIDE is here. Download application here.
Sysco, US Food members connect on Facebook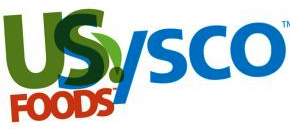 Mar. 26, 2014 | With the Sysco-US Foods merger looming later this year, Teamster warehouse and drivers at both companies are looking for information about how the merger will impact their workplaces. The IBT's Warehouse Division created a Facebook page this month "for Sysco and US Foods employees to socialize and discuss the issues in the workplace that concern them." Stay informed and updated at Facebook.com/SyscoUSFworkers – check out the photos of Locals 355 and 570 while you're there - and join the text message alert system - text SyscoUSFnews at 86466 (not case sensitive).
A brief glimpse of human rights advances in the Teamsters
Mar. 31, 2014 | Women and minorities have always been active in the labor movement. Much of the critical legislation that has been passed over the years started as grassroots movements from within one or more of these groups, even though they frequently did not receive credit or recognition for their efforts. Click here for information and stories that provide examples of the activities, issues and concerns of women and minutes, and how they are viewed and supported by the Teamsters.
News Items - February 2014
Black History is Teamster history Feb. 4, 2014 | The contributions of black members to the success of the Teamsters Union are numerous, varied and as old as the union itself. Black team drivers attended the first Convention in 1903 and were active in all aspects of the union from the beginning. That commitment remains strong today.

Letter to the Editor re Costco
This Letter to the Editor ran in The Baltimore Sun, February 7, 2014. The author is an attorney for Teamsters Local 311, Teamsters Local 355, and Teamsters Local 570.
Costco shows the value of unions
In your editorial about President Obama's visit to the Lanham Costco to advocate for raising the minimum wage you correctly point out that Costco "has prospered by paying higher wages and offering better employee health coverage than its competitors" ("The Costco example," Jan. 29).
What you failed to note, however, is that a significant portion of Costco's stores on the West and East coasts — including four stores in Maryland — are unionized, with the International Brotherhood of Teamsters representing those workers.
The Teamsters have been successful in negotiating industry-leading wages, benefits and working conditions for their members. Costco has to apply comparable (although not quite as good) wages, benefits and working conditions in its non-union stores to keep workers there from organizing.
The lesson is that a certain degree of union density is a rising tide that lifts all boats. The disparity in income in this country, which is unprecedented in modern times, is directly attributable to a reduction in union density, which is itself a consequence of employers taking advantage of toothless labor laws to beat back organizing efforts.
Jim Rosenberg
Baltimore
News Items - January 2014
This week's member and steward tip posted today
Jan. 2, 2014 | Your website administrator was off for the holidays and posting resumed today. Be sure to check back for a new helpful tip every Monday.
Justice delivered: Deputy Sheriffs get their retro checks
Jan. 3, 2014 | Three and a half years into a legal battle with Anne Arundel County after its executive reneged on 2009 contractual wage provisions for 58 Teamster deputy sheriffs, an arbitrator in January 2013 sustained Local 355's grievance: Arbitrator Andrew M. Strongin directed that all affected employees were to be made whole, retroactive to July 1, 2009. The County balked, dragging litigation on for nearly another year. With a December court date looming, the County in mid-November finally conceded. "It took us four and a half years to get our members more than $670,000 due them contractually," said Local 355 President Denis Taylor, after the sheriffs received their checks. "It was a long, hard, expensive legal battle, and I want to thank the membership for their unwavering financial and moral support in our defense of the deputy sheriffs." Full story here.
Teamsters urged to boycott Yuengling beer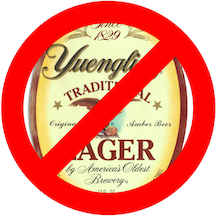 Jan. 6, 2014 | The IBT General Executive Board recently voted to support a Teamsters Union boycott of Yuengling beer over the owner's push for anti-union laws. The owner of D.G. Yuengling & Sons, Inc., based in Pottsville, Pa., publicly stated that Pennsylvania should become a "right-to-work" for less state. Click here for Yuengling beer products to boycott, and substitutes that Teamster members either produce or deliver.
First Transit ratification vote scheduled for Saturday, Jan. 11
Jan. 6, 2014 | First Transit mobility drivers who voted last April to join Teamsters Local 355 will vote on their first contract Saturday, Jan. 11, 2014 at the Baltimore union hall. Voting periods are at 11 a.m., 3 p.m., and 7 p.m. The contract covers 135 full-time and part-time para-transit and mobility drivers employed at the company's Sisson Street dispatch facility in Baltimore.
UPS Freight ratification vote set for Sunday, Jan. 12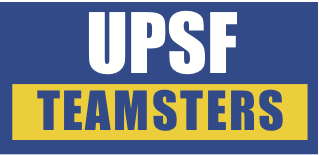 Jan. 7, 2014 | Teamster Local Union leaders representing UPS Freight workers across the country endorsed a new tentative agreement yesterday. A ratification vote for all UPSF Local 355 members will be conducted at the Union Hall in Baltimore, Sunday, Jan. 12th, at 10 a.m. The new agreement can be viewed here. A summary of highlights of the agreement can be viewed here. If you have questions about the TA, contact Vice President Erv Williams or Business Agent Mark Garey.
Tell Congress to renew unemployment insurance now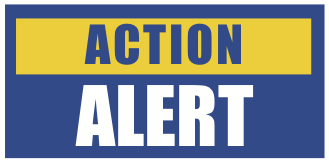 Jan. 8, 2014 | More than 1.3 million unemployed Americans were cut off December 28, 2013, from the federal Emergency Unemployment Compensation (EUC) program, a vital lifeline of support needed for them and their families to survive while they continue to look for work in our lagging economy. An additional 72,000 jobseekers will lose their benefits each week until the program is restored. Congress should restore this vital lifeline to those who will slip into deeper poverty without these benefits. A bipartisan 3-month reauthorization of unemployment benefits is the first order of business for the Senate this week. It's the right thing for our economy, as consumer spending will drop and more jobs will be lost as a result if the benefits aren't renewed. Please call your members of Congress today at 877-267-2485 and tell them to renew unemployment insurance now.
Retirees' Christmas Party photos, latest newsletter posted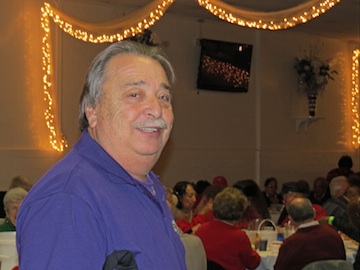 Jan. 9, 2014 | More than 250 retired members and their guests attended the Local 355 Association of Retired Members' annual Christmas Party held Dec. 19, 2013, at the UAW Hall in Baltimore. An extensive menu, cake wheel, money wheel, basket-of-cheer drawing, 50/50 drawing and entertainment by Charlie Long (ABF/retired) was enjoyed by all. Party photos here. Newsletter here (Pictured: Bob Eney, President, Local 355 Association of Retired Members.)
YRCW Teamsters reject company's proposed extension, modification of MOU
Jan. 10, 2014 | Teamsters at YRCW rejected the company's proposal that would have extended and modified the existing memorandum of understanding. The proposed extension and modification was voted down 61 to 39 percent. "Our members have sacrificed billions of dollars in wages and pension benefits over the past five years and yet the company has been unable to recover from the disastrous policies of the previous management," said Teamster General President Jim Hoffa. Vote results here.
Massive trade bill filed in Congress; you can help stop it
Jan. 10, 2014 | Legislation was filed yesterday to make it easier to pass job-killing trade deals like NAFTA…Here's what you can do: Click on this link and send an email to your representatives in Congress. Do it now. We cannot allow Congress to give a rubber stamp to the TPP and other bad trade deals by allowing Fast Track to pass. (Read the full post at teamsternation.org.)
First Transit workers overwhelmingly approve first contract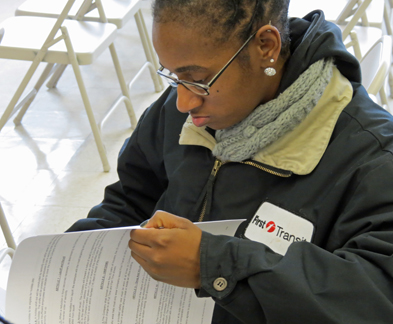 Jan. 11, 2014 | A first contract was overwhelmingly approved by First Transit workers in a ratification vote conducted Saturday, Jan. 11, 2014. The five-year collective bargaining agreement covering more than 200 mobility drivers includes 2% annual wage increases (or at the rate of increase mandated by applicable living wage law, whichever is greater); a $1 increase per hour for behind-the-wheel trainers when peforming such function; job security and seniority rights; job bidding language; holiday pay; bereavement benefits; and work hours and overtime guarantees. First Transit workers voted April 15, 2013 to join Teamsters Local Union 355. Some were para-transit drivers represented by Local 355 who were laid off from Veolia in February, 2013. (Pictured: Marquita Hood reviews the tentative agreement during one of three information meetings held Saturday prior to the contract vote.)
UPS Freight Teamsters approve new national contract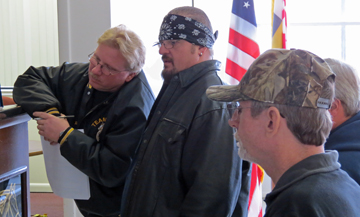 Jan. 13, 2014 | UPS Freight Teamsters have voted overwhelmingly to ratify a new national five-year master agreement that increases wages, significantly strengthens pension benefits and takes on the issue of subcontracting. The vote, which was 5,195 to 2,094 as of Sunday night, was held at local union halls during the weekend. Participation was 69 percent, which far exceeded the previous ratification vote last June, which was 58 percent. Read more at teamster.org. Pictured: UPSF members (L-R) Rob Weckesser, Dave Herd, and Spencer Wise await the results following the vote in Baltimore.
YRCW update from the International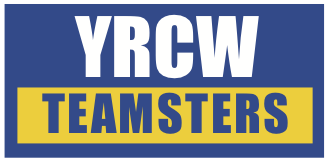 Jan. 16, 2014 | Since last Thursday we have had ongoing discussions with YRCW around the company's next steps since the rejection of the proposed MOU. IN light of the rejection we have asked YRCW to review its position with all of its key stockholders including their existing lenders and potential investors. In addition, as we communicated with Teamster local unions — we have told the company that we will not revote the same proposal that was rejected…The company has requested a meeting to discuss their next step and "revised proposal."… Read more at teamster.org. Related: CEO James Welch: "One thing I am confident of is that our union employees did not vote to place themselves out of a job." Via JOC.com. (Registration required.)
Teamsters honor legacy, celebrate contributions of Martin Luther King, Jr.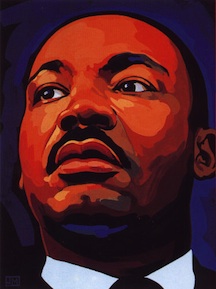 Jan. 20, 2014 | Teamsters across the country are honoring the legacy of civil rights and labor leader Martin Luther King, Jr. today. King devoted his life to securing rights for minorities and eliminating segregation in society. He believed that the path to economic freedom and social justice were one and the same and strongly supported the labor movement…Under the leadership of General President James R. Hoffa, the Teamsters donated more than $25,000 to King in 1961 and sent supplies to marchers and other civil rights workers camped out in Selma and Montgomery, Alabama, and other locations along the Freedom Ride routes. King was supporting union sanitation workers in Memphis on the day he was assassinated. Learn more at teamster.org.
Teamsters announce tentative agreement with YRCW
Jan. 20, 2014 | The IBT announced Friday that it had reached a tentative agreement with the company that, if ratified by the membership, will provide a pathway for substantial debt reduction and refinancing initiatives that will permit the company to protect and preserve more than 30,000 jobs. Details of the revised proposal will be reviewed at a meeting of local union officials to be held on Tuesday, Jan. 21. It is up to that committee to approve sending the revised proposal to the membership for a ratification vote. Learn more here.
Local Union leaders endorse YRCW tentative agreement
Jan. 21, 2014 | Local Union leaders representing YRCW employees overwhelmingly recommended to approve a tentative agreement and to send it out to the membership for a vote. The tentative agreement with YRCW, if ratified, will provide a pathway for substantial debt reduction and refinancing initiatives that will permit the company to protect and preserve more than 30,000 good American jobs. The tentative agreement contains significant improvements over the company's prior rejected proposal. Details here.
UPDATE: A meeting to present the tentative agreement and conduct a ratification vote is scheduled for Sunday, January 26, 2014, at 10 a.m. at the Union Hall in Baltimore. YRC Freight and New Penn Teamsters must be present to vote.
Members approve agreement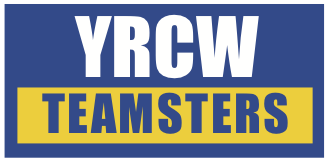 Jan. 26, 2014 | YRCW Teamsters have approved a tentative agreement aimed at protecting more than 30,000 jobs. Workers voted this weekend after rejecting a prior company proposal. Teamsters at YRCW approved this latest proposal by a vote of 12,267 to 6,314. More at teamster.org. YRC wins key refinancing agreement with Teamsters vote.
Union growth should serve as signal to elected officials
Jan. 27, 2014 | The union movement is growing. In the last year, thousands of workers took to the streets to protest low pay and their lack of ability to organize. They have stood up to the nation's largest retailers saying they demand respect in the workplace. And new U.S. Labor Department numbers released Friday back that up. Continue reading at teamster.org.
Applications are available for The James R. Hoffa 2014-2015 Scholarship
Jan. 28, 2014 | The Union offers scholarships through the James R. Hoffa Memorial Scholarship Fund for high school seniors. The Fund is established solely to provide scholarships to the child or financially dependent grandchild of a member of the Teamsters. The application deadline is March 31, 2014. Click here to download the application and academic record form. Additional information can be found here.
Teamsters to take part in tomorrow's Day of Action against Fast Track
Jan. 30, 2014 | Tomorrow, Jan. 31st, people across North American will be taking part in an Inter-Continental Day of Action against Fast Track and the Trans-Pacific Partnership (TPP). The TPP is another bad trade deal that could become the law of the land without any debate or amendments if Fast Track legislation is allowed to pass. We can't let that happen! Please be sure to call your Representative and Senators tomorrow at 1-888-979-9806 and tell them to vote NO on Fast Track. And if you're able to, please join one of the many events that are being planned nationwide for tomorrow. A listing can be found here. For more information, go to Fast Track is the Wrong Track for Teamsters.
Local 355 sheriffs get their due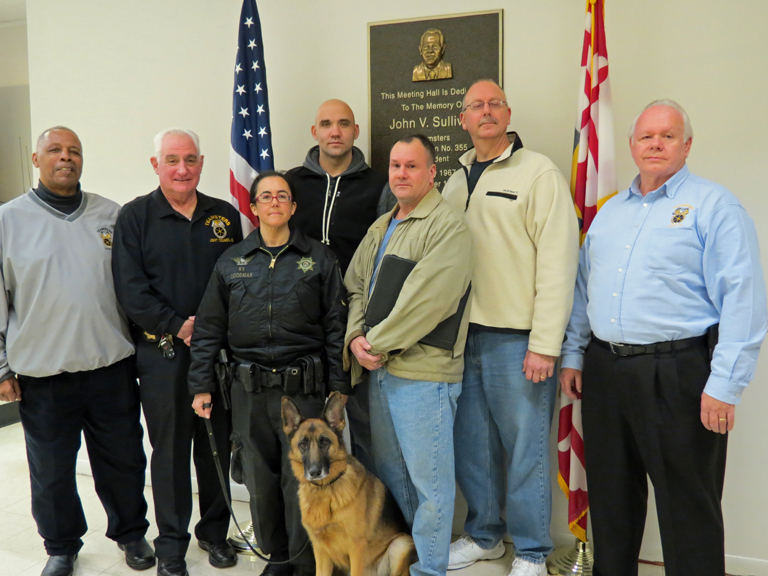 Deputy sheriffs met at the Baltimore union hall to work on proposals for a new contract with Anne Arundel County. (L-R) Local Business Agent Charles Marshall, shop steward Dave Belisle, Michele Goodman (with Cali, an explosive detection expert), Ryan Costin, shop steward Jimmy Walker, Doug Schwaab, and Local Business Agent Dan Taylor.
The Local Union prevails in its long and costly battle with Anne Arundel County
Jan. 03, 2014
Three and a half years into a legal battle with Anne Arundel County after its executive reneged on 2009 contractual wage provisions for 58 Teamster deputy sheriffs, an arbitrator in January 2013 sustained Local 355's grievance: Arbitrator Andrew M. Strongin directed that all affected employees were to be made whole, retroactive to July 1, 2009.
Upon news of the decision, Local 355 President Denis Taylor declared the Union "will not consider the case settled until all affected members have their checks in their hands."
Eleven months later, on Friday, December 27, 2013, the sheriffs finally got their checks in their hands.
County concedes
Following John Leopold's February 2013 criminal conviction and subsequent resignation as county executive, the Anne Arundel County Council selected Laura Neuman to complete his term. Shortly after her appointment, Local 355 sought a meeting with the new county executive to discuss the Union's lawsuit demanding County compliance with the arbitrator's January 2013 decision.
During initial conversations with Business Agent Dan Taylor, Neuman claimed to have no knowledge of the Union's long-standing lawsuit against the County. With yet another court date looming, a meeting on Nov. 19, 2013, between President Taylor and County Executive Neuman, produced exactly what the Union expected for its members in 2009: Payment to all affected deputy sheriffs of the contractual 3% COLA (cost of living adjustment) and 4% merit increases, now retroactive to July 1, 2009.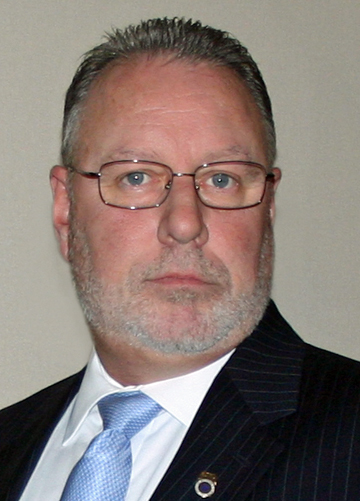 "It took us four and a half years to get our members more than $670,000 due them contractually," said Local 355 President Denis Taylor (left), after the sheriffs received their checks. "It was a long, hard, expensive legal battle, and I want to thank the membership for their unwavering financial and moral support in our defense of the deputy sheriffs."
The back story
The County's decision to end the legal battle and honor the Teamster contract brings to a successful conclusion the Union's determined drive for justice.
The County's continued refusal to concede that it had violated its contract with the Teamsters left the Local Union no choice but to file a lawsuit in Anne Arundel County Circuit Court to compel the County to arbitration.
When the County's new fiscal year arrived in July 2009, and the contractual raises did not, Local 355 filed a grievance citing the violation of the CBA's Pay Schedule. In September 2010, a ruling by the Fifth Circuit Court found that Anne Arundel County had, in fact, broken its contract with Teamsters Local 355 — a violation of the Anne Arundel County Charter — and ordered the dispute to arbitration.
The County requested a stay of the ruling, pending appeal to the Court of Special Appeals. The request was denied. The County appealed that decision but in December 2011, a three-judge panel in Maryland's Court of Special Appeals affirmed the Fifth Circuit Court's judgement that provided the Union's grievance against the County was arbitrable.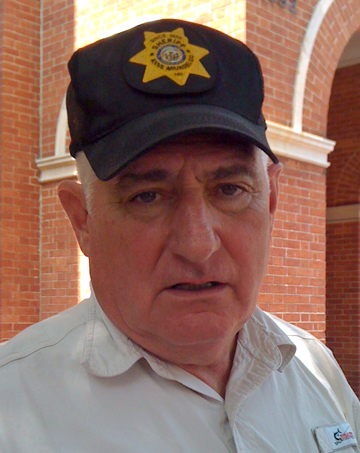 On Jan. 19, 2013, Arbitrator Strongin sustained Local 355's grievance against Anne Arundel County for the County's failure to pay its Deputy Sheriffs their pay increases for fiscal year 2010 and in its award, directed that all affected employees be made whole retroactive to July 1, 2009. Strongin found "the [County] Executive violated the Agreement by failing in good faith to honor wage provisions. Specifically…that the Executive intentionally rendered payment of the wage increases impossible due to the Executive's own decision not to request any funding for the negotiated wage increases." Still, the County refused to accept the judgement of the courts — and its contractual obligation to the deputy sheriffs — by continuing to file Motions to Dismiss judgements against it. In fact, another court hearing was scheduled Dec. 19, 2013.
"This was a long, hard fight," said Deputy Sheriff Dave Belisle (above, right), a shop steward. "My very special thanks to Denis, who said all along that the County needed to do the right thing. Sure enough, he was right. We are fortunate to be part of a Local Union whose members backed us 100%. We are only 58 cops, but we are backed by thousands of truck drivers, bus drivers, warehouse personnel, state workers, correctional officers and many other hard-working men and women who believe an injury to one of us was an injury to them all."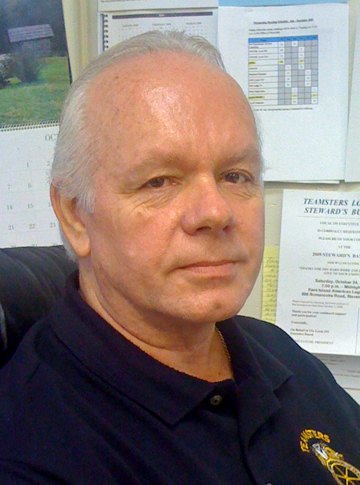 Business Agent Dan Taylor (left) is glad a resolution finally came together. "Every union in the County agreed to accept the County's offer rather than what was in their contracts. We did not. We said no because a contract is a contract. We uphold our end of the contract and the County is expected to uphold theirs."
Bridget Dively's Christmas Miracle Tie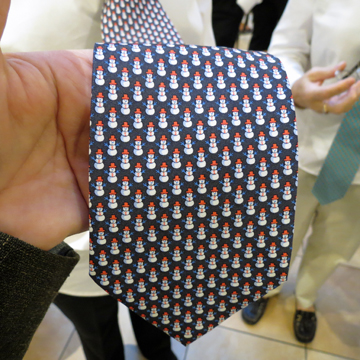 Dec. 16, 2013
Last summer, Bridget Diveley, daughter of UPS package driver Scott Diveley, was invited to submit a drawing of her favorite Christmas thing for the annual Miracle Tie Collection, a partnership between Johns Hopkins Children Center (JHCC) and Baltimore-based men's retailer, Jos. A. Bank.
Her snowman (right) is among 12 of this season's creations designed by young patients at the Johns Hopkins Children Center.
Five-year-old Bridget received a life-saving heart transplant at JHCC when she was two. A random virus had attacked her heart. She spent many months in the pediatric intensive care unit.
The line of distinguished men's neckwear are available at all Jos. A. Bank stores and online. They are currently on sale online.
Since the program started in 1995, the Miracle Collection has raised more nearly $1 million, which has helped to make little patients' stay at the pediatric trauma center a whole lot more comfortable.
Below: Scott Diveley, wife Jennifer, and children Bridget, Andrew and Allison during a November 6, 2013, press conference at the Jos. A. Bank store in Towson, Md., when the men's retailer presented John Hopkins Children Center with a $60,000 check from the 2012 Miracle Tie sales proceeds.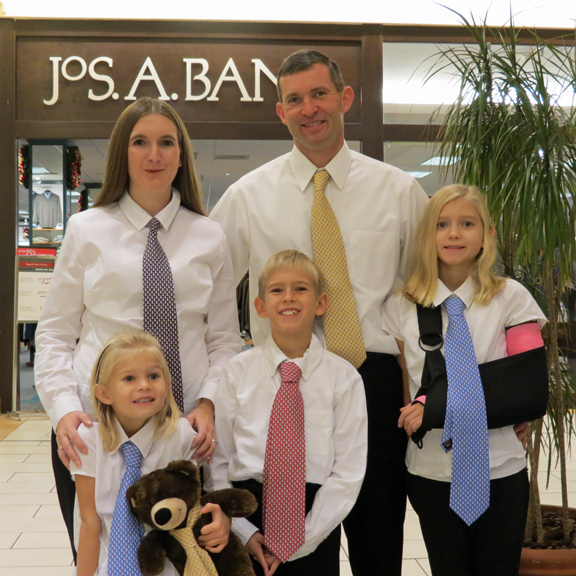 News Items - December 2013
Black Friday protests held at 1,500 Walmart stores; more than 100 arrested Dec. 2, 2013 | OUR Walmart, the non-union group arguing for labor protections, confirmed that protests were held at 1,500 stores on Black Friday to protest pay and calling for a minimum annual salary of $25,000 and better health care for hourly workers. (The average worker makes $8.

News Items - November 2013
Sign up today for news and information you can use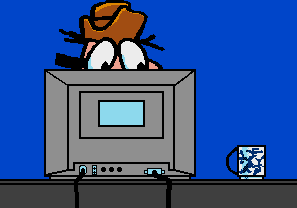 Nov. 4, 2013 | This week in Weekly Tip for Members we talk about the contract criteria under which your employer can cut hours or lay off employees. A new steward might be interested to know when a contract actually becomes a contract and that information plus other helpful steward info can be found in Weekly Steward Tip. To access helpful tips and news you can use, sign up today!
ABF, Teamsters sign 5-year contract
Nov. 4, 2013 | Arkansas Best Corp. and the International Brotherhood of Teamsters ratified a national five-year labor agreement for the less-than-truckload carrier's operations. The contract [took] effect on Nov. 3, 2013 and runs through March 31, 2018. Local 355 represents 80 ABF drivers. Details here.
YRC to Teamsters: Make a deal or else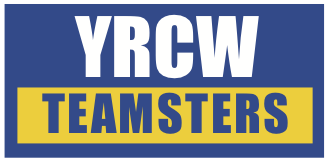 Nov. 12, 2013 | YRC Worldwide Inc. boiled down its case to Teamsters officials on Nov. 5 as a stark choice: The union could give the company "room to breathe" or drive it off a cliff. The company told national and local leaders of the Teamsters that YRC needs to refinance its looming debt — and fast. The company and the union are operating under a labor agreement that lasts through March 2015. YRC wants to extend the pact. Story at Kansas City Business Journal. Watch this space for IBT information, further developments.
Teamsters support Walmart Black Friday strikes
Nov. 13, 2013 | Teamsters are out front supporting Walmart workers protests in the run-up to nationwide strikes on Friday, Nov. 29, also known as Black Friday. Teamsters are encouraged to join actions supporting the workers. It's very easy to find out what's gong on near you. Just click on BlackFridayProtests.org and type in your zip code in the giant box.
Lawmakers increasingly realize Fast Track is a fraud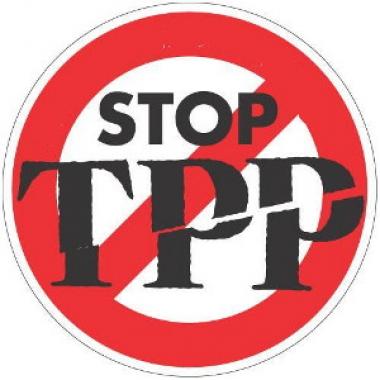 Nov. 14, 2013 | The Teamsters for years have been an outspoken critic of fast-track authorization which allows bad proposed trade agreements to move through Congress on just a quick up-or-down vote. And in the last week, we were joined by 185 House lawmakers who feel the same way.…Fast track is an attack on democracy. Americans have been kept out of the loop on how the TPP will affect their everyday lives. The last think we need is for politicians to fast-track a Pacific trade deal through Congress that allows them to build in secret provisions that help their campaign contributors, but hurt working- and middle-class families. Full commentary by General President Jim Hoffa at The Huffington Post. Related: Word is getting out that the pending Trans Pacific Partnership "is toxic". [Please educate yourself about TPP. It matters in more ways than you can imagine.]
Teamster local unions support discussions with YRCW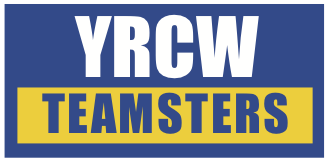 Nov. 15, 2013 | On a conference call on Tuesday, Nov. 12, Teamster Local Unions that represent YRCW Freight members voiced support for the Teamster National Freight Industry Negotiating Committee (TNFINC) to meet with the company. The decision to meet with the company comes after the Local Union leaders heard from the YRCW leadership team on Tuesday, Nov. 5, and after they held meetings with their YRCW members throughout the week and weekend. Learn more here.
Why L.A. port truckers are striking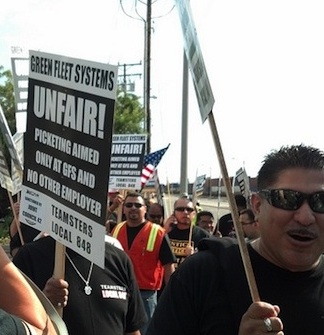 Nov. 19, 2013 | "We are on strike today to have respect and dignity at work," says Walter Melendez, one of approximately 40 Los Angeles port truck drivers who walked off the job at 5 a.m. yesterday morning in protest of alleged unfair labor practices. The strikes featured the rolling "ambulatory pickets" that the truckers have excelled at — chasing down trucks as they leave the port and setting up picket lines in front of them….The drivers have filed a complaint with the NLRB charging that the company retaliated against them for pushing forward with a drive to join the Teamsters. Full story at In These Times.
Tribune Co. reorganizes its publishing unit, cuts nearly 700 jobs
Nov. 21, 2013 | Tribune Co. announced a restructuring of its publishing business Wednesday to focus on its digital efforts and streamline operations, resulting in nearly 700 job losses across the Chicago Tribune, Los Angeles Times, Baltimore Sun, and five other daily newspapers…The 700 cuts will play out across all eight Tribune Co. newspapers through the end of next year. Full story at Baltimore Sun. [Note: Baltimore Sun pressmen are Local 355 members.]
Truckers support Walmart workers ahead of Black Friday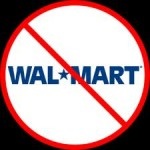 Nov. 22, 2013 | Hundreds of workers' actions against Walmart nationwide will occur of Black Friday, Nov. 29. All the actions are important indicators of the rising discontent nationwide against low wages, bad benefits, income equality and the corporate-engineered "race to the bottom" — with Walmart leading the way….On the ground, more than one third of non-union "independent contractor" truck drivers at the Port of Los Angeles walked out against three firms whose fleets truck imported goods from the port inland to Walmart's warehouses, and to warehouses for other retailers. The walkout "put a serious crimp in their operations," Teamsters Local 848 Secretary-Treasurer Eric Tate, who coordinated the action, said in a phone interview… Continue reading at People's World.
Teamsters YRCW local union leaders to meet on Dec. 6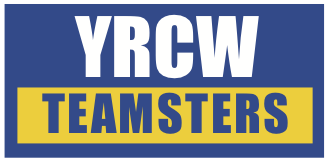 Nov. 27, 2013 | The Teamsters National Freight Industry Negotiating Committee (TNFINC) has called a meeting with Teamster Local Unions that represent YRCW members on Dec. 6th to review a forthcoming proposal from YRCW that modifies the existing Restructuring Agreement that is not scheduled to expire until March 31, 2015. Consistent with the IBT Constitution and past practice, Local Union leaders, after reviewing the details of the proposal, will then decide whether to submit the proposal to its membership to vote in a mail ballot referendum. Details of the proposal will be released after it has been reviewed with the Local Union leaders Dec. 6th. Stay tuned.
7 tips for staying on budget this holiday season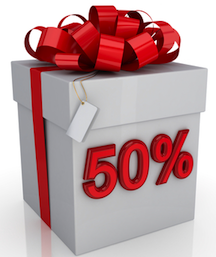 Nov. 27, 2013 | Do you overspend during the holidays? Holiday spending isn't a competition. Forget what you gave and how much you spent (and received) last year. Create and stick to a budget based on what you can afford this year. Union Plus has seven helpful tips and discounts to keep you within this year's budget.
News Items - October 2013
Teamster employer is Maryland's 'Greenest' Distributor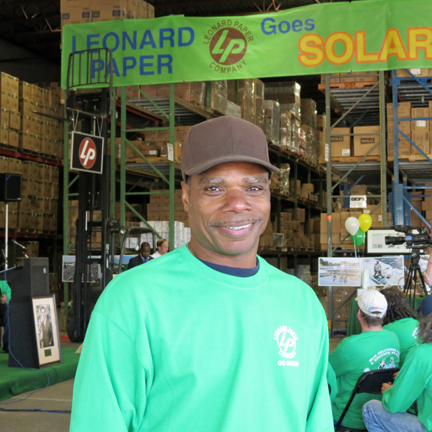 Oct 9, 2013 | Local 355 members employed by Leonard Paper joined other employees and invited guests Tuesday in a ceremony marking the company's switch from traditional energy reliance to full solar power, making it one of Maryland's most energy efficient distributors. The family-owned company, a wholesale supplier of environmentally-friendly janitorial supplies and food service disposables, employs more than 153 workers at its Baltimore facility, including 35 Local 355-represented drivers. Shop steward and 26-year employee Jerry Eggleston (right) said the switch to solar power will save the company a lot of money. "It's good for the environment, good for the company and good for us," he said. Full story at 355 News.
Last DHL local rider approved; contract is ratified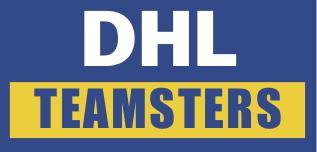 Oct. 11, 2013 | The remaining contract rider between the Teamsters Union and DHL Express was approved on Wednesday, October 9, paving the way for the national contract between the parties to take effect. The agreement is now fully ratified. The old agreement had been extended through today to allow the ratification process to be completed. Operational changes contained in the new agreement will likely be implemented over the next few weeks. More information here.
ABF Teamsters approve western office supplement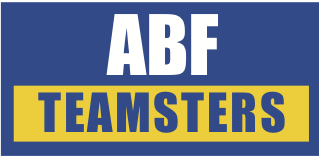 Oct. 15, 2013 | Teamsters at ABF, who work under the Western Office Supplement, have approved the supplement. Ballots were counted on Monday, October 14. About 67 workers are covered by the supplement. Updates available here.
Bargaining with your future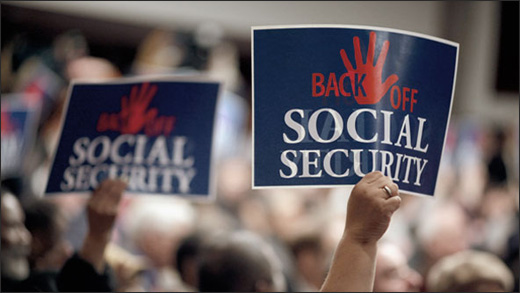 Oct. 18, 2013 | The government shutdown that began on October 1 once again [showed] right-wing extremists in the U.S. House of Representatives favor ideology over their constituents. [During those] two-weeks, hard-working Americans had their livelihood threatened with furloughs, the suspension of vital services. Behind closed doors, lawmakers have considered a reckless proposal to enact the "Chained-CPI" measure to Social Security, cutting a vital source of income for our elders by thousands of dollars. Our fiscal challenges cannot be solved on the backs of America's seniors. Continue reading...
Teamsters stop FMCSA attack on truck drivers
Oct. 21, 2013 | The Teamsters Union helped score a victory for truck drivers this week when H.R. 3095 was signed into law compelling the Federal Motor Carrier Safety Administration (FMCSA) to follow the formal rulemaking process to set strict guidelines for when they can require screening, testing and treatment for sleep apnea…"This law, which passed the House with a unanimous vote, protects millions of working men and women who turn a key for a living from being forced to spend money on a test they may not need at the whim of a federal agency," said General President Jim Hoffa. Read more at Teamster.org.
Top 5 reasons to vote on Tuesday, Nov. 5
Oct. 25, 2013 | Election day is coming. Are you registered? It's important — and not only because people have gone on hunger strikes and been murdered so their fellow Americans can vote. Voter registration is one of the most powerful means union members use to make our voice heard, and it's a priority of the International Brotherhood of Teamsters. Find out why it is important for you to register and show up on November 5.
Local shop news and updates are available
Oct. 29, 2013 | Check out October 2013: Shop News at "Members" under Members Resources on the left rail.
ABF Central Region members decline to authorize strike
Oct. 30, 2013 | IBT statement: In a vote with 77 percent turnout, a majority of the membership covered by the Central Region Local Cartage Supplement has overwhelmingly (70% to 30%) chosen not to authorize a strike at ABF. Consequently, in accordance with the IBT Constitution, TNFINC is going to poll the ABF Master Negotiating Committee within the next 24 hours to determine whether to accept ABF's final offer on the last remaining open supplement. ABF statement.
YRC requests meeting with Teamsters to talk about company's future
Oct. 30, 2013 | The company announced late on Monday it has reached an agreement with the Teamsters to hold a "company update" in Dallas on Nov. 5 at the request of the company. Read more at Kansas City Business Journal.
Leonard Paper: Maryland's 'Greenest' Distributor
Local 355 members employed by Leonard Paper joined other employees and invited guests Tuesday in a ceremony marking the company's switch to full solar power from traditional energy reliance, making it one of Maryland's most energy efficient distributors.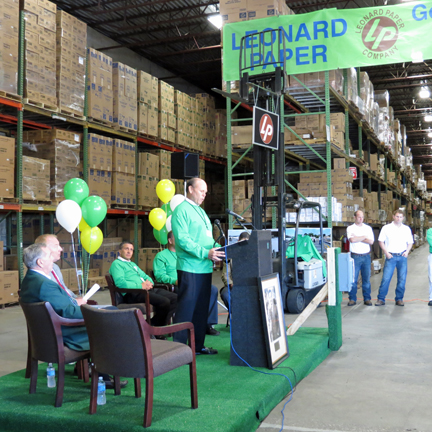 The family-owned company, a wholesale supplier of environmentally-friendly janitorial supplies and food service disposables, started business 73 years ago with four employees and one truck. It now employs more than 153 workers at its Baltimore plant, including 35 Teamsters Local 355- represented drivers and 31 Teamsters Local 570-represented warehouse employees.
The company serves a wide range of customers in the Baltimore-Washington region.
Local 355 shop steward and 26-year employee Jerry Eggleston said the switch to solar power will save the company a lot of money. "It's good for the environment, good for the company and good for us," he said. "We hope the energy savings will eventually translate to improved equipment like electric jacks for the drivers, and maybe even improved benefits at contract time. But none of that will happen over night."
The important thing, Eggleston said, is that the switch to solar "gives us opportunities to grow— more merchandise, more product, more workers."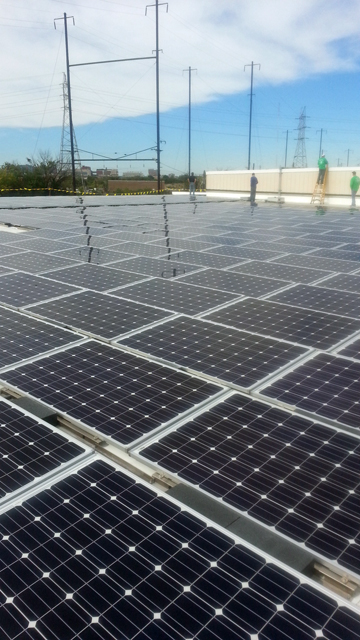 Local 355 Business Agent Marcus Smith said the company's energy savings should allow it the ability to purchase the additional equipment that will improve workers' productivity and safety, thus increasing worker retention.
The latest upgrade to its facility — the installation of 1,700 solar panels on the plant's roof (pictured left) — will allow the company to generate clean sustainably energy for the next 30 years. According to company literature, it has fully automated on demand sensing lights in its distribution facility, nightly on-site refueling of its trucks which reduces fuel consumption, and zero landfill impact as a result of its comprehensive recycling program.
The solar commissioning ceremony included comments by senior members of the Leonard family and presentation of a Proclamation to Maryland's Greenest Distributor from Governor O'Malley by the state's comptroller, Peter Franchot.
News Items - September 2013
  New IBT website has latest information on UPS agreements Sept. 4, 2013 | The IBT has launched a new website, upscontractfacts.com, to provide UPS members with the latest information on the National Master Agreement, its supplements and riders, and the most asked questions and answers about the contract and ratification process.

News Items - August 2013
Re the UPS contract and UPS Freight negotiations
August 5, 2013 | The national UPS agreement was approved last month by a Teamster majority, however 17 supplements and rider were not. Until all of them have been approved, wage and benefit increases, language improvements and the increase in the starting wage for part-timers cannot be implemented. Read the full IBT update here. The UPS Freight National Negotiating Committee met July 31st in Arlington, VA to discuss issues and concerns that the members have raised with the TA that was rejected. Read the update here.
Daniel James Hall, Sr., 1968-2013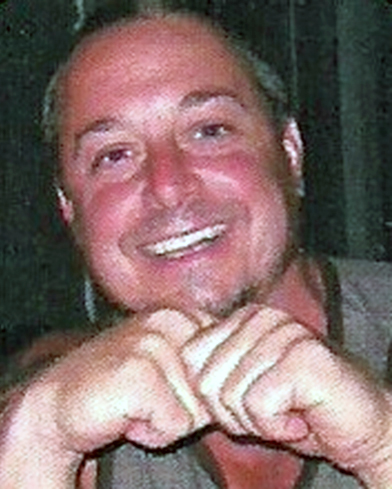 August 6, 2013 | Local 355 mourns the July 12, 2013, sudden passing of UPS employee and Local 355 shop steward Daniel James Hall, Sr. while he was vacationing at his cabin on the Maryland shore. Employed by UPS since 1990, Dan worked in pre-load at the Baltimore hub. He is remembered for his humor and common sense. "Dan had a unique way of working things out. He will be sorely missed by members and management alike. His death is a loss for us all," A Baltimore Ravens fan and martial arts enthusiast, Dan also supported the Catonsville Recreation and Parks. A Memorial Gathering was held in Catonsville on Friday, July 19, 2013. He is survived by his parents, Robert and Rosemary Hall; brother John D. Hall and his wife Veronica; son Daniel Hall Jr. and daughter Gabrielle Hall; former spouse, Patricia Hall; and companion, Heather. Click to leave an online condolence.
NuStar Traffic Department employees choose Teamsters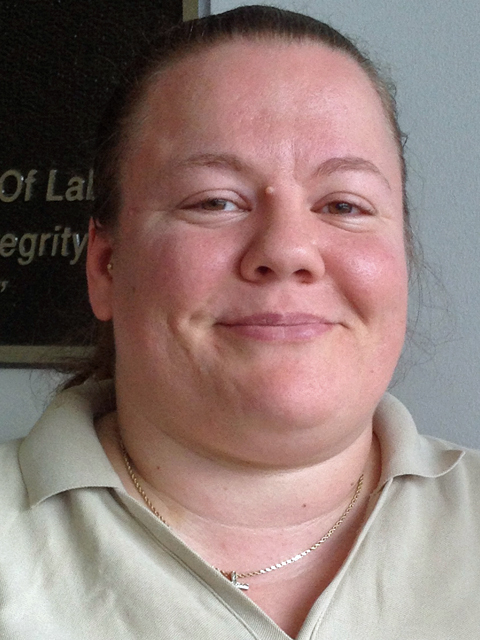 August 9, 2013 | Local 355 welcomed employees who work in the Traffic Department of NuStar following a successful 3-month organizing campaign. Their vote was for respect and dignity on the job. "Compared to the company's unionized coworkers, we experienced a tremendous amount of disparity in the way we were treated," said Michelle Hopkins (left), a NuStar employee for nearly five years. "The company found the weakest link in our department and would regularly gang up on her. It needed to stop. We came together to support her and each other and now as Teamsters, we'll have the bargaining power to address such issues as harassment, bullying and intimidation." Local 355 organized the operators and maintenance workers in 1998. Business Agent Chip Elgert said bargaining for the newly organized workers will begin August 14th.
Court rules short-haul drivers exempt from rest-break requirement
August 11, 2013 | The U.S. Court of Appeals in D.C. affirmed last week the Federal Motor Carrier Safety Administration's (FMCSA) 2011 hours-of-service rules for drivers except for a provision that requires a 30-minute break for short-haul drivers. Bottom line: If you're a short-haul driver, you are no longer required to comply with the FMCSA 30-minute rest break rule. If you're a long-haul driver, you must continue to comply with the regulation. If you have questions, see your supervisor or shop steward.
Highlights of the DHL tentative national agreement available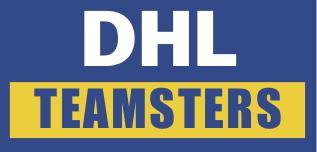 August 12, 2013 | Leaders from 26 Teamster local unions that represent DHL members met in Washington, D.C., last week, and overwhelmingly approved the tentative master agreement and supplements. The TA, unanimously endorsed by the negotiating committee, maintains a strong health, welfare and pension package and provides wage increases, among other gains. Ballot materials, including the supplements and local riders, will be mailed to members on or about Wednesday, Aug. 21. Ballots must be returned to the Lanham, Maryland, post office no later than 10 a.m., Wednesday, Sept. 11. Click here for highlights of the tentative master agreement. Click here for the August 12 DHL contract update.
Mazda to become Port of Baltimore's newest customer


August 13, 2013 | PRESS RELEASE (Baltimore, MD) — Zoom Zoom! That's the sound that soon will be heard at the Port of Baltimore when Mazda North American Operations (MNAO) arrives in September. Mazda becomes the Port of Baltimore's newest auto customer after agreeing to a five-year contract with auto processor Amports that will bring approximately 65,000 vehicles a year to Maryland from its assembly plants in Japan. The vehicles will be handled at the Amports-owned Chesapeake Auto Terminal. The addition of Mazda will help to create 450 new jobs, including 160 direct jobs. Read the full Maryland Port Administration press release at 355 News.
IBT Essay Contest Topic: What would you say to someone who says...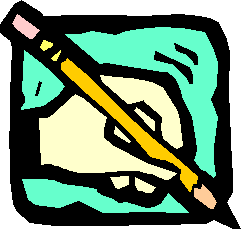 August 20, 2013 | "Unions were important at one time, but we don't need them anymore." Teamster kids can win cash for class by writing a response in essay form and submitting it for consideration to win one of 50 $1,000 James R. Hoffa Memorial Scholarships. The applicant must meet these eligibilty requirements, complete this application and forward it to the James R. Hoffa Memorial Scholarship Fund office by September 30, 2013. Good luck!
Wage increase, other improvements await passage of area supplements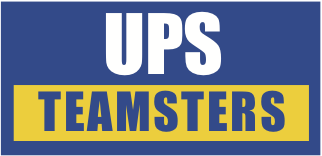 August 22, 2013 | The provisions of the UPS National Master Agreement approved in June, including a 70-cent per hour wage increase, were negotiated to take effect August 1. Members may have noticed the raises have not been reflected in their paychecks yet. That's because the national agreement does not take effect until all regional supplements and riders have been approved. The IBT provides details in this UPS update. Also, UPS members are not impacted by the company's decision to eliminate healthcare coverage for spouses of nonunion employees.
Members approve 5 of the 7 remaining supplements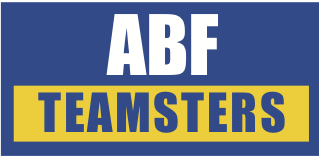 August 29, 2013 | The national master portion of the ABF National Master Freight Agreement has previously been approved, but will not take effect until the status of the two remaining supplements is resolved. For the latest updates, click on the "ABF Contract Update" button in "Current Campaigns" down on the lower right column of this page.
News Items - July 2013
Social Security National Day of Action in Baltimore tomorrow
July 1, 2013 | Join the Maryland and DC Alliance for Retired Americans tomorrow, July 2, from 12 noon to 1 p.m. at the Woodlawn Social Security Office, 6401 Security Blvd., Baltimore, MD. as they join hands to for a "human chain against the chained CPR." This National Day of Action — one of dozens in cities across the nation — will showcase the broad base of support of Americans who support protecting and enhancing retirement security, not dismantling Social Security inch by inch. The chained CPI is a cold, calculated benefit cut to all current and future retirees. For information and directions, click here. News you can use: The CPI, explained.
Local Scholarship winners aspire to careers in forensics and veterinary medicine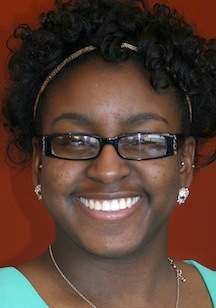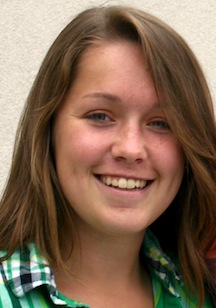 July 2, 2013 | Maya Peoples (left), daughter of UPS package driver Mike Peoples, and Megan Morgan (right), daughter of Baltimore Sun pressman Brian Morgan, are the 2013 winners of the Teamsters Local Union No 355 39th Annual Scholarship Awards. Their names were selected in a drawing of scholarship applicants during the May 5, 2012 membership meeting at the Baltimore office. Megan and Maya will each receive a $4,000 scholarship, paid out at the rate of $1,000 per academic year. We met with Maya and Megan to learn a little about them and their higher education aspirations. Continue reading at 355 News.
Unions: Obamacare will 'Destroy the very health and wellbeing' of workers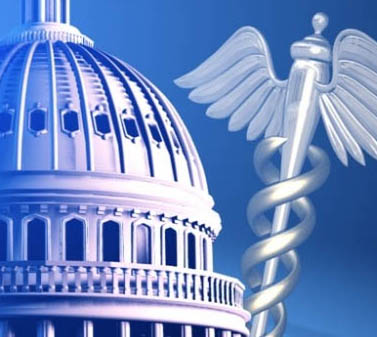 July 15, 2013 | The Wall Street Journal - The roll out of President Obama's health care reform package was always going to be tricky, with vehement opposition from his political opponents and pushback from employers large and small. But after announcing last week that penalties for companies failing to comply with the law will be delayed by a year, the Affordable Care Act has a new, high profile set of dissenters: Unions. The leaders of three major U.S. unions, including the highly influential Teamsters, have sent a scathing open letter to Democratic leaders in Congress, warning that unless changes are made, President Obama's health care reform plan will "destroy the foundation of the 40 hour work week that is the backbone of the American middle class." If that's not bad enough, the Affordable Care Act, if not modified, will "destroy the very health and wellbeing of our members along with millions of other hardworking Americans," the letter says. Read the full letter at 355 News.
Allied bankruptcy claim documents due August 2
July 17, 2013 | The Bankruptcy Court in the Allied Systems Holdings bankruptcy case has set a deadline of August 2, 2013 for the filing of claims that arose prior to the bankruptcy filing petition dates in May and June of 2012. More info, documents are available at teamsters.org.
Obamacare: Union Letter to Democratic Leaders
Original post at The Wall Street Journal
July 12, 2013
Dear Leader Reid and Leader Pelosi:
When you and the President sought our support for the Affordable Care Act (ACA), you pledged that if we liked the health plans we have now, we could keep them. Sadly, that promise is under threat. Right now, unless you and the Obama Administration enact an equitable fix, the ACA will shatter not only our hard-earned health benefits, but destroy the foundation of the 40 hour work week that is the backbone of the American middle class.
Like millions of other Americans, our members are front-line workers in the American economy. We have been strong supporters of the notion that all Americans should have access to quality, affordable health care. We have also been strong supporters of you. In campaign after campaign we have put boots on the ground, gone door-to-door to get out the vote, run phone banks and raised money to secure this vision.
Now this vision has come back to haunt us.
Since the ACA was enacted, we have been bringing our deep concerns to the Administration, seeking reasonable regulatory interpretations to the statute that would help prevent the destruction of non-profit health plans. As you both know first-hand, our persuasive arguments have been disregarded and met with a stone wall by the White House and the pertinent agencies. This is especially stinging because other stakeholders have repeatedly received successful interpretations for their respective grievances. Most disconcerting of course is last week's huge accommodation for the employer community—extending the statutorily mandated "December 31, 2013" deadline for the employer mandate and penalties.
Time is running out: Congress wrote this law; we voted for you. We have a problem; you need to fix it. The unintended consequences of the ACA are severe. Perverse incentives are already creating nightmare scenarios:
First, the law creates an incentive for employers to keep employees' work hours below 30 hours a week. Numerous employers have begun to cut workers' hours to avoid this obligation, and many of them are doing so openly. The impact is two-fold: fewer hours means less pay while also losing our current health benefits.??
Second, millions of Americans are covered by non-profit health insurance plans like the ones in which most of our members participate. These non-profit plans are governed jointly by unions and companies under the Taft-Hartley Act. Our health plans have been built over decades by working men and women. Under the ACA as interpreted by the Administration, our employees will treated differently and not be eligible for subsidies afforded other citizens. As such, many employees will be relegated to second-class status and shut out of the help the law offers to for-profit insurance plans.
And finally, even though non-profit plans like ours won't receive the same subsidies as for-profit plans, they'll be taxed to pay for those subsidies. Taken together, these restrictions will make non-profit plans like ours unsustainable, and will undermine the health-care market of viable alternatives to the big health insurance companies.
On behalf of the millions of working men and women we represent and the families they support, we can no longer stand silent in the face of elements of the Affordable Care Act that will destroy the very health and wellbeing of our members along with millions of other hardworking Americans.
We believe that there are common-sense corrections that can be made within the existing statute that will allow our members to continue to keep their current health plans and benefits just as you and the President pledged. Unless changes are made, however, that promise is hollow.
We continue to stand behind real health care reform, but the law as it stands will hurt millions of Americans including the members of our respective unions.
We are looking to you to make sure these changes are made.
James P. Hoffa
General President
International Brotherhood of Teamsters
Joseph Hansen
International President
UFCW
D. Taylor
President
UNITE-HERE
Local 355 2013 Scholarship Winners
July 2, 2013
Maya Peoples, daughter of UPS Package driver Mike Peoples, graduated in June from the Western School of Technology and Environmental Science in Catonsville, Md., a magnet school that requires a high GPA as preparation for continuing education.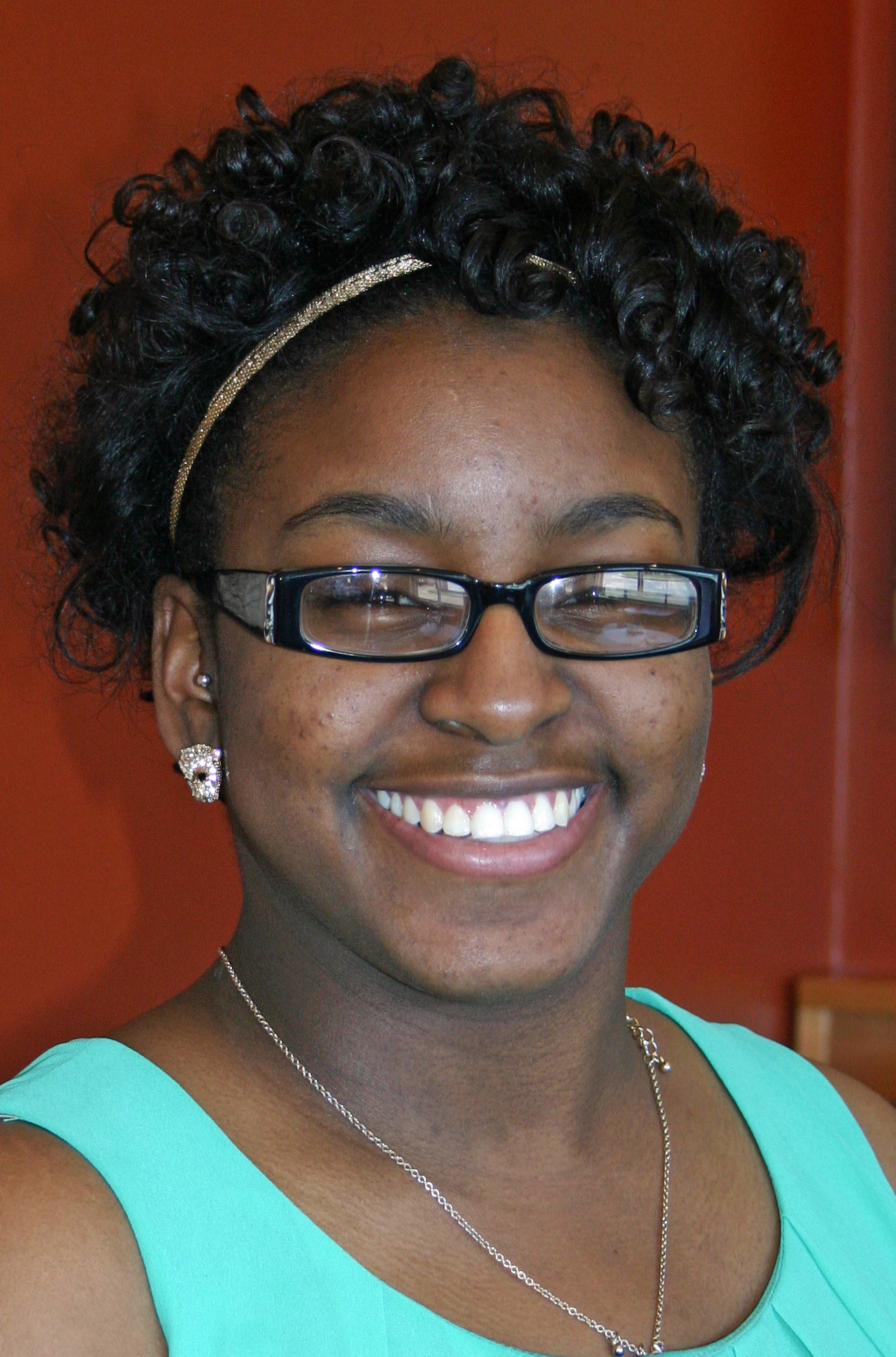 Maya's heavy academic course load in the sciences — from biology to zoology — and then a psychology class during her junior year, contributed to her developing interest in the science of the human brain. "By my junior year I had taken so many physical science classes, I needed a break and psychology seemed interesting." An avid fan of the CBS television hit series "CSI: Crime Scene Investigation," Maya's interest in the secrets crime scenes reveal about victims and perpetrators led her to forensic psychology.
Those 8 high school science courses provide Maya with a solid base for entry into Morgan State College in the fall where she will major in psychology in preparation for a career in crime scene investigation. Asked what her dad thinks of her career choice, Maya laughed and said, "Oh, Dad doesn't care what I do as long as I'm successful at it. And a union member."
Maya also played softball all through high school. When not working, she loves reading romance novels and with her passion for fashion, shopping.
"Thank you, Teamsters! I appreciate all your hard work that made this scholarship possible for me."
A 2013 graduate of Chesapeake Senior High School in Pasadena, Md., Megan Morgan, daughter of Baltimore Sun pressman Brian Morgan, will attend Bridgewater College in Bridgewater, Va., in the fall where she plans to major in Biology and minor in Equine Studies in the pre-veterinary program or the liberal arts college. "From the day she started walking, she wanted to be riding a horse," her father said proudly.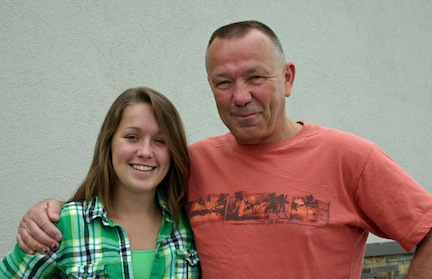 Megan loves animals and is a regular viewer of the Discovery Channel's "Animal Planet." Following up on her life-long passion for horses, Megan's higher education goals will prepare her for a career as an equine veterinarian.
Though Megan is an avid runner, competing in cross-country and indoor and outdoor track all 4 years of high school, she spent much of her time riding at the Equestrian Center and volunteering at Downs Park on Gibson Island. "We were on a family visit to the park and I met a park ranger who taught me a lot about the creatures in the park," Megan told us. As a volunteer, she feeds injured birds of prey, such as various species of hawks, Spotted Owls, and Great Horned owls. During the summer of 2012, Megan was as a exhibit guide volunteer at the National Aquarium which she hopes to do again this summer.
"This scholarship really helps me because college is so expensive and this will help pay some of my expenses," said Megan. "Thank you so much!"
News Items - June 2013
Important ballot info for UPS Package members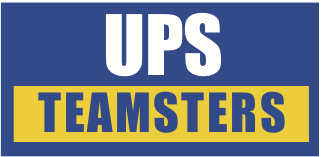 June 4, 2013 | Some of the packets of ballots mailed to UPS Package members contain a return envelope that says "UPS Freight" on the front. Please be assured that all these will be counted in the UPS Package Referendum with the appropriate supplements and riders. The envelopes contain a unique identification code and the ballots are not only color coded, they are clearly marked as to which Agreement the ballots are for. There is no need to request a replacement ballot. Read this.
UPS, UPS Freight members get factual info at new contracts review meetings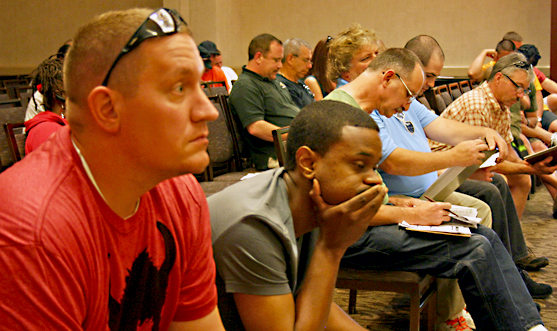 June 8, 2013 | Local 355 members employed by UPS Package and UPS Freight attended contract review meetings held over the weekend of June 1st and 2nd. The meetings were conducted in Baltimore and Salisbury to ensure that as many members as possible could attend. The two contracts cover more than 1,660 Local 355 Teamsters and 250,000 Teamsters nationwide. Teamsters National Negotiating Committee member and Local 355 President Denis Taylor presided over the meetings, assisted by Vice President Erv Williams and Business Agents Eric Wood (UPS) and Mark Garey (UPS Freight). At the request of members in attendance, Taylor went through each of the language changes to both tentative agreements. An in-depth question-and-answer segment followed the end of each section. Read more here. (L-R) Members at UPS Package (Hunt Valley) Kevin Warfield, Wenedell Sutton, Willy Shamel and John Ravern attend the contract review meeting in Baltimore on June 1st.
Helpful union tips for members are posted every Monday
June 10, 2013 | Information that can help you understand how the union works and your role in it is avaialble right here on this website. What a contract campaign is, how the bargaining process works, the unwritten laws of the workplace, your role in the grievance and arbitration process and more is over on the left under the Members drop down menu. Stewards will find information under the Shop Stewards tab that will increase their effectiveness as the Teamster representative on their shop.
Union Plus benefits for Teamsters


June 20, 2013 | Because you are an IBT union member or union retiree, you and your family are automatically eligible for Union Plus benefits. Why pay more? As a Teamster, you qualify for many union-only deals and discounts on numerous services or products with savings that could add up to more than $4,000 a year. Learn more about your Union Plus savings and discounts here.
UPS and UPS Freight ballot return count begins today
June 21, 2013 | The IBT elections officer's team has counted the number of ballots that were picked up from the Post Office yesterday and there are currently a 35% return rate from UPS members. However, ballots will continue to be picked up for three Local Unions for the next several days. It is expected that the final return rate will be similar to the rate from the last ratification referendum 5 years ago. Although the number of return ballots from UPS Freight have not been counted yet, the return rate is expected to be a bit higher than at UPS. The election officer has begun opening and counting ballots by Local and region.
Final ballot results from UPS and UPS Freight are available
June 25, 2013 | The IBT has posted the final results from the vote count for the UPS and UPS Freight referendums. Local 355 members approved both master contracts. Nationally, the UPS master freight agreement is approved but the UPS Freight agreement is rejected. View UPS results by Local Union here. View UPS Freight results by Local Union are here.
Good news for members in 401(k) plans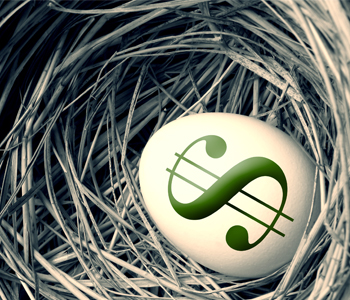 June 25, 2013 | For those of you who have access to and are taking advantage of your employer-based 401(k) plan, you are probably paying less for your mutual funds than retail investors. The Dept. of Labor's Employees Benefits Security Administration reports that in a recent study from the Investment Company Institute finding that 401(k) plan participants in mutual funds tend to hold lower-cost funds, and that the expenses plan participants have incurred for investing in mutual funds have declined substantially in the past 15 years. For helpful information about timelines in retirement planning, click here.
Members rejected the UPS Freight agreement. So what's next?
June 26, 2013 | According to an IBT release issued today, the Teamsters National UPS Freight Negotiating Committee will be scheduling negotiations with UPS Freight soon in order to address member concerns. That agreement, which covers about 10,000 union-represented workers, will then need to be voted on again by the members. Stay tuned.
Members approve ABF master agreement, some supplements *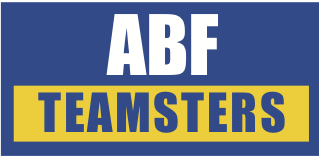 June 28, 2013 | The IBT has reported that Teamsters employed at ABF Freight System, Inc. approved the national master portion of the ABF National Master Freight Agreement and 21 of 27 supplements. The Teamsters negotiating committees responsible for the supplements that were not approved will be talking with the members in those areas to work on obtaining majority member approval. All local/area supplement agreements must be approved by members before the national agreement can be implemented. Note: The Maryland/DC Supplement was approved. Updates are available here.
Revised process to sell Allied approved by bankruptcy court
June 28, 2013 | On Wednesday, June 19, U.S. Bankruptcy Court Judge Sontchi approved revised motions by Allied Systems Holdings that establishes a process for interested parties to bid on Allied and bring it out of bankruptcy. Additionally, Judge Sontchi approved replacement debtor-in-possesion (DIP) financing by Black Diamond and Spectrum to fund Allied through the sales process. More information here.
Teamsters, UPS agree to extend current UPS national contract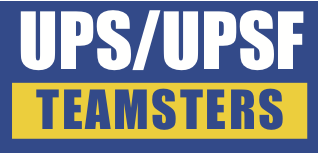 June 28, 2013 | The Teamsters Union and UPS have agreed to an extension of the current UPS National Master Agreement and all Supplements, Riders and Addenda. The extension does not have a specific end date, but can be terminated by either side with a 30-day notice. This means that all of the current Agreements will remain in place until the Supplements that did not receive a majority of votes have been re-voted and agreed to. Any increases in wages, pensions and health and welfare contributions that were agreed to in the new National Master Agreement will be made retroactively to August 1, 2013 but will not take effect until the Supplements have been re-voted and agreed to. In addition, UPS has agreed not to implement the increase in retiree contributions to retiree health insurance on August 1, 2013 as set forth in letters that were sent out to Retirees in December of 2012.
News Items - May 2013
Tell Congress: Leave our 40-hr work week and OT pay alone!
May 1, 2013 | The House of Representatives has renewed its decades-old attack on the 40-hour work week. Once again, some members of Congress are pushing so-called "comp time" legislation that would allow employers to stop giving workers extra pay for working overtime. The "The Working Families Flexibilty Act" (H.R.1406) would eliminate overtime pay and replace it with "comp time." This bill is not about providing employees with greater flexibility. It's all about giving employers more flexibility and control over workers. Employees compensated with time off rather than time-and-a-half cash premium would see a reduction in their take-home pay. Passage of the bill would mean longer hours, unpredictable schedules, and employer control of when a worker can use accrued "comp time." Call Congress today and tell your representative to oppose H.R. 1406! Call now: 1-888-866-2561.
Tentative Contract Agreement Reached with ABF
May 6, 2013 | The Teamsters National ABF Negotiating Committee announced Friday, May 3, that the Union and ABF has reached a tentative agreement. No details will be available until leaders from Teamster local unions that represent ABF members meet in the near future to review the TA and decide whether to endorse it. Read the IBT press release here.
Local Union leaders recommend tentative agreements for ratification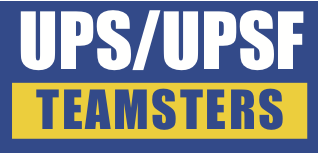 May 8, 2013 | Teamsters Local Union leaders representing UPS and UPS Freight workers across the country unanimously endorsed the tentative national agreement today, clearing the way for ballots to be prepared and sent to members. Details of the tentative agreements with the company were outlined at the "two-person" meeting, attended by two representatives from each Local Union. Ballot packages will be mailed to all members at the end of May for ratification of the master agreements and will tentatively start being counted on or about June 20. View changes to the UPS contract and tentative agreement highlights. View changes to the UPS Freight contract and tentative agreement highlights.
New vehicle wash system at Amports will add more work, more jobs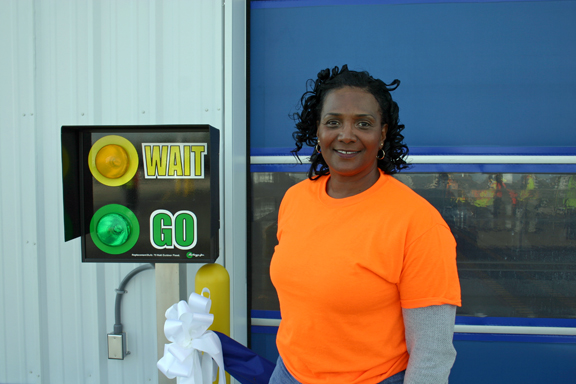 May 8, 2013 | A ribbon-cutting ceremony held May 3, 2013, unveiled a new car washing system at Amports' Baltimore facility, replacing a decades-old system which had become an unreliable link in the company's vehicle processing operation. Local 355 estimates an increase of 9-10 jobs are likely to be created as a result of the installation of the more efficient car wash system. Driver Syble Wilkins (right), an Amports employee for 19 years, said the new system will ensure "the products are safely in and safely out." Read more here.
Re YRCW efforts to acquire ABF freight division
May 10, 2013 | Teamsters General President Jim Hoffa issued a statement today regarding recent reports that YRC Worldwide Inc. attempted to acquire ABF Freight Systems. Read it here.
Local leaders unanimously endorse ABF contract
May 21, 2013 | Leaders from about 160 Teamster local unions that represent ABF members unanimously endorsed a tentative master agreement and supplements today that covers 7,500 workers. The vote to support the tentative agreement and supplements paves the way for a vote by the members. The Teamsters were able to defeat numerous attempted takeaways sought by the company, including major cuts to health, welfare and pension benefits. The tentative agreement does call for a 7 percent wage reduction, but that will be entirely recouped by the fifth year of the contract. Ballots will be mailed out on or about June 3 and are due back on or about June 27 and will then be counted. Read the full IBT statement here.
Contract review meetings scheduled for June 1st and 2nd
May 23, 2013 | Members employed by UPS are encouraged to attend these meetings to review the tentative agreements. Baltimore meetings will be held Saturday, June 1st, at the Westin-BWI Airport, 1110 Old Elkridge Landing Road, Linthicum, Md. UPS Package will meet at 10 a.m. UPS Freight will meet at 12 Noon. Eastern Shore members will meet Sunday, June 2nd, at the Local 355 Union Hall, 1323 N. Salisbury Blvd., Salisbury, Md. UPS Package will meet at 10 a.m. UPS Freight will meet at 12 Noon. See you there.
Contract review meeting scheduled for ABF members June 1st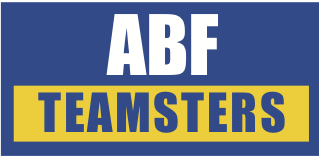 May 23, 2013 | Members employed by ABF are encouraged to attend a meeting Saturday, June 1st, at 10 a.m. at the Baltimore Local Union Hall, 1030 S. Dukeland Street, Baltimore, Md.
New wash system at Amports brings more work, more jobs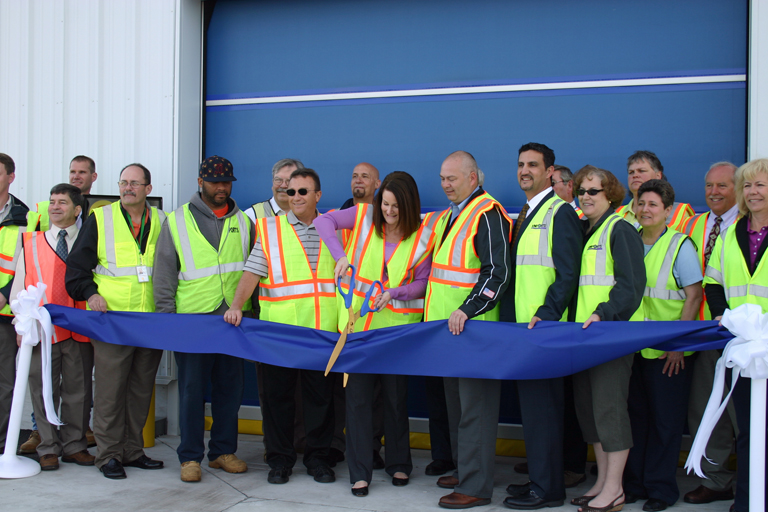 May 8, 2013
A ribbon-cutting ceremony held May 3, 2013, unveiled a new car-washing system at Amports' Baltimore terminal, replacing a decades-old system that had become an unreliable link in the company's vehicle processing operation.
Teamsters Local 355 estimates an increase of 9-10 jobs will likely be created as a result of the installation of the more efficient car wash system.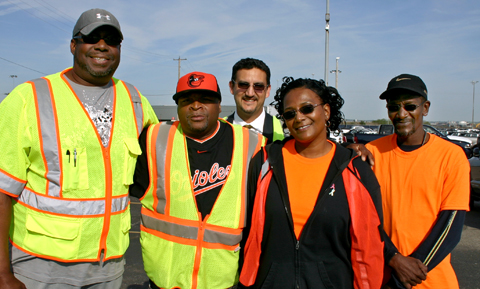 Attending the ceremony were auto manufacturing representatives from Detroit, MI, George Molyneaux, Amport Terminal Manager, Larry Johnson, Baltimore Port Authority, and Business Agent Jim Deene, Teamsters Local 355. Also on hand were Amports shop steward Dwaynne Miles (rail dept.) and drivers Nathaniel Johns, Robert Washington, Syble Wilkins and Lindsey Webb, all members of Local 355.
New American vehicles heading to destinations around the world arrive by rail and are processed through the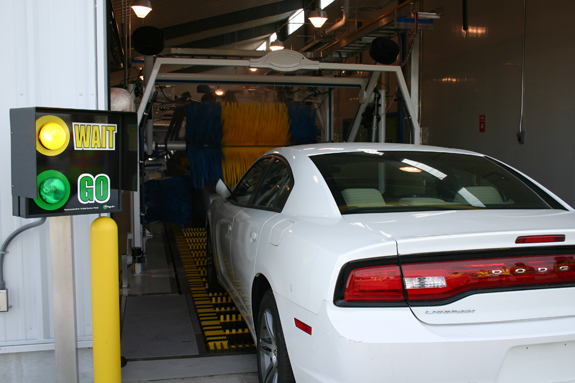 Amports facility located at the port in Baltimore. Auto manufacturers pay to have their vehicles washed, rinsed, dried, wrapped and undercoated before being loaded on to cargo ships destined for new owners in Europe, the Mideast and Asia. Amports is a 24/7 operation.
Car wash driver Syble Wilkins, a 19-year employee, said the new system will ensure "the products are safely in and safely out." Syble operated the old system alone, placing each vehicle on a roller system that moved it through all the processes. Between 30-40 vehicles per hour were moved through the car wash.
The new system which can move up to 120 vehicles per hour, requires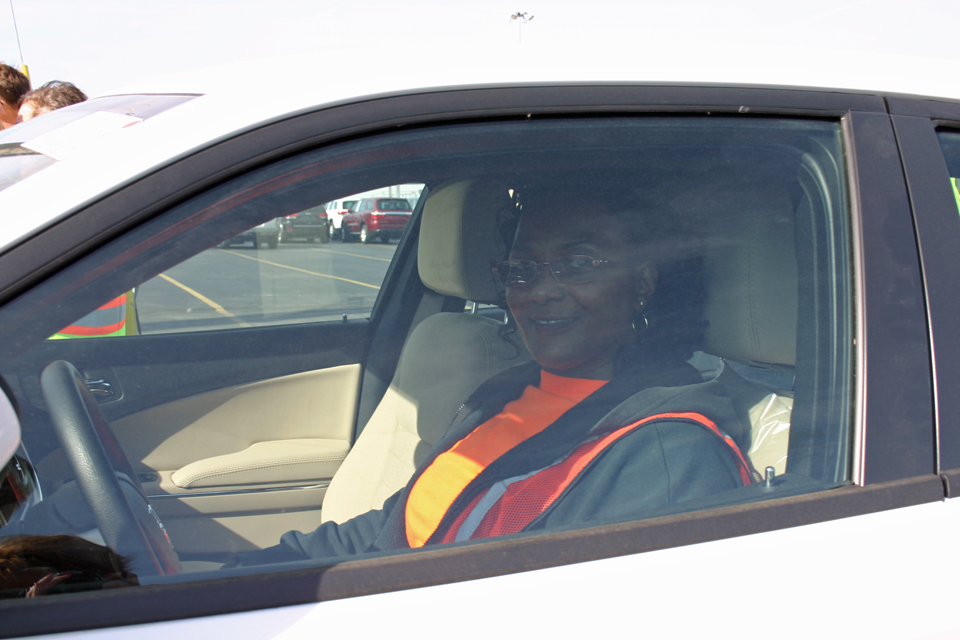 someone behind the wheel of every vehicle, significantly reducing the possibility of interruption in product processing. Every vehicle must be cleared of dirt and pollen or the wrapping (think shrink wrap) will not adhere to the vehicle's surface.
"This is a great improvement for our company's processing system," Syble said. "But one person can't operate it. It requires more manpower. And that's good for us."
News Items - April 2013
Tentative agreements reached with UPS, UPS Freight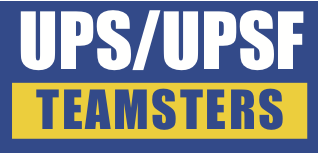 Apr. 26, 2013 | The Teamsters negotiating committee has reached tentative agreements on new 5-year national contracts for package and freight workers that protect their health care benefits, provide substantial wage increases and significantly increases funding for pensions, health and welfare funds. In the UPS tentative agreement, workers will get substantial pay increases, including a significant increase in the starting wage for part-timers. The union also won the creations of more than 2,000 full-time jobs from the ranks of part-timers. The tentative agreement for UPS Freight resolves subcontracting work by putting all laid-off road drivers back to work. UPS Freight workers will receive substantial wage increases and lower co-pays for health insurance. The agreement provides the ability for more part-time workers to become full-time. Read more at teamsters.org.
Teamsters will decide soon on YRC network changes *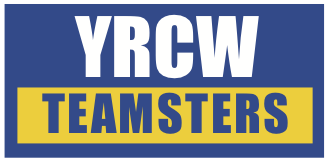 Apr. 23, 2013 | The IBT is expected to decide whether to adopt YRC Worldwide Inc.'s sweeping change of operations request by the end of the week after meeting with union leadership in Dallas on Friday…Now that the representatives of the affected locals have had their say, approving or negating the move will be up to the Teamsters' change of operations committee. Read more at Kansas City Business Journal. * Update: Teamsters sign off on restructuring.
Casino agreement for Teamsters, Unite Here and IUOE
Apr. 23, 2013 | Workers and community members at last Saturday's Rally for Fair Development in downtown Baltimore had reason to be jubilant. United Workers and Unite Here Local 7 issued a joint statement early Saturday announcing that Caesar's, which is developing the Horseshoe Casino in the heart of the city, will sign an agreement with Unite Here 7, IOUE 37, and Teamsters 355, giving the 800 workers expected to be hired by the casino a process for organizing. Read more at dclabor.org
Another 30-day extension for ABF contract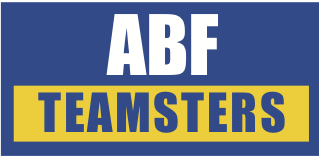 Apr. 22, 2013 | The Teamsters negotiating committee met last week in Dallas, and it is disappointed with the company's initial economic proposals that seek significant reductions in health and welfare and pension benefits as well as deep wage cuts. "While we've made progress on major local and over-the-road work rule issues over the last few months, the company's new proposals this week are very disappointing and place our progress at risk," said Gordon Sweeton, Teamsters ABF National Negotiating Committee Co-Chairman. "We've put millions of dollars worth of operational relief on the table but that apparently is not enough." Read the full update here.
Negotiations update; talks will resume Monday, April 22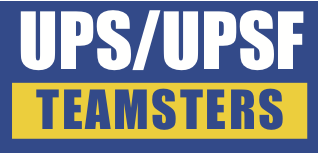 Apr. 19, 2013 | UPS — The Company and Union exchanged economic proposals. Health care remains the major issue in negotiations. Many issues remain but both sides are committed to reaching an agreement by the end of next week. UPS Freight — The Union made a counter-proposal on economics. Much of the week was spent discussing subcontracting and we moved closer to reaching an agreement. Read the full IBT update.
Maryland lawmakers pass tougher cell phone use law
Apr. 11, 2013 | A get-tough bill that upgrades enforcement of the state's existing handheld cell phone law to primary status becomes effective October 1. The law significantly increases fines for distracted driving violations. Read more at 355 News.
Don't buy your prescription drugs at chains like CVS and Rite Aid...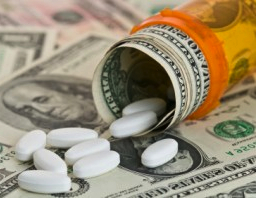 Apr. 10 , 2013 | Because it's costing you big time. According to a new Consumer Reports investigative study, there is rampant variation in the price of generic drugs as large U.S. pharmacy chains—including CVS, Rite Aid, and Target—marking up the prices of generic drug versions for common medications by as much as 18 times what wholesale chains like Costco charge. That price variance ends up costing Americans, who spend an average of $758 out-of-pocket on drugs every year, hundreds of dollars in unnecessary spending each month. Full story here. (Note: You don't need to be a member to use Costco's pharmacy.) Related: It pays to shop around for prescriptions drugs...
Anne Arundel County park rangers ratify new contract
Apr. 10 , 2013 | A new collective bargaining agreement was unanimously approved yesterday at a ratification meeting held at the Union Hall in Baltimore. Details here.
Members with CDLs: Take this safety survey and be eligible for a free iPad3
Apr. 2, 2013 | John Hopkins University is recruiting IBT members who are full-time commercial drivers for a study on distracted driving. By taking this quick, 10-minute online survey, you can enter a drawing for a free iPad 3. All answers are confidential. You must be over 18 and able to read English to participate. Don't wait! John Hopkins will only take the first 500 drivers who complete the survey. Questions? Contact the study staff at JohnsHopkinsDriving@gmail.com
Is your financial advisor working in your best interest?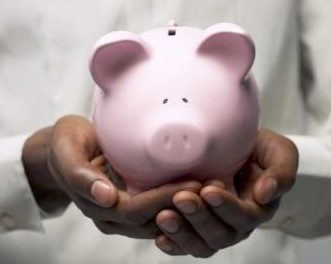 Apr. 1, 2013 | How can you tell? Selecting someone who is being paid to provide you with investment advice is a crucial decision. You want to make sure that the advisor you select is working in your best interest and that your retirement savings are protected. Asking the right questions, up front, will help you protect yourself and your assets. The DOL has a fiduciary guide fact sheet available here.
First Transit mobility drivers choose Teamsters
Apr. 16, 2013
One hundred and thirty full-time and part-time para-transit mobility drivers employed at First Transit's new Sisson Street dispatch facility in Baltimore voted April 15, 2013 to become members of Teamsters Local 355.

Many of the new members were among former Veolia para-transit drivers represented by Local 355 who were laid off in February. Veolia Transportation issued a WARN notice in December 2012, expecting to lay off 80 employees when its contract with the State of Maryland awarded a portion of its business to First Transit. Seventy-eight Local 355 members—all recent hires—were laid off.
In mid-January, Local 355 organizers, with the invaluable assistance of Veolia shop stewards Darren Mason and Paul Carter, attended First Transit's three-day job fair where more than 200 job seekers signed Teamster representation cards.
First Transit began operating out of the Sisson Street facility March 1, 2013.
A mail ballot election was conducted over a two-week period, with returned ballots counted Monday, April 15, 2013.
News Items - March 2013
Anne Arundel County Teamsters ratify contracts
Mar. 29, 2013 | Teamster 355's Anne Arundel County deputy sheriffs and correction program specialists have ratified new one-year contracts. The park rangers and the County are at impasse and the dispute has been scheduled for a fact-finding proceeding. Details here.
YRC change of operations info; contract extension at ABF
Mar. 29, 2013 | YRC's proposed "Network Optimization 2013" change of operations will be heard April 19, 2013 in Dallas. Read the YRC update here. The Teamsters National Freight Industry Negotiating Committee agreed to grant a 30-day extension so that negotiations with ABF could continue. Any economic improvements in a new contract will be retroactive to April 1, 2013. Read the ABF contract update here.
UPS and UPS Freight bargaining updates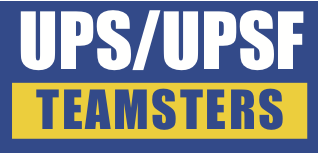 Mar. 28, 2013 | Updates from the Teamsters National Negotiating Committee on UPS Package and UPS Freight bargaining were posted today. The Union told the Company it is prepared to return to the bargainig table the weeks of April 15th and April 22nd "provided the Company is prepared to reach an Agreement acceptable to our members during those two weeks."
Additional steward photos are posted
Mar. 25, 2013 | Shop stewards by company are available here. More to come.
Labor Notes' coverage of UPS bargaining
Mar. 25, 2013 | Jane Slaughter, editor of Labor Notes, writes that bargaining for a settlement in the largest private-sector union contract in the U.S., covering nearly 250,000 Teamsters, is expected to wrap up in early April. The contract expires July 31 "but UPS wants an early agreement to keep FedEx from luring away customers scared about a possible strike. Read it here.
Maryland passes tougher cell phone use law
Cross-posted from Hands-Free Info
Apr. 11, 2013
Maryland distracted driving update: A get-tough bill that upgrades enforcement of the state's existing handheld cell phone law to primary status has cleared the House and Senate. The measure also would make significant increases in fines for distracted driving violations.
First offenses will bring a $75 fine. A second offense could bring a ticket of up to $125, and a third to $175. The current fine for violations range from $40 to $100. The plan to assign points was removed by amendments.
The removal of the secondary enforcement provision of the handheld cell phone law means police can stop and cite violators for that reason alone.
The bill, sent to the governor on April 8, was a rerun of previously unsuccessful legislation by Del. James Malone. "They can't have (a cell phone) in their hand whatsoever," Malone says. The legislature did water down the penalties in the original bill.
Two other 2013 bills also sought to remove the secondary enforcement limitation on the state's existing handheld cell phone law.
State Sen. Nancy King puts a spin on the enforcement issue. Her Senate Bill 193 of 2013 specifies primary enforcement if a child under the age of 8 is in the vehicle when the driver violates Maryland's handheld cell phone law. King, D-Montgomery County, also sponsors a bill seeking to increase penalties for not safely securing a child in a vehicle.
The state made several technical adjustments to its existing distracted driving laws during the 2012 legislative session.
They included a separation of cell phones and texting devices under the legal definition of a "wireless communication device."
Current prohibitions:
Text messaging prohibited for all drivers.

Handheld cell phone use banned for all drivers.

Fines between $40 and $100.

Drivers under the age of 18 prohibited from any use of cell phones.
UPS Teamsters participate in National Day of Action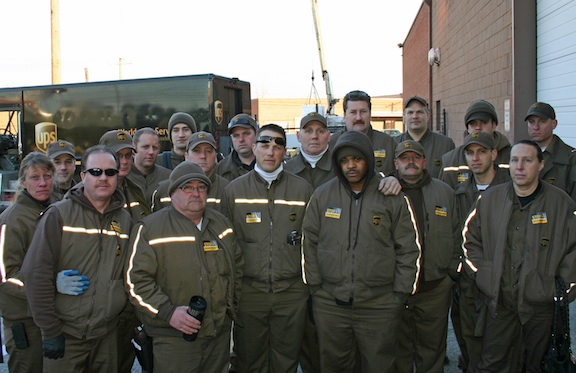 Local 355 UPS drivers at the Quad Ave. facility in Baltimore participated in yesterday's Teamsters National Day of Action, as did their brothers and sisters at seven other UPS and UPS Freight facilities in Baltimore and the Eastern Shore. Greg Marders (front row, third from left) has worked at UPS for 24 years: "I refuse to take a loss. I'll go out with a fight. We need to stand tall for all American workers. Hopefully, we can take a stand that the rest of the country will follow."
Thousands of UPS and UPS Freight Teamsters are rallying at events across the country this month. Here in Baltimore, Maryland UPS Teamsters will rally Saturday, Feb. 23, 3 p.m., at the BWI Westin. Check back here to view photos from the event.
Below, L-R: Karl Martins, Mike Poremski, shop stewards Bill Goudy and Mike Petro.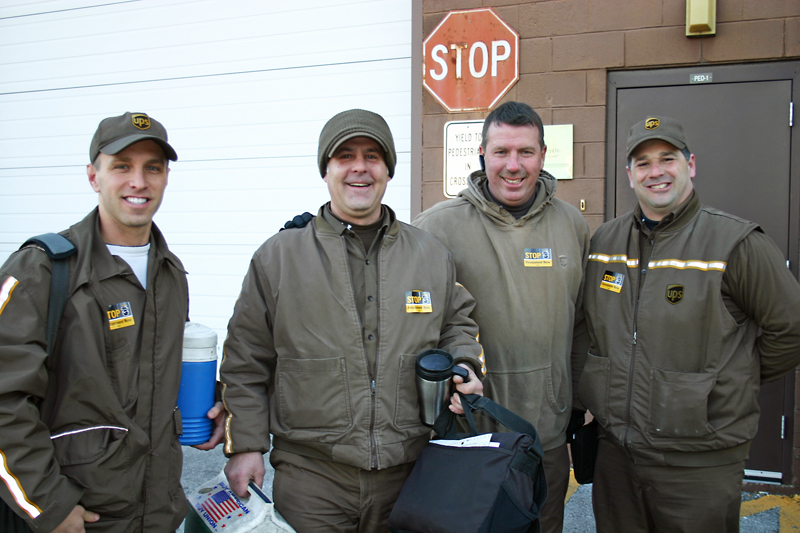 Brother Bill Snyder, US Foods, retires
Feb. 20, 2013
After 42 years, Bill Synder put away his tools in January, 2013, and said so long to his friends and coworkers at US Foods.
A native of Maryland, Bill was a self-taught 16-year-old when he began his career in automative mechanics and started working on the vehicles at Wareheim Auto Services in Baltimore, a company that also serviced the fleet at Monarch Finer Foods. When Wareheim went out of business in 1970 and needed to sell off its equipment, Bill asked the transportation manager at Monarch who he knew quite well if he'd be interested in purchasing any of Wareheim's tools.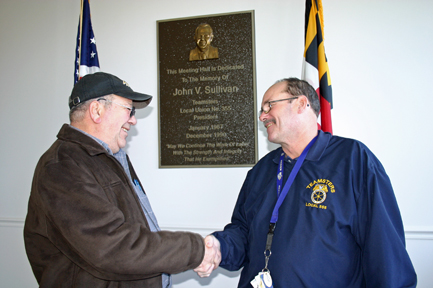 It is said that when one door closes, another opens and that was certainly true in Bill's case. Monarch purchased some of Wareheim's equipment, opened its own vehicle maintenance shop and made an employment offer Bill couldn't refuse.
Monarch Finer Foods eventually became a division of US Foods.
Bill is proud of the fact that everything he knew about maintaining the truck fleets he learned while working on the job, except for a short training session sponsored by Caterpillar back in the 1970s. With his knowledge, experiences and skills, Bill could diagnose, fix and repair any vehicle among US Foods' fleet of straight trucks, tractor-trailers and vans.
But changes in regulations and a on-going reductions in maintenance staffing levels played a significant role in Bill's decision to retire.
"Now there are only 6 mechanics left to service 80-plus trucks. DOT requires inspections every year. We conduct preventative maintenance to make sure every thing was on the up and up, but corporate wants it done every 3 months. That's a lot of paper work," Bill said with just a hint of a grin.
When asked what his plans were for retirement, Bill said that nothing would be decided until after his wife takes her retirement in March. But with 4 grandkids, 3 on the Eastern Shore and one in Florida, he expects that travel will definitely be in their plans.
Happy trails, Bill!
Photo: On a recent visit to the Local Union office in Baltimore, Snyder received best wishes for a happy, healthy retirement from US Foods Business Agent Jim Deene.
News Items: January 2013
Hoffa on Obama's immigration reform proposal
Jan. 30, 2013 | Yesterday President Obama announced his proposal for immigration reform and challenged Congress to act quickly. Teamsters President Jim Hoffa said the the President's plan offers a straightforward approach to a problem that can no longer be ignored. "The President' plan offers a more complete approach to addressing challenges that are at the root of the problem…For the first time, we have a proposal that will hold all parties accountable – undocumented workers, unscrupulous employers and the federal government…" Please read President Hoffa's full statement here.
Call to action! Preserve Social Security, Medicare and education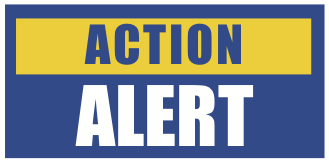 Jan. 27, 2013 | Teamsters everywhere are needed to step up in this IBT Call to Action: Extremist lawmakers on Capitol Hill are calling for cuts to Social Security, Medicare, and education as ways to reduce the national deficit…Reducing the deficit on the backs of the middle class is just plan wrong. On January 30th, events will be held across the country to send Congress a clear message: No cuts to Social Security, Medicare, and education. Instead of cutting vital programs, Congress needs to make sure that big corporations and the wealthiest Americans pay their fair share. Find an event in your area here. If you can't join a direct action, you can send a loud message to Congress by joining our Thunderclap.
Arbitrator: AA County Executive 'intended to punish the Union'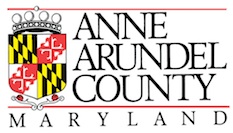 Jan. 21, 2013 | In a decision issued Jan. 19, 2013, arbitrator Andrew M. Strongin sustained Local 355's grievance against Anne Arundel County for the County's failure to pay its Deputy Sheriffs their pay increases for fiscal year 2010 and awarded all affected employees to be made whole with interest and retroactive to July 1, 2009. Strongin wrote that the County negated its Agreement with the Union "with the apparent intention of punishing the Union in retaliation for its refusal to accede to the County's request for a concession" and "despite it's ability to afford a 3% increase to the Union, if not also 7% provided by the negotiated Agreement, the County intentionally gave the Union nothing." Continue reading…
UPS negotiations recess; will reconvene Jan. 28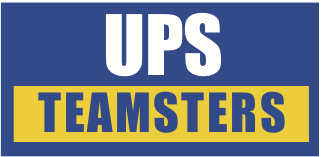 Jan. 18, 2013 | Two weeks of negotiations with UPS and UPS Freight wrapped up yesterday in Washington with progress made on both contracts. In UPS Freight negotiations, the committee addressed seniority and work issues as well as protections for medically disqualified drivers. In UPS negotiations, progress was made on 9.5 language, military leave and stewards' rights. More info here.
New contract in place at US Foods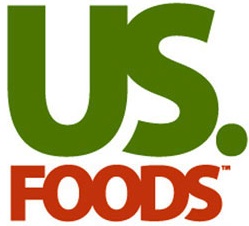 Jan. 14, 2013 | The protracted bargaining under a number of extension agreements with US Foods centered around two important issues that had to be resolved in order to seal the deal: the company needed to agree to return to the correct calculation as defined by our contract of our Health & Welfare benefits and withdraw its proposal that would eliminate our right to strike. The Union prevailed on both issues and members overwhelming ratified the tentative agreement in late December 2012. The 3-year agreement provides significant wage and pension increases retroactive back to March 16, 2012 when the previous contract expired. Look for details in our next newsletter.
Reduce your debt and get your budget in shape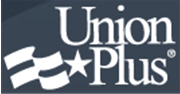 Jan. 14, 2013 | Managing your money and credit doesn't have to be risky business. But conquering debt may be more challenging than ever in today's economy. The good news: union members have access to expert tools and resources to help them cut debt and improve their financial health. The advice is designed and discounted especially for union members. Services include free budgetary analysis, personal budgeting tools and savings tips, and experienced credit counselors available 24/7. Click here for helpful information from Union Plus.
ABF, Teamsters in talks again this week *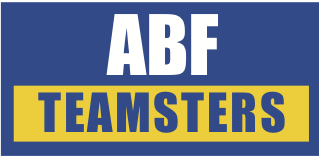 Jan. 11, 2013 | Bargaining began Tuesday, and talks are scheduled to run until March. The current contract expires March 31. When the parties met in December, they ended negotiations far apart. Gordon Sweeton, the co-chairman if the Teamsters' National ABF Negotiating Committee said the union is disappointed with ABF's proposals so far. Read more here * Jan. 17 update - "The Company seeks to undo 50 years of bargaining history and completely rewrite the current agreement." Teamsters criticize ABF's stance at negotiations.
NLRB chairman's statement on court's recess appointment ruling
Jan. 25, 2013 | Today, the U.S. Court of Appeals for the DC Circuit issued a decision finding that the Jan. 4, 2012 recess appointments of three members to the National Labor Relations Board were invalid. In response, Chairman Mark Gaston Pearce issued the following statement:
"The Board respectfully disagrees with today's decision and believes that the President's position in the matter will ultimately be upheld. It should be noted that this order applies to only one specific case, Noel Canning, and that similar questions have been been raised in more than a dozen cases pending in other courts of appeals.

In the meantime, the Board has important work to do. The parties who come to us seek and expect careful consideration and resolution of their cases, and for that reason, we will continue to perform our statutory duties and issue decisions."
Fix the filibuster, fix the Senate
Jan. 17, 2013
The U.S. Senate is where good bills go to die. The chart below is telling, isn't it?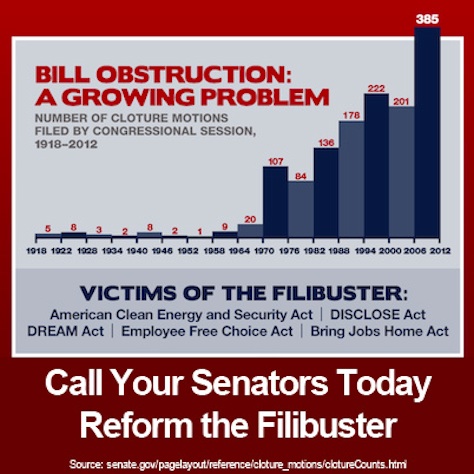 "The supermajority required just to begin debate–60 of the 100 Senators–creates gridlock and ignores the fundamental American principle of majority rule." ~ CommonCause.org
Next week, the Senate may be taking up Resolution 4, a bill to reform the filibuster process and make it more transparent. If enacted, this reform would mean Senators would actually have to speak and debate publicly on the floor of the U.S. Senate in order to keep a filibuster going, just like Jimmy Stewart did in Mr. Smith Goes to Washington. As it stands now, a Senator can simply send an email to continue a filibuster.
We need more accountability of our elected officials, and if they wish to block legislation, they should be required to put real time and energy into it.
Here's what we need you to do: Call your Senators TODAY and ask that they fix the Senate by fixing the filibuster! Tell them to vote FOR Senate Resolution 4.
You can reach your Senators by calling the U.S. Capitol switchboard at 202-224-3121.
ALSCO drivers vote Teamsters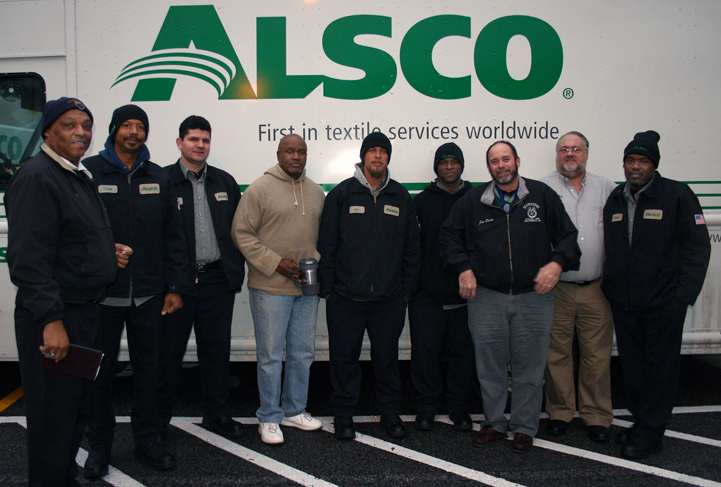 Dec. 21, 2012
Drivers with the linens company ALSCO in Salisbury, Md., voted today to join Local 355. "This was our opportunity to do something that will benefit us in the long term," said Shawn Johnson. "The Teamsters listened to our concerns and gave us the option to join their union. We did that today."
Stay tuned for more on our newest members.
Office hours for the 2012 Holiday Season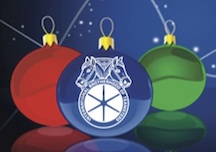 December 24, 2012
The Credit Union will be open 9 a.m. - 12 Noon
The Baltimore and Salisbury union offices will be closed.

December 25, 2012
All offices will be closed.

December 31, 2012
The Credit Union will be open 9 a.m. - 1 p.m.
The Baltimore union office will be open 9 a.m. - 1 p.m.
The Salisbury union office will be closed.

January 1, 2013
All offices will be closed.
Have a very Merry Christmas and Happy New Year!
Cumberland Teamsters end strike at Potomac Farms Dairy

Nov. 19, 2012 |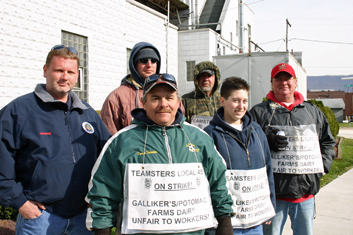 Local 453 dairy workers ended their strike at Galliker's/Potomac Farms Dairy in Cumberland, Md., after they re-voted Saturday, September 17 and accepted the company's final offer. The new 4-year agreement provides wage increases and language improvements. Local 453 and its dairy members send out a huge thanks to all who showed their support and made donations to the strikers: the Teamsters and other members of the labor community, local businesses and concerned citizens. Background on the strike here. (Local 453 is a member local in Teamsters Joint Council 62, as is Local 355.) Pictured left to right are LU 453 dairy workers Jeremy Van Meter, Tom Fair, Tom Trimble, Terry Whitacre, Casey Hardman, and Jimmy Dickens.
Latest round of UPS negotiations wraps up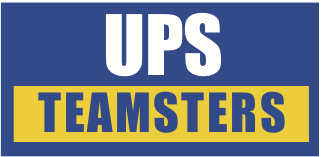 Nov. 16, 2012 | The latest round of UPS negotiations wrapped up this week with the National Negotiating Committee pressing for more full-time jobs and addressing 9.5 concerns. The bargaining sessions opened in St. Petersburg, Fl., with lengthy company presentations on SurePost and a market outlook for the package industry. The company also claimed that rising health care costs were a big concern.However, the National Negotiating Committee countered by presenting proposals to address 9.5 concerns, dispatch times, backfilling jobs and limiting the use of technology for disciplinary purposes. Negotiations continued in Washington, D.C. this week. Read more here.
2012 Fall Golf Tournament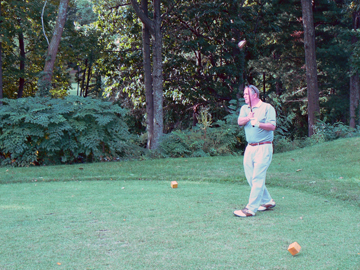 View more photos in our Photo Gallery.
Fifty-one members and retirees participated in Local 355's fall golf outing September 29, 2012 at the Bay Hill Golf Course in Arnold, Md.
Thirteen teams hit the 9:00 a.m. shotgun start, completing the 18-hole course in record time, after which participants enjoyed lunch and liquid refreshments.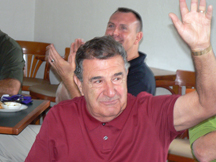 Brother Lou Lubawski (Retired/US Foods), right, made the trek from his home in Ohio to enjoy the day with old (and new) friends.
The top four teams each won $80. The first-place team came in with a score of 64; the 2nd, 3rd, and 4th place winners tied with a score of 65 (-5). The final finish was determined by the score at the hardest hole. Longest drive and closest to pin winners each received $25. Congratulations to all the winners!
First Place:
Tom Wotjek (UPS/Hunt Valley)

Bob Williams (

UPS/Hunt Valley

)

Craig Wilkerson (

UPS/Hunt Valley

)
Second Place:
Aaron Skipper (UPS/Easton)

Chris Towers (

UPS/Easton

)

Mike Howard (

UPS/Easton

)

Mark Porter (

UPS/Easton

)
Third Place:
Victor Gray (Penske/Retired)

Vince Genco (

Penske/Retired

)

Duane Kelly (Film Industry)

Tim Wojtek

(Film Industry

)
Fourth Place:
Melvin Stevens (

UPS/Freight

)

Bill Lewis (

UPS/Freight

)

Dave Manny (UPS/Freight)

Walker Chapman (

UPS/Freight

)
Closest to the Pin Winner:
Craig Wilkserson (

UPS/Hunt Valley

)
Longest Drive Winner:
Danny Ward (UPS Feeders/Baltimore)
A Win-Win at Penn Fibre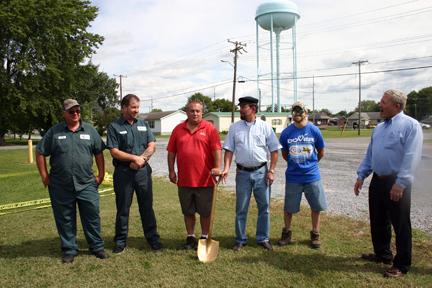 Penn Fibre employees with the most years of service broke ground for the new building. Left to right are Wesley Hartzel (maintenance, 37 years); Bill O'Day (punching, 26 years); Brice Smart (shipping, 25 years); George West (extrusion molds, 39 years); Jim Mish (15 years); and General Manager John Cowperthwait.
New warehouse extension sign of employer's commitment to workers and their safety
Greenwood, Del. – Don't let anyone tell you that unions are killing American manufacturing jobs.
Recent developments at Ensinger/Penn Fibre in Greenwood, Delaware, suggest that at least one unionized manufacturer (the Teamsters have represented workers at the company for decades) is growing. And hiring.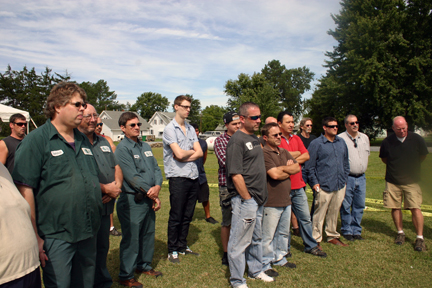 At a ground-breaking ceremony on Sept. 20, 2012 for a warehouse extension to house new product, Local 355 members celebrated the company's forward progress and it's commitment to their jobs, their safety, and their community.
According to Local 355 Business Agent John Caparatta, Penn Fibre, manufacturer of high performance engineering plastics, was "on it's deathbed" six years ago. Since German-based Ensinger purchased the company it's been run well, Caparatta said. During the recession that began in 2008, sales dropped and employees were laid off. But in the last two years, the company has replaced most of the customers it lost and has turned itself around, adding workers and planning expansion.
A key factor in the company's decision to expand it's warehouse is concern for employee safety. General Manager John Cowperthwait told the employees that the company was undertaking proactive measures to avoid unnecessary accidents.
"You are all stakeholders," Cowperthwait told the workers. "We're in our third year of making profits and we're making an investment in this building because when they say this company is growing, it means we're growing in Greenwood. We're not going to make money on this, but we will make material handling safer."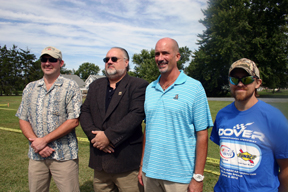 Shop steward Jim Mish said the new space will give the workers more room. "I'm looking forward to seeing that happen because right now it's too congested in the building and the building extension will provide us with improved protection. It's all about safety. That's my priority."
"We work in cramped areas," explained David Keith, a shop steward for the past 15 years. "We're experiencing growth here, which means more product. The company's commitment tells us that it is willing to make a long-term investment to ensure the safety of its workers."
In addition to the construction of the warehouse extension begun this week, Cowperthwait announced three new initiatives for workers: production will be reduced by one hour per day, although overtime may be necessary, and employees will be provided a daily 10-minute stretching program by a professional trainer to increase flexibility. Finally, employees will be given five minutes every day to conduct a "safety walk" in their work area in order to "eliminate an accident that might be waiting to happen."
The company provided the union with updates on its expansion plans during the past year. "It always keeps us informed," said Keith.
Greenwood Mayor Donnie Donovan said he was glad to see Ensinger/Penn Fibre expanding. "It means it plans to stay a while. We need investments like this." Also in attendance at the ground-breaking was Town Manager John McDonald and Greenwood Police Chief Mark Anderson.
"I'm happy for everybody, all the way around," said Caparatta. "This is good for the business and its employees. It's a win-win."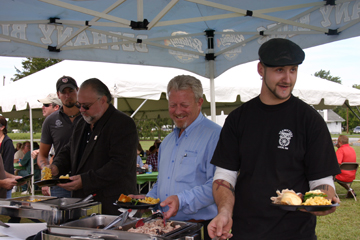 Top left photo: Local 355 members gather for the ground-breaking ceremony.
Top right photo: (L-R) Shop steward David Keith Local 355 Business Agent John Caparatta; Operations Manager Mark Fischer; and shop steward Jim Mish.
Above photo: Penn Fibre employees, union officials and guests enjoyed a barbeque of pulled pork, fresh green beans, macaroni and cheese, and cornbread.
Profiles of Our 2012 Scholarship Winners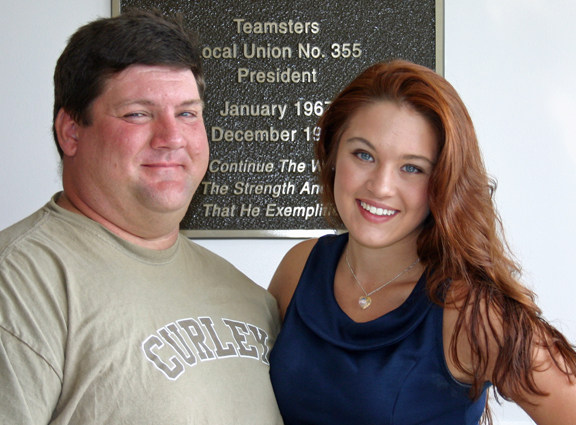 Brianna Ridgely has "always known" she wanted to be a teacher and with assistance from the Teamsters 355 Scholarship Fund, she's another step closer to accomplishing her dream. The daughter of UPS driver Michael Ridgely (right), she was one of two qualifying high-school students of Local 355 member families awarded a combined total of $8,000 in scholarships.
Robert White, son of UPS driver Tracey Morsell (below left), was also selected in the drawing of scholarship applicants during the May 5, 2012 membership meeting at the Baltimore office.
Brianna, a 2012 graduate of Baltimore's Catholic High School, began Cabrini College in Radnor, Pa. this month to pursue degrees in early education and business. Her long-term goal is to open a day-care center in the area.
"I'm the oldest of 12 cousins," Brianna told us. "I've always been around kids. I have a younger brother and I spoil him. We're very close; he's my best friend."
Brianna has been a member of the Girl Scouts of America since kindergarten: first as a Daisy, then a Brownie and nove a SeniorGirl Scout Gold Award, the equivalent of an Eagle in the Boy Scouts. In addition she was on her high school's varsity swimming team, specializing in the 50- and 500-yd. freestyle competitions. She was president of the school's Ambassador Association, charged with recruiting and welcoming new students. Her budding business and organizing skills were evident in her leadership in planning Open Houses for perspective students and Welcome Dinners for in-coming freshmen.
Robert, born and raised in Baltimore, is a recent graduate of Boys Latin School of Maryland. He is attending Goucher College, Towson, Md., to pursue a degree in pre-med.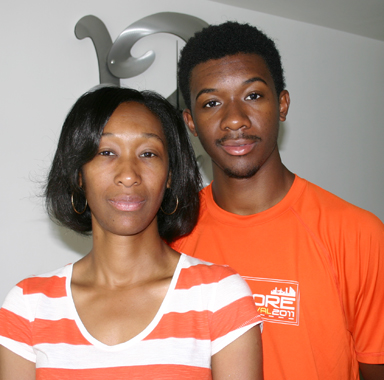 As a long-distance runner and basketball star during his high school years, Robert was no stranger to injury. But when he suffered an injury to his anterior cruciate ligament (ACL) in his sophomore year, he didn't know it would change his life's direction. While waiting for surgery and admittedly scared about the process, he became interested in what the anesthesiologist was doing to prepare him for the operation.
The operation fixed his knee but the conversation with his anesthesiologist inspired him, peaking his desire to learn more about the medical specialty.
"Even though I had surgery a second time to repair another injury, I knew what to expect," Robert explained. "My surgeon from the first operation linked me up with another anesthesiologist with whom I could talk about my interest. And from that - and with the helpful assistance from my mom's doctor, I was able to shadow doctors at area hospitals so I could learn more about the anesthesiology." Robert did his senior internship at Mercy Hospital in Baltimore.
Brianna and Robert will each receive a $4,000 scholarship, paid out at the rate of $1,000 per academic year.
On behalf of the members, the Local 355 Executive Board extends their congratulations and best wishes for their future success.
Don't Miss Registration Deadline for November Election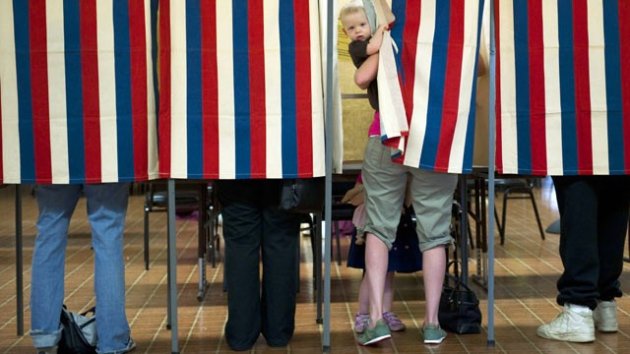 Got family and friends living in other states? Jump over to Teamsters.org for the list of registration deadlines and website addresses for every state and pass that info along to your folks.
Why is it important? From the IBT:
"In states across the country, new laws have gone into effect that could potentially prevent you from voting. The conservative crusade for voter identification laws is little more than a way to disenfranchise poor people and minorities. It's important to know the laws in your state."
This election is likely to be the most important one in our lifetime. Please do your part to ensure everyone you know has the opportunity to cast their ballot in November.
Oh and by the way, Our Time (Standing Up for Young Americans) is a great website for the under thirty-somethings in your life. Pass it on.
Photo: Don Emmert/AFP/Getty Images
Md. Teamster Dairy Workers Strike Potomac Farms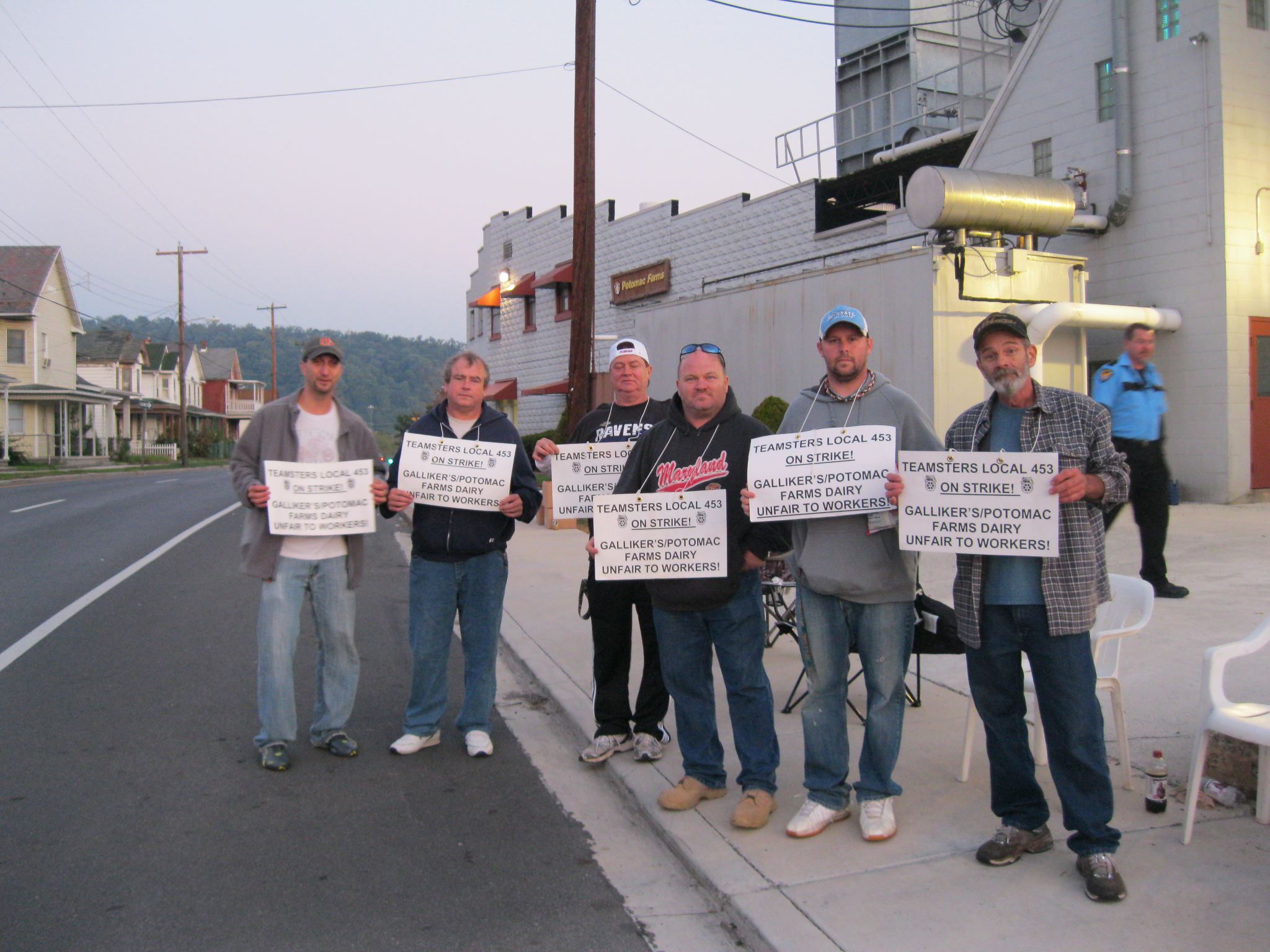 Sept. 17, 2012 | Fifty-five Galliker's/Potomac Farms Dairy employees and members of Teamsters Local 453 went on strike September 12, 2012 in response to the company's implementation of it's final offer that ended contributions to the employee pension plans.
"Our members are united and we've had great support from the public," said Local 453 President Larry Wolfe. "No one has crossed the picket lines except management and non-union staff."
The union provided the company with a 48-hour strike notice Monday, Sept. 10. The company has yet to respond.
The previous collective bargaining agreement expired in February 2011 but the parties agreed to continue contract talks. According to Local 453 President Larry Wolfe, the company made its final offer in May but the members voted overwhelmingly to reject it and voted to authorize a strike. The company refused to meet with the union and imposed its offer in June.
"We've been at the table for a year and a half. Not only is the pension issue of great concern, but 15 months of retroactivity and holiday pay is at stake as well," Wolfe said.
Local 453 represents drivers and production workers at the Cumberland dairy plant and others working in Virginia and West Viginia. The company provides dairy products to local schools and convenience stores.
The Teamsters have represented workers at Potomac Farms for decades, and the relationship with the employer has always been a good one. In 1984, the Galliker Dairy Company of Johnstown, Pa., acquired the Potomac Farms Dairy operation. Since then labor management relations have been handled by the corporate parent. "This is the most anti-worker company we've had to to deal," Wolfe said.
Support for the Potomac Dairy strikers is growing, said Wolfe, as family, friends and members of the public join the picket line.
Local 453 is a member local of Teamsters Joint Council 62.
Labor Day is A Time for Reflection

Aug. 31, 2012 | In his Labor Day message to Teamsters, General-President Jim Hoffa wrote: "This Monday, we pay tribute to the millions of dedicated men and women who make our world better and keep our country working. Each and every year, Labor Day is a time for reflection.
The American labor movement is responsible for many things we take for granted—the weekend, the 40-hour work week and anti-child labor laws to name a few. Today, our movement is reinvigorated and working for other profoundly important things: securing wages and benefits that working families deserve, the continued existence of the middle class, and respect and dignity for all working people. I'm proud that the 1.4 million members of the Teamsters Union are at the forefront of this effort.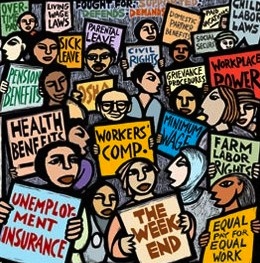 But make no mistake, working families are being attacked and scapegoated like never before. Public employees are being blamed for bad economies. Pensions and health care benefits are demonized as excessive perks of the past while the richest among us enjoy tax rates that are some of the lowest in our nation's history.
Corporate-backed politicians have mounted the most vicious anti-union attacks in memory. Government workers are being stripped of their collective bargaining rights. Right-to-work-for-less laws to destroy unions are becoming law in many states. And if Mitt Romney is elected president, he has promised a federal Right-to-work law as payback to his big business backers. If this scares you, it should. In fact, at this very moment the Republican National Convention is meeting in Tampa where there message seems to be, "The Middle Class Hasn't Suffered Enough". And if they have to take away hard-fought health care benefits, pensions and the rest of our social safety net to pay for tax cuts for the wealthiest people on the planet, that's just what they'll do—if we let them.
The ultimate goal of these extremist politicians is to further concentrate wealth and power in the hands of a few. These elite few may have the money, but we have the numbers. I urge you to fight back by getting involved. You can make a difference by talking to workers in organizing drives; attending rallies; urging politicians to support issues such as fair trade; voting for pro-labor candidates; and by becoming a member of DRIVE, our powerful political action committee. Be proud of our legacy, and tell others what it means to be in a union — solidarity, democracy, and respect. Because if we don't educate the public, no one will.
On this Labor Day, I ask you to get involved and build support for working Americans — Our country's true everyday heroes.
Local voter registration drive underway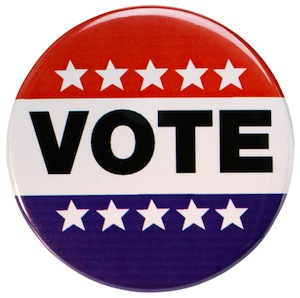 Aug. 2, 2012 | Efforts are under way at Teamster locals and Joint Councils nationwide to register voters and increase participation in this year's election. It is especially important for all of us to be voters this fall because opponents of labor are still mounting an all-out war on us. During the month of August we'll be visiting your shop where you'll have the opportunity to not only register to vote, but also sign up for DRIVE and Maryland Teamsters PAC. The schedule for our larger shops is here. If your shop isn't on the list, contact your business agent at 410-566-5700 for schedule and more information.
Penske Mechanic Buz Jones Puts His Tools Away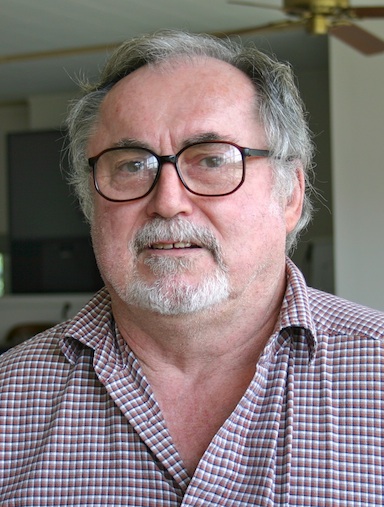 After more than four decades as a mechanic for Penske Trucking, Henry 'Buz' Jones, Sr. has had enough. On Thursday, August 9, 2012, Buz told the company he wouldn't be back and would they please get his retirement papers ready for his signature.
Buz hadn't planned to end his career so soon. He would have stayed on a few more years, willing and able to work. But his life was tragically and forever changed Sunday, August 5, 2012 when he's beloved wife, Sandra, passed away from a fast-growing cancer discovered only weeks before.
Buz and Sandra had been married 46 years. They have three sons and six grandchildren.
We caught up with Buz at the Baltimore union hall just as he had wrapped up a meeting to go over his health, welfare, and pension benefits with Business Agent Chip Elgert.
"I was supposed to return from bereavement leave today," said Buz. "But now I know things can happen so quickly…." Pausing for a minute to collect his thoughts, Buz added, "I'm not going to die working. That's why I'm not going back. There is something more important now that I need to be doing and that's spending time with my kids and grandkids."
Son Joey is an electrical inspector for Anne Arundel County. Michael is a Defense Department employee, and Henry Jr., is a maintenance manager for Southwest Airlines in Texas.
Buz plans to keep his grandchildren - the youngest of whom he boasts is "a real firecracker" - very, very busy.
A native of Early Heights, Md., Buz joined Penske in 1966 and in 1968 was drafted into the Army where he served three years. He was stationed in Thailand and as an Army engineer helped build the B-52 airbase there. He has since been regularly recognized for his superior mechanical abilities.
Buz joined Teamsters Local 355 in 1993 when his shop organized themselves under the direction of Denis Taylor, who was at that time a Local 355 business agent. "Denis was impressive. Sometimes guys just don't know what to do, or what they should do, and there was a lot of hesitation. But this one day Denis came in and gave us all a talk. A powerful one. It made sense. And it made all the difference."
We wish you the very happiest - and busiest - retirement, Buz!
UPS Members Offer Contract Proposal Recommendations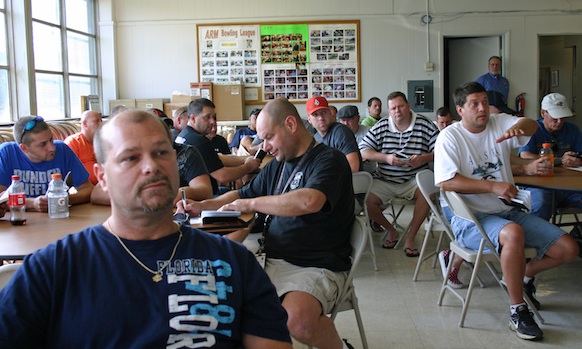 August 8, 2012
More than 60 UPS members met with President Denis Taylor and Business Agent Eric Wood Sunday, August 5, to review the current "National Master United Parcel Service Agreement and Atlantic Area Supplemental Agreement," and discuss proposal ideas for the next round of bargaining.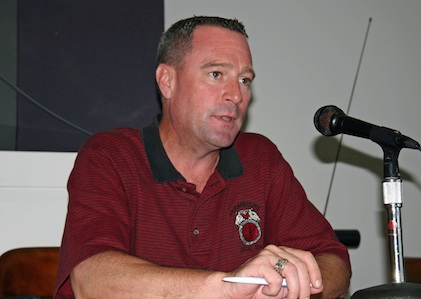 The current agreement expires July 13, 2013, but the bargaining process begins September 27, 2012 when the negotiating committees meet with the company to exchange proposals.
The bargaining unit was well represented; someone from every operation was in attendance. Stewards and rank-and-file members offered their proposals as Wood moved them through every article of the contract.
"It was an excellent turnout, proof that many of our members want the opportunity to be part of the process," said Wood. "People took the issues seriously. We now have proposals of substance that will be brought forward to the National and Atlantic Area negotiating committees."
Members were reminded of the importance of enforcing the contract every single day. "This is the best, biggest contract in the IBT - and in the industry," said Taylor. "Enforce what you have. Make it work for you."
The best contract in the world is only as good as the paper it's printed on if it is not strictly enforced.
More photos here.
Teamsters Mobilizing for August 11 Rally in Philly
Join your Teamster brothers and sisters in Philadelphia on Saturday, August 11 for the first-ever Workers Stand for America rally. Union and non-union workers from across the nation will converge on Philadelphia for an all-day event in the heart of the city that will refocus attention on the needs of America's middle-class, and all working families. During the rally workers will sign a Second Bill of Rights, the centerpiece of the rally. The document demands full employment and a living wage, full participation in the political process, a voice at work, a quality education for all, and a secure and healthy future. Click here and here for more info. Sign the Bill here.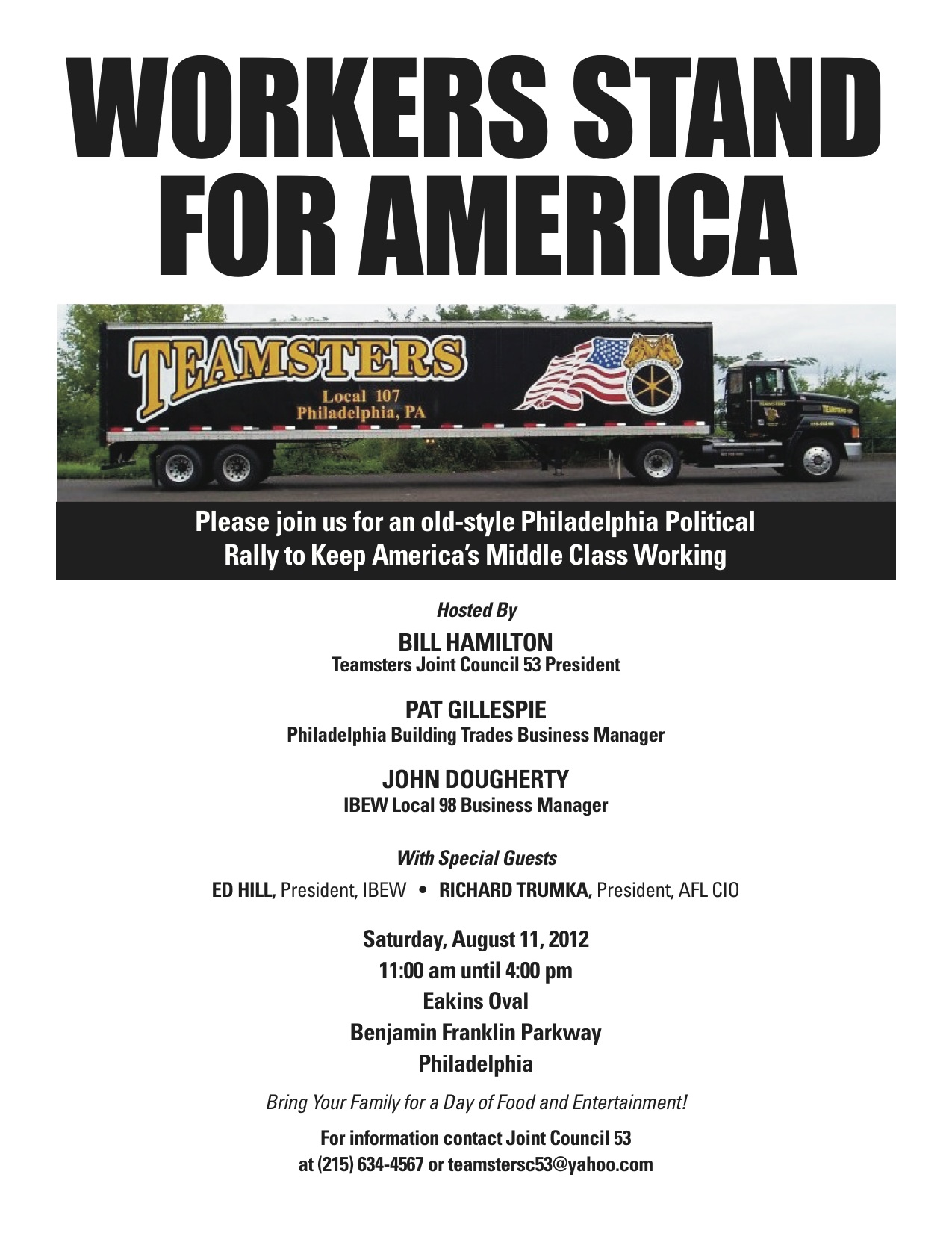 Contract Vote Scheduled for Sysco Food Service Members *

June 21, 2012 | A vote is set for Sunday, June 24, 2012 at 10 a.m. at the Baltimore union hall. Please be present and on time. *6/25 UPDATE: Members approved a new contract retroactive to March 1, 2012 that provides wage increases in each year of the three-year term, maintenance of health insurance contributions, an increase in the employer's contribution to pension, two additional sick days, and bereavement leave for stepmother and stepfather.
Allied Systems Files for Bankruptcy Protection

June 12, 2012 | The Teamsters Union will continue to closely monitor Allied's financial restructuring efforts after the company announced June 10 a new Chapter 11 bankruptcy filing to carry out a financial restructuring at reducing its debt. "We will have a team of experts…to advise the union and keep our members informed through the process," said Roy Gross, Director of the Teamsters Car Haul Division. "Our message to our members remains the same: keep working as usual." The company's move comes after two NY hedge funds tried to take control of Allied by filing involuntary Chapter 11 proceedings against it last month. Read the full IBT statement here. Allied says its terminals and locations will continue to operate as usual, and employees will continue to be paid without interruption: Truckinginfo.com
Attention Members re Maryland Live! Casino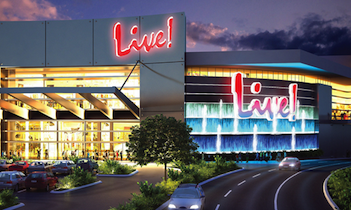 June 7, 2012 | Local 355 is part of a coalition of unions currently assisiting employees who want to be organized at the just-opened casino at Anne Arundel Mills. If you have a family member or friend working at Maryland Live!, please ask them to contact 355 Business Agent Mark Garey at 410-566-5700, or email him at mgarey@teamsters355.com.
2012 Scholarship Winners
Congratulations to our 2012 Scholarship Winners
May 20, 2012 | Local 355's 2012 scholarship winners are Brianna Ridgely, daughter of Michael Ridgely (UPS/Baltimore), and Robert T. White, son of Tracey Morsel (UPS/Baltimore). Alternates are Walker Harrington, son of James Walter (UPS/Eastern Shore), and Bradley Holihan, son of John Holihan, Jr. (UPS/Baltimore). The students' names were selected in a drawing of submitted applications at yesterday's monthly membership meeting. Learn more about the scholarship here. Watch for a profile of Brianna and Robert in the fall issue of our newsletter.
Calling Out Walmart
Walmart: End the Double Standard
Walmart's abuses are getting ridiculous: Angela WIlliams was fired last week for talking "too much" manager-approved sick leave to care for herself and her ailing grandmother. Another coworker was also fired, while a third was given his "final warning." Not coincidently, all three had been speaking publicly about the abuses they faced on a daily basis
No, Angela has been evicted, forcing her daughter to scrape by with her grandmother while Angela looks for a new job and a new place to live.
Meanwhile, Mike Duke and Rob Walton have their jobs despite reports of their involvement in a reported bribery scandal and a high-level executive cover-up of the incident!
It's time to put an end to Walmart's double standards.
You can help Angela and workers like her. Visit a Walmart store near you on Friday, June 1st to collect petition signatures to demand Walmart end its abuses of workers and our laws. Click here for instructions.
Together, we can help Angela gather more than 15,000 signatures demanding the resignations of Mike Duke and Rob Walton as well as getting her and her coworkers reinstated!
Salisbury Meeting Hall Dedicated to Reynolds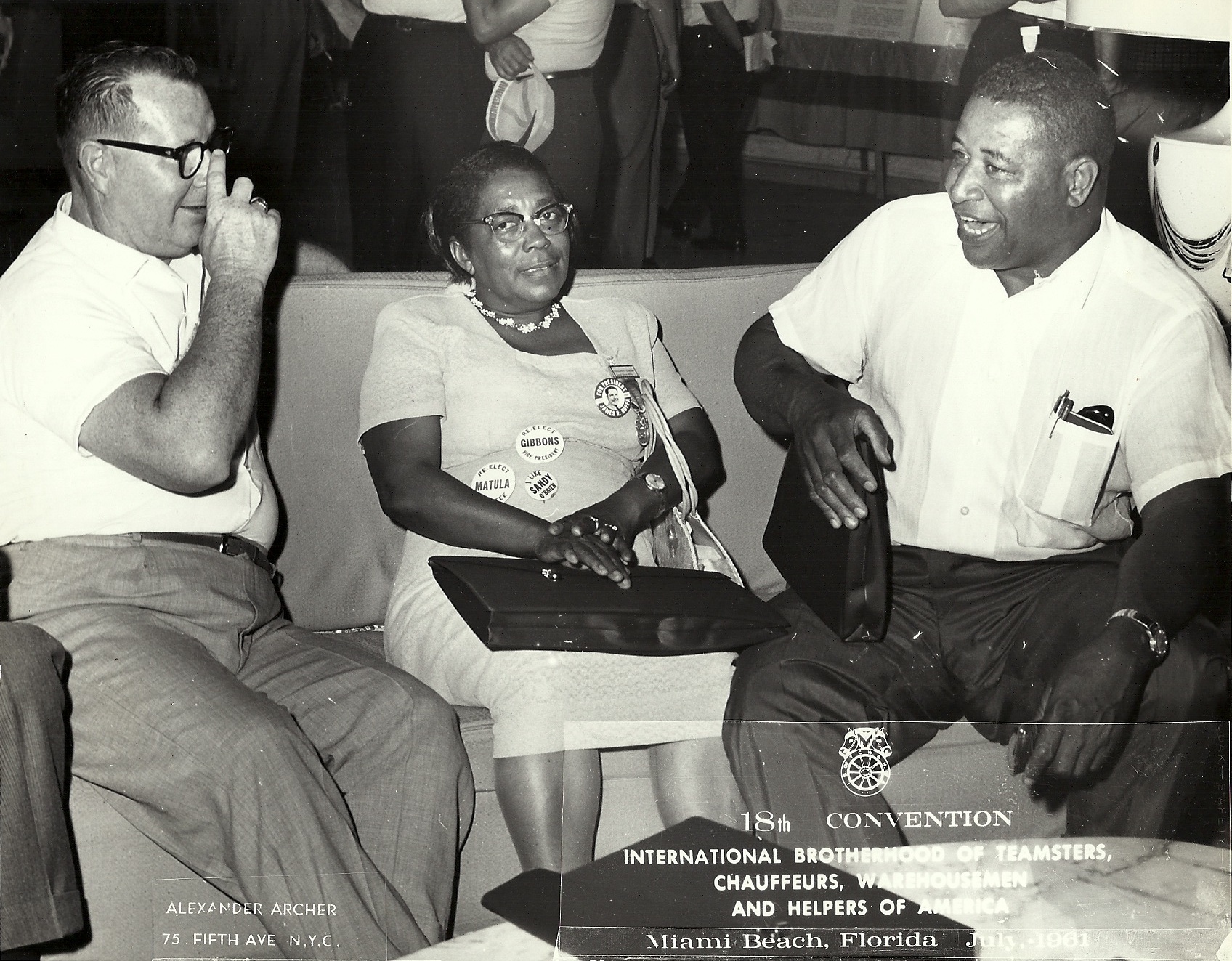 Reynolds, left, was active on the regional and national Teamsters stage and a staunch supporter of Washington, D.C., Teamster Local 730 president John Cleveland, right, and Cleveland's candidacy for International Vice President as the first African-American to sit on the Teamsters International Executive Board.
May 10, 2012 | Legendary local Teamster leader Paul Baynard Reynolds, who passed away earlier this year at the advanced age of 102, was remembered in a dedication ceremony immediately following the May 6, 2012 monthly membership meeting at Local 355's Salisbury, Md. office. With nearly a dozen Reynolds family members from near and far in attendance, a plaque honoring his works and his memory was unveiled and the Salisbury Hall named The Paul Reynolds Meeting Hall.
Reynolds was founder and former president of Teamsters Local 876, a local that merged with Local Union 355 in 1984. He was a powerful inspiration to past and current Teamsters - a fearless labor leader during the early, and at times violent, years of struggle for union recognition by thousands of abused and underpaid men and women working in the Delmarva region.
Mr. Reynolds' organizing successes not only increased the ranks of his own local to more than 5,000 members by the 1950s, they also included the unionization of more than 10,000 poultry workers in Maryland and Delaware. He founded the Maryland Chapter of Teamsters (now Teamster Joint Council 62) and served as its president until his retirement in 1972.
Mr. Reynolds' commitment and contributions to the Teamster organization earned him the admiration and respect of members and leaders alike. In a written statement to the family, Secretary-Treasurer Dave White, who was out of town on union business with President Denis Taylor and Recording Secretary Bill Alexander, said: "In the short time I had to know Mr. Reynolds, I learned a lot just watching and listening as he worked. He was eager to teach anyone who would listen. But I also know that he had a love for the labor movement, and if he thought you did not share that feeling, you were not going to get anything from him…Having the Salisbury Hall dedicated to you is one small way for us to honor your legacy and say thank you for the lifetime of work you did for so many thousands of workers."
Vice President Erv Williams told the family in his closing remarks, "Mr. Reynolds' legacy will live on in the very building that represented fairness and justice to thousands of workers organized under his leadership. He will forever be remembered here."
Read more about Paul Reynolds' life and legacy in "A Profile in Leadership." More story and photos in the next issue of Local 355 Union News.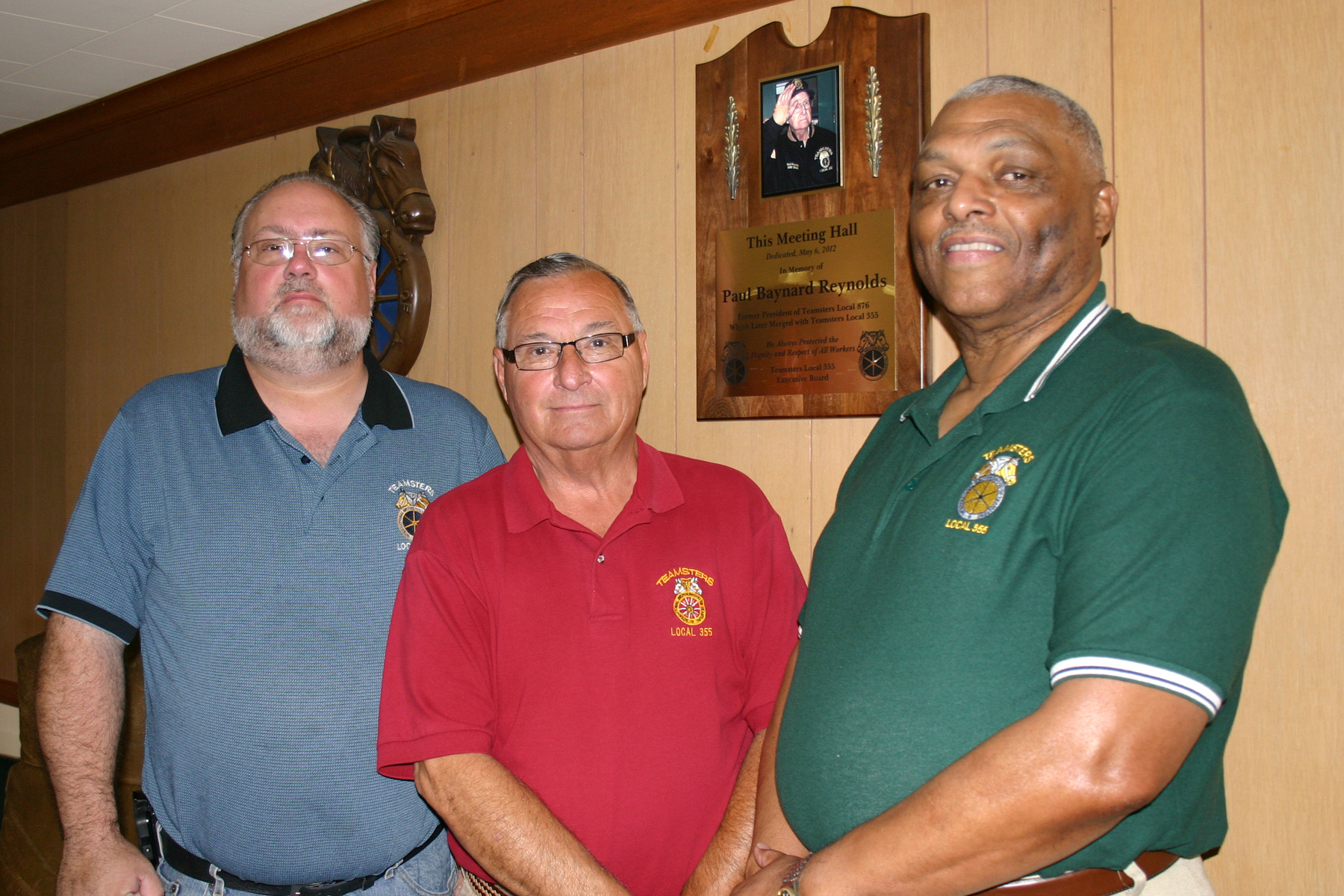 Bob Reynolds (center, with Local 355 Business Agent John Caparatta, left, and Vice President Erv Williams), a former Local 355 vice president prior to his retirement, and the only surviving son of Mr. Reynolds, traveled from his home in Georgia to join other family members for the dedication ceremony.
Anne Arundel County Contracts Ratified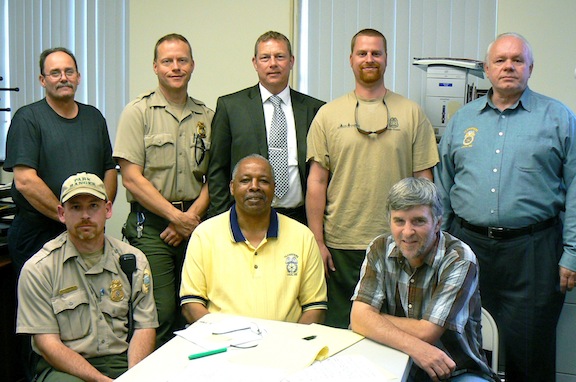 May 7, 2012 | After six months of difficult negotiations with Anne Arundel County representatives, tentative agreements were ratified by the park rangers, corrections program specialists (CPS), and deputy sheriffs. Although the contracts do not include wage increases, enhancements were made to benefits.
The park rangers unanimously approved a first contract Thursday, May 3, 2012; corrections programs specialists ratified their agreement Friday, May 4, 2012, and the deputy sheriffs okay'd their contract at a ratification meeting Sunday, May 6, 2012.
The CPS and deputy sheriff agreements will have no increases in employee contributions to health care costs and no furlough days. In addition, there will be no employee cost for life insurance coverage equal to two times their annual salary, up to $100,000.
Specific to the deputy sheriff CBA, the clothing and weapons allowances eliminated by the County in the last three contracts were returned, and retention bonuses also included. A pension percentage increase of 1.75% for both groups will be implemented, but delayed until February, 2013.
The park rangers agreement includes the Teamster grievance procedure; guarantees double time-and-a-half for worked holidays (rangers work an average of five holidays annually); requires no increase in employee health care contributions, and no furlough days. A major factor in the park rangers' decision to organize with the Teamsters was the on-going changes to work schedules and increases to job duties without their input. A mutual understanding between the County and the Union has been reached to address those issues.
Pictured: (front left to right) Nolley Fisher, Business Agent Charles Marshall, Dave Devault. (Back left to right) Business Agent Jim Deene, Adam Smith, Matthew George, Steve Streiff, and Business Agent Dan Taylor.
2012 Tournament Draws 71 Golfers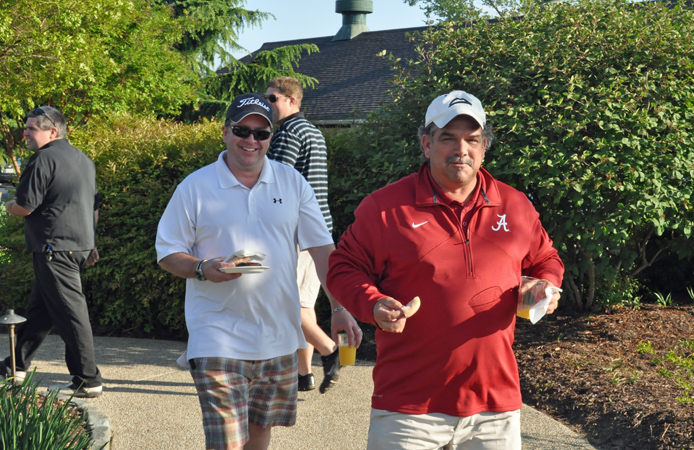 Photo by Ed Mulford (USFoods). View more of his photos in our Photo Gallery.
Local 355's annual golf outing at Queenstown Harbor Lakes Course in Queenstown, Md. had the largest participation since the late 1970s.
Sunny skies and warm weather graced the 8:30 a.m. shotgun start (foursomes start at every hole) and continued through the day as foursomes completed the 18-hole course, after which participants enjoyed lunch and liquid refreshments.
Congratulations to the winners!
First Place:
Joseph Bartram (Cassens)

Chris Ulsiton (Cassens)

Melvin Phillips (Cassens)

Rodney Garrett (Nustar)
Second Place:
Carlton Plummer (Piedmont)

David Daniels (Piedmont)

David Moore (Piedmont)

Jack Holston (Piedmont)
Third Place:
Ryan Gryzbowski (UPS/Hunt Valley)

Craig Wilkerson (UPS/Hunt Valley)

Bob Williams (UPS/Hunt Valley)

Tim Wojtek (UPS/Hunt Valley)
Fourth Place:
Danny Ward (UPS/Feeders)

Richard Lowman (UPS/Feeders)

Robert Weckesser (UPS/Freight)

Dan Williams (APA/Retired)
Closest to the Pin - Hole #8:
Longest Drive - Hole #13:
Vic Gray (Penske/Retired)
Union Approves YRC's Change of Operations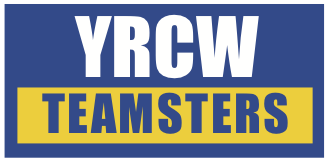 Mar. 22, 2012 | The International Brotherhood of Teamsters approved YRC Worldwide Inc.'s plan to move its national transportation arm out of the next-day delivery business. A spokeswoman for YRC confirmed that the changes will be implemented on April 8. YRC Fright, the Overland Park-based company's national arm, wants to focus on long-range hauling as it sealed to regain market share lost in recent years as the parent company struggles with its finances. "The change of operations was approved, and it should help YRC tremendously," said Gordon Sweeton, assistant of the Teamsters National Freight Division. "It should help the company grow and lead to more jobs, which will be good for our members." Full story at here.
Local 355 in Negotiations with SYSCO

Mar. 13, 2012 | Members of the Local negotiating committee (L-R) Chris Whitcomb, Orlando Monroe, Gary Clark and Dan Heitzer discuss proposals before a February 28th session with company representatives. Also in the committee are Bill Rider, Chris Greene, Business Agents Jim Deene, Dan Taylor and President Denis Taylor. Talks continue.
US Food Talks Continue as Contract Expiration Looms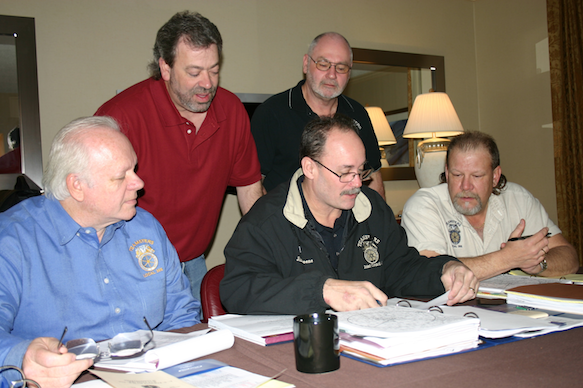 Mar. 9, 2012 | Committee members (L-R) Business Agent Dan Taylor, Joseph Schwabline, Sr., Business Agent Jim Deene, Lou Lough, and Ed Mulford met to discuss proposals and strategy before a March 7th bargaining session with USFoods. Bargaining began in early February. The contract expires March 15.
Stop the Presses! Leonard Lee Retires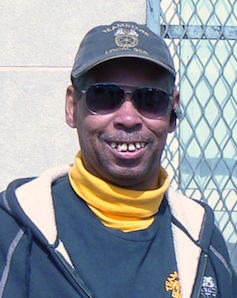 Mar. 6, 2012 | News that Baltimore Sun pressman Leonard Lee retired in February is big in of itself given that he worked at the Sun for 43 years and served as shop steward in recent years. But the reason he decided to retire one year earlier than he'd originally planned is what needs to be shared with his Teamster family at Local 355: When Lee learned several months ago that one of his coworkers would be laid off as part of the company's plan to reduce the staff, Lee decided to save his brother's job and leave now rather than later. Asked what he had planned for his early retirement, Lee said he looked forward to volunteering at his church. Lee's commitment and service to his coworkers was celebrated at our Baltimore membership meeting March 4.
Deputy Sheriffs Back at the Table with Anne Arundel County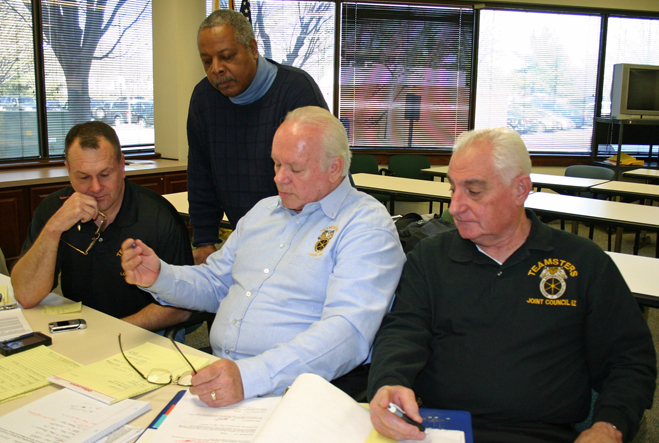 Feb. 27, 2012 | With their contract expiring at the end of June, Local 355 deputy sheriffs are meeting with Anne Arundel County to hammer out a new collective bargaining agreement. Among the Union's issues are pension and health insurance coverage and costs. Pictured minutes before talks began today for their sixth session since December are (L-R) steward Jimmy Walker, Business Agents Charles Marshall and Dan Taylor, and steward Dave Belisle.
Applications for the Local's 2012 Scholarship Now Available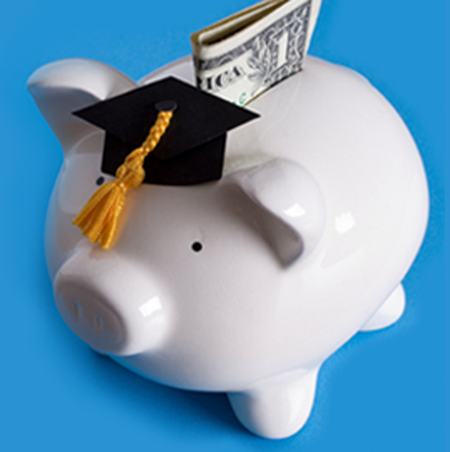 Feb. 20, 2012 | An award of $8,000 in financial assistance to 2 college-bound students will be offered at our monthly meeting in May in Baltimore. Selected in a random drawing, the annual awards are presented to sons and daughters of Teamsters Local 355 members for use in pursuing an undergraduate degree at an accredited college or university of the student's choice. Click here for more information and to download the application.
New Stewards at Veolia Transportation
Feb. 2, 2012 | In an election held Monday, Jan. 30, 2011, Will Carter and Darrin Mason were elected to represent Veolia Transportation drivers, replacing Vivian Smith and Reginald Ayers. Carter joined the company in 2000 and Mason in 2004. Kevin Wade, steward for the company's mechanics, was re-elected for another term.
Politicians Face Political Risk in Fighting Unions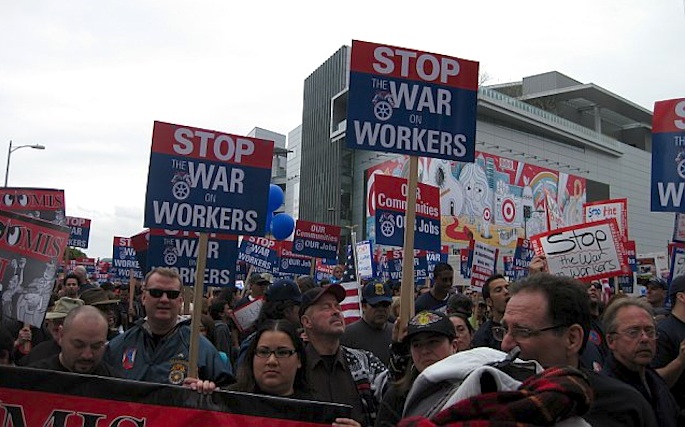 By JAMES HOFFA
The Detroit News
February 8, 2012 | Already this year, state lawmakers have opened brutal new fronts in the war on workers. And America's workers are fighting back as never before.
In Michigan, anti-worker bills aimed at weakening labor unions are gaining traction in the House. HB 5025, for example, would require employees' annual written authorization to have their union dues deducted from their paychecks.
Working families in Indiana, Florida and Arizona are under especially fierce attack. State politicians loyal to their Wall Street paymasters are trying to lower workers' wages, benefits and safety. They're trying to turn taxpayer assets over to for-profit corporations, along with fat contracts and tax giveaways, at the expense of government employees.
Gov. Mitch Daniels supported a law to make Indiana a right-to-work-for-less state, breaking a campaign promise that earned him labor's endorsement. Last week, he signed the law in secret and held no press conference to announce the deed. That's not what I'd call bold leadership.
Hoosiers will see falling wages, increased poverty and more dangerous workplaces — for now. They will also be engaged in one hell of a fight. Even during protests against the right-to-work-for-less bill, working people were registering voters inside the Capitol. The ballot box is where they'll punish lawmakers who voted against them.
It's happened before. Indiana lawmakers who voted for a right-to-work law in 1957 faced a stiff backlash. Many lost re-election. Eight years later, it was repealed. More recently, Ohio voters overwhelmingly fought back another blatant attack on working families.
In Florida, Gov. Rick Scott and some lawmakers want to turn many of the state's correctional facilities over to a private corporation with a poor track record of safety and savings. The proposal would save less than one-half of 1 percent of Florida's corrections budget — and that's if those savings actually materialized, which is doubtful. For that tiny savings, prison privatization would put 4,000 correctional officers out of work. Nearly all of them live in poor, rural counties where good jobs just don't exist.
Florida's working families are bringing the fight to Tallahassee. Correctional officers come almost daily to the Capitol to lobby against the bill, joined by hundreds of other workers, including nurses and teachers who fear they'll be next.
Radical politicians in Arizona are trying to ban collective bargaining. What's being proposed is worse than what Gov. Scott Walker rammed through in Wisconsin last year.
Lawmakers would make collective bargaining illegal for government bodies and employee groups. Automatic payroll deductions for union dues would be banned.
Gov. Jan Brewer also wants to strip civil-service protections from state employees. Arizona could soon become the next Wisconsin. The state's working families are making plans for protests, Capitol sit-ins and possibly a recall of Brewer.
Michigan politicians contemplating similar anti-union legislation should proceed at their own electoral peril. Michigan's working families are mobilizing right now and will certainly remember in November.
We may not win battles in every state this fall. It may take years, but in the end, I'm confident we'll win the war on workers.
Arbitrator to US Foods: Follow 5-Step Disciplinary Process
Feb. 1, 2012 | US Foods in Severn, Maryland, must handle Department of Transportation (DOT) violations through the same 5-step process it handles other disciplinary actions, according to a decision by arbitrator M. David Vaughn of the Federal Mediation and Conciliation Service.
The ruling, made by the arbitrator January 24, found US Foods violated the collective bargaining agreement and the National Labor Relations Act (NLRA) by unilaterally imposing in November 2010 an Hours of Service (HOS) policy for Local 355's 112 drivers without properly negotiating the terms with the Union.
The Employer notified the Union of its intention to roll out the new policy in August 2010. Because the policy involved a change in practice of the disciplinary steps, i.e., a reduction to 3 from the standard 5-step process, the Union sought to bargain over the changes and the likely impact on the drivers. Although a number of phone discussions were conducted with management about the policy, Union requests for additional information and answers to specific questions went unaddressed. The Union filed a formal grievance in November 2010 when the Company implemented its policy.
The Employer notified the Local in January 2011 denying the Union's grievance. Local 355 filed an unfair labor practice (ULP) charge with the regional National Labor Relations Board (NLRB), and in July 2011, the board deferred the charge to arbitration.The arbitration was heard in late fall 2011 during 2 days of testimony.
At a grievance meeting on a separate issue early in the dispute, the Severn-based management claimed implementation of their new HOS Policy was US Foods' response to a DOT audit at another location, and that because it "came from Corporate" and was being rolled out corporate-wide, their "hands were tied."
In his decision, the arbitrator wrote: "'Corporate policy' is not a defense to failure to bargain."
"We're very pleased with this outcome," said Ed Mulford, chief shop steward who lead the case through the grievance/arbitration process on behalf of the drivers. "While we encourage our members to remain in compliance with all DOT policies, we will continue to press for fairness in the application of discipline under the Company's policy."
Business agent Jim Deene notes that copies of the arbitrator's decision have been delivered to shop stewards, and Wednesday morning a copy of the last page (describing the arbitrator's award) will be posted on all the Union's bulletin boards. Additionally, you may download the arbitrator's entire 38-page Opinion and Award (pdf).
Amport Members Share Award for Excellence
Hard work and sacrifice is recognized, appreciated
Jan. 24, 2012 | The rail crew at APS East Coast, Inc. (Amports) received recognition January 20, 2011 from rail transport company CSX for their hard work and commitment that assured the success of on-time deliveries of Chrysler, GM and Honda vehicles.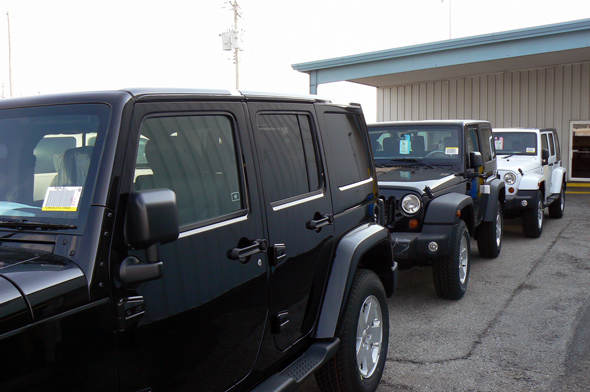 "A big hats off to the Teamsters," wrote George Molyneaux, General Manager of APS East Terminals in a congratulatory email to Business Agent Jim Deene. "The rail crew has done a terrific job. Great work ethic and attitude, through and weather or time of day. Their commitment is appreciated."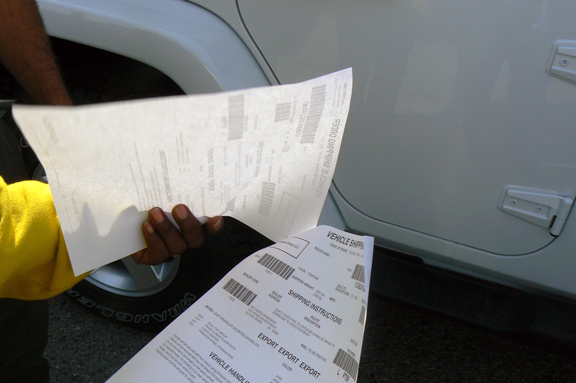 More than 185 Teamsters off-load newly manufactured vehicles from trains operated by CSX that arrive from Detroit, MI and other vehicle producing cities. Workers then process and sort the vehicles for export to other countries.
Amports employees at the Blount Island, FL facility were also recognized.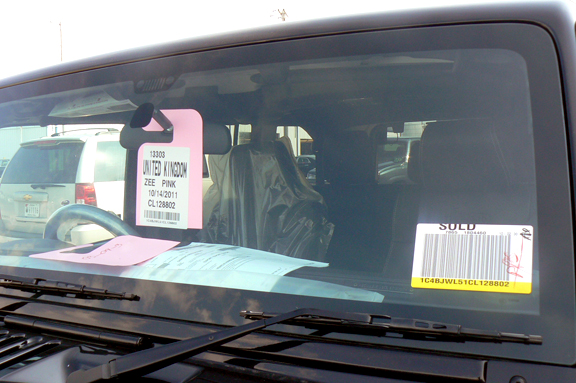 "Our members worked hard all though the holiday season, and even sacrificing Thanksgiving Day with their families – to achieve the company's goals," said Jim Deene. "Amazingly, they moved more than 15,000 vehicles in December alone. It's great that they are being recognized for their dedication and hard work."
New Baltimore Film Production Means More 355 Jobs
Maryland has a new go-to role on television — Washington
'House of Cards' is the latest in a string of political dramas filmed in the stat
By David Zurawik and Chris Kaltenbach
January 5, 2012
Cross-posted from The Baltimore Sun
For almost two decades, Baltimore was mainly seen by the TV industry as a place to make shows about cops and crime. But now, the city is looking more like the nation's capital to some of Hollywood's top producers.
On Thursday, Gov. Martin O'Malley announced that "House of Cards" — a Washington-set TV series starring Kevin Spacey — will be filmed in Baltimore this spring, making it the third political drama to be produced in Maryland in less than a year.
"This current run of going three for three with Washington political stuff is really something," said Jack Gerbes, director of the Maryland Film Office. "And we're doing it in TV productions featuring Oscar and Golden Globe and Emmy award-winning producers, writers and directors."
Produced by director David Fincher, "Cards" will be the first original series from Netflix, one of Hollywood's distribution giants with 20 million subscribers. The remake of the acclaimed British series joins HBO's "VEEP" series, with Julia Louis-Dreyfus, and "Game Change" a made-for-TV movie starring Julianne Moore and Ed Harris. The two HBO productions are set to premiere this spring.
Since the start of production on NBC's "Homicide: Life on the Streets" in 1992 through the end of filming on HBO's "The Wire" in 2007, Baltimore has been home to TV series that came to typify what's been characterized as "gritty urban drama." And there certainly is no shortage of locations and neighborhoods that lend themselves to that depiction of the city.
But the current trio of TV productions have Baltimore serving as stand-in for Washington —with greater economic benefits for Maryland workers and small businesses.
And while the city has played that role before in several one-shot feature films such as "Enemy of the State," doing it in a continuing TV series is another matter altogether — providing employment and infusions of Hollywood money to the local economy for months and years, instead of weeks.
Producers and Hollywood executives say the attributes that make Baltimore most attractive as a stand-in for Washington are the architectural similarities, easier logistics and lower costs. And by basing your operation in Maryland, you can have Washington itself and its iconic sights, they say, in controlled one- and two-day bites without having to pay Washington prices.
"What happens is you end up shooting some establishing shots of Washington," said John Melfi, the executive producer of the Netflix series. "But you also need the way that Baltimore ties in so well with Washington in pieces, in terms of its architecture and its looks. The textures of Baltimore and Maryland will give us a lot of credibility."
But it took more than proximity, architectural synergy and lower costs, according to those involved in the negotiations. It took political muscle, hustle and money — things usually associated more closely with Washington than Baltimore.
Maryland's Film Office has been targeting Washington productions for years, Gerbes said. "Any time we would get wind of a D.C.-based show, we're right on the phone with them, saying, 'Have you ever considered Maryland?'" Gerbes said.
Maryland went head-to-head with Washington on the Netflix project, according to Leslie Green, a spokeswoman for the D.C. Office of Motion Picture and Television Development. Green confirmed that her office had been in negotiations with the producers to bring "House of Cards" to Washington.
But their effort failed because they could not offer the kind of incentives Maryland could, she said Thursday. The filmmakers will be shooting only seven to nine days in Washington.
"We did not get as many days as we had hoped for because of that incentive program. It's basically a money game," she said, explaining that her office has "not been able to get re-funded" this year at the $4 million level it previously enjoyed.
Incentives from the state played an important role in bringing all three productions to Maryland, according to Debbie Donaldson Dorsey, director of the Baltimore Film Office and secretary of the Maryland Film Industry Coalition.
"The film industry is returning to Baltimore thanks to the Maryland Film Production Employment Act," Dorsey said.
The film production act, which was passed in the last legislative session and signed into law by O'Malley in May, provides tax credits of 25 percent for film and 27 percent for TV series on certain in-state expenditures by production companies. Hollywood trade publications have pegged "House of Cards" as a $100 million production.
TV and film production in Maryland disappeared with the end of HBO's "The Wire," and many of the skilled production workers in the area had to go on location to other states to find work in recent years — until the arrival of "VEEP" and "Game Change," which not only put local actors and production workers back to work, but provided contracts for small area businesses that provided everything from scenery to set decorations and food to the visiting filmmakers.
"The production is estimated to have a $75 million economic impact and is projected to create over 2,000 jobs for local crew, actors and extras and support hundreds of Maryland businesses," O'Malley said Thursday.
One of those workers is Michael Davis, a member of Local 487 of the International Alliance of Theatrical Stage Employees. The last two years, he's had to go to Michigan and Ohio for TV work. A married father of two teen daughters, Davis spent 20 weeks in Michigan working on Wes Craven's "Scream 4."
But this past year, he has worked as a construction coordinator for "VEEP." Members of the "VEEP" crew are likely to work on "House of Cards," which has already started preproduction, according to Melfi.
"What this means to guys like me is that we don't have to leave Maryland, don't have to leave home and be away from our families to find work," Davis said. "And that's great.
"It also means we'll be spending our money here instead of in another state," he added. "We spend a lot of money [making scenery] on fuel, lumber and equipment. And instead of spending all that money in Michigan or Ohio, now it's being spent here in Baltimore and Maryland."
Court of Special Appeals Rules for Union
Small Union, Big Power Struggle
By Eric Hartley
The Capital
Published 01/01/12
They had a deal.
In the summer of 2009, county sheriff's deputies would get a 3 percent raise, plus another 4 percent raise for everyone with satisfactory performance ratings.
But in the heart of a recession, County Executive John R. Leopold decided such generous contracts, signed a couple of years earlier, didn't work any more.
The county asked unions to reopen negotiations and take smaller raises. Some agreed. The deputies, part of Teamsters Local 355, did not.
"Either take our deal, which basically cuts you by 4 percent, or we're going to cut you by 7 percent," said Denis Taylor, the local Teamsters president. "So it was basically strong-arm tactics by Leopold and his administration. We were not going to have any of it."
The county did it anyway.
Despite the contract, the County Council unanimously passed Leopold's emergency bill keeping the deputies' salaries the same as the year before. The first paycheck after July 1, 2009, arrived, and there were no raises.
The union immediately filed a grievance, then filed for arbitration when the county rejected the grievance. The county refused to participate, despite binding arbitration also being part of the contract. So the union sued.
A judge sided with the union, ordering arbitration in 2010. The county appealed, and last week, a state appeals court ruled for the union again.
This was never really about money. The union's 58 members are a fraction of the hundreds in the police officers' and firefighters' unions. The year's worth of pay increases at issue would have cost only about $75,000, less than the union has spent on legal fees, Taylor said.
For both sides, it was about principle and what they saw as fairness.
The county thought all employees should have to share the pain in tough times.
"We treated everybody the same way," County Attorney Jonathan Hodgson said.
As a moral argument, that might work. As a legal one, not so much.
The union saw fairness a different way. Deputies understood they'd have to make concessions in their next contract. But a deal is a deal.
"The county was going through rough times," said Deputy Dave Belisle, the chief shop steward for the union. "When our contract expired, it'd have been our turn in the barrel to take a hit."
But for the county to unilaterally change the deal? Taylor said he'd never seen anything like it in more than 20 years with the union local, which represents 6,000 workers in 90 organizations.
"If this was a private employer and they had acted similarly ... the labor board would have been all over them," Taylor said.
The county was just ahead of the curve. While this lawsuit has proceeded, the role and very existence of public-sector unions have come under attack.
New governors in New Jersey, Ohio, Wisconsin and other states have taken attacking unions as a sort of populist mission, as if teachers and police officers are getting rich at the expense of struggling taxpayers.
It's become mainstream to wonder whether government employees should have the right to unionize at all.
Belisle called the county's breaking its word "a form of union-busting," a way to show who's in charge.
"I don't get it," he said. "All of a sudden county employees became the bad guy."
The county has fought to roll back union rights in subtler ways, resisting an effort by park rangers to join the Teamsters and suggesting they join a different union. (Perhaps because the Teamsters don't play ball.) The rangers won and joined the Teamsters.
Several unions are suing the county over a new law that takes away the right to binding arbitration. A judge sided with the county, but the ruling's being appealed.
In the deputies' case, Taylor said he expects the county to keep resisting even if the arbitrator rules for the union. Hodgson said the attorney handling the case was out of the office and he was unsure how the county will proceed.
Maybe you think the deputies should have been willing to compromise. But a contract has to mean something.
During arguments in Circuit Court, Assistant County Attorney William Dickerson said such salary agreements only apply after the money has been put in the budget. In other words, a union can have a contract, but the county gets the final say.
"If that were the case," Judge Philip Caroom asked, "wouldn't it make that provision in the collective bargaining agreement meaningless?"
Yes, it would.
The county also argued its broken promise isn't subject to arbitration - and that arbitration would be futile anyway - because no one can order the executive and County Council how to spend money.
Even if an arbitrator ruled for the union, the case would be right back in court, Dickerson said.
A Court of Special Appeals panel rejected that notion, saying an arbitrator can award damages for breach of contract. If it couldn't, there would be no point to binding arbitration.
With a level of frankness unusual in court rulings, the unanimous judges said the county's argument "has no merit."
DOT Announces New Final Hours-of-Service Rule
Dec. 28, 2011 | The new rule announced last week by the Dept. of Transportation's Federal Motor Carrier Safety Administration (FMCSA) revises the hours-of-service (HOS) safety requirements for commercial truck drivers.
The new HOS final rule reduces by 12 hours (from 82 to 70) the maximum number of hours a truck driver can work within a week.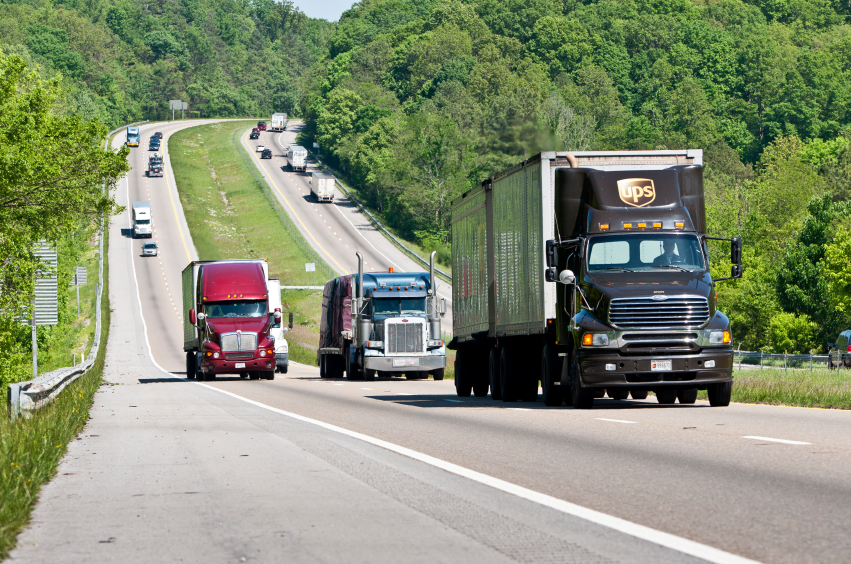 In a press release issued immediately following the DOT announcement, General President Hoffa said: "We said all along that an hours of service rule has to protect highway safety and our truck drivers' health. We are reviewing the new rule, and in the coming wells we will meet and discuss it with our allies and, if necessary, determine our next course of action."
The rule requires drivers take a break of at least 30 minutes after driving 8 hours, and can take the 30-minute break whenever they need rest during the 8-hour period. The rest requirement is part of the rule's 34-hour restart, a provision that allows drivers to use the restart provision only once during the 7-day period. The final rule retains the current 11 hour-daily driving limit.
FMCSA officials said tat commercial truck drivers and companies must comply with the HOS final rule by July 1, 2013.
View the rule provisions and compliance information at the FMCSA's website here.
Incumbent Officers Re-Elected for 2012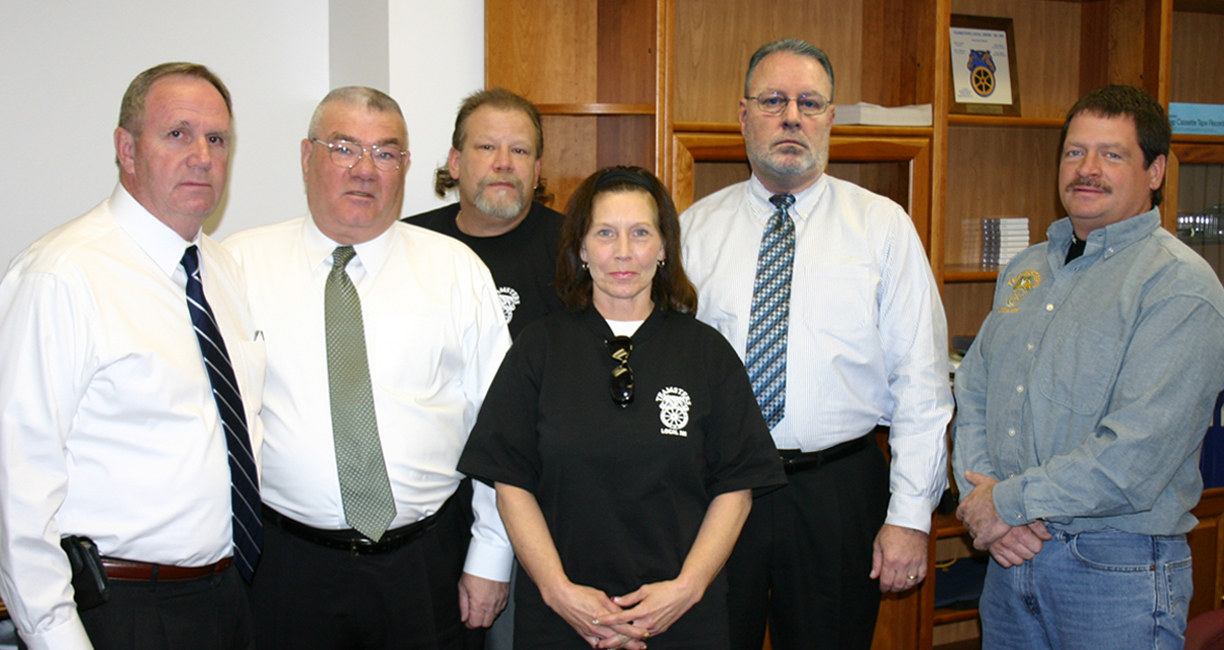 (L-R) Re-elected to serve on Local 355's Executive Board for the term 2012-2015 are Secretary-Treasurer Dave White; Recording Secretary Bill Alexander; Trustee Ed Mulford; Trustee Janet Genovese; President Denis Taylor; Trustee Tim Marvel. Pictured below is Vice President Erv Williams.
Nov. 7, 2011 | In a solid re-affirmation in the current leadership team, all Local 355 incumbent officers were awarded another 3-year term by members attending Sunday's officer nomination meetings in Baltimore and Salisbury.
When nominations closed, the officers were unopposed and therefore in accordance with Teamster election rules, they were unanimously re-elected. Sean Cedenio, Joint Council 62 Recording Secretary and Principle Officer of Teamsters Local 570 (Baltimore) conducted the nominations in Baltimore. Ken Kelm, Joint Council 62 Secretary-Treasurer and Principle Officer of Teamsters Local 311 (Baltimore) conducted the nomination meeting at Local 355's Salisbury office.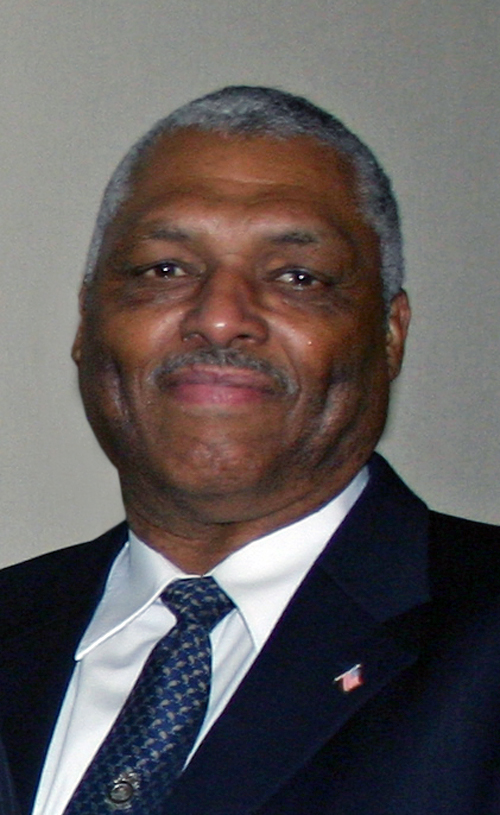 "I want to extend my thanks to the members for their continued support of this Executive Board," said President Denis Taylor, who will enter his seventh term as Local 355's principle officer. "We'll continue to strive to make our shops a better place for our members in this tough labor environment."
"We look to continue to improve this Local Union for its membership. We thank them for their unwaivering support," said Vice President Erv Williams.
"We've got a good team in place - a team that really knows what it's doing," said Trustee Tim Marvel. "As a result of Denis' and Dave's leadership, we've got the strongest local in the country."
"Having this election uncontested shows the unity in our local and hopefully, we'll continue to build on this in future years," said Sargeant-at-Arms John Moylan, who also echoed some members' comments that an uncontested election will save the Local "a ton of money."
Shutting It All Down
November 2, 2011
BY ERIK LOOMIS
Working In These Times.com
Incredibly threatening to those in power, they rarely succeed. But they do build solidarity. As protesters gather Wednesday for the general strike called by Occupy Oakland, it's worth looking at the history of this tactic. General strikes are rare in American social movements, because they are difficult to coordinate. On the other hand, few actions offer a more direct challenge to those in power. What can Occupy Oakland learn from their activist ancestors to helpits participants draw strength? How have general strikes affected long-term labor and social movements?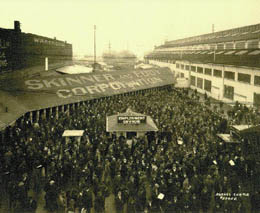 The two major general strikes in American history are the Seattle General Strike of 1919 and the Oakland General Strike of 1946. In 1919, the workers of Seattle engaged in a three-day mass action calling all city workers onto the streets. This was the first citywide collective action in American history known as a general strike.
The Pacific Northwest in the early 20th century was a center of radicalism. Horrible working conditions in the timber industry, already radicalized immigrants from Scandinavia, activist dockworkers and the popularity of the Industrial Workers of the World among the region's thousands of transient workers made Seattle a fertile center of radical thought that even influenced labor organizations affiliated with the traditionally moderate American Federation of Labor (AFL).
The strike began with shipyard workers but was quickly joined by workers around the city. By February 6, over 60,000 workers were on the streets where they remained for four days. In an atmosphere fearful of radicalism after the Bolshevik Revolution, conservatives around the nation declared the strike the first step toward revolution.
Seattle mayor Ole Hanson took the lead in crushing the strike ordering the National Guard to take control of the city's light company. Fearing long-term fallout, national AFL leaders denounced the strike and it quickly fell apart. After its defeat, the labor movement in Seattle fell apart, a victim of both internal fighting and the vicious Red Scare that followed World War I.
The Oakland general strike came out of the massive changes to the Bay Area during World War II. Hundreds of thousands of Americans moved to San Francisco, Oakland, Richmond, and other cities to work in wartime industries. The Congress of Industrial Organizations (CIO) had achieved major successes in organizing American workers during the late 1930s. Often using communist organizers, the CIO built on the militancy of American labor to become a powerful force in opposition to both the more traditional AFL and conservative business interests.
During World War II, the AFL and CIO turned their energies toward defeating the fascist menace of Germany and Japan. The administration of Franklin Roosevelt, wanting to avoid strikes that would undermine wartime production, brought both the AFL and CIO into wartime planning. But while consumer prices rose during the war, wages did not. The motivated and radicalized workers wanted to strike, but their leaders and the federal government urged them to work through it.
When the war ended however, the country was overtaken by a wave of strikes. In 1946, 4.5 million workers went on strike throughout the United States, the greatest number of strikers in one year in American history. Wages did not keep up with rapidly rising prices and higher wages were the core demand of almost all the strikers.
The situation in Oakland was especially volatile because of the city's Retail Merchants Association, a powerful and deeply anti-union business organization. These department stores owners employed mostly women, who they believed would accept low wages. The Department and Specialty Store Employees Union Local 1265 organized workers at these downtown stores. Early in 1946, they won victories at smaller stores and decided to take on the biggest retailers, Kahn's and Hastings. A month-long strike ensued in the late fall of 1946. Beginning mere blocks from Occupy Oakland's encampment, this turned into one of the biggest challenges to corporate America in the postwar years.
Although the CIO had the more radical agenda, it was actually the AFL who decided to call for a general strike on December 2, 1946 in support of the striking department store workers. AFL workers around Oakland walked off their jobs—bus drivers, teamsters, sailors, machinists, cannery workers, railroad porters, waiters, waitresses, cooks. For over two days, Oakland shut down. Over 100,000 workers participated in the strike.
The strikers controlled Oakland. All businesses except for pharmacies and food markets shut down. Bars could stay open but could only serve beer and had to put their juke boxes outside and allow for their free use. Couples literally danced in the streets. Recently returned war veterans created squadrons to prepare for battle. Union leadership took a back seat to rank and file actions.
Although it is often spun in Oakland legend that the general strike was a successful action, it really wasn't. A majority of workers wanted to continue striking and CIO unions considered joining in support, but the strike fell apart because of a single corrupt labor leader. Dave Beck, the head of the Teamsters and Jimmy Hoffa's mentor, forced a compromise when he pulled his powerful union off the lines and endorsed a moderate settlement that accomplished almost nothing and quite literally did not address the department store workers concerns at all. While the still agitated workers managed to elect several labor representatives to the city council, the entire apparatus of the city used the general strike to attack all labor. The police, the city government, and the Oakland Tribune combined to resist not only the unionization of the department stores, but all labor in Oakland.
While Oakland remained a strong union city after this, the strikes of 1946 around the nation and especially the Oakland General Strike led to the Taft-Hartley Act of 1947. Taft-Hartley was an open attack on the labor movement, limiting labor's ability to strike, banning sympathy strikes (which could make it legally difficult for today's unions to support Occupy Oakland's general strike), and allow individual states to pass so-called "right to work" laws, meaning that just because there is a union at your workplace doesn't mean you have to join it.
Soon after, the McCarthy era began and radical unionism of any kind became suspicious, with the CIO kicking the communist organizers and entire communist-led unions out of the federation, turning its back on its radical history.
If there is one lesson to take from these general strikes, it's that they are extremely threatening to those in power. If successful, they show that the 1% have lost the control they so ardently seek. They will react with ferocity against the organizers, laying bare structural and legal inequalities in this nation. Neither strike was successful, but we remember them as moments of incredible worker solidarity when it seemed massive changes were about to happen. They need to be seen as part of the larger struggles of working people to achieve basic rights, decent wages, and safe living conditions in this country.
The Occupy Wall Street movement is picking up this torch and providing a strong voice for those who have become disempowered in the unregulated capitalism of the early 21st century. Whether the new general strike succeeds or not is less important than the public stand it takes against the exploitation of working-class people. The general strike is not the end of the road but rather one step on the path to taking back our country. Finally, I want to encourage everyone involved in the Occupy movement, as well as anyone who identifies as progressive, to deeply read labor history and the history of social movements. Knowing about your ancestors is great, but the past offers a more direct lesson: understanding how various tactics and strategies have worked in the past, and how they can work in the present.