Local and National Union News
In appreciation, retirees club presents Local 355 with very large gift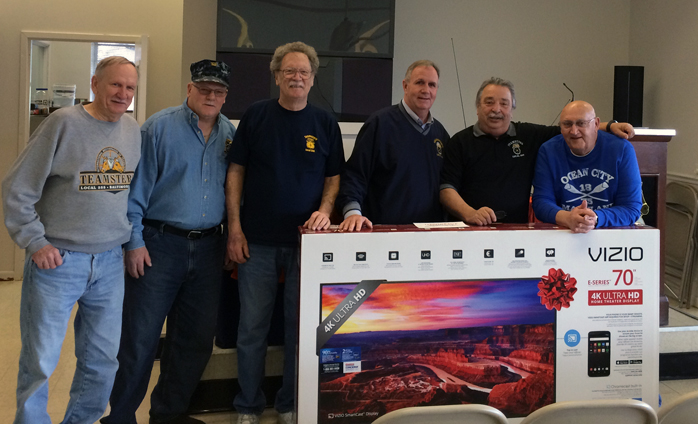 Jan. 20, 2017 | The Local 355 Association of Retired Members (A.R.M.) made a surprise presentation of a state-of-the-art television to the union during its monthly meeting Thursday at the Baltimore hall. The Vizio SmartCast E-Series 70" Class Ultra HD Home Theater Display will replace the rarely-used, dated TV currently in the members meeting hall. "Our Retiree Bowling League wanted to do something special to show our sincere appreciation for everything Local 355 does for us," said Bob Eney, president of the club. "It really is amazing," Secretary-Treasurer Dave White said about the generous gift. "These guys take nothing for granted here; they are always giving back. We've worked with them for years and they were like part of the family. That connection continues today." White said he looks forward to putting the high-tech TV to good use. "The IBT produces excellent training and organizing videos that we'll now be able to share with our members and stewards." Pictured, left to right: A.R.M. Trustee Ray Bularz (UPS); Mike Krainer, retired Local 355 trustee, (Sysco); A.R.M. Secretary Mike Brett (UPS); Dave White; A.R.M. President Bob Eney (UPS); A.R.M. Vice President Joe Riechert (Sysco).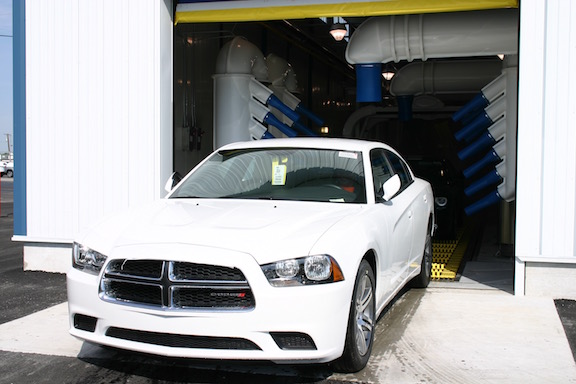 Notice to members: Amports East is hiring
Jan. 18, 2017 | Amports will hire up to fifteen new employees in the following classifications: shuttle drivers, railroad vehicle unloaders, and inspectors. Located in the Fairfield area of Baltimore, Amports East is one of the largest vehicle processing company (automobile import and export) in the United States. Applications are being accepted now. Download details here.
355 Update: New contract with Rezenberger/Hallcon; successor contract ok'd at Penn Fibre
Jan. 11, 2017 | Locals 355 and 453 reached a first tentative agreement with Rezenberger/Hallcon, covering 67 drivers who approved the TA in November. The company is a ground transportation service for CSX in Cumberland and Baltimore MD, and Washington, DC. Penn Fibre members overwhelmingly ratified in December a three-year contract that provides… Continued
Teamsters, carhaul employer group negotiations begin
Jan. 11, 2017 | Following the membership vote to not ratify a new National Agreement and Central/Southern Supplement in September 2016, the carhaul employers group asked the Teamsters National Automobile Transporters Industry Negotiating Committee (TNATINC) to return to the bargaining table. Contract negotiations began in Detroit yesterday… teamster.org
Local 355 students awarded James R. Hoffa Memorial Scholarships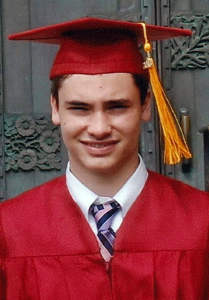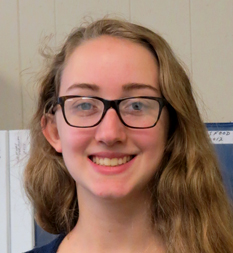 Jan. 10, 2017 | Ryan Power, left, the oldest son of George Power (UPS/Hunt Valley), and Marella Schammel, right, daughter of William Schammel (UPS/Hunt Valley) each received $1,000 scholarships for the 2016-2017 academic year from the Teamsters Union's annual national scholarship program. The James R. Hoffa Memorial Scholarship Fund was established in 1999 to honor the memory of former Teamster General President James R. Hoffa. The Fund provides scholarships to the child or dependent of a member of the Teamsters. Last year, the Fund awarded $1,200,000 in scholarships. A graduate of Calvert Hall College High School, Towson, Md., Ryan is attending Loyola University Maryland in Baltimore City. His course of study is... Continued here
| | | |
| --- | --- | --- |
| | | |
| | | |
| | | |
Jan. 20, 2017 |

LABOR

| ..."It's going to be the most challenging period for organized labor since the 1930s," says Susan J. Schurman, a labor studies and employment relations professor at Rutgers University and former labor union leader."It's clear to everyone at this point that is conservatives had their way, we'd not have unions." What should unions do? Unions continue to speak out on issues of interest, commenting on incoming presidential policies and appointments. Schurman recommends two strategic directions that unions should pursue… foxbusiness.com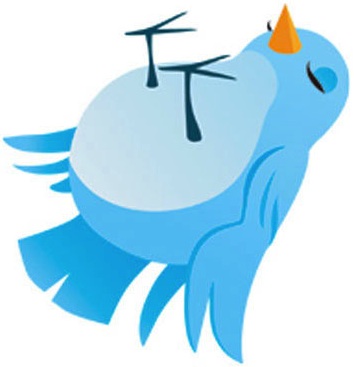 Jan. 19, 2017 |

LABOR

| Donald Trump proposes to put fast food Andy Puzder in charge of the Department of Labor, where he could bring his program of wage theft, automation, and sexism to workers nationwide. Unions and advocacy groups are not so enthusiastic about this proposal, and one of the ways they've tried to register their concern is by tweeting Puzder. This has revealed something new, interesting, and pathetic about the wealthy, powerful, outspoken political nominee: he has incredibly thin skin. Puzder has been steadily blocking his critics on Twitter. Just think: a labor secretary who doesn't want to hear from pro-worker groups… dailykos.com
Jan. 18, 2017

|

WORKERS' RIGHTS

| General Motors says it will invest another one billion dollars in U.S. auto plants in 2017. That's on top of the $2.9 billion in U.S. investments GM announced last year. United Auto Workers Vice President Cindy Estrada says the GM announcement emerged as a result of the 2015 collective bargaining agreement with the UAW. Estrada says the UAW is pleased about the additional investment and the union will work with GM to bring more product manufacturing to the U.S… laborradio.org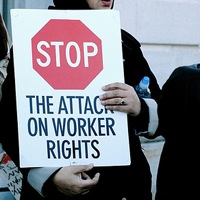 Jan. 18, 2017 |

WORKERS' RIGHTS

| …For labor advocates, the concern about this approach is what happens to people in states that are less adamant about enforcement. While workers in states that have been active on these issues in the past will likely continue to be protected by their state agencies, states without established resources in place will have a harder time
stepping
up all the way…. "States can play a tremendously important role in combating wage these, but in other critical areas, like workplace safety and health or workers' right to organize, states may have a harder time filling in the gap because they are often preempted by federal law from directly enforcing these laws"… theatlantic.com
Jan. 17, 2017
|

EDUCATION

| Betsy DeVos, whose nomination for secretary of education will be reviewed by the Senate Health, Education, Labor and Pensions Committee today, has never taught in a classroom. She's never worked in a school administration, nor in a state education system, nor has she studied pedagogy. She's never been to public school, and neither have her children. But DeVos has been deeply involved in education – as a lobbyist and philanthropist – since the early 19902, particularly in her home state, Michigan, where she pushed to expand charter schools and to implement a voucher system that would funnel public dollars to private schools… Her record is so extreme that her nomination has made some allies of the charter movement queasy, along with teachers' unions and other public-school advocates… thenation.com Why does this matter? Billionaire Betsy DeVos is actively hostile to public education.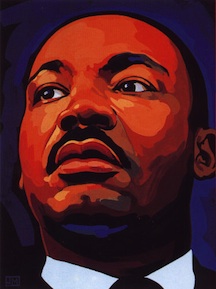 Jan. 16, 2017 |

OPINION

| Every year at this time, people across the United Stated celebrate D. Martin Luther King, Jr.'s many contributions to our country, and how he has shaped history. We lift up King the civil rights leader, Kind the moral crusader, King the brilliant orator, King the brave marcher, King the fearless activist. The list goes on. All of those attributes are, of course, important to offer, and they should happen every day, not just once a year, given the man's extraordinary accomplishments. Yet at a time of extreme division and polarization, and when so many working people are struggling to survive, it's worth remembering that King was also a labor leader – a charismatic champion of unionization as a force for economic justice …. nydailynews.com Related – The Dark Side of "I Have a Dream": The FBI's war on Martin Luther King motherjones.com