Local and National Union News
Bargaining set to begin. Here's how you can get involved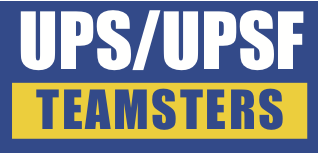 January, 2018 | UPS and UPS Freight contract negotiations will kick off later this month. For an update on the process of negotiations and what you can do to be involved, please join Denis Taylor, Director, IBT Package Division, for a conference call on Sunday, January 28, 2018 at 6 pm eastern time. Details here.
---
Teamsters honor legacy, celebrate contributions of Dr. Martin Luther King Jr.
Jan. 15, 2018 | Fifty years ago this year, Dr. Martin Luther King Jr. stood up for striking sanitation workers in Memphis [see video below] before an assassin struck him down. "The Memphis sanitation workers' strike is remembered as an example of powerless African-Americans standing up for themselves. It is also remembered as the prelude to the assassination of the Rev. Martin Luther King Jr." according to a recent Smithsonian magazine story. Teamsters across the country will honor the legacy of civil rights and labor leader Martin Luther King Jr. on Jan. 15, 2018. More at Teamsters…
Teamsters, ABF address non-economic issues as negotiations kick off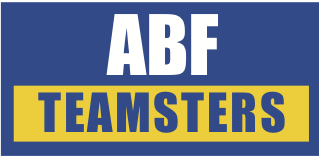 Jan. 12, 2018 |The meetings this week focused primarily on language issues but ABF continues to raise claims that its employee and operating costs are too high. The National Freight Industry Negotiating Committee (TNFINC) however, has made it clear that the members are not interested in a concessionary contract…Teamsters Follow ABF Teamsters on Facebook
Teamsters win $1 million settlement on behalf of road drivers at YRC Freight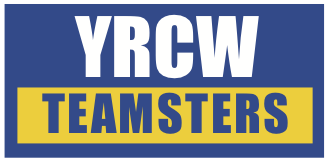 Jan. 12, 2018 | The collective bargaining agreement with YRC Freight limits the amount of over-the-road freight that can be put on trains or hauled by non-bargaining unit personnel. The Teamsters Union monitors those amounts. After reviewing the situation and convening a meeting of the committee that monitors compliance, it was determined that the company had in fact exceeded the permissible amounts… Teamsters
The ugly truth about right-to-work laws
Jan. 10, 2018 | The roots of "Right to Work" is as rotten as the legacy of Jim Crow racism – because they are one and the same. Check out this important video from Teamsters Local 1932 about the ugly truth behind RTW and its insidious growth... Facebook.com/Teamsters
Right to work defeated in Sussex County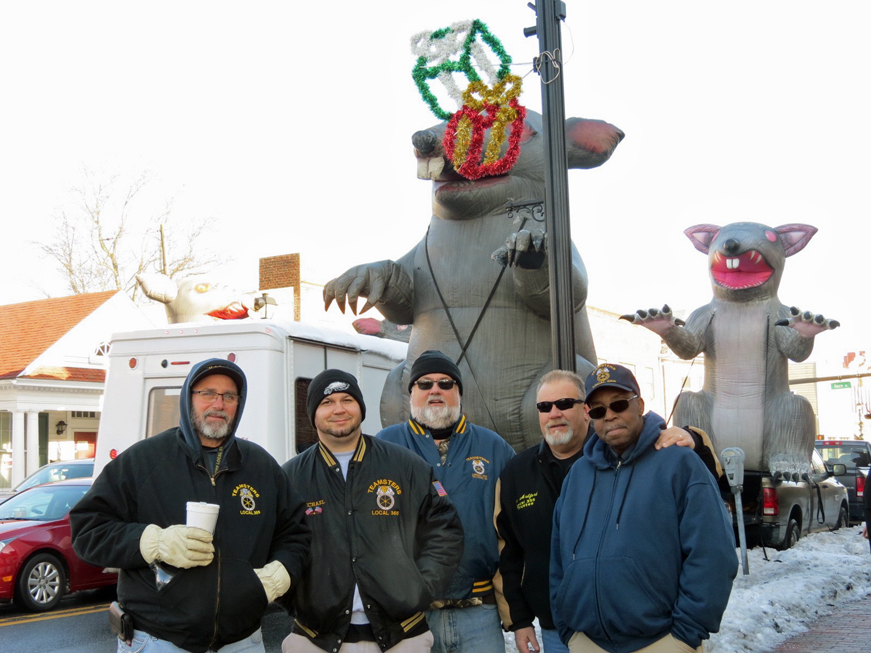 Jan. 9, 2018 | In a win for Teamster members who work in Sussex County, Delaware, the Sussex County Council today rejected a right-to-work measure in a 4-1 vote. Councilman Rob Arlett who introduced the proposal last fall was the sole member to vote in its favor. Although four of the five council members said they viewed right to work favorably and would support an initiative at the state level, concerns about potential legal challenges to the legislation – and related costs involved in defending it – ultimately sank the bill. Crowds of union members from Delaware, Maryland and Pennsylvania joined anti-RTW supporters (including nine inflatable rats and one inflatable corporate fat cat) to protest the legislation. "We're here to remind them that they work for the people not their own corporate interests," Local 355 business agent John Caparatta said after the vote. Unions must keep the pressure on local and state governments intent on passing anti-worker laws. "This problem will come back in some other form," said James Maravelias, president of the Delaware AFL-CIO. "Shame on us if we let it go." Pictured, from Local 355: (L-R) Business Agent Jim Deene; Shop Steward Michael Bradley/Kraft; Business Agent John Caparatta; Organizer Ed Mulford; Retiree Ernie Warfield/US Foods.
Retiree club's Christmas party another annual fun fest
Jan. 8, 2018 | Local 355 retirees and their guests, some sporting "ugly" sweaters that added to the festive atmosphere of their annual party, met December 21 at the UAW Hall in East Baltimore for another fabulous Christmas party… Retirees
| | | |
| --- | --- | --- |
| | | |
| | | |
| | | |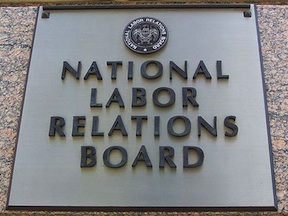 Jan. 16, 2018 |

WORKERS' RIGHTS

| A Republican party that survives through voter suppression may be replicating its model in the workplace. In December, the National Labor Relations Board (NLRB) invited public commentary on a possible revocation of a rule that makes employers provide union organizers with contact information for workers in advance of a representation election. Ostensibly, the Board, which will almost certainly remain in control of Republicans until 2021, is reconsidering Obama-era rules that sped up the timeline of union elections and added phone numbers and email addresses to the list of contact info that unions must be furnished before an election. But outgoing Board Chairman Phil Miscimarra's bellyaching about "employee rights of free choice and privacy" implies openness to removing any legal right of union organizers to talk with potential members… Working In These Times
Jan. 15, 2018 | LABOR HISTORY | The night before Martin Luther King Jr. was assassinated in Memphis, Tenn., he delivered this powerful speech to striking city sanitation workers:
Jan. 15, 2018 |

HISTORY

| Many people vaguely know that King opposed the Vietnam War and talked more about poverty in his later years. But King also had a lot to say about issues not normally associated with civil rights that still resonate today, historians and activists say. If you're concerned about inequality, health care, climate change or even the nastiness of our political disagreements, then King has plenty to say to you. To see that version of King, though, we have to dust off the cliches and look at him anew. If you're more familiar with your smartphone than your history, try this: Think of King not just as a civil rights hero, but also as an app — his legacy has to be updated to remain relevant… kfor.com
Jan. 12, 2018

| JOBS |

More than 200 workers clocked in for their final shifts on Thursday at Carrier Corp. in Indianapolis in the latest round of layoffs at a plant President Donald Trump toured in December 2016 to trumpet a deal to save jobs and prevent its closure. Under pressure from the newly-elected Trump, Carrier and its parent company United Technologies Corp, dropped its plan in late 2016 to close the plant and move 1,400 factory jobs to Mexico. In return, the company received $7 million in state tax breaks to stay in Indiana. But Carrier also laid off 338 manufacturing workers in July and another 215 this week. Those jobs are going to the company's plant in Monterrey, Mexico, where workers make about $3 an hour, according to Indiana union officials… Reuters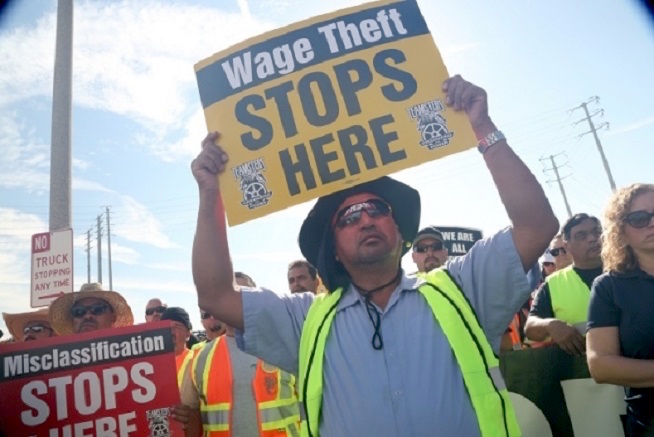 Jan. 11, 2018

|

JOBS

| The state of the workforce is not static. It never has been and technology guarantees that it will not be in the future. But that doesn't mean all changes should be endorsed or accepted. A lot of the focus in recent years says been on jobs created as part of the so-called "gig economy." Apps like Uber and TaskRabbit have created an on-demand workforce. But those are just a small part of the ever-evolving workplace that is jeopardizing the livelihoods of hardworking Americans in the years ahead. [...] Gone are the workplace protections that have been part of the American full-time labor force. No minimum wage, no overtime, no health insurance. It is situation the Teamsters have seen firsthand in the port trucking industry, and are successfully pushing back on to stop …Teamsters
Jan. 10, 2018 |

JUSTICE

| Labor unions denounced the administration in response to a decision Monday that could result in the deportation of thousands of Salvadorans. President Donald Trump has made immigration a cornerstone of his agenda with his administration taking an aggressive approach to the policy. The Temporary Protected Status (TPS) program has become one of the targets of the administration as it has looked to rollback the legal status of hundreds and thousands of immigrants […] Labor unions have argued that ending the protected status for these immigrants could be disastrous for families, communities, and employers. They note that these immigrants have integrated into society and become part of their communities in the many years they have been here... Inside Sources Related: Federal judge upholds DACA protections